At yesterday's Curb Management Workshop, hosted by the SFMTA, solutions were discussed for how to improve road safety along upper Market Street, where unsafe habits, particularly double-parking, abound. The goal of the workshop was a discussion of how these issues might be curtailed with better-designed vehicle parking and loading, bicycle parking and passenger drop-off areas. 
SFMTA's Livable Streets project manager, Jonah Chiarenza, kicked off the meeting by laying out the goals for the project. "We're not making more curb, but we can make the curb space we have safer and more efficient," he said.
Attendees were divided into three groups, where they joined SFMTA employees in discussing the problems they've witnessed, and proposing possible solutions.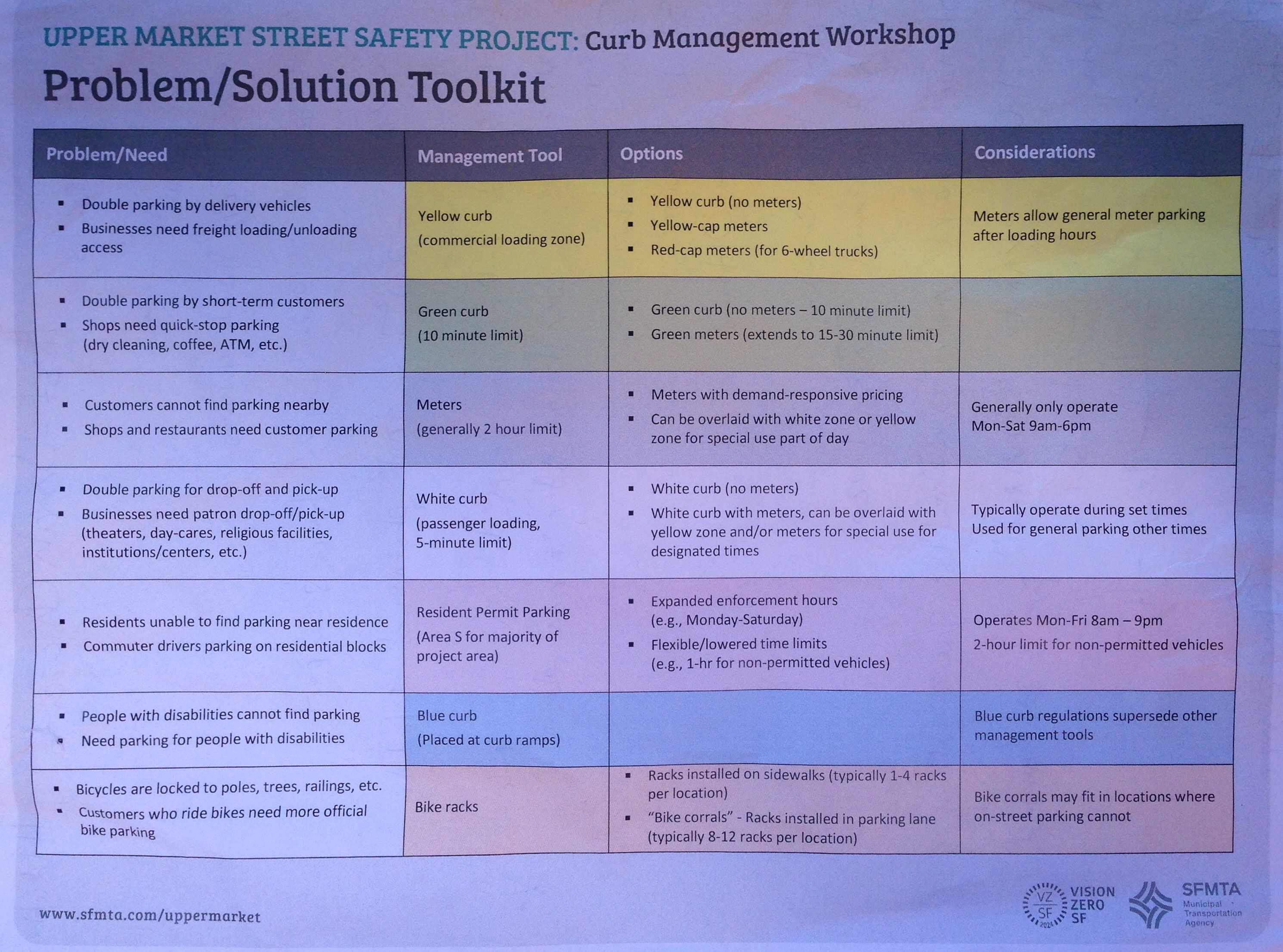 For the purposes of the workshop, the Upper Market area was split into three zones: Octavia to Buchanan, Dolores to Sanchez and Sanchez to Castro, with large maps provided for each section. Attendees were asked to mark up the maps with their suggestions, and to help point out any problem areas.

Unsurprisingly, one of the main topics was the rash of double-parking by delivery trucks and TNC (Uber, Lyft, etc.) drivers, which causes backups along Market Street and has drawn the ire of District 8 Supervisor Scott Wiener. "There's remarkably little double parking enforcement in San Francisco, and that needs to change," Wiener said in a recent Facebook post. "As the city gets more congested, effective traffic management and enforcement takes on added importance."
To address the double-parking issue, the SFMTA Livable City's Executive Director Tom Radulovich proposed the creation of drop-off spots along Market, turning what are now metered spots into white loading zones at peak hours, when people are headed to or leaving bars and restaurants. By using geo-fencing, TNC drivers would only be allowed to pick up and drop off at certain locations once they get into a defined area like the Castro, as opposed to stopping at an exact location put in by a user of the app.
IXIA's Gary Weiss noted one particular hot zone: the commercial loading and unloading area outside Squat & Gobble, along 16th Street. Weiss has observed that delivery trucks are not using the yellow loading zone along 16th; instead, they double-park, causing backups. Weiss suggested that the problem with the space is its petite size, due to the adjacent parklet. He proposed moving the commercial loading zone to Noe Street, outside La Mediterranee, instead.
To create more parking availability in the remaining metered spaces, Andy Thornley, from SFMTA's SFpark program, suggested that Upper Market's meters be incorporated into a "demand pricing" program, which is currently being tested in a number of SF neighborhoods, including Fillmore Street, Mission and Valencia streets, and the Civic Center area near City Hall.
Under the program, the price of the meter would be digitally monitored, going up or down depending on the time of day and the available supply/demand in the neighborhood. The goal, he said, is to free up more parking and prevent the need for drivers to circle around the block, which also creates a safety hazard.
Thornley also suggested using Muni buses to help with enforcement of double-parking tickets. The buses, which already have front-mounted cameras to catch and ticket drivers for parking in bus zones, could also be used to ticket drivers for double-parking.
All of the suggestions and proposals from last night's meeting will be incorporated into the two-year-long Upper Market Street Safety Project, which is now in the 'Focused Circulation Study' stage. The current plan is to conduct public outreach and create design concepts by this spring, with an environmental and public review process next fall. If all goes according to plan, construction of the permanent improvements will begin by 2017.