Earlier this week, the community group Affordable Divis sent a letter to the office of District 5 Supervisor London Breed and the San Francisco Planning Department, requesting they rescind a piece of legislation pushed through earlier this year. The plan to rezone stretches of Divisadero and Fillmore streets to allow for more density was signed by Mayor Lee back in July, but now, the neighborhood is beginning to react as the change sinks in. 
Members of local neighborhood groups the Alamo Square Neighborhood Association, the Haight Ashbury Neighborhood Council, and D5 Action signed the letter, which came from the same community group that's so far held two jam-packed meetings at neighborhood bar Waziema. The issue: two large housing developments planned for the street (one at Grove, and one at Oak). Under the new zoning allowance, both of these developments could have increased density—as we noted in August, one of the buildings was previously designed with 16 units, and plans now call for 60 units.
Letters arrived in mailboxes earlier this year notifying Divisadero residents of the rezoning, and a public hearing was held back in April. Despite this, Affordable Divis argues that the zoning changes came as a surprise. 
"This significant density increase was decided without real community input," the letter states. "Such changes should be community driven. Most neighbors were not even aware of the proposed changes and their potential impact. Rescinding the Ordinance will allow an opportunity for community input about the future of our neighborhood." 
The Affordable Divis group's goals are to keep Divisadero affordable for residents, provide community input on large-scale projects, keep developments aesthetically aligned with the rest of the neighborhood, and make the streets safe for cyclists, pedestrians and transit riders. The first step the group has taken outside of their meetings has been to send this letter, both to Breed and the Planning Department. 
But Supervisor Breed stands behind the rezoning of Divisadero, a plan she told us was brought to her by Tom Radulovich, Executive Director of Livable City. 
"We want to build housing along corridors where it's easy to get to bus lines. You can get almost anywhere from Divisadero," Breed told us. "We need more housing density in areas that have good public transportation." 
A higher number of affordable units will also be made available through increasing housing density along Divisadero, Breed points out. In the case of the apartments being built at Grove & Divisadero, where the plans changed from 16 to 60 units, this means seven affordable units instead of two. 
Members of Affordable Divis have questioned the rezoning process, stating that there was a lost opportunity to demand a higher percentage of affordable units as a condition of raised density. But Breed says she already pursued that path. "Of course I'm asking for more affordability," she told us, saying that she went to the City Attorney to talk about the legislation. "Unfortunately Prop C, which passed in 2012, makes it really hard to do that." 
Instead, Breed says that she will work with developers directly to try to increase the percentage of affordable units in these projects.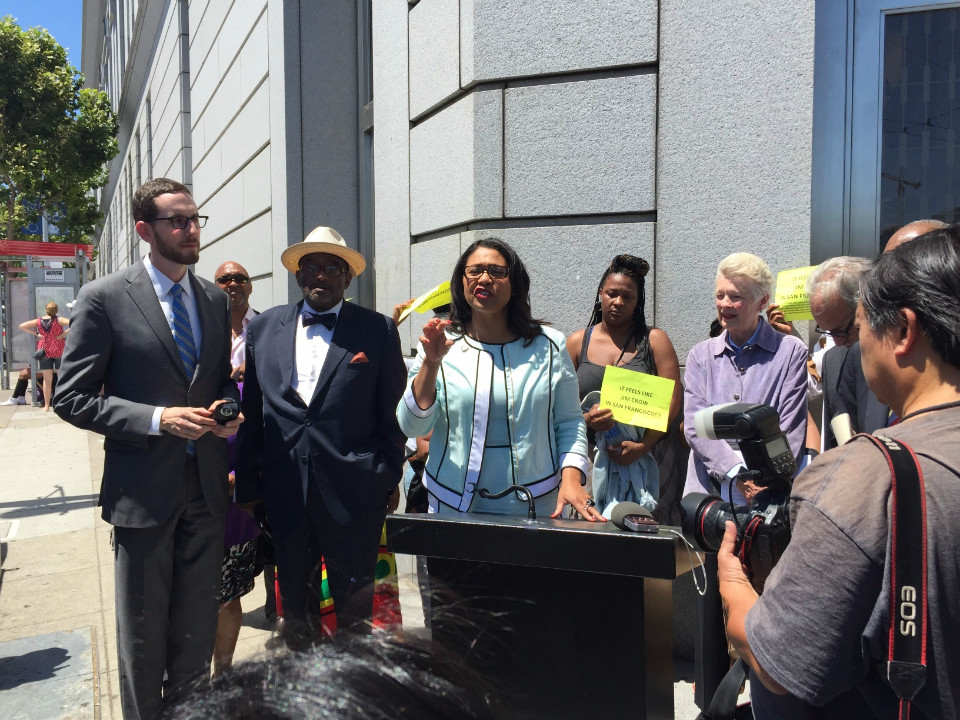 Supervisor Breed speaks at a press conference about a Western Addition affordable housing complex earlier this year. (Photo: Nuala Sawyer/Hoodline)
While rezoning for higher density is part of Breed's tactic for solving the city's housing crisis, she pointed out that access to the city's current affordable units is severely broken. Under the current law, the affordable housing lottery is open to anyone, from any state in the country—meaning that someone in D5 wouldn't get priority for low-income units in their neighborhood. 
To solve this issue, Breed drafted a piece of legislation to give priority to neighborhood residents who are applying for low-income housing in their communities. Those who have been Ellis Act-evicted will also be bumped up the list. It was passed by the Planning Department last week, and is currently on its way to the Land Use Committee for consideration. 
Breed says she's also pushing to "adjust the dial" on the definition of "low income" in San Francisco. At the moment, low-income units are reserved for those who make 55 percent of the Average Median Income (AMI). Through this law, residents who make as little as $45,000 a year are not eligible for low-income housing in San Francisco. Breed says she hopes to adjust this to accommodate a wider range of residents who need housing assistance, even those making 75 percent of the AMI. 
In the end, "We can't fix this crisis by saying no to everything," Breed said. "We need a plan that can actually be implemented." 
But Affordable Divis plans to keep fighting for a change. "We will continue to urge Supervisor Breed to do the right thing and rescind the rezoning giveaway," said community organizer Dean Preston in an email. "Giving away a valuable density bonus like this without requiring greater affordability in return makes no sense whatsoever, especially during an affordable housing crisis."
An Affordable Divis workshop is being planned for December to create a community-based plan for future Divisadero developments.