Got an event you want the neighborhood to know about? To be included in our next North Beach weekly roundup, please fill out the form at this link by Tuesday evening.
---
Before we jump into this weekend's events, let's take a look back at what made the news around our little corner of the city this week.
On the heels of last week's passing of Green Street Mortuary Band trumpeter John Coppola, another local cultural icon has died: stripping pioneer Carol Doda, who passed away from kidney failure on Monday. A memorial service is tentatively planned for Nov. 22nd or 23rd at Tupelo (1337 Grant Ave.)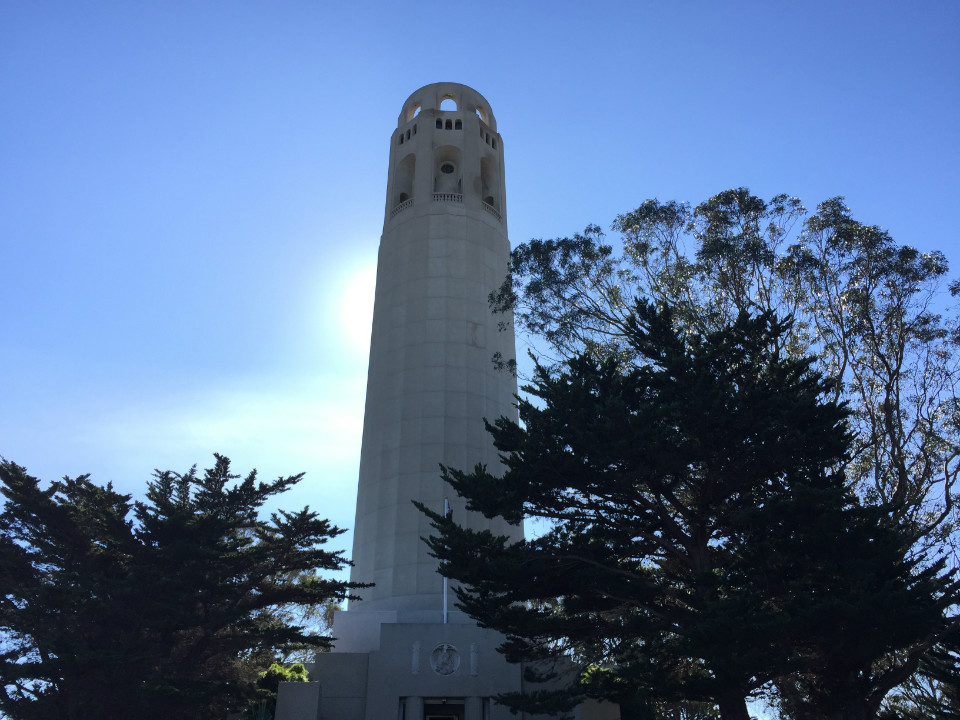 Photo: Geri Koeppel/Hoodline
Over the course of the week, we rolled out a three-part series on Telegraph Hill's famous Coit Tower. Be sure to check out our in-depth posts on the tower's renovated murals, recent concerns about funding and budget management, and neighborhood opposition to a proposed food kiosk and after-hours tours.
Down at the waterfront, the Port of San Francisco asked the the Port Commission on Tuesday for their OK to issue a request for proposals for developing the bulkhead portion of Pier 29, but due to concerns about the proposal process and lack of community outreach, the request was declined and will be revisited in December.
Two Pier 39 stores, Antiquities of California and Krazy Kaps, are asking for the public's help in identifying two burglars caught on surveillance video walking off with thousands of dollars in items.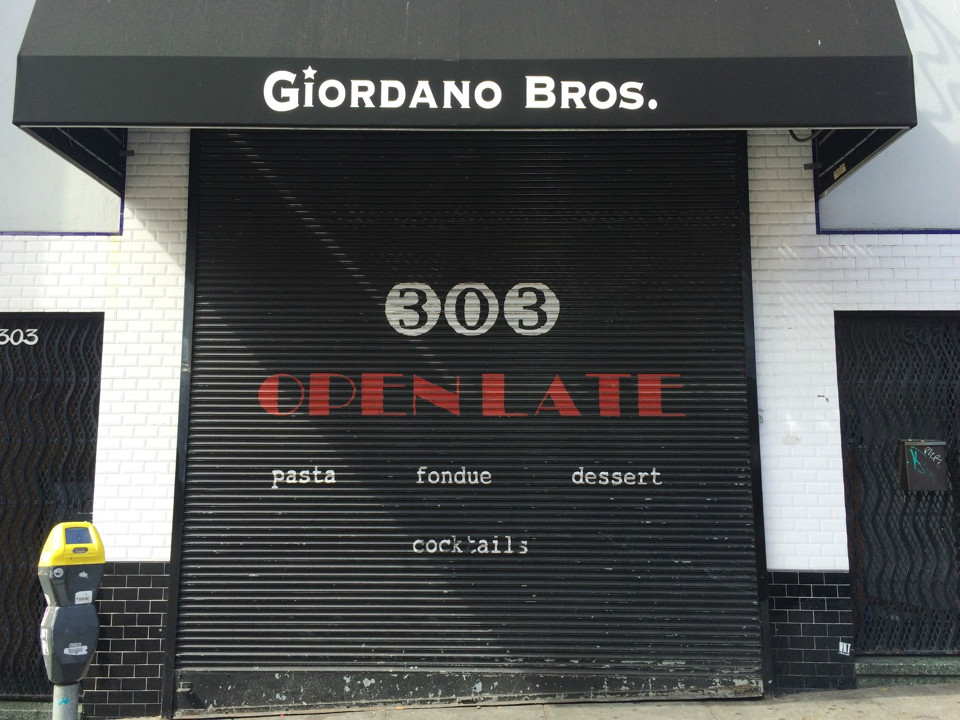 Photo: The Baked Bear/Facebook 
In restaurant news, ice cream shop The Baked Bear could be moving in to the vacant 303 Columbus Ave, former home of Giordano Bros. And in Jackson Square, it looks like 461 Pacific Ave., which used to house Barrique, will be taken over by Michael and Lindsay Tusk, owners of Quince and Cotogna, both located across the street. Around the corner, the Bubble Lounge (714 Montgomery St.) will relaunch next Thursday as Barbarossa, a new cocktail lounge. 
Over in Chinatown, Mashable posted a few of the only pre-1906 photos of the neighborhood that remain. Back in modern times, the San Francisco Business Times took a look at seven new projects changing the face of Chinatown, including the new Sam Wo (713 Clay St.) and China Live (644 and 660 Broadway).  
Live in North Beach/Chinatown? Congratulations, you're soul-crushingly broke! That's what a new report from Credit Sesame (via SFist) details: the two neighborhoods lead the city in average student loan debt ($51,761) and average mortgage debt ($970,783). Yikes.  
Carolyn Cavallero, the director of Paradise Club, an upcoming dramatic film about a young dancer in San Francisco during the the 1960s social revolution, wrote an essay about how that atmosphere of free expression started in North Beach.
Image: Cabaret Comico/Facebook
If you're a fan of Broadway-style musicals, kick off your weekend Friday evening with Cabaret Comico, San Francisco's version of Italy's comic cabaret festival at the The San Francisco Italian Athletic Club (1630 Stockton St.). The event will feature some of SF's funniest singers and songwriters, performing original pieces and Broadway musical comedy numbers. Tickets can be purchased here.
Finally, two events to add to your calendar for the coming weeks: a party for neighbors to mend fences after the Peskin-Christensen race is slated for Nov. 21st, and an informational meeting on the planned Poets Plaza will be held on Dec. 2nd. 
On to your weekend events:
Saturday, November 14th
2015 West Coast Craft: Join this year's free exhibition of artists and craftsmen and women inspired by the aesthetics of the West Coast lifestyle. The expo will run from 10am-6pm Saturday and Sunday, and also includes a number of workshops each day, available at a separate cost. (2 Marina Blvd.)
Alex Miller Trio: The group plays the music of the great guitarist Django Reinhardt, as well as original tunes, at Rose Pistola beginning at 9pm. (532 Columbus Ave.)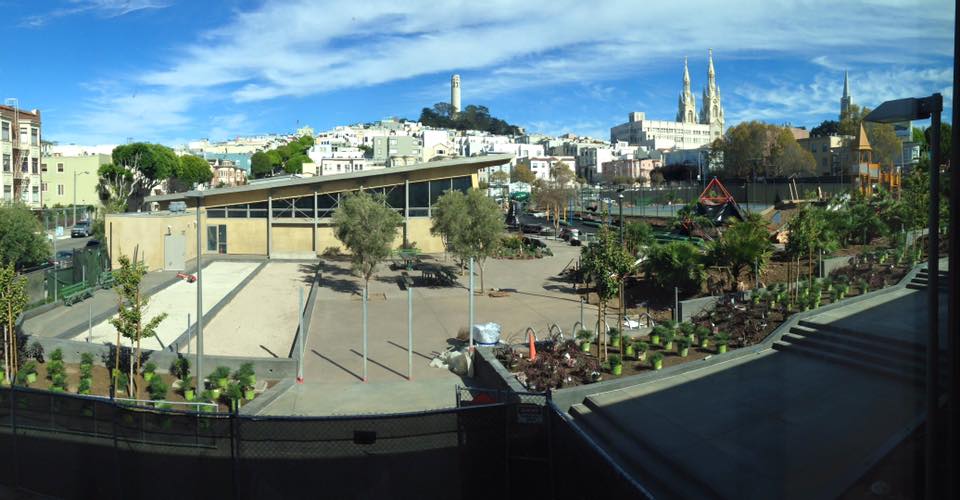 Photo: Lizzy Hirsch/Friends of Joe DiMaggio/Facebook
Joe DiMaggio Playground Opening: At long last, the new Joe DiMaggio Playground (651 Lombard St.) will reopen, with a party from 11am–3pm.  The party will include RecPark's mobile recreation, Zumba, a smoothie bike, food trucks and a free swim at the North Beach Pool, in addition to events for kids at the adjacent North Beach Library. Check out our article for more.
Louis Katz: The NYC-based comedian, who has his own Comedy Central Presents episode and was a correspondent on FXX's Totally Biased, will perform two sets at the Punch Line Comedy Club, 7:30pm and 9:30pm. (444 Battery St.)
Luenell: The actress and comedian, who has appeared in Taken 2, That's My Boy and It's Always Sunny in Philadelphia, performs two sets at Cobb's Comedy Club, 7:30pm and 9:45pm. (915 Columbus Ave.)
North Beach Brass Band: Playing New Orleans-style jazz, the homegrown five-piece group performs at Tupelo starting at 9:30pm. (1337 Grant Ave.)  
Sugar Ponies Album Release Party: The local indie folk/rock duo celebrates the release of their second album, It's A Sign,  with an opening performance from Pacific Standard at Doc's Lab, starting at 7:30pm. (124 Columbus Ave.)  
Superbad: The SF-based four-piece cover band returns to take over Maggie McGarry's, beginning at 10pm. (1353 Grant Ave.)  
The Texas Ramblers: The country-western group offers up a free show at Pier 23, beginning at 7pm. (Pier 23, Embarcadero)
Walking Tour of Chinatown: In celebration of his new book Building Community, Chinatown Style: A Half Century of Leadership in San Francisco, author and executive director of the Chinatown Community Development Center Gordon Chin will help lead a walking tour through Chinatown which begins in front of City Lights at 11am. Call 415-362-8193 x0 to sign up; there's a two spot limit per person. (261 Columbus Ave.)
Sunday, November 15th
Derek Irving & His Combo: The blues/rock 'n' roll outfit will play a free show starting at 8pm at Pier 23.
Electric Squeezebox Orchestra: The 17-piece big band welcomes jazz vocalist Kenny Washington to their Sunday show at Doc's Lab, beginning at 5:30pm.  

Eric Markowitz Trio: The New Jersey native bassist and his ensemble perform at Rose Pistola at 8pm, the first of their two monthly shows at the Italian restaurant.       
North Beach Saints: The jazz group returns to end the weekend music scene at Tupelo, beginning at 9pm.    
SF Comedy Showcase: The showcase of up-and-coming SF comedians returns for its weekly 8pm performance at the Punch Line Comedy Club.  
Vir Das: The actor and comedian, who has appeared in 13 Bollywood movies, performs at Cobb's Comedy Club at 7pm.
Did we miss anything good? Let us know in the comments, and enjoy your weekend!