Today's story is the third in a three-part series on Coit Tower, which began on Monday. In previous articles, we looked in detail at the tower's recent mural restoration and explored how its maintenance is funded.
Since the 2014 restoration of its murals, Coit Tower has been run as a museum rather than a tourist attraction, with attention and funds devoted specifically to maintaining the historic artworks within.
As part of that effort, a new concession operator was brought in to improve the quality of the gift shop and provide more staffing to help protect the murals. Terry Grimm, owner of Coit Tower LLC, receives 10 percent of revenue from elevator fees, 80 percent of revenues from the gift shop and 90 percent of revenues from docent tours, along with a few other streams. (San Francisco Recreation and Park receives the remaining cut.)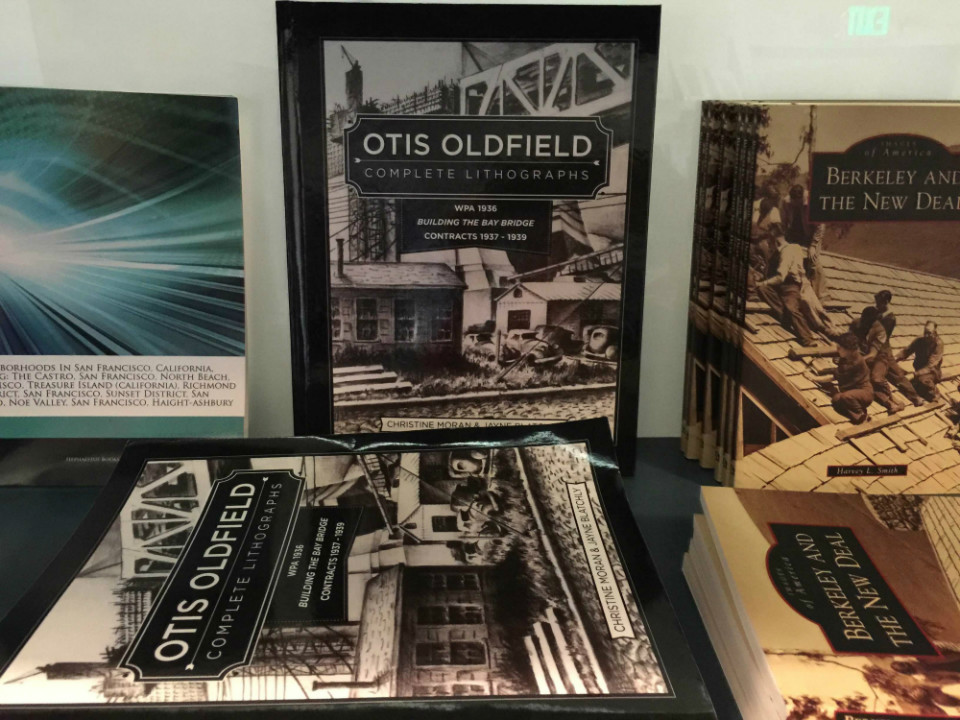 Coit Tower's gift shop includes books on the mural artists. 
Now, Rec & Park is asking for an amendment to Grimm's lease that would make a number of changes at Coit Tower, including some that have caused controversy in the community. This memo gives an overview of what's contained in the amendment; we emailed Rec & Park with further questions on it and asked them to respond to community concerns, but they didn't respond by deadline.
Among the changes proposed: 
The ability to sell elevator ride tickets online
A $114,000 annual credit to hire more staff for mural protection (an increase from the original lease's $40,000 annual credit)
The ability to sell packaged food inside the tower
The ability to give private tours before and after hours
Guidelines regarding communication with the media
A $7,000 a month credit until a new refreshment stand, called the Café Kiosk, is built
"They've written in some small things to help [Grimm] make money," said Jon Golinger, founder of Protect Coit Tower, a neighborhood group that aims to ensure that Coit Tower's proceeds are reinvested in the building and murals. He says he and other community members are happy with the job Grimm is doing, and want to see him succeed.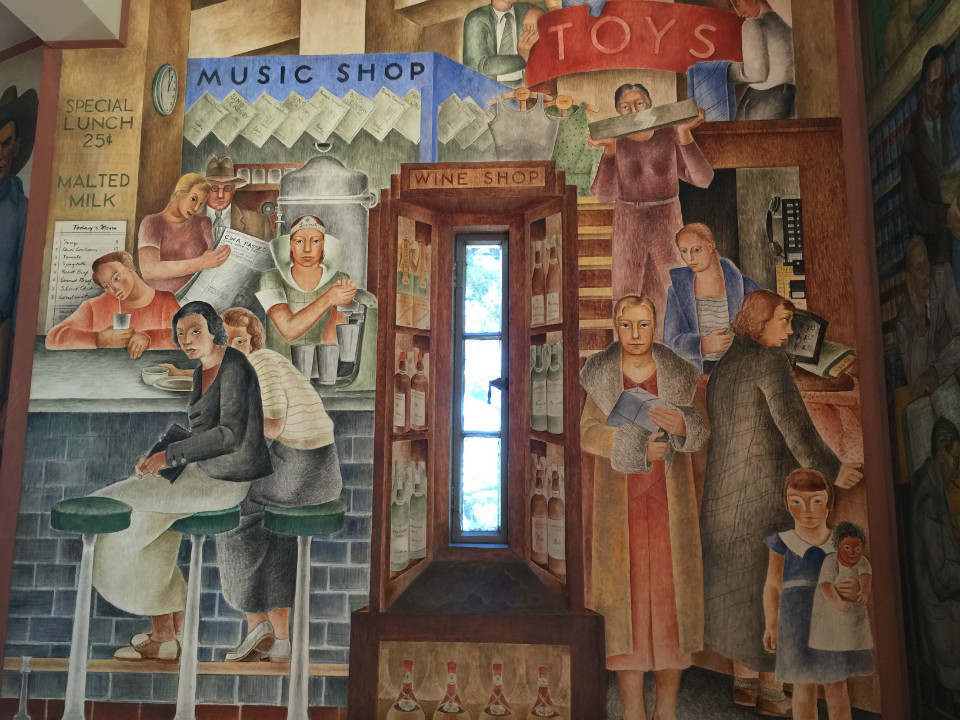 Department Store by Frede Vidar.
Golinger said selling tickets online is a good way to mitigate some of the long lines that often interfere with visitors' ability to view the murals. But it hasn't been done, because of bureaucracy. "If you want to sell tickets online, both the credit card and whoever provides the online service wants a service charge," said Sarah Madland, director of policy and public affairs for Rec & Park. "Because the parks code sets the elevator rates, we were not allowed to do that." The amendment will address that.
Golinger also believes that the $114,000 annual credit for more staff is a positive step, as attendance has been strong since the mural renovations. He'd particularly like to see the new staff members greeting visitors and asking them not to bring food and drink into the tower.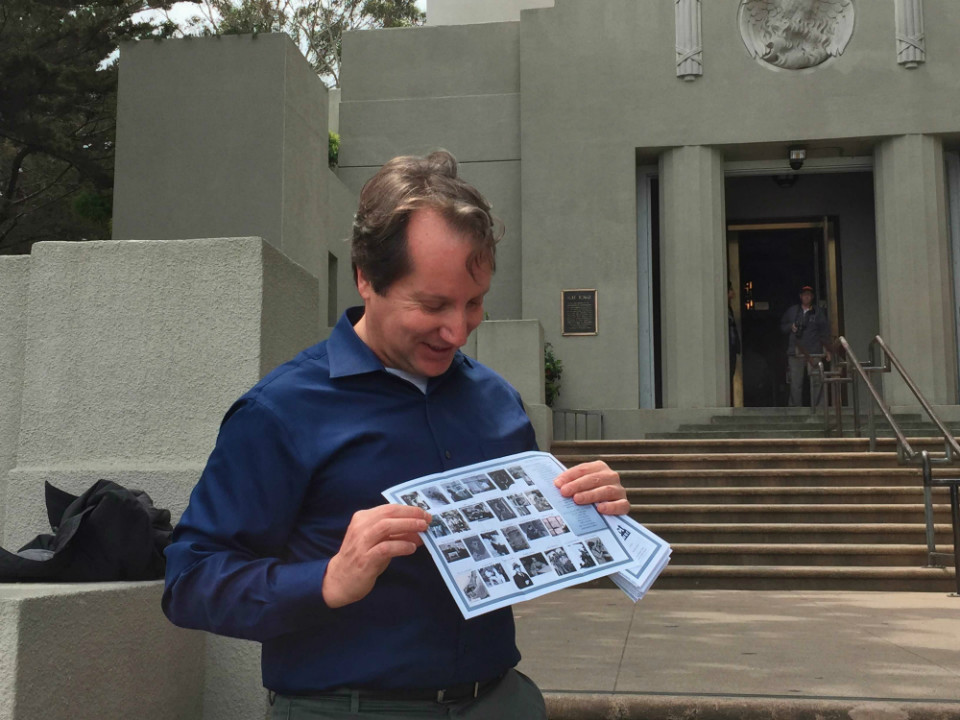 Jon Golinger showing a brochure of Coit Tower artists. 
But Golinger said he was concerned about a line in the amendment to allow the gift shop to sell packaged food. "I think that's a huge change," he said. "It appears to me to be in direct conflict with the Arts Commission's rules for the tower." Those rules include food and drink restrictions within the mural rooms at Coit Tower, and prohibit food, drink or food preparation.
Golinger said selling food inside the tower could confuse people; good luck telling his toddler nephew he can't eat a candy bar after buying it, he said. "At least that merits community outreach, and public discussion about the reason for it," he added.
In response, Grimm said they've talked to some chocolatiers and might make casts of the tower in chocolate to sell in sealed gift packets—the food items would serve more as souvenirs, rather than for immediate consumption.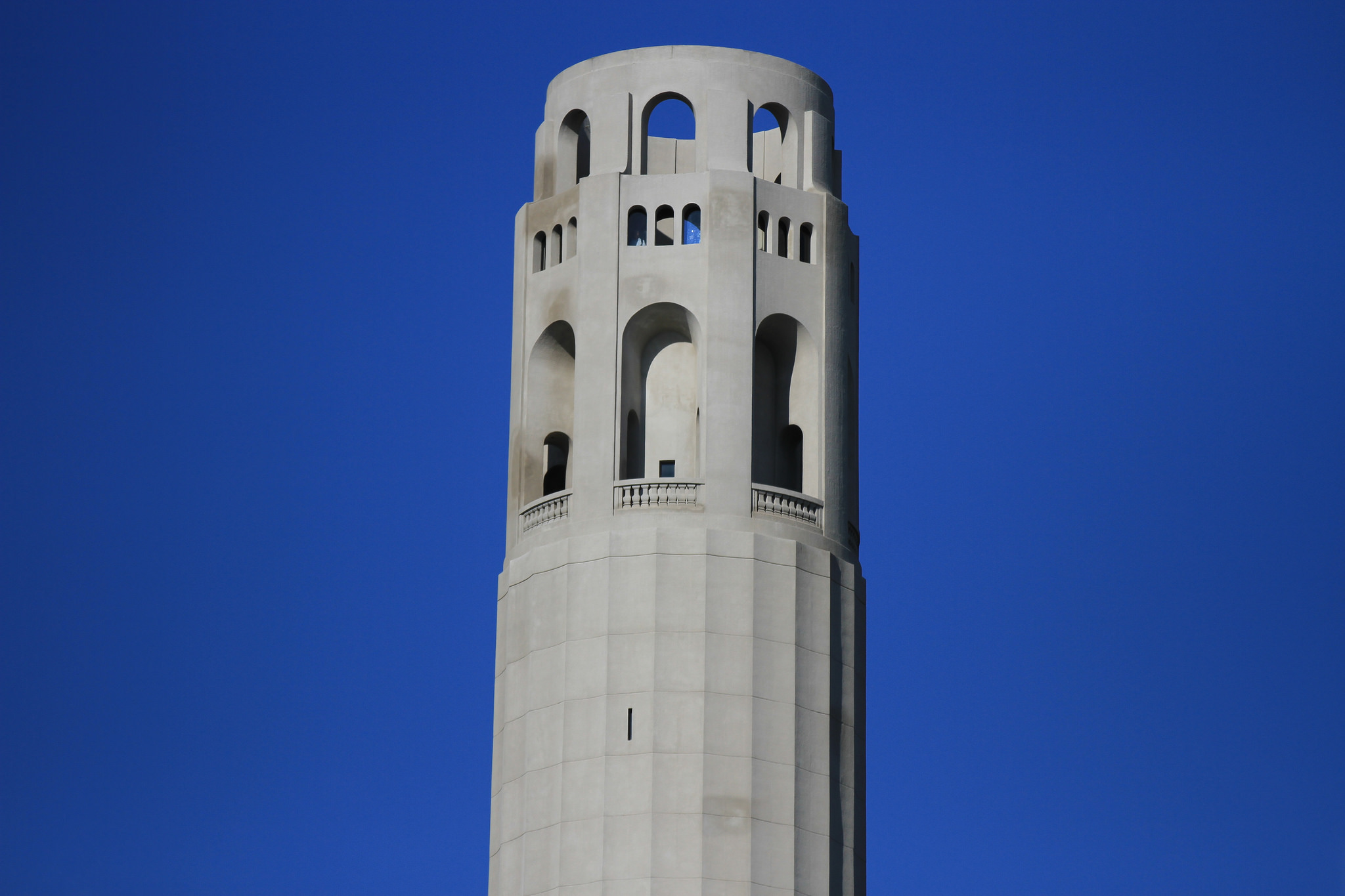 Photo: d_piddy/Flickr
Another new development, if the amendment is approved, is that private docent tours would be allowed before and after hours. The tower is open from 10am–6pm from May through October, and 10am–5pm from November through April. The new amendment would allow tours to start as early as 9am and to run as late as 7pm.
"There are some completely harmless uses, but changing this from a building that's open to everyone to a building that's open for paid private tours is at least a change of use that should be discussed," Golinger said. "What are the rules, and how does that fit with the nature of Coit Tower?"
Grimm's response: extending the tower's hours is intended to accommodate school groups, which can be disruptive.
Golinger found one aspect of the amendment particularly curious: a section with guidelines about speaking to the media. Specifically, it says that the concessionaire must recommend the press contact Rec & Park for inquiries. This has been informally in place ever since Grimm took over the concessions; he has told us a few times when we've reached him to contact Rec & Park instead.
"I've never seen anything like it," Golinger said. "Why does that need to be written into the lease? My concern is that this is put in there to chill the operators from sharing even the most basic detail ... Cooperation between a contractor and the city is not unusual. But saying you can't speak to the media until you refer them to us—that's just odd. It should be justified."
Golinger said communication with Rec & Park in the past has not been transparent, and he worries the wording in the amendment will not lead to further open cooperation. "It's always been pulling teeth to get information," he said, adding that the community has had to make public records requests to get information about many of the tower's operations, including the mural restorations.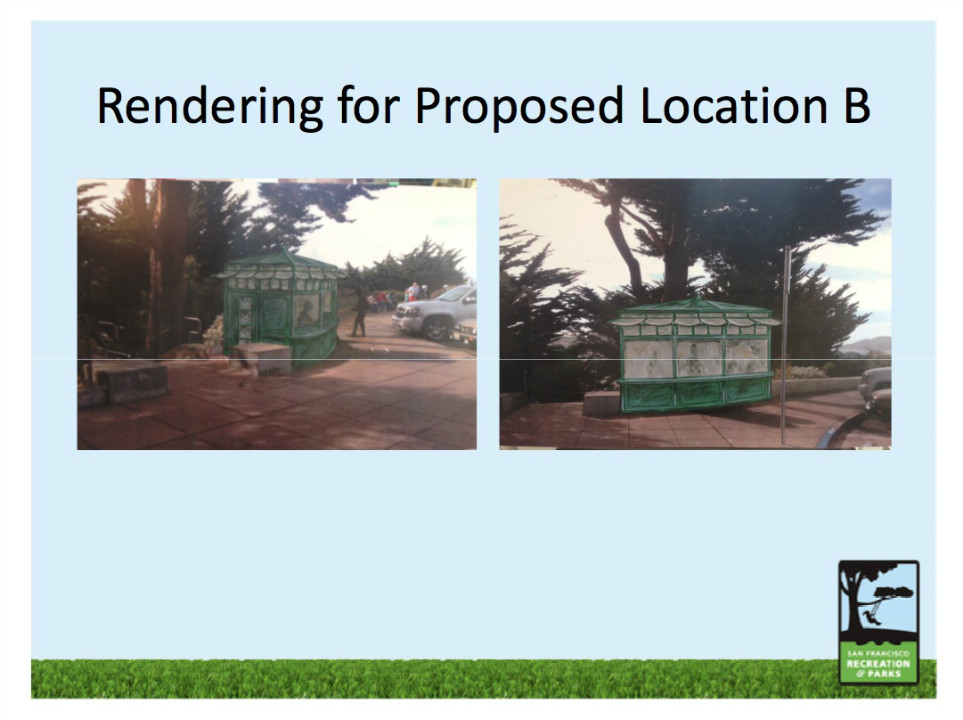 Graphic: SF Rec & Park
The amendment also gives Grimm a $7,000 a month credit until the opening of the Café Kiosk, a controversial addition proposed for the west side of Coit Tower. Many people, including members of Lillie Hitchcock Coit's family, have sent letters to Rec & Park opposing the construction of a commercial building on the site.
Grimm and Rec & Park want to erect a semi-permanent 9-by-12-foot kiosk. The plan is to offer higher-caliber items, such as Italian sodas, espresso drinks and panini made on-site with a press. (You can view the packet with the full details here.)
Based on our earlier conversations with Grimm and Rec & Park, both said the reason for the kiosk is to accommodate visitor requests: "It's almost embarrassing to tell people we can't sell them a bottle of water," said Coit Tower LLC owner Terry Grimm in a Barbary Coast News article in February. (This, however, conflicted with an earlier article in the Examiner.)
Golinger said it would be fine to sell some cold drinks or small treats at the tower. "No one's objecting to that," he said. "The question is whether we need a permanent building. No one has ever objected to having a small cart that sells water, drinks and small treats."
The kiosk also doesn't fit with a ballot measure voters approved in 2012 that strictly limits commercial activity at the tower, Golinger added. (As our previous article mentioned, the Board of Supervisors hasn't yet implemented the measure.)
The lease amendment goes before the Rec & Park Commission on Thursday, and will also need approval from the Board of Supervisors. Because the kiosk technically would be built on what is part of Greenwich Street, it will require additional hearings and a separate approval from the Board of Supervisors, which could take months.
Golinger and others question why Rec & Park can't amend the lease to include the $7,000 a month rent credit for good, so that Grimm doesn't have to operate the full kiosk and depend on it for revenue. "I think it shows that the point of it is to generate $84,000 a year for the lessee," Golinger said, instead of providing an amenity for visitors, which could be accomplished with a push cart. "Give him more money from the elevator, if he needs to stay solvent."
Update, 11/12: Connie Chan, deputy director of public affairs for Rec & Park, sent an email with these statements:
Currently, the possible prepackaged food items to be sold at Coit Tower are limited to souvenir such as Coit Tower shaped specialty chocolate. Existing signage reminding guests not to open any food and beverages inside the building, will also be enhanced.

In addition, having the option to provide docent tours to school groups and general public before and after public hours allows the docent to offer an in-depth tour for students and guests to learn and digest the details and the significant history of the mural.  Certainly, the same Coit Tower Mural Protection Guidelines provided by the Arts Commission will be in place as are during the normal operating hours.

Moreover, refreshments are offered all over the world at tourist destinations, therefore, food and beverage have always been contemplated at Coit Tower, which in fact, were offered on site for decades prior to the current operator at Coit Tower.  Earlier this year, the SF Rec and Park Commission held a public hearing at which neighbors voiced their support the installation of a food and beverage kiosk at Coit Tower.

All proposed amendments to the lease agreement were highlighted and posted on our Department website as well as emailed to the public.  The Department also posted public hearing time and location for the lease amendments at North Beach Pool and Clubhouse as well as on site at Coit Tower to ensure the community were alerted of the proposed changes.