On the eve of today's Election Day, we caught up with the three candidates for District 3 supervisor—incumbent Julie Christensen and challengers Wilma Pang and Aaron Peskin—to get their thoughts on their campaigns.
We'll also be out today at the polls and watching parties to provide live coverage, but we offered an opportunity for them to reach out with their words one last time before the deadline to turn in ballots. The race has implications citywide, because it could swing the balance of power on the Board of Supervisors. Polls have shown a statistical dead heat between Christensen and Peskin.
Who are they?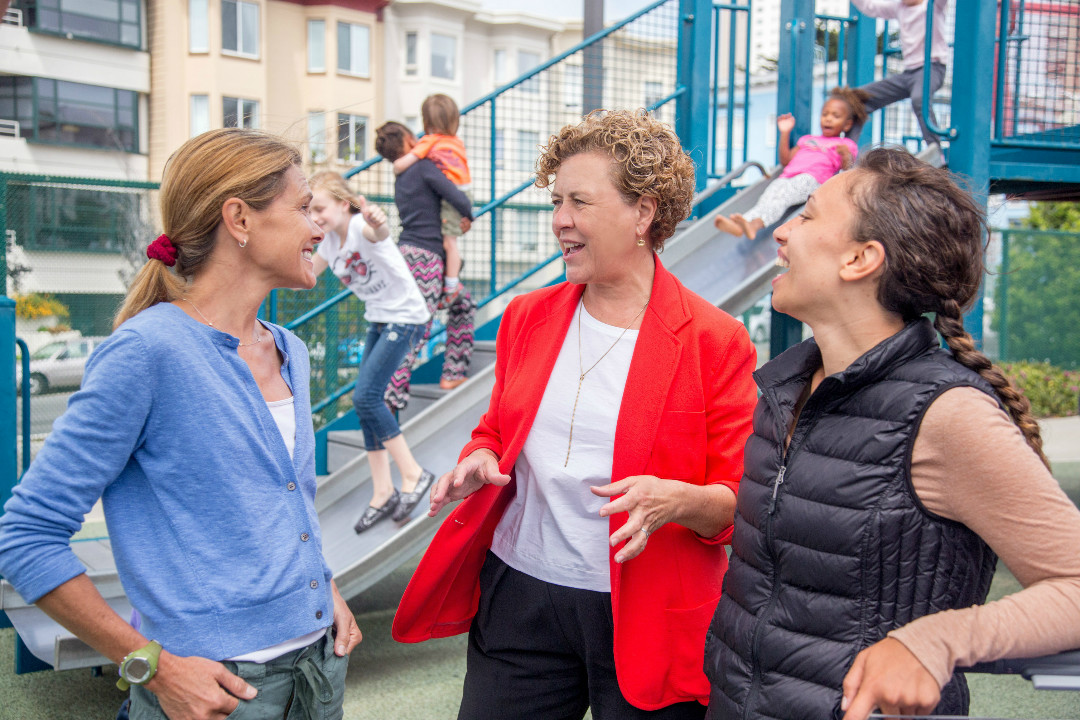 Julie Christensen, center. Photo: Richard Morgenstein 
Christensen, a product designer, business owner and longtime community advocate, was appointed by Mayor Ed Lee to fill the District 3 seat in January after David Chiu left to serve in the state assembly.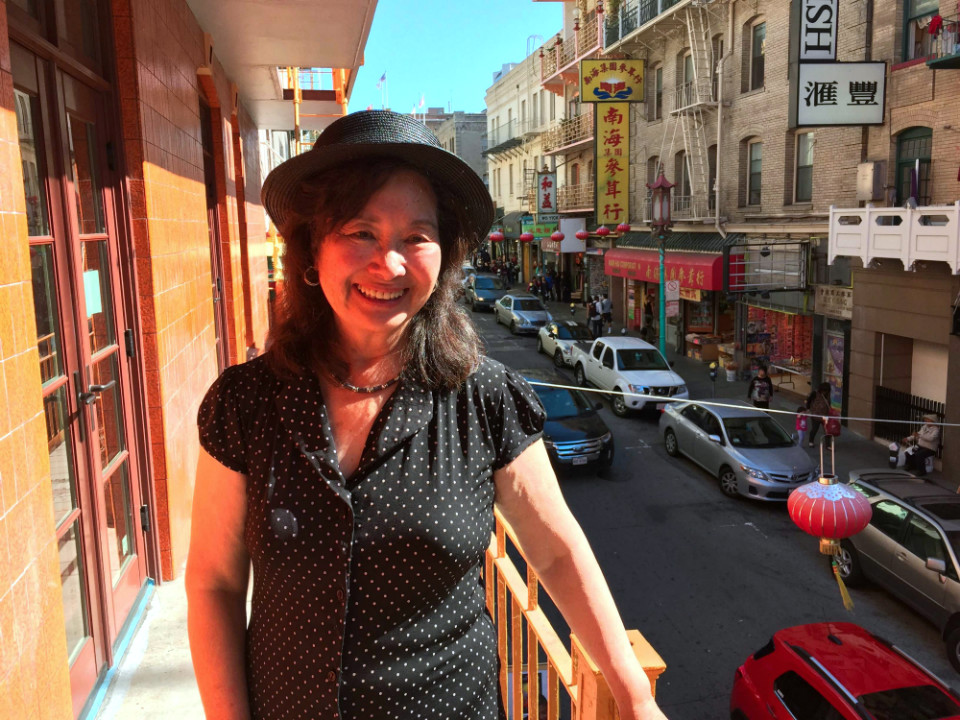 Wilma Pang. (Photo: Geri Koeppel/Hoodline)
Pang, a community college instructor, musician and singer, has run for the Board of Supervisors and mayor's office several times but has never served in elected office.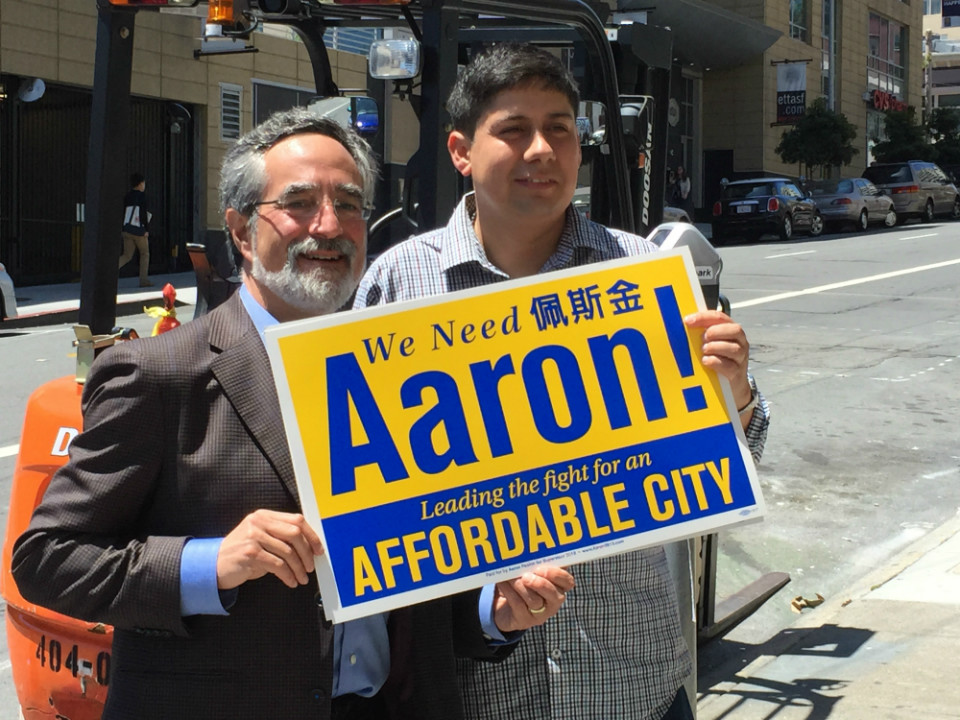 Aaron Peskin (left) and Jordan Towers. (Photo: Geri Koeppel/Hoodline)
Peskin, an attorney, was elected to the Board of Supervisors in 2000 and 2004, and served as president from 2005–09 until he was term-limited out.
Read more, including lists of endorsements, on these election sites: Aaron2015.com and SupervisorJulieChristensen.com. (For all endorsement, check out our interactive Election Guide.)
What are their stories?
Christensen's campaign slogan is "Julie Christensen gets things done," and she champions herself as a force to improve the community, from building more housing to improving transportation (she's a supporter of extending the Central Subway to Fisherman's Wharf, among other things).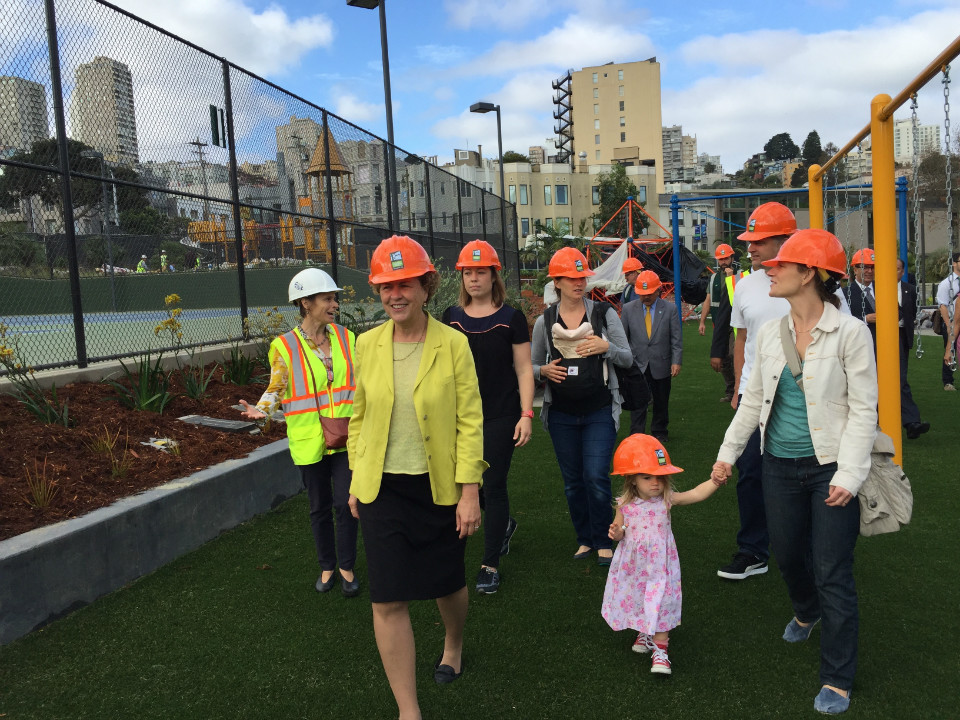 Christensen, front, at Joe DiMaggio Playground. (Photo: Geri Koeppel/Hoodline)
Christensen's record even before her election shows evidence that she's a strong community advocate, from her effort to get trees planted in the district to her unflagging crusade to improve Joe DiMaggio Playground—and in the process, fix the pool and get a new North Beach Branch Library built. However, her detractors paint her as a yes-woman to Mayor Lee who has the best interests of his tech and business friends in mind and not her own neighbors (both she and Peskin live on Telegraph Hill).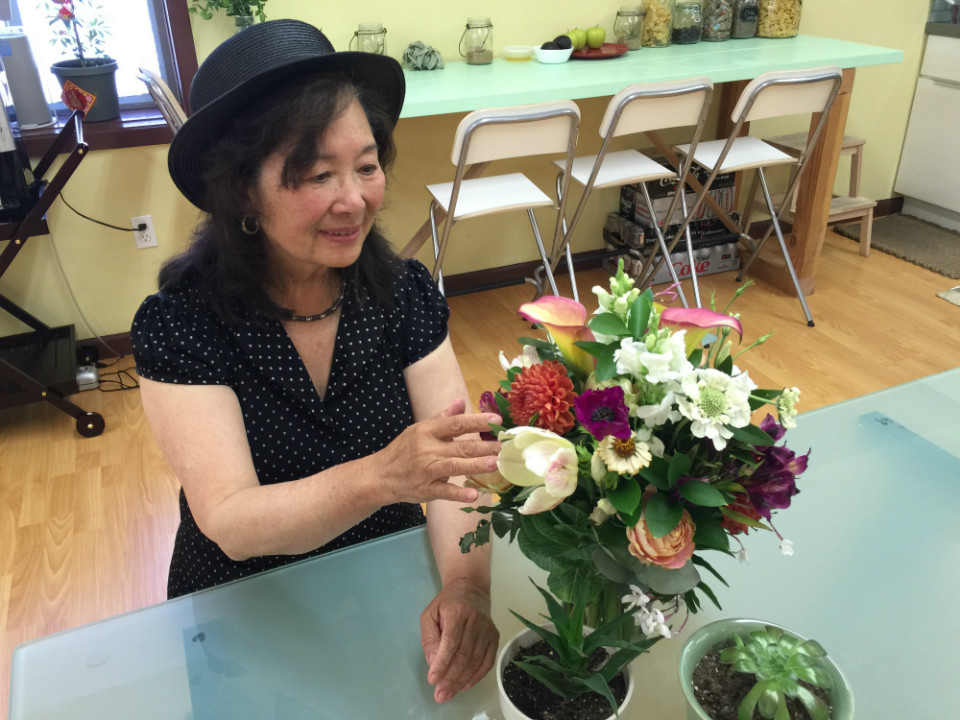 Pang. (Photo: Geri Koeppel/Hoodline)
Pang is a longtime Chinatown resident with a passion for her community and its traditions—and the only declared Republican of the three. She hasn't actively campaigned or put up signs, but says she meets regularly with her base in and around Portsmouth Square and feels fulfilled that she's doing something to support her culture. She's not considered a viable threat to either Christensen or Peskin, but many think Chinatown will be a huge factor in the race and that with ranked choice voting, Pang could tilt it either way. For her part, she said she's staying out of the fray and declined to comment on who might win.

Peskin's campaign slogan is "Leading the fight for a more affordable city," which resonates with the the throngs of renters—only 36 percent of city residents own their homes, according to U.S. Census data. Those people have felt more vulnerable of late due to the stratospheric housing prices. The vast majority of housing stock in the district is older than 1979 and thus is rent controlled, but they're still at risk of speculators buying up properties and using the Ellis Act to evict them.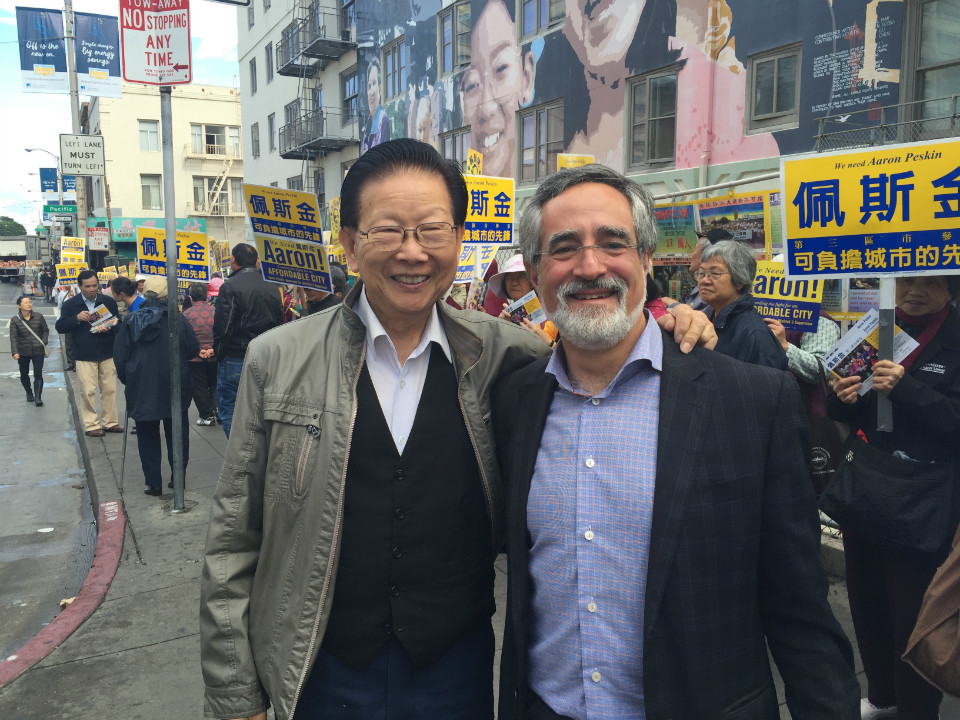 Francisco Hsieh and Peskin. (Photo: Geri Koeppel/Hoodline)
Peskin paints himself as the champion of tenants, the working class and and less advantaged. He wants the city to force developers to include more affordable housing in new developments, and he says he's going to pressure the state government to expand rent control past 1979 and greatly curtail Ellis Act evictions so people can stay in their homes. His naysayers claim he's an obstructionist who opposes any new building, which they believe contributes to the housing crisis.
What about those rumors?
We asked the candidates about the rampant rumors, mud-slinging and social media firestorms (though we haven't gotten into those, some neighbors on Nextdoor.com have done a thorough job airing their views about various allegations, the candidates' histories and transgressions, and more).
Accusations range from the serious (voter fraud) to the bizarre (Christensen yelling at a gallery owner). And there have been rumors on both sides of wrongdoing in either pressuring business owners to put up their signs or take down their opponent's signs. 
Christensen said, "I have not heard complaints of anyone in my campaign of shouting or yelling or spreading untruths. That's not what we do. It's not the kind of person I am, it's not the kind of campaign I've run ... This is a civil neighborhood. This is about ideas and not personal attacks."
As for the recent allegations made that Peskin was committing voter fraud by marking ballots for monolingual Chinese speakers, she said, "Those concerns have been raised by a group that's involved with the Asian community. They ran across numerous instances that were reported to them and they took it upon themselves to investigate and that investigation is ongoing. This is not my doing; this is not my campaign's doing. We do have a mayor's race and important ballot measures. I think the sanctity of the ballot is important to a lot of people for a lot of different reasons."
Peskin also denied his people have done any gutter-trawling, saying, "I'm very proud of our campaign. We have had no negative mail or whispering campaigns. We've run on the issues." When asked about rumors that he's strong-armed business owners to put up his signs in their windows, he denied it. He did say, however, that Christensen was seen on a security camera taking down and ripping up one of his signs.
We also asked Peskin about rumors that Christensen pays monolingual Chinese to appear at events and to walk around holding her signs. He said, "They do get paid; it's no secret. It's not an allegation. That's a fact by their own admission." He pointed to a crowd of several dozen Chinese residents in Chinatown holding his signs and marching, and said, "These people are 100 percent volunteers."
Christensen said Peskin has paid campaigners, too, though. "A large number of people who have knocked on doors for Aaron have been paid campaigners," she said. "To my knowledge, Aaron has outspent me by about $100,000."
Actually, according to an article in the Examiner, spending by Christensen supporters recently outpaced Peskin for the first time in the race. They spent more than a million dollars as of Monday, while Peskin supporters had spent more than $900,000—and that's a lot of mailers, as we all well know. This has been the most expensive supervisor race in history.
But in case you didn't know, we might get to do this all again in a year, when the term is up. We asked both Christensen and Peskin if they'd be back stumping for the seat if things don't go their way today; both were non-committal.
What do they stand for, and how do they feel about the race? 
Julie Christensen
"It's going to be a close race; we all know that," said Christensen. "We all know how experienced and adept a political my opponent is." She added, "I feel good that I've gotten my message out there."
One big message is the need to build more housing. Christensen helped champion legislation to add more "in-law" units in the district and supports building more senior and middle-income housing as well as low-income housing.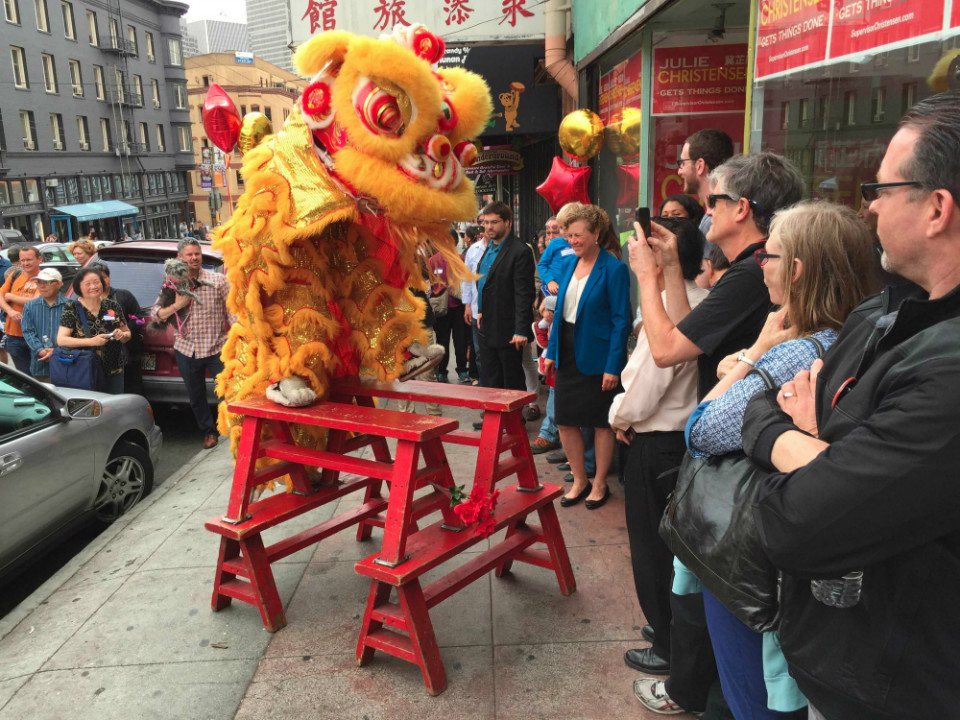 Opening of Christensen's headquarters. Photo: Geri Koeppel/Hoodline
"Job one is adding more housing," she said. "We're in this trouble because for the last 15 years or so we haven't added housing as our population increased." Christensen said she's working with developers to maximize the number of units in projects, and has been instrumental in the 88 Broadway proposed affordable housing project.
That development, on the site of a parking lot on Port property, was slated for all low-income housing. After neighbors repeatedly pushed for middle-income units, she pressured the Mayor's Office of Housing to rethink the project and add an adjacent property. If all goes well, an additional 40–50 units will make it in, and it'll include units for seniors and middle-income. "I want to make sure that the people who live around this project have a say in what happens there," she said. Peskin, she said, supports the idea it should be all low-income.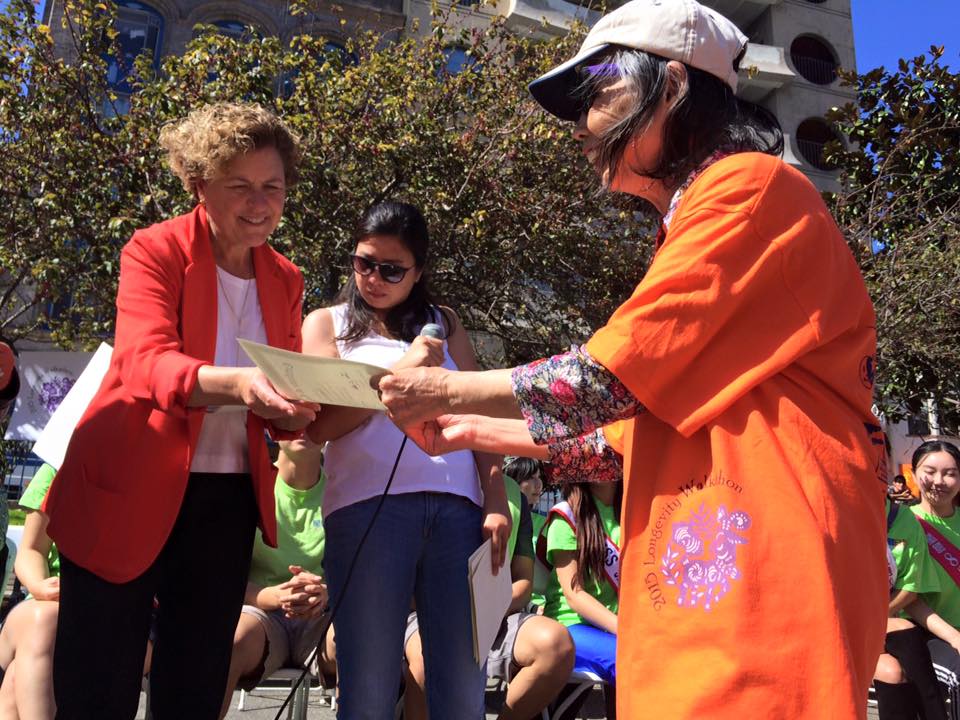 Photo: Christensen campaign staff
Another big question many in the district have concerning a housing development is her stance on 8 Washington. Many think Peskin will successfully continue to block it in any form while Christensen will find a way to green-light it. She said polls shows 8 Washington is not a big issue for anyone other than those who live nearby, for one, and for another, she's recommended to the Port that it decouple its property from the parcel on which the Bay Club sits.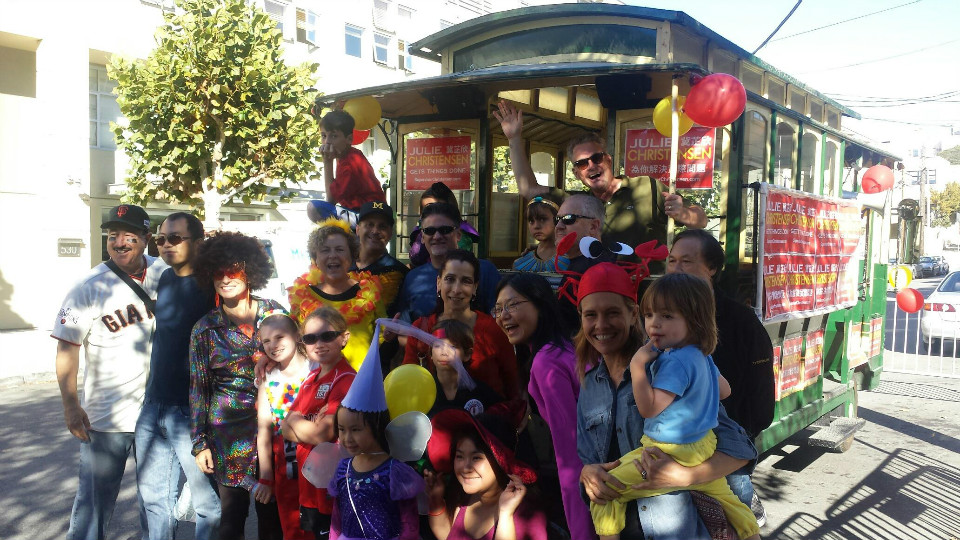 Photo: Stephanie Greenburg
In addition, Christensen said she's working to upgrade SROs and fight evictions, and she mentioned her record of trying to get more transportation along the waterfront (she hopes the E-line historic streetcars will operate daily by early next year in time for Super Bowl) and efforts to address homelessness in district parks.
Wilma Pang

"My role in this election is not so much to win because both Julie and Aaron raised zillions of dollars; I haven't raised a penny," Pang said. (It's actually not zillions; see the numbers in this story above).
Instead, she said her job is "mainly to represent the monolingual part of Chinatown, which is the bulk of the population and carry their voices, and I think I've done a good job on that." She urges the community to care about Chinese culture and traditions.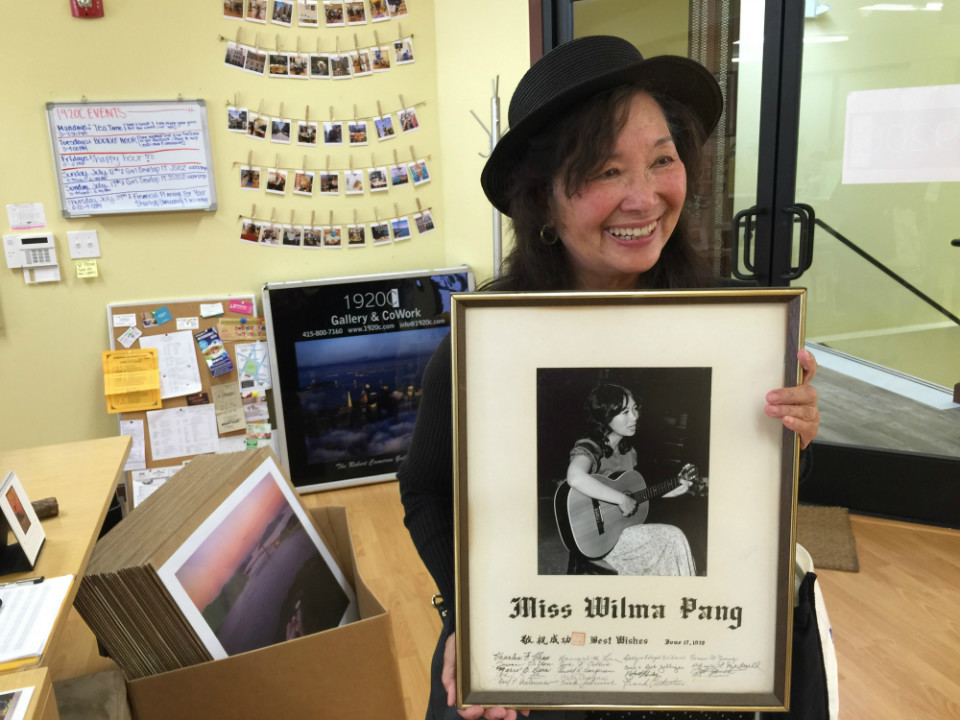 Pang. (Photo: Geri Koeppel/Hoodline)
One way she's done that is by starting a pioneer program in Chinatown to introduce the senior musicians on the streets and in the parks. "They love it and the tourists love it," she said. "Whoever wants to be the next supervisor, I'd be very happy to work with them and want to make sure culture and tradition is carried on in our city and our district."
Pang, a longtime Chinatown resident, added that she is somewhat amused that people are saying the neighborhood is a battleground. "Almost on every corner there is someone there carrying signs," she said. "People are paying attention. I feel good about it."
Aaron Peskin
Speaking of Chinatown, Peskin was out in force on Monday morning on Stockton Street where several dozen supporters marched with signs and chanted slogans in Cantonese including, "Peskin has a good heart!," "Bearded one, must be good!," and "We need Aaron!"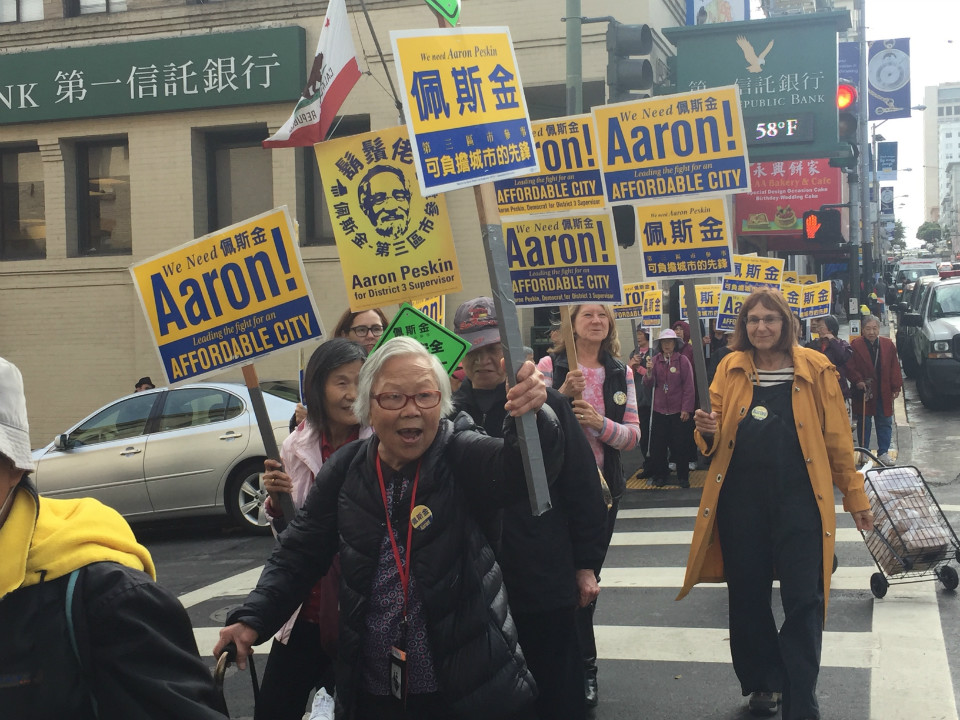 Photo: Geri Koeppel/Hoodline
"The outpouring of grassroots support has been overwhelming and touching in every community,"  Peskin said, adding, "We're cautiously optimistic we're going to get our city back in the hands of independent neighborhood-based leadership."
Peskin first announced his campaign in May on the steps of a home in Chinatown where a woman, her husband and their disabled adult daughter were being evicted from their home after 34 years. He pledges to work with state lawmakers to disincentivize Ellis Act evictions.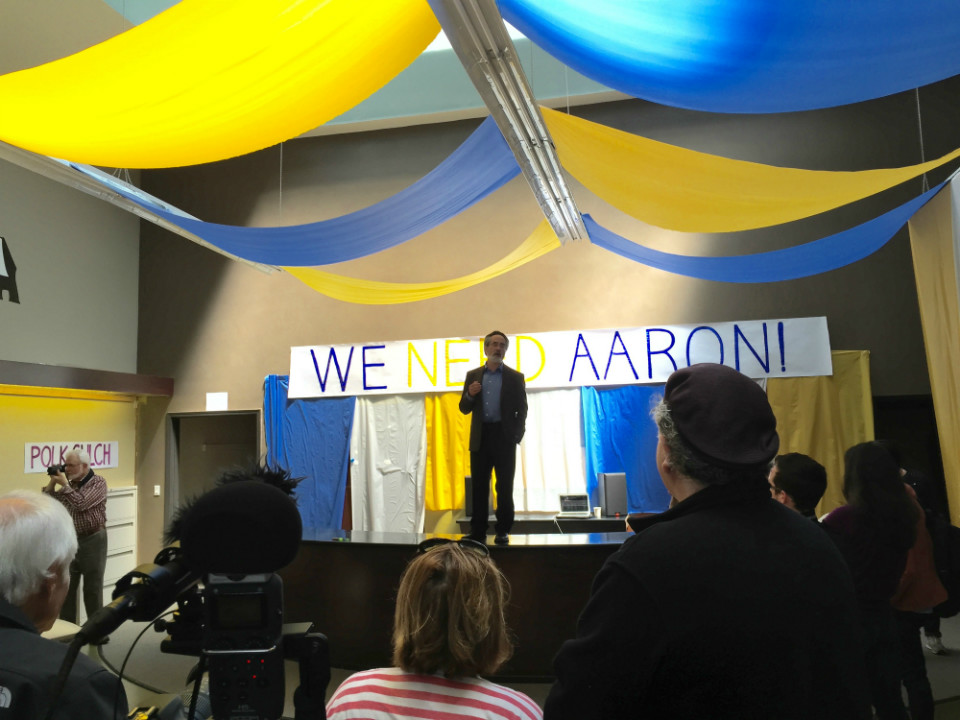 Opening of Peskin's Polk Gulch campaign headquarters. (Photo: Geri Koeppel/Hoodline)
Peskin also wants to start talking about expanding rent control beyond 1979. "I have no illusions that it's going to be easy," he said, "but I think it's a conversation we should start." He's also a strong supporter of Supervisor Jane Kim, whose "Evictions 2.0" legislation, among other things, prevents landlords from evicting tenants for offenses such as leaving a stroller in the hallway or hanging their clothes out the window to dry.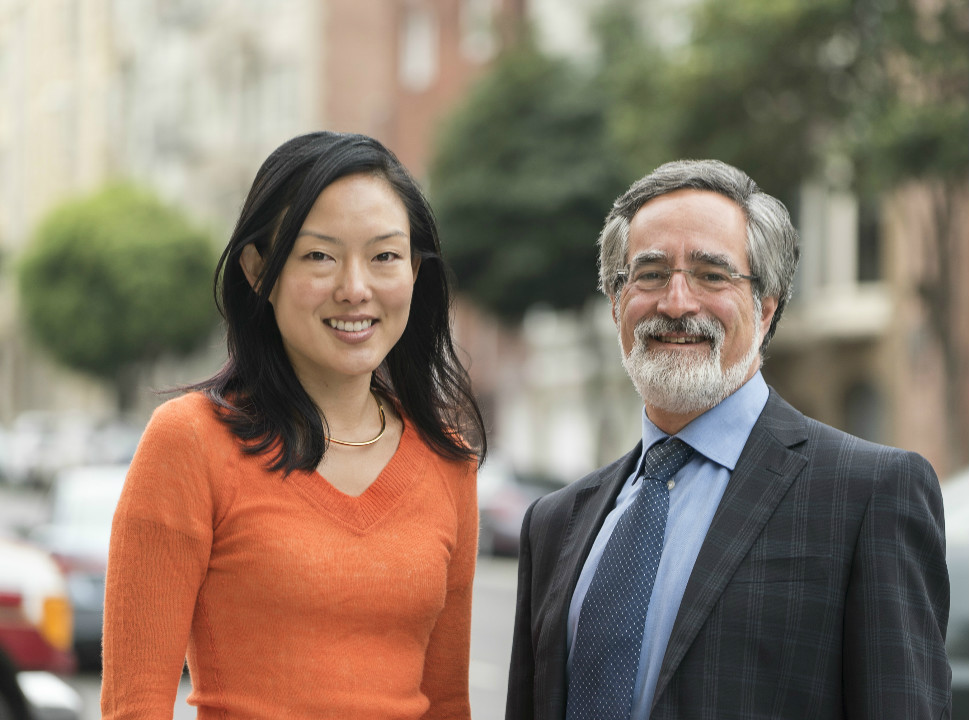 Jane Kim and Peskin. (Photo: Aaron2015.com)
Peskin also wants to push developers to include a greater percentage of affordable housing in new projects. When he was on the board, he said, developers were required to build 15 percent of their units as affordable; "now it's dropped to 12," he said. In this market, he added, it should be possible to require 30 percent affordable.
And he's an advocate of the city's Small Sites Program, which aims to protect and stabilize housing. He and Kim were vocal advocates for residents of a building at 1964 Larkin St. who are in the process of being evicted; he said his "fingers are crossed" the tenants will be able to stay, possibly through a small site acquisition by the city.
Unlike Christensen, who is against Proposition F to put more controls on short-term rentals, Peskin is in favor of it. He believes building owners buying up buildings to create short-term rentals leads to evictions, and that they gobble up units that could be used by full-time residents. Peskin was also, and continues to be, a vehement opponent of 8 Washington, which has created a loyal bloc of supporters.
For more info...
For more information, including finding out which community and political groups endorse which candidates, visit Hoodline's interactive 2015 Election Guide. If you'd like to drop by events tonight to watch returns with the candidates, Christensen's camp will be at Monroe at 473 Broadway and Peskin's camp will be at 678 Green St., the Beach Blanket Babylon building.