Back in April, Carlos Lopez of Haight Street Shoe Repair (1614 Haight St.) announced that he'd be retiring this year, after 17 years serving as the Upper Haight's go-to cobbler. Later, he set a date for the closure: Sunday, December 27th, which is less than two weeks away. His parting words, on a sign in the window, are simple and to-the-point: "Please pick up your shoes."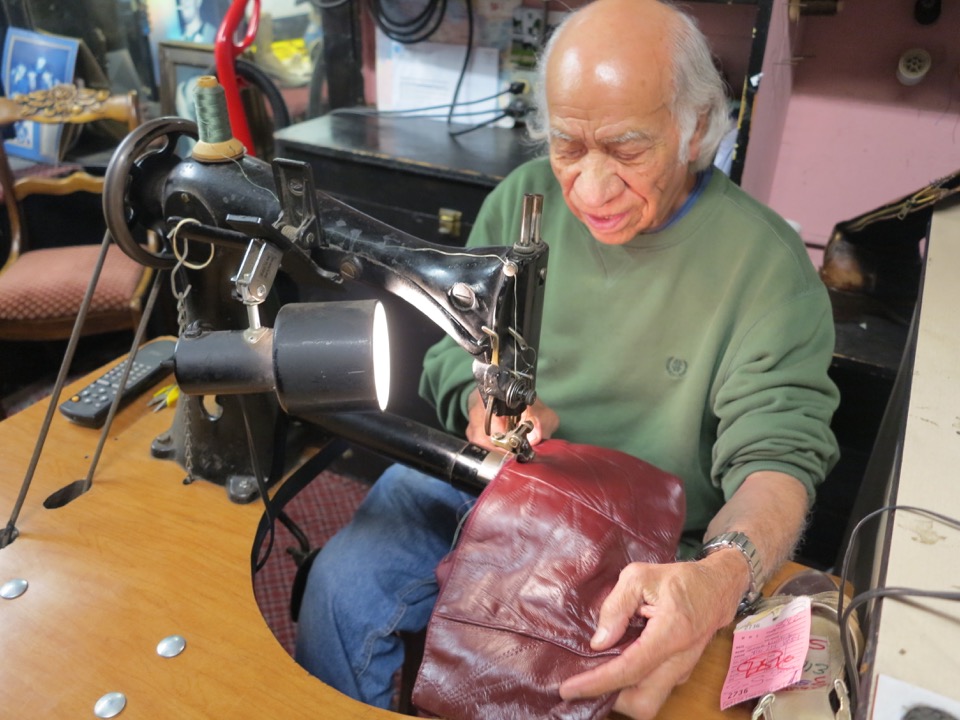 Lopez, a native of El Salvador, moved to San Francisco in 1979 and began working in the shoe repair shop of The Emporium, the department store that would later become the Westfield San Francisco Centre.
His career in the Haight began 20 years ago, when he came to work for Jim Bell, the owner of Elite Shoe Repair. Bell died in 1998, three years after Lopez came to work for him; Lopez took over Elite's Haight Street shop, and has been there ever since.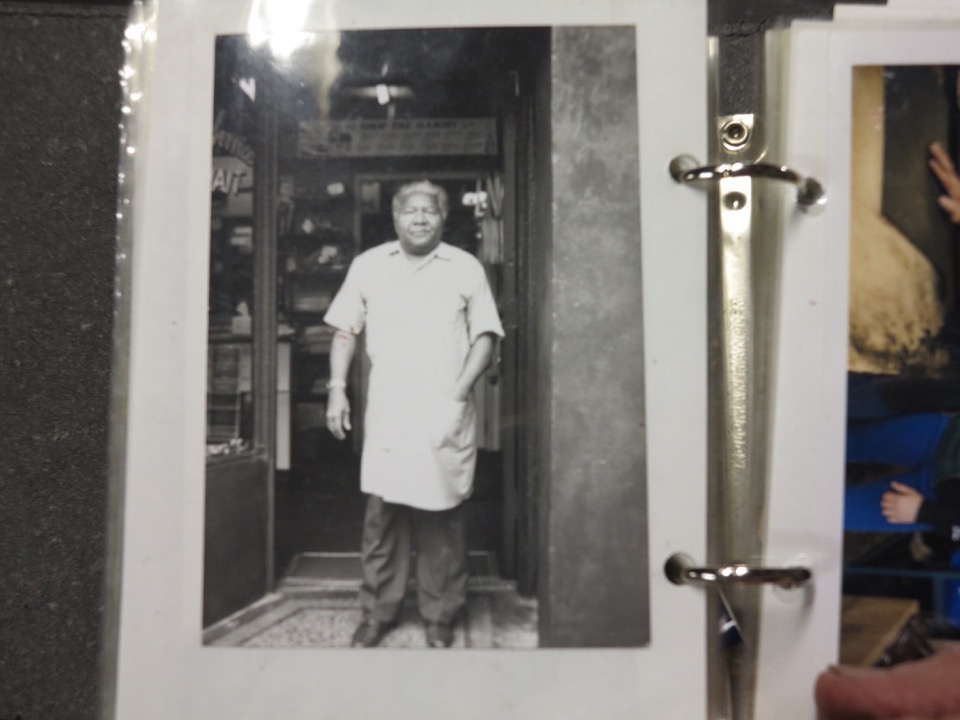 Jim Bell, owner of Elite Shoe Repair.
"I am leaving because I want to retire," Lopez told us. "I've worked in shoes all my life—for 70 years. I'm 80 years old. It's been a long time."
Lopez has fixed the shoes of countless clients over the years, and keeps a photo album of some of his favorites. Some of them are familiar faces, including former Supervisor Matt Gonzales and California lieutenant governor/former SF mayor Gavin Newsom.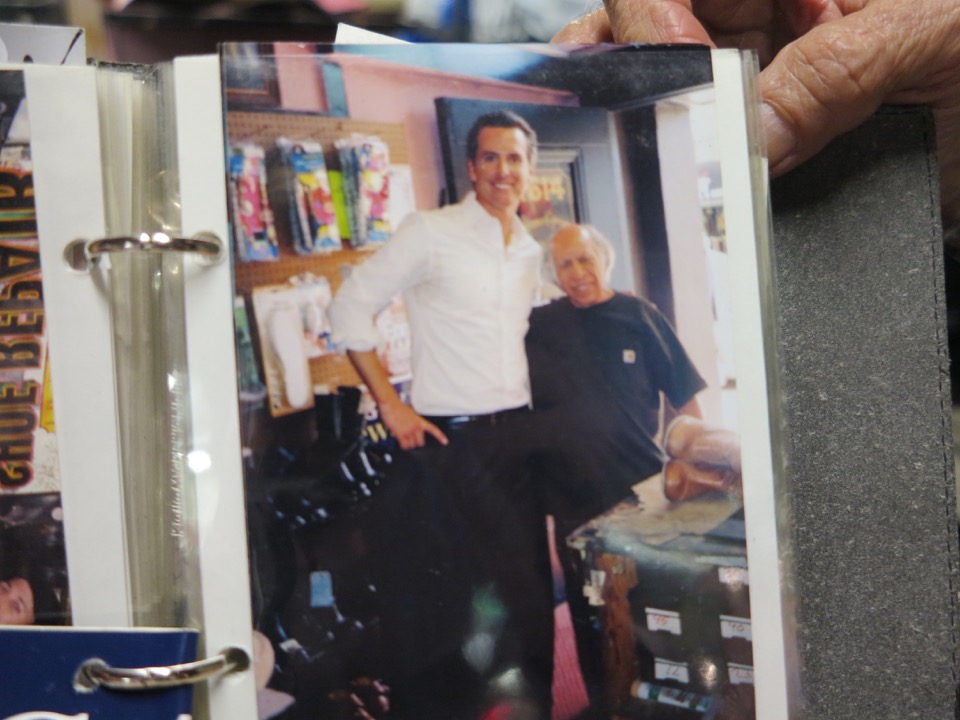 If Haight Street Shoe Repair becomes another type of business after Lopez departs, it will reportedly be the first time in nearly a century that the space at 1614 Haight wasn't occupied by a cobbler. (The Chronicle says the shop dates to the early 1920s; we were only able to find records of it as far back as 1937, which would still make it a long-lived 78 years old.) 

Lopez's assistant, Miguel Cerón, would like to take over the shop, but no formal plans have been made to date; Lopez told us he has no clue who will be taking over. He said he has had a great relationship with his landlord, but he isn't terribly optimistic about Cerón being offered the opportunity to take over, as he has the impression that she already has plans for the space. It should also be noted that Lopez has already sold all of his assets relating to the business, so if someone wanted to open a new shoe repair shop, they would need to buy all new equipment.
Lopez said he hasn't had a lease for the entire time he's had the business, but the $4,000/month he currently pays in rent will rise significantly once he leaves. We reached out to Lopez's landlord, Borgfeldt Company Inc., but have yet to hear back.
Lopez told us that his landlord was in no way forcing him out, or threatening to raise the rent while he was still working there. Regardless, Cerón said he would like to run a business at the same location, and plans to request a lease.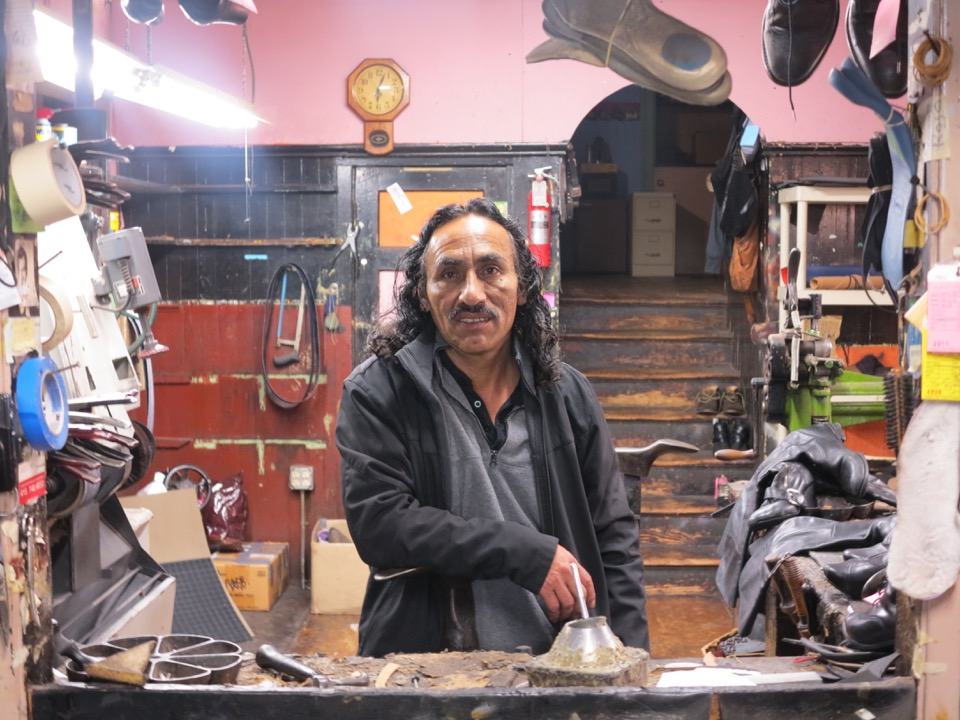 Lopez's assistant, Miguel Cerón.
Lopez's departure has upset many in the Haight retail community. "We are really upset. This is a neighborhood issue," said Denny Garbuio, who manages nearby John Fluevog Shoes. "Cobblers are a dying art form. We live in a disposable world, but Carlos represents a time when you bought better quality and held onto those items for as long as possible."
Fluevog, as well as many other shoe and apparel businesses on the block, use Lopez's services, Garbuio said. "There has been a shoe repair there for 90 years!" he said. "To think the neighborhood will have no one to service all the locals and shoe stores is absurd. Every time a long-term merchant loses his or her lease, it kills the neighborhood a little bit more. These sorts of neighborhood services are a dying breed."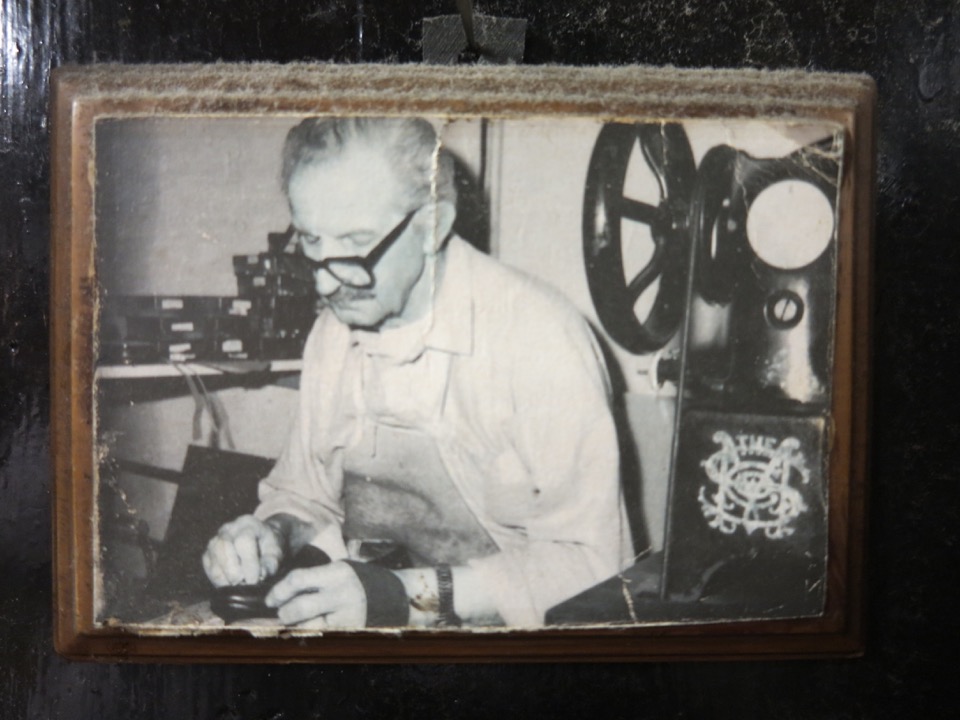 A picture of a former cobbler in the 1614 Haight space (date unknown).
We contacted the office of London Breed to inquire whether or not the preservation of Haight Street Shoe Repair could be aided by newly-passed Proposition J, a ballot measure that provides for grants intended to preserve "legacy businesses". We were directed to Regina Dick-Endrizzi, Director of The Office of Small Business, who explained that while businesses like Lopez's are the unique neighborhood assets the program seeks to preserve, steps need to be taken for them to be eligible for assistance, beginning with a nomination to be a legacy business by the mayor or the Board of Supervisors. The application then goes through a process which, at this time, is still being hammered out.
In this case, Lopez or whoever wished to take to the shop over would need to have begun this process in advance. Someone could conceivably step in, or even do so after Lopez leaves at the end of the month, but they would need to show that they are in fact continuing the same business in the same spirit, which could prove difficult since Lopez has already sold the assets pertaining to his business. It's also up in the air whether or not Haight Street Shoe Repair meets the 30-year requirement to be designated a legacy business, which depends on the terms under which Lopez took over Elite Shoe Repair 17 years ago. 
Regardless, Dick-Endrizzi told us that her office is now working on providing resources to help the succession of businesses that could benefit from Proposition J in the future.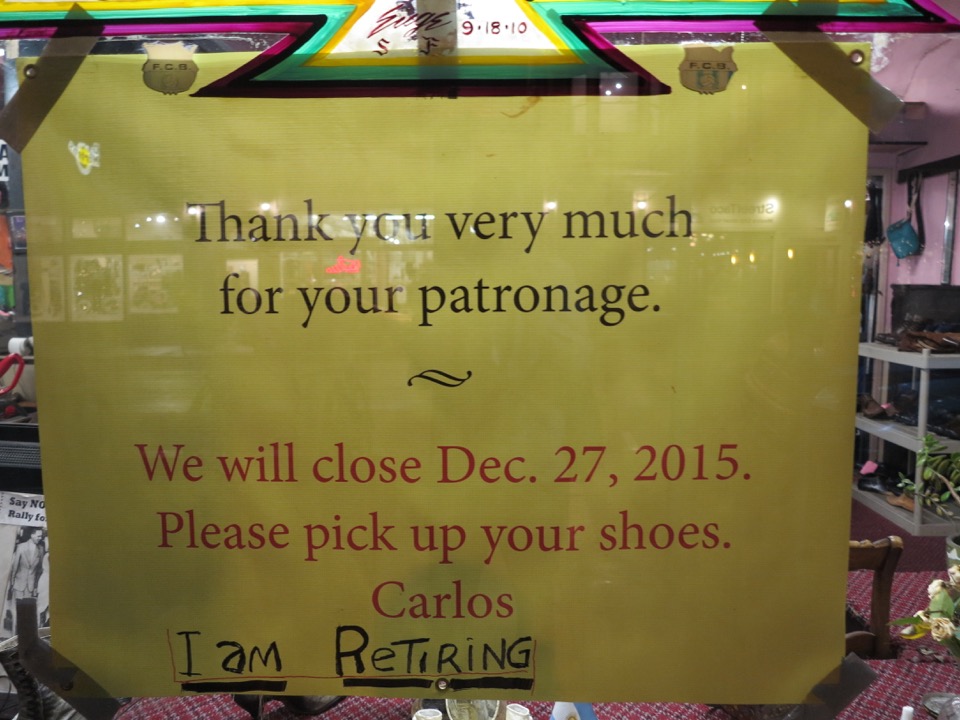 After he retires, Lopez said he'll miss the people he's gotten to know over nearly two decades. "All of the neighbors are great. Good neighbors all around," he said. "It's a beautiful neighborhood. I lived with these people almost 20 years. I have never had a problem with nobody. Everybody is nice people."
"I will miss everyone. I will miss all my neighbors, all my customers. I'm sad, but I have no choice. I've become too old."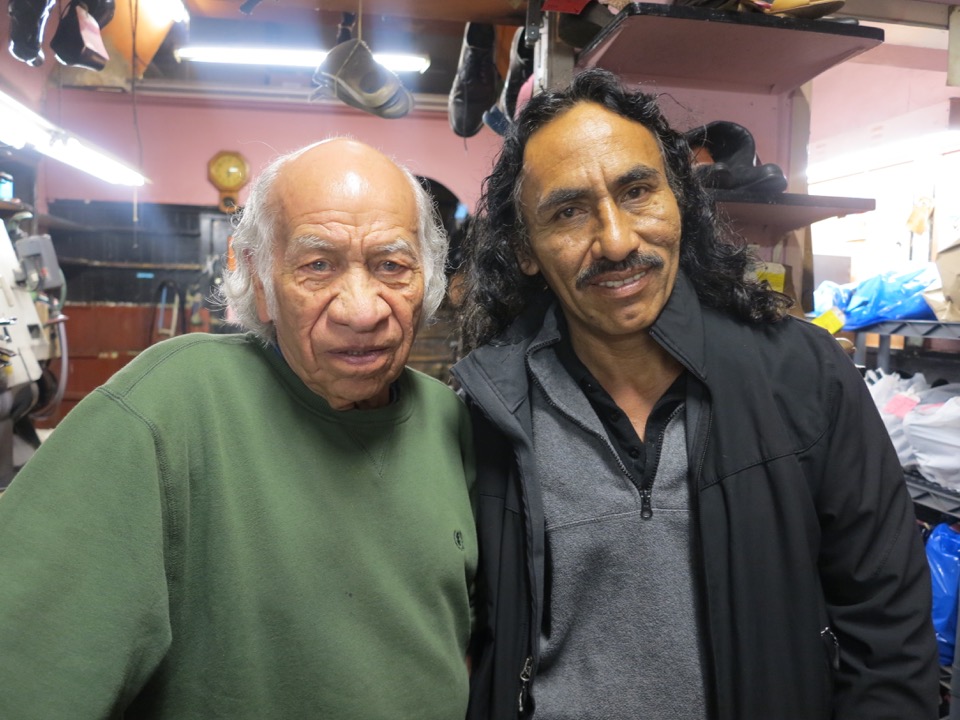 Next year, Lopez and his wife plan to leave the Bay Area and retire to Nicaragua. "I might still work in shoes," Lopez said. "Maybe design. Nicaragua is a very good place for retired people—my wife is from there. It's cheaper."
---
Special thanks to Kathleen Golata for translation help.