If you've spent any time strolling around the Haight, chances are you're familiar with the six tiled mosaic murals on the face of the building at 1950 Page St., formerly a Boys & Girls Club and currently home to the Fei Tian Academy, a private arts school.
Fei Tian, which opened its San Francisco campus in the Page Street building earlier this year, has announced it will be removing the six murals tomorrow, to make way for new windows into the school's classrooms and studios. But the sudden news has drawn concern from their creator, artist Sharon Virtue, who fears that removing them incorrectly will destroy them.
"The new owners are going to pull out the murals, despite my request for them not to and local neighbors rallying hard to find them a new home," Virtue wrote in an email to friends and supporters yesterday afternoon. "SF Parks and Rec have offered to give them a storage space, but cannot assist with removing them."
Virtue (center) in 2008, with Boys & Girls Club students who helped install the murals. (Photo: Sharon Virtue/Flickr)
The murals, installed by Virtue in 2007 and 2008, were created with funding from the San Francisco Arts Commission and help from students at the Boys & Girls Club. In her email, Virtue says that Fei Tian's operations director, Perry Uzunoglu, had been working with her to help remove the murals properly, but that without her assistance, they're likely to crumble in the process of being taken down.
"As the removal started, I got a message from Perry saying that as they tried to pull out [one of the] murals, it did start to fall to pieces," she wrote. "But they say they have to remove them by December 31st."
Virtue, a longtime resident of the Lower Haight, moved to London a few years back, and won't be able to return to California until January 11th. She's asking that Fei Tian wait until then to remove the murals, so she can address them personally. "I have given them better instructions on how to remove the mural without destroying it, by gluing a mesh to the front side. But I need more time to oversee/carry out this process," she wrote.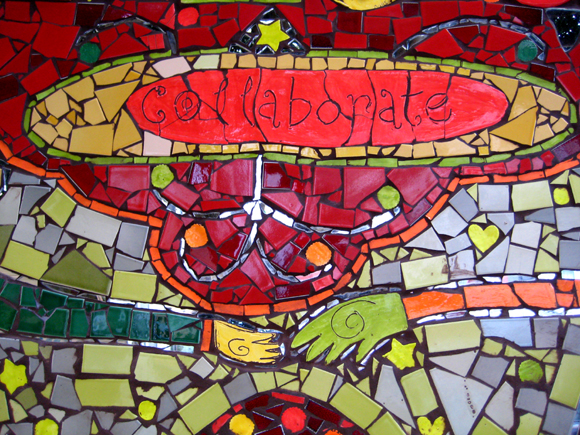 A detail from one of the murals. (Photo: Sharon Virtue/Flickr)
We spoke to Uzunoglu, who said the school will attempt to remove the murals properly, so they can be stored with the city until the neighborhood decides how to use them.
"We promote arts for the children and people of all ages," Uzunoglu said. "So we're not against art, we're not trying to destroy it or anything."
Uzunoglu said that the school is seeking volunteers from the neighborhood as soon as possible, to help remove the murals. (For those interested in volunteering, he can be reached via email here.) 
Nonetheless, some neighbors are concerned that removing the murals without Virtue's help could spell their destruction.
Matt Freedman, a local neighbor and longtime friend of Virtue's, has been in correspondence with her about rallying local support to postpone the murals' removal. He's also been in touch with Supervisors London Breed and Eric Mar, among others. (We reached out to an aide for Breed, whose district includes Fei Tian, but did not receive a response by deadline.) 
Freedman said that Virtue only received notice about the December 31st deadline by way of an email from the school on December 24th. "It feels like [Virtue's] request is quite reasonable and modest, and it's very bizarre that the school appears completely uninterested in honoring that request," he told us.
Freedman said that a Fei Tian representative told him the school's refusal to postpone the work until after the New Year was based in concern for students' safety. Both he and Hoodline have contacted Fei Tian principal Sherry Zhang to learn more, but she has yet to respond.
​Update, [7:30PM]: London Breed has responded to our request for a comment, saying via email: 
I am a huge supporter of public art. I was the Executive Director of the African American Art and Culture Complex in District 5 for ten years, and I actually know this artist personally. So I definitely want to see the mural preserved and would have preferred it stayed where it is. It's an important part of our history, created by kids in our community.

Unfortunately, time and the law aren't on our side here. I am extremely disappointed that the Fei Tian Academy has denied my personal request to delay the removal until January 11th, the date the artist Sharon Virtue is scheduled to arrive in San Francisco from Europe. Both my office and members of the community supported their purchase of the building and now we only ask for a little more time to make sure the mural is not damaged during the removal, by allowing the artist, at no cost to them, to oversee the removal. They have expressed a need to get the removal work done before classes resume on Jan 4th. And since the mural is on private property, the school's only legal obligation was to notify the artist 90 days in advance, which evidently they have done.

I am working with the City's Arts Commission to ensure the removal work is done properly and safely so the mural can be back on display in the community soon. It is a very heavy piece. If anyone would like to help with the effort, please come to the Fei Tian Academy tomorrow at 10AM.