We recently asked readers to nominate local people, businesses and organizations that are doing good in their communities to be featured here on Hoodline. We've been running a series based on those reader suggestions. Here's one such story.
---
For longtime HIV survivor and current AIDS Housing Alliance SF (AHA) Executive Director Brian Basinger, no issue facing San Francisco is more important than affordable housing.

While the tech explosion has seen a precipitous drop in unemployment and brought an unprecedented economic boom to the Bay Area, many in the poorer communities have been left out. 
People with AIDS, a large portion of whom survive on disability checks and food stamps, have been particularly hit hard by the City's housing crisis. Basinger understands their dilemma all too well, having been Ellis-evicted himself.
Basinger, who has a long history of progressive Queer activism, formed the AHA in 2004 so that LGBTQ-identified people living with HIV in San Francisco could receive assistance in keeping their homes or obtaining housing.
While the tech industry was in recession in those days, a long-term housing shortage in the region and the nationwide real estate boom had already made the city far more expensive than earlier decades. 
"We believe in a world where all people have a safe, decent, and affordable home," Basinger told Hoodline. "Toward that vision, we prevent homelessness for the HIV and LGBTQ communities by protecting the housing we already have, providing resources to secure new housing, and promoting public policy for all."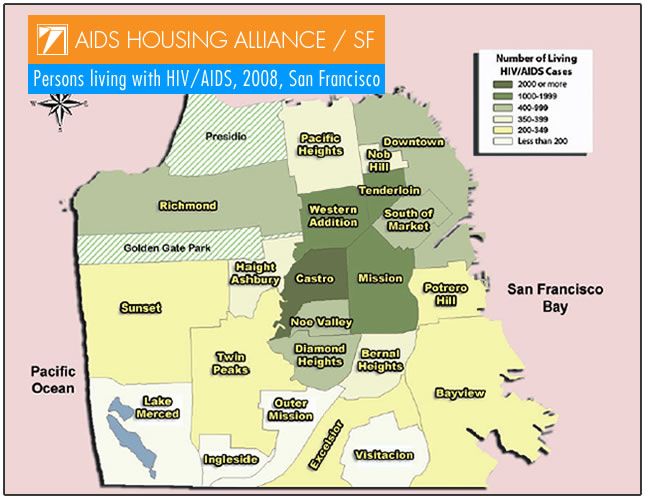 An older map showing concentrations of people living with HIV/AIDS in the denser, central parts of the city — a trend that continues. Via the AIDS Housing Alliance.
Basinger and his staff also offer a program called Simply Sandwiches, which serves 10,000 brown bag lunches to AHA members each year. Simply Sandwiches is a coordinated effort between AHA, Mercy Housing, Episcopal Community Services, Coalition on Homelessness, and LYRIC. AHA also has a job training program on campus at UC Hastings and an emergency assistance program that helps clients get caught up with back rent.
A Personal Situation
Though AHA serves the entire City, many of the clients are focused in two neighborhoods.
"We have served nearly one third of all people living with HIV/AIDS in San Francisco, nearly 5,000 households, with the bulk living in Tenderloin and Castro," Basinger said.
"The demographics of the people we serve are similar to other HIV organizations, and follow the epidemic in San Francisco," Basinger explained. Although HIV infection and death rates have dropped in the last decade, San Francisco has been at the center of the epidemic since the early 80s, and thousands of older patients live in the city.
"The main change over the years is the proportion of clients who are homeless," according to Basinger. "Since the latest housing crisis, now two-thirds are homeless."
Being a gay epicenter, the Castro has been hard hit by HIV and affordable housing issues.

"I have stories of formerly well-paid gay white men in the Castro who have finally succumbed to the cumulative effects of multiple traumas caused by sexism and homophobia, the devastating losses of the AIDS epidemic, and on-going HIV stigma," Basinger explained.
"The devastation is wreaking havoc on their ability to gain or maintain employment. They've lost their friends, loved ones, their careers, their purpose, their looks. All that is left is their little apartment, that oasis in the Castro, and that, too, is slipping away."
AIDS Housing does all it can to alleviate these conditions. "I wish I could bottle their stories," Basinger said. "I wish I could bottle and feed to you what it feels like to finally have the tools to transform these horrors into a place of sanctuary again."
Basinger was himself evicted a decade ago while dealing with serious HIV-related health issues.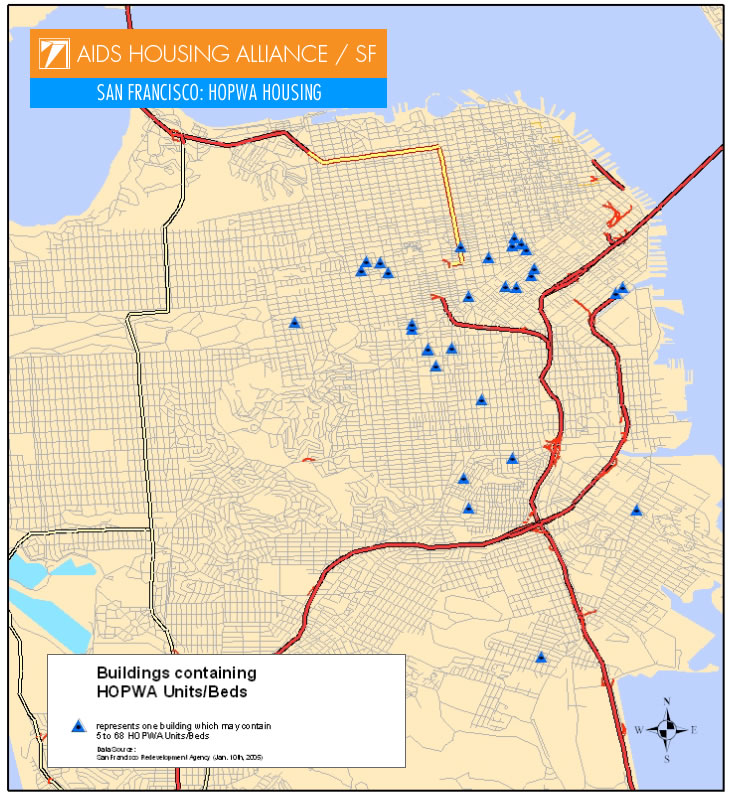 A map of Housing Opportunities for People with AIDS (HOPWA) via the AIDS Housing Alliance.

"I was fighting to get into clinical trials to HIV meds," he said. "I had just come back from a serious illness. My life horizon at the time had me living for a year. Instead of being afraid, I decided to go out with a bang and founded AIDS Housing Alliance as my swan song. Funny thing is, I didn't die."
Basinger shared the story of how the Pearl Street building where he lived from 1990-2004 was illegally targeted by speculators. It was a building where Basinger saw many of his friends and neighbors succumb to the ravages of AIDS.
"The mind boggles at the number of gay men with AIDS who died in that building," Basinger recalled. "Many were cremated and their ashes were spread in the garden. At one point, I added up thirty people who died who had lived there."
The building, Basinger said, was bought by a lesbian who lost her brother to AIDS. "She eventually sold the building to the people who Ellis Act evicted me," he said. "A straight real estate agent and serial evictor and a straight couple. The real estate agent never took occupancy of my unit and turned around and sold it as a Tenancy In Common after I moved."
The profits to the agent, Basinger tells Hoodline, were huge. "I was the 13th disabled gay man with AIDS evicted from that one little block on Pearl Street in two years," he said.
A Focused Mission
Basinger has no uncertain views about the causes and solutions to the housing crisis. As a staunch progressive, he blames the "Twitter Tax Givaway" for escalating the City's tech boom and the resultant evictions and skyrocketing rents. 
"The Mayor and the Board of Supervisors owe the people of San Francisco amends," Basinger said. "They made choices that created very real and long lasting harm to our people. They will never be able to restore what has been lost, but they owe us the most aggressive agenda possible."
Basinger, a former Harvey Milk Democratic Club president is known for his directness within activist circles, doesn't just have criticisms ready for ideological opponents.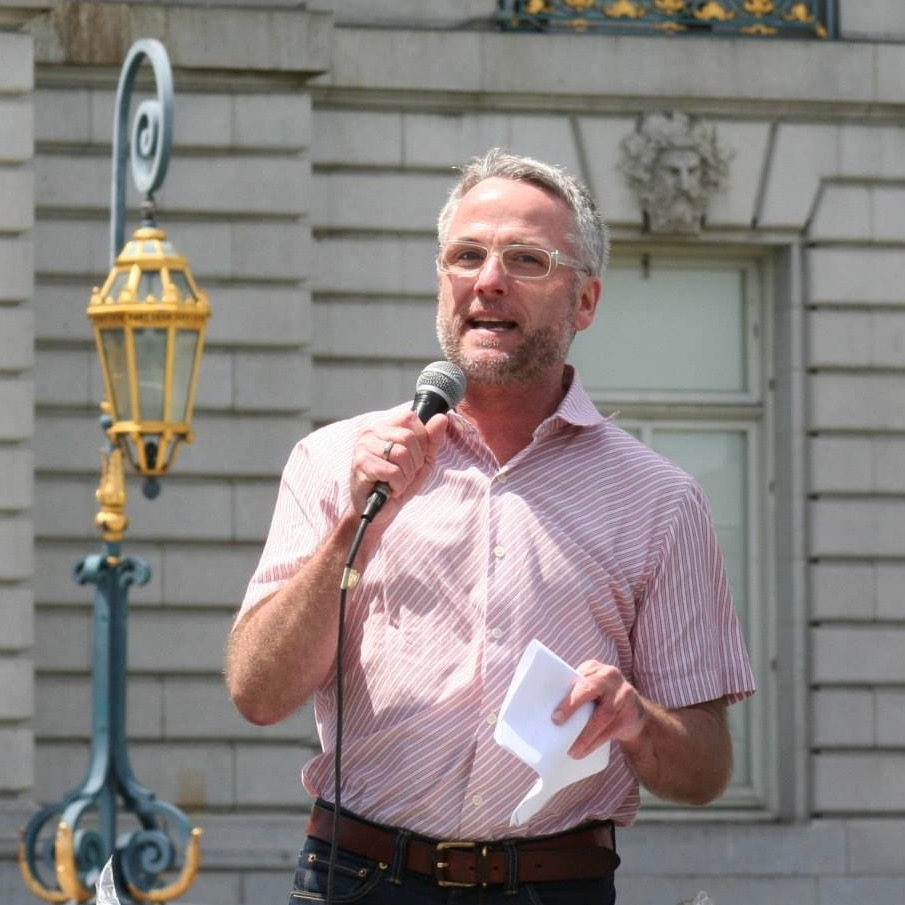 Photo courtesy of Brian Basinger

He blames "distractivists", or activists who bring personal agendas sometimes unrelated to housing issues to anti-eviction rallies and hurting the bigger effort.
"We must avoid muddying the waters by introducing tangential and unrelated arguments into our narratives," he said. "We must recognize and work on intersectionality but must be very mature on how we incorporate it into public messaging."
Basinger's straightforward approach hasn't stopped him from making friends and raising funding for his organization over the years. The AHA has generally avoided controversy and instead has stayed focused on the mission: saving and procuring affordable housing for LGBTQ seniors and people with AIDS and other disabilities. 
The organization's current annual budget is now $2.2 million, and it also recently received $600,000 from the City to provide housing for 61 seniors living with HIV. He served as a Grand Marshal in the 2015 San Francisco Pride Parade.
He intends to keep up the pressure.
"It is the responsibility of our government to insure equal access to human rights," he said. "Housing is a human right; therefore, it is the responsibility of the government to curb the excesses of the tech companies, speculators, and the billionaire developers.
"These greedy people caused the housing crisis but City Hall enabled it. Ultimately, each of us is responsible to become involved citizens — to understand the mechanics of the housing crisis and to elect representatives who are qualified to mount a response equal to or greater than the need."

AIDS Housing Alliance offers a drop-in clinic on Mondays and Tuesdays--sign-up is at 10:00am. Bring ID, proof of income, and letter of diagnosis if applicable. The organization maintains offices in the Tenderloin at 350 Golden Gate Ave. Learn more on their website.