Last time we spoke with Black Sands, the shiny new brewery and restaurant had just finished putting the final touches on its space. The project was a long time coming (two years, to be exact), and many Lower Haighters were eager to see how things would play out at 701 Haight.
That was almost five months ago. Since then, Black Sands has expanded its hours, fine-tuned its beer program and changed out its food menu many times over. 
For a catchup chat, we met up with Black Sands' co-owner Andy Gilliland and chef Eric Ehler to discuss brewing methods, beer/food pairings and running a business in the Lower Haight.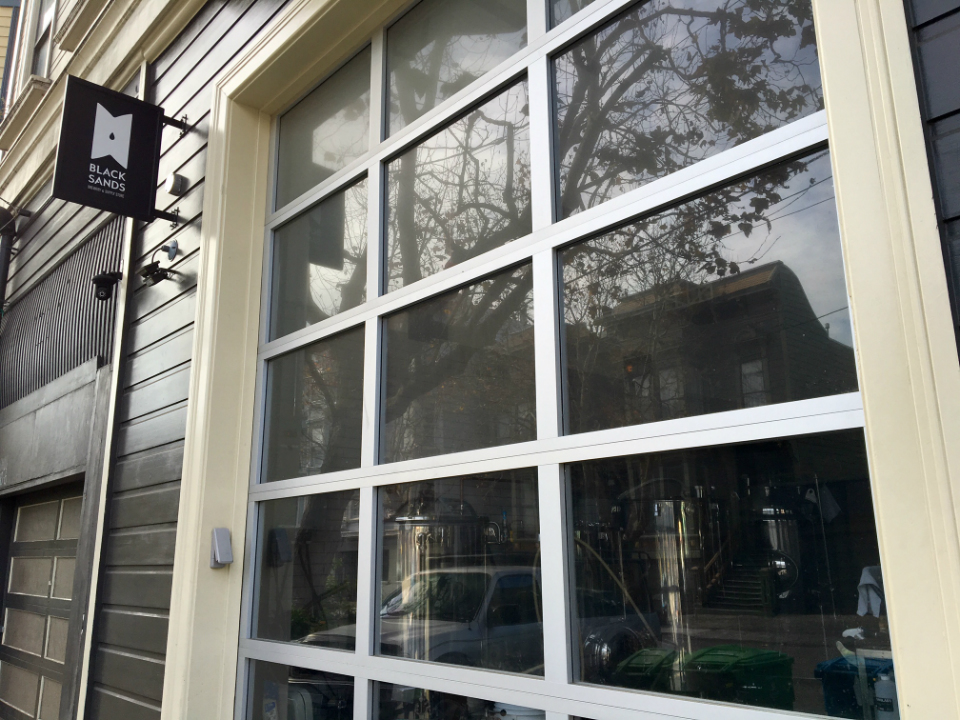 As a native Lower Haighter, what attracted you to owning a business in this neighborhood?
Andy Gilliand: I brewed my first beer two blocks from here. Cole [Emde] brewed his first beer in this neighborhood. I love this neighborhood, and it was important to me to open here. When we found this spot, it was pretty daunting, because at the time, it was a pile of sand. We had to do an insane amount of work to make this space presentable. Plus, the building almost fell down, which set us back another eight months. There was a point where we almost left this spot, but we stuck with it, mostly for the location. This place would've cost us half as much if we'd put it in the Mission.
What has been the biggest change since Black Sands opened?
AG: We've been focusing a lot more on our SMaSH beer, which stands for single-malt-and-single-hop. It's basically the simplest kind of beer you can make, because it's essentially just two ingredients: one type of grain and one type of hop. To put that into perspective, your typical hopped-up West Coast IPA has maybe 3-4 different grain types and 3-5 different hops. We cut that down pretty significantly, because we think that good beer can be made really simply. It's all about ingredients and process when you're keeping it that simple.
What's the advantage of a SMaSH beer over one that's more complex?
AG: First of all, it's a challenge to make SMaSH beer, so it keeps us interested in brewing and up-to-date on the latest ingredients. And for the customer, it's kind of an educational tool. When you drink a IPA with a lot of different hops and you like it, you don't quite know what exactly it is you like. But when you drink and enjoy a SMaSH Wakatu, you know you like Wakatu hops.
Pastries at Black Sands. (Photo: Andrew Dudley/Hoodline)
One the most common critiques in Black Sands' Yelp reviews is confusion over how the ordering and seating system works. What's your response to that?
AG: We'll always be the first to apologize if something is confusing, but our model hasn't changed since we opened. You come in, and if there's a table available, you can sit down. You can order food, beer or spirits from any seat. It's actually fairly simple.
What has been Black Sands' biggest growing pain?
AG: Pretentiousness is a direction you could go with a place like ours—serving crafted, well-made stuff, high-end cocktails and good food. So that's always on our mind. We don't want to be that place that you're nervous about going into. Finding the right people to help us run this place, like bartenders and servers, has been a challenge. We want to be a neighborhood spot, so having consistent faces [among staff] is really important to us.
Any major surprises?
AG: I'm surprised by how quickly we go through beer. Like, we can't make enough beer. We're already looking into making it in higher quantities. I didn't expect having that problem in the first three months; it's a great problem to have, but it still keeps me up at night.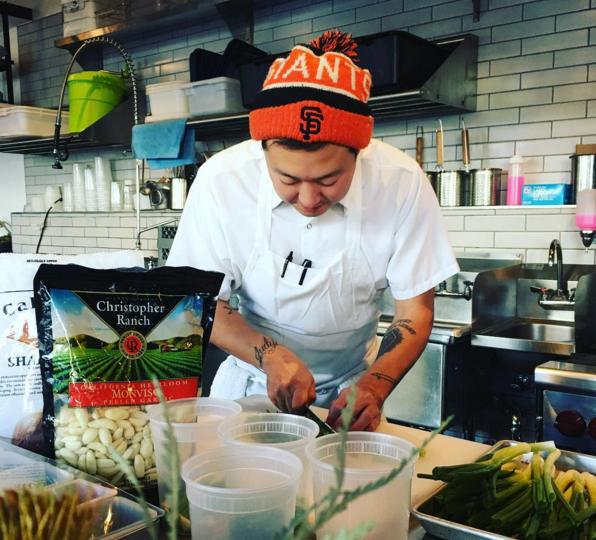 Chef Eric Ehler in Black Sands' kitchen. (Photo: Black Sands/Instagram)
Eric, are there current menu items you're particularly excited about? What about future menu items? 

Eric Ehler: We have a really nice "gyro" right now. It's not exactly your classic, run-of-the-mill pita sandwich. I use lamb belly in exchange for spit-roasted lamb. Instead of your typical iceberg lettuce, I add in a lightly dressed herb salad of mint, cilantro, and dill. It's very fresh and tasty. 
As for future items, I want to add more sandwiches. The area needs better evening sandwiches, and they will definitely go better with the beer. We're going to start messing around with a short rib Reuben with housemade kraut. 
Black Sands has a few Asian-inspired dishes, which is somewhat unusual for a brewery. Why did you decide to include these on the menu?
EE: I would say that Japanese/Korean/Chinese flavors are my strong suit. I obsess over those flavors. I've spent the past six years cooking, and a lifetime eating and studying these cuisines. I feel like these flavors fit right at home with a brewery. Countries all over Asia have deep beer-drinking cultures, and all have their own dishes that go well with beer. 
Black Sands has a pretty limited lunch menu. Will you ever introduce new lunch options?
EE: Hopefully! The 'hood is very hit or miss during lunch time. We are starting to expand with more daily specials, and I think that will help please customers a bit. 
What has been your biggest surprise since Black Sands opened?

EE: Everything has been a surprise. I didn't think people would go so nuts for the burger and fish tacos. I think we could open a stand and do just fine, selling only those two items. But everything has been great, and the 'hood has been very patient with us. I'm so thankful for our regulars and the support we are already getting.