The distinctively carved tree stump on Haight between Fillmore and Webster was knocked over earlier this week by a driver parallel-parking on Haight Street. 
According to tipster Cindy A., the tree, which is located outside the future home of Three Ravens Gallery, was knocked over by someone trying to back into a parking space on Thursday morning.
"It was pretty rotten at the base, but it's been there for a long time and will be missed," Cindy said. "Lots of tourists stop and take a pic of the carvings. Sad to see it go."
We're not sure who carved the stump, which depicts a buffalo, eagle and wolf, or how long it had been there; if you know more, let us know in the comments. Today, the stump is in two pieces, with the top part—which includes the carvings—intact  if a bit lower down than before. 
The stump in taller days: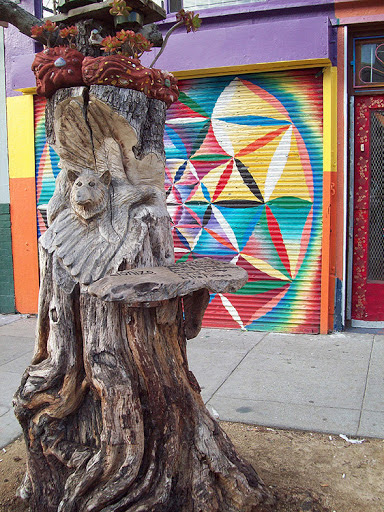 Photo: Cindy A.