Since voters passed the $195 million San Francisco Clean and Safe Neighborhood Parks Bond in 2012, families living in the Tenderloin and Polk Gulch have been waiting for Rec and Parks to investment in Macaulay Park playground at the corner of Larkin and O'Farrell streets. Come summer, the long wait may be over.
During the Recreation and Park Commission's capital committee meeting on Dec. 2nd, Dawn Kamalanathan, director of planning and capital management for Rec and Parks, provided an update on the agency's plans for the $15.5 million budget set aside for the "Failing Playgrounds" program. 
According to the staff report compiled for the meeting, Macaulay Park is one of six "Tier 1" playgrounds, meaning it will be prioritized for renovations next year. More specifically, the Planning and Capital Division proposed beginning the design phase for Macaulay Park in June, after renovation projects for Merced Heights and Washington Square Park begin in January, and Alice Chalmers and the Panhandle playgrounds begin in April. Renovations on the McLaren Group Picnic playground are slated to begin in June as well.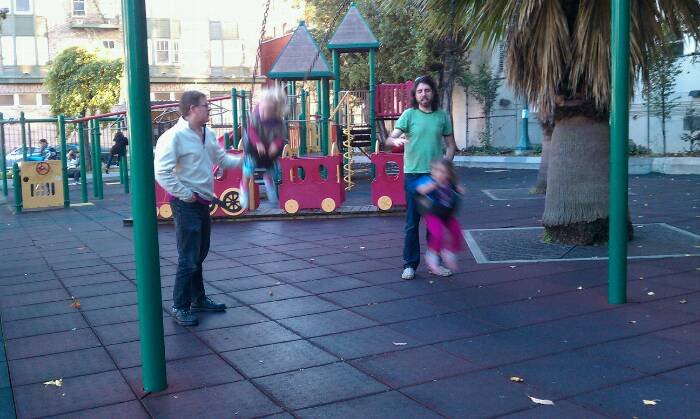 This latest prioritization comes after a task force—made up of members of open space organizations, the school district, children'sadvocacy and parent organizations and other organizations—spent most of 2014 devising criteria for narrowing down the city's 135 playgrounds and selecting six top priority playgrounds (Tier 1) and seven second priority playgrounds (Tier 2). The task force's ultimate recommendation: prioritize playgrounds where "Chromated Copper Arsenate (CCA) Pressure-Treated Wood" is present. CCA is a wood preservative that's been in use since the 1930s, but the Environmental Protection Agency has found that over time, treated wood can leech arsenic into the environment. Once the task force identified playgrounds where CCA is present, they then tiered the list based on low Household MedianIncome (HMI), high Youth Density and low Parks Alliance Report Card grades.
This year, the task force accessed each Tier 1 playground with San Francisco Public Works landscape architects and accessibility coordinators and estimates that the $15.5 million budget is enough to cover renovations for all six Tier 1 playgrounds, according to the staff report. "Each Tier 1 playground will go through a RPD Capital Division outreach, planning and design process.That process, code requirements and the market conditions at time of bid, will drive the final budgetand cost for each playground," it goes on to say.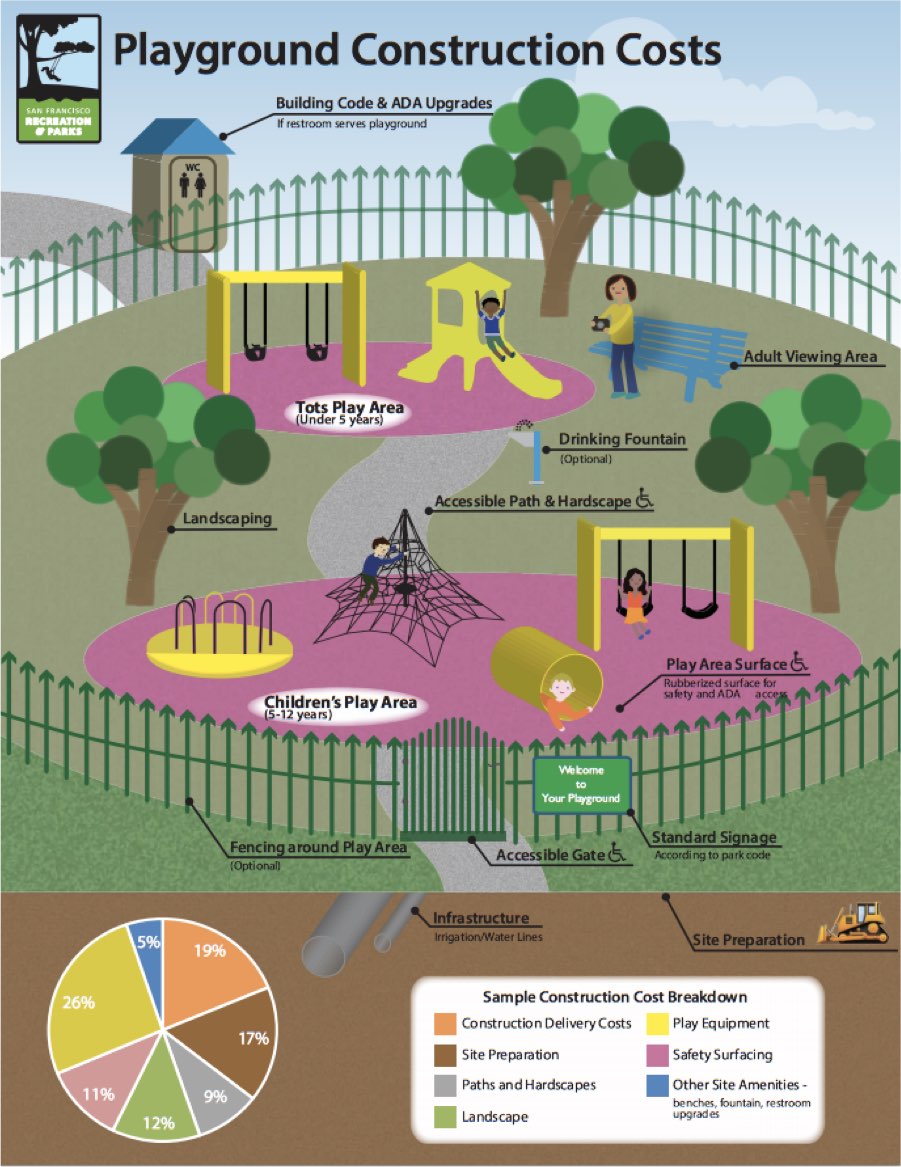 Pratibha Tekkey, director of the Tenderloin Housing Clinic's community organizing department, tells us that La Voz Latina representatives attended the Dec. 2nd committee hearing to urge the commission to consider tackling Macaulay Park renovations much sooner. Rec and Parks staff said they would look into it, Tekkey recalls, but said it would require additional budget to move the project forward in the timeline.
Since August 2014, La Voz Latina has been hosting monthly events—including fundraisers, celebrations and educational programming—for neighborhood children and their families in Macaulay Park. The organization saw a need for regular activation of the playground after surveying about 80 families and individuals living and working nearby and learning that top concerns included safety, illegal activities taking place in the area, and outdated lighting. 
La Voz Latina is in communication with Rec and Parks about assisting with community outreach once planning for Macaulay Park's renovations begin, Tekkey said, although they haven't seen a timeline for the project. In the meantime, the La Voz Latina team plans to begin informally surveying neighbors in January about their needs and wants for the playground.
While it's too soon to say what kinds of improvements parents will be interested in, Tekkey says they know that consistent programming will be key to making a revamped playground a success.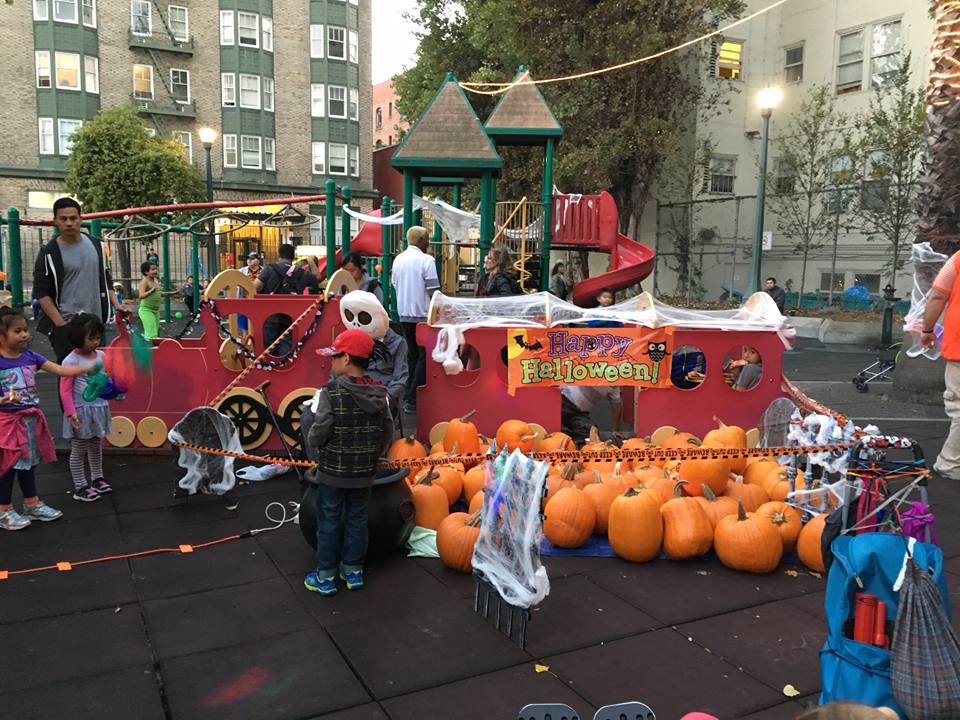 The newly-formed Lower Polk Community Benefit District is working closely with La Voz Latina to support safety improvements around the playground. The CBD has budgeted $100,000 to staff the JCDecaux restroom outside the park, which parents do not feel safe using, says CBD President Chris Schulman. Beginning the week of Jan. 5th, a CBD employee will monitor and maintain the restroom seven days a week. Daily hours have not been decided yet.

Schulman, who spoke at a recent Board of Supervisors committee hearing in support of expanding the Pit Stop program citywide, says the CBD is only committing to staff the toilet for one year. He hopes that their investment will result in an increase in usage and decrease in quality of life issues, providing proof that the city should add the location to the official Pit Stop program if the expansion does move forward.
We'll share more information on formal and informal opportunities to weigh in on renovation plans for Macaulay Park as they arise. In the meantime, La Voz Latina is hosting a free holiday celebration today from 12-2pm at the playground. A wide array of sponsors—including the CBD, the California Pacific Medical Center and its general contractor Herrero-Boldt, Saint Francis Foundation—have chipped in to help turn the playground into a winter wonderland. There will be food, drinks, activities and a real-life Santa handing out gifts to an expected 150 children.