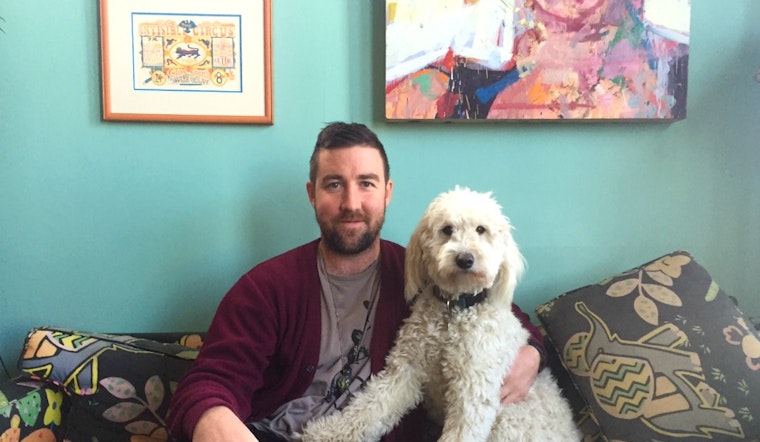 Published on December 07, 2015
If you live in the Haight, along the Wiggle, or near Divisadero, and if you bike, walk, or pay attention to local news, chances are you've come across community activist and neighborhood resident Morgan Fitzgibbons.
Founder of The Wigg Party, FreeSpace and the NOW! Festival, Fitzgibbons has made his name known in his nine years in this city, especially with recent actions like this spring's refereeing of cyclists on the Wiggle, and the summer's stop-in bike protest of police traffic enforcement. But the busy organizer of community events is moving on before year's end, to new ventures in his hometown of Toledo, Ohio.
We interviewed Morgan about his work on the Wiggle back in 2010, but in light of his impending departure, we met up with him again to discuss his local legacy and what's next.
When did you move to San Francisco, and why?
I moved in 2006, to go to grad school. I'm from Ohio and I went to the California Institute of Integral Studies, and got a master's degree in Philosophy, Cosmology and Consciousness. At the time, I thought I was going to be here for a couple years, do the program, and move along to get a Ph.D somewhere. I was interested in the mind/body relation, and altered states of consciousness.
But I very quickly learned about the planetary crises—I didn't know about climate change or biosphere collapse in Ohio. That was a big revelation for me, and I shifted my whole path to creating a cultural shift so that people could be around in the future. Let the grandkids figure out the mind/body thing, we have a survival problem here.
Eventually, I came to the idea of radical community organizing, and creating work here that is inspiring to other communities.
What are a few of the projects you started during your time in San Francisco?
The main one is The Wigg Party. The mission is to make the area around the Wiggle more sustainable and resilient. That was unofficially started in 2009. We do bike and pedestrian stuff, free dinners and food giveaways, skill shares—basically community-building.
There's the Urban Eating League, which we started in 2011. It's a competitive underground dinner. We get five houses within walking distance of one another to compete for hosting the best meal/dinner theater experience around a certain theme. We've done it about 25 times.
Another big one is FreeSpace; I was co-founder of that. The goal was to foster creativity, community and civic engagement through the gift of free space. We got a building in SoMa in 2013, and turned it over to the community to use it. It was really successful: we got invited to the White House, made the front page of the Chronicle.
The other main group I cofounded was the NOW! Festival. The plan was to work on creating the best possible version of our community for one extraordinary week. I also run Eco Lands at Outside Lands.
Will these programs continue after your departure?
The reality is, you cannot have people continuing to create these things if you don't pay them, in a place where it's insanely expensive. Over time, these things are going away. You cannot have a mecca for this type of stuff if you have to pay so much in rent, it just doesn't work. That being said, not everything's gone today.
On a case-by-case basis, the NOW! Festival is best-equipped and will continue on without me. The Wigg Party is basically coming to an end. We don't really have anyone in place to step into that, but I hope that there's another organization being born that will fill that roll of being a more radical voice than the Bike Coalition and WalkSF.
I'm going to stay on for Eco Lands. The Urban Eating League I'm taking with me, but we're developing some tools for that that can have a national focus.
Tell us a little bit about why you're leaving.
The short answer is cost of living. You cannot have creative community in a city that is exorbitantly expensive. It could work if the people with all the money gave to the things that needed to be supported, but unfortunately, that's not the case.
The ceiling in Toledo is much higher for me. It's dirt-cheap to live, and we can really create something special there. For example, there's a 24,000-square-foot warehouse in downtown Toledo in really great shape, and it's for sale for $175K. You put a down payment on that, and the mortgage is $1,000 a month. That's the kind of opportunity you're never going to get here.
Unlike when I moved here, San Francisco's not the only place anymore where it's okay to smoke weed and be gay. There's been a big cultural shift in the rest of the country in the past few years. The thing that drew me to San Francisco is because it's where my people were, but it's no longer the only place.

Leaving San Francisco, what do you want the local community to do in your absence?
I hope that seeing the people who have been working in the tradition of what San Francisco's meant to the world leave this city will wake people up to the need to support the work that needs to be done.