Tensions flared at Wednesday night's community meeting on the proposed Piazza St. Francis, The Poets Plaza, as neighbors grilled project sponsor Angela Alioto on concerns ranging from traffic congestion to homeless issues.
The Poets Plaza is the brainchild of City Lights founder and acclaimed poet Lawrence Ferlinghetti, who attended the meeting. Alioto, a former Supervisor, has taken the reins to solicit support and raise funds (the project's total budget is $2.4 million, according to our last check-in with her).
Now that the plaza, which has been in the works for 13 years, is coming to fruition, some neighbors are voicing opposition to a full closure of Vallejo Street between Columbus and Grant avenues. Citing a lack of communication and neighborhood outreach, they successfully blocked a temporary closure set to begin in September, out of concerns around traffic and congestion.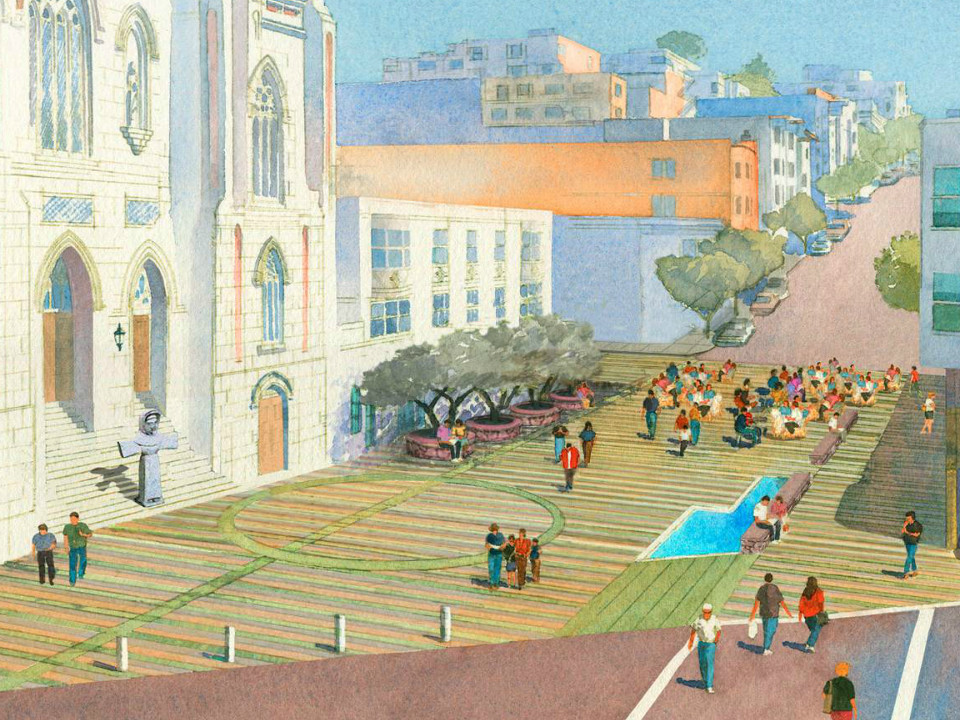 Rendering: Courtesy of Angela Alioto
The meeting, held at the San Francisco Italian Athletic Club, got off to a sour note when the roughly 100-person crowd, told the meeting would start at 6pm, got antsy after things didn't begin on time. People began milling around, looking at samples of marble and lettering and posters showing renderings and traffic patterns. Many wondered when the presentation would begin, and around 6:30pm, rumors swirled that there wouldn't be one. Several attendees filed out at that point.
Alioto finally took the stage shortly before 7pm, sparking a heated back-and-forth as she and the piazza's architect, Dennis Sullivan, were peppered with questions. SFPD Central Station Capt. David Lazar and two SFMTA employees also fielded some questions.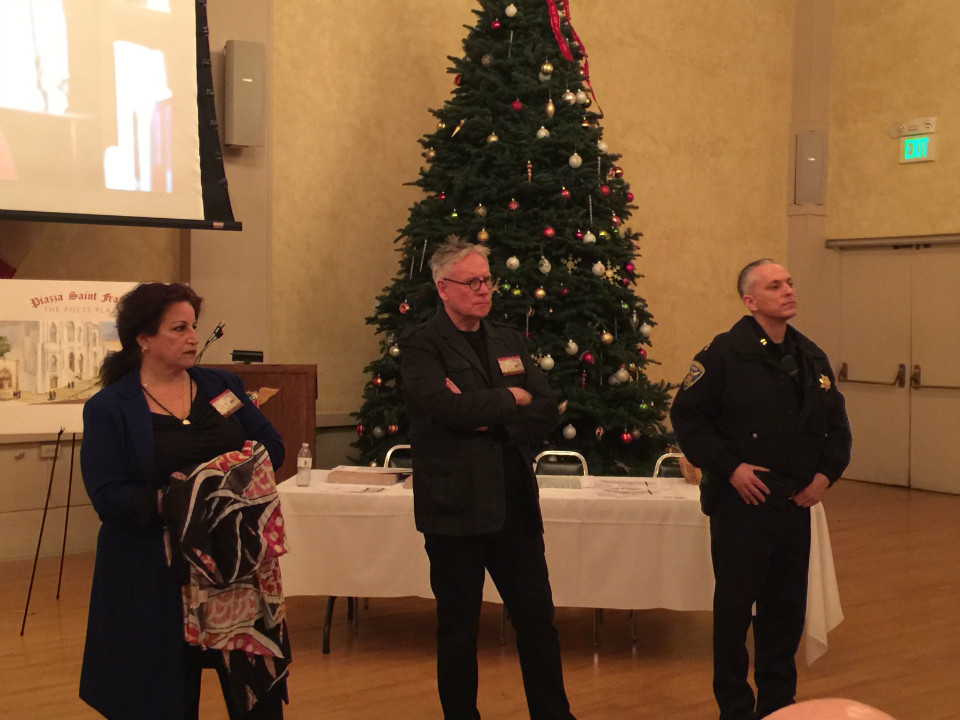 From left: Angela Alioto, Dennis Sullivan and Capt. David Lazar.
One man began by commending Alioto for trying to make improvements in the neighborhood. "The idea of having something out here is fantastic ... I think the only issue that's really been coming up throughout the neighborhood, and concern, is the nature of that street, and how the neighborhood actually functions from a circulation standpoint." His argument: if Vallejo is closed, everyone living on upper Vallejo will have to turn right on Grant to get out, and Grant is already one of the most congested streets in the neighborhood.
"This is going to be one of the most gorgeous piazzas in the world, in the heart of North Beach," Alioto replied. That didn't satisfy attendees, who began to grumble, setting the tone for the rest of the meeting.
Parking, safety and homeless issues were all discussed. One woman asked why there couldn't be a parklet instead of a piazza, and a couple of attendees mentioned concerns about the piazza becoming a locus for homeless people. Another concern was whether the piazza might attract noisy patrons leaving bars at 2am. Capt. Lazar replied that it's SFPD's job to police that, whether there's a piazza or not.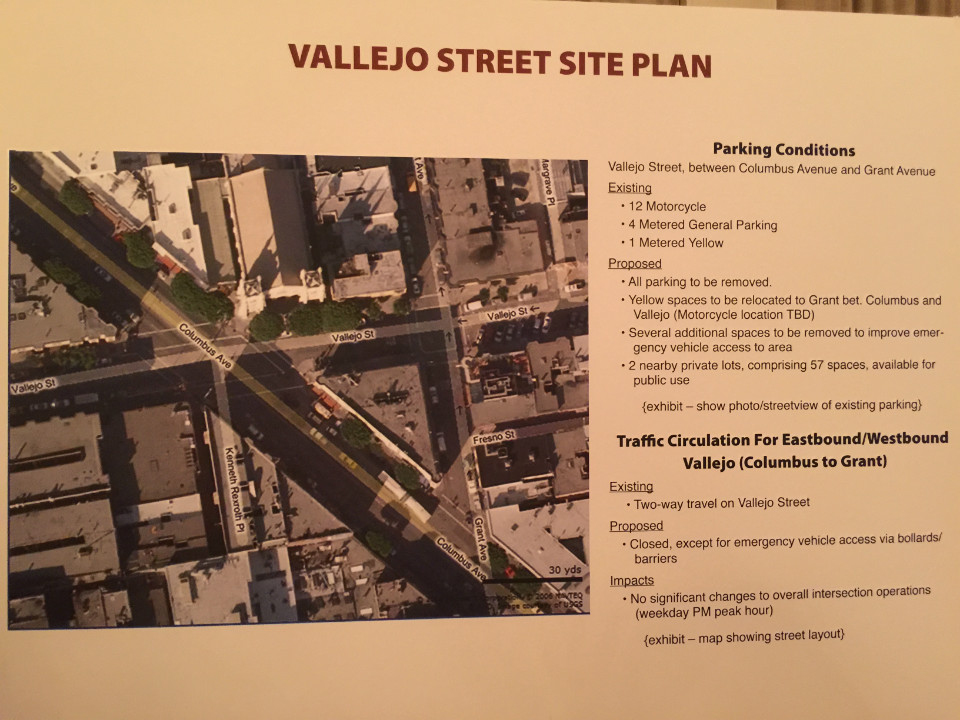 But traffic was unquestionably the biggest sticking point for the plaza's opponents. One Kearny resident said the SFMTA's traffic study on the project "seems flawed," because it only studies intersections near the piazza.
"It doesn't really take into account life on [Telegraph Hill] and how people get off the hill, because Kearny is an artery to get off the hill, and right now, it already gets backed up," he said. "It's a freeway in the morning, and then on Friday and Saturday nights with the bars and tourists coming in, it gets backed up. There's honking, there's screaming, there are fights about traffic. If we cut off Vallejo, we're really cutting off a main artery to really get out off the hill, and that's my concern. So I'd really like to see the traffic study redone to include my intersection at Kearny and Green."
Another man added that you can't block off a main artery without remediating traffic somewhere else; in response, someone brought up the possibility of making Kearny a two-way street, but that raised concerns about loss of parking.
Someone else asked if the divider on Columbus at Green could be removed to allow traffic flow, and another brought up the new bulb-outs at that intersection that are expected to slow traffic for pedestrian safety. Changing the timing of the light at Green and Columbus was also discussed. SFMTA reps said they'd work with the project sponsor to mitigate these concerns, but didn't give any specific answers.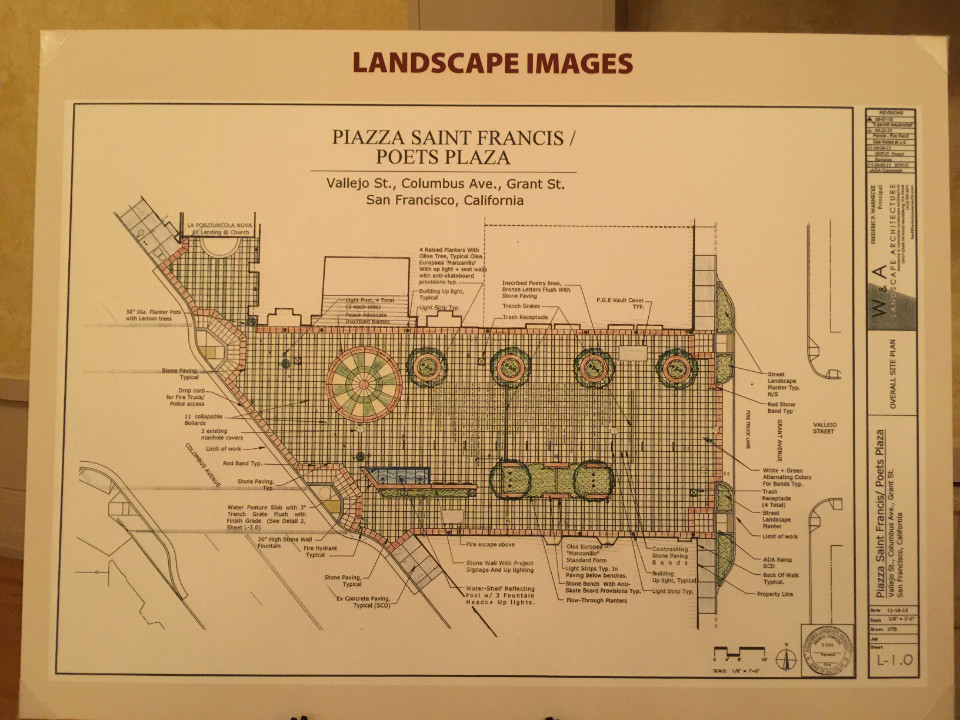 One man asked why the piazza has to be closed to traffic full-time, and asked if it could be fully closed only on weekends; in response, the crowd erupted into applause. Alioto, however, was opposed to the idea: "You can't have a real piazza that has cars in it." 
After that, the crowd began to get noisy, with one man talking out of turn. Alioto took charge, telling him, "We are going to do this orderly, sir, whether you like it or not ... Put your hand up and we will call on you."
Later, someone circulated flyers titled "Vallejo Street Potential As A Multi-Use European Plaza/Street," with a rendering of how cars and cafe seating might coexist.
"There isn't a business on the block that I know of that doesn't support this piazza," Alioto told the group, but Ida Zoubi, who co-owns Caffe Trieste, discussed her concerns about losing revenue during the anticipated nine-month construction. She asked if there was a proposed process to help with loss of income. Alioto's response: "When the piazza's finished and you double your income, will you pay us back?"
Sullivan noted the piazza project is slated to dovetail with the city's sewer replacement in front of Caffe Trieste, which will start after the first of the year in front of Caffe Trieste. Zoubi asked if this project is a "done deal" and all permits are in place. "Not at all," Sullivan said.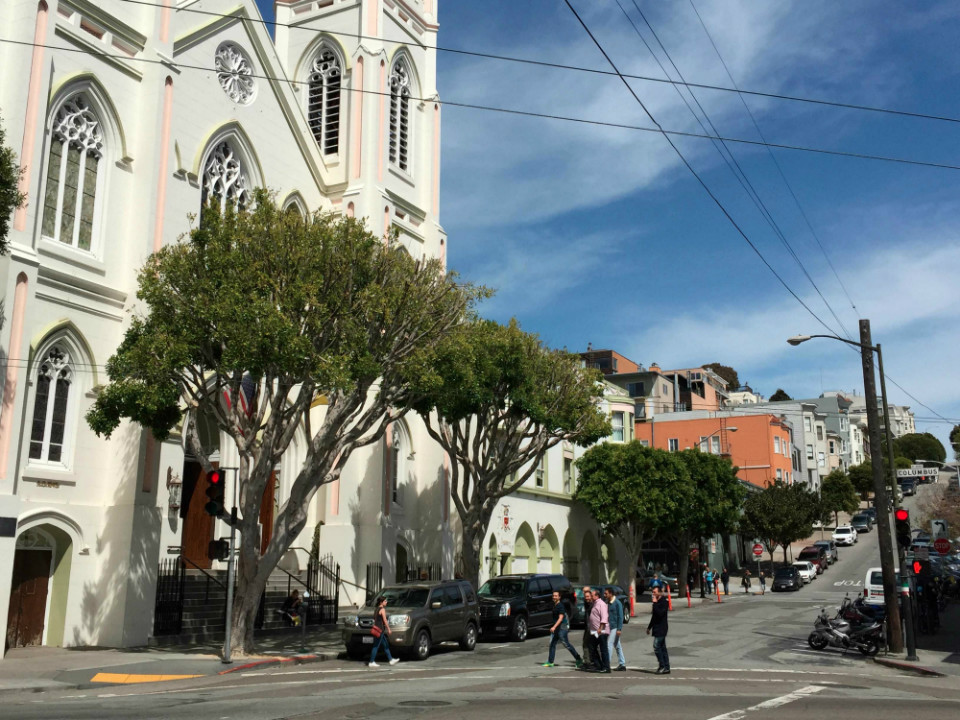 Though things got heated, many in the group said they were still supportive of the project, as long as there were amendments to address traffic issues. A few even wanted to see it go forward as-is. At check-in, attendees were given a list of local businesses and organizations in favor of the piazza, including several community groups and dozens of merchants and restaurants.
"I'm for the project," one woman said. "I think we have an opportunity to add something wonderful to the neighborhood ... It would be wonderful to move away from this fear-based kind of attitude," she said to applause. Another woman agreed: "Look at the bright side and the big picture: It's going to be a wonderful thing, even if it's a little bit inconvenient."
Alioto said the next step for the project will be sending out notices from the city to neighbors. She urged those with concerns to reach out. "You can come meet with me at Caffe Puccini. I'm totally available ... Call my law firm. Please call me."