After last year's North Beach Christmas walk was rained out by the big storm and blackout of December 2014, North Beach Neighbors president Trish Herman and local merchants have decided to hedge their bets against another washout, especially given this winter's predicted El Niño rains. The result is the 2015 Festival of Light and Buon Natale, a 15-day extravaganza of holiday events designed to tear people away from their cyber shopping sprees to enjoy the unique shops of North Beach.
The event, funded with $10,000 in grants from the San Francisco Office of Economic and Workforce Development's Investment in Neighborhoods division, has been bringing people together in the wake of the contentious District 3 supervisorial race, which divided the neighborhood. 
"There were husbands and wives on opposite sides of the election. We need to bring people back together," said Sharone Mendes-Nassi of Grant Avenue children's store Carmel Blue. Singer and bandleader Carol Peters, who is designing the event's flyers and posters, agrees: "I like that this has no political agenda. This will be focused on the family."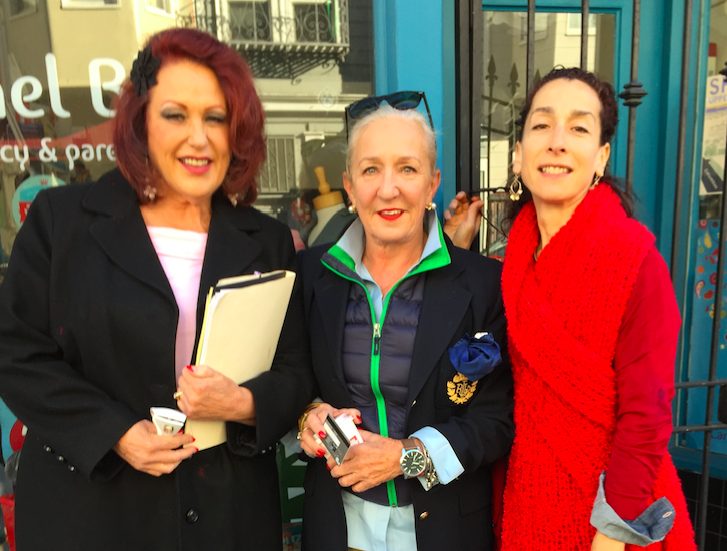 From left: Carol Peters, Trish Herman, and Sharone Mendes-Nassi. (Photo: Holly Erickson/Hoodline)
Community members from all walks of life are participating, including Peretz and Miryum Mochkin of the Jewish Learning Institute, who are spearheading the Hanukkah festivities, and former Supervisor Angela Alioto, who donated $1,000 to the effort. Marissa Romeyn-Ovick, chair for the Columbus Day Bazaar at Sts. Peter and Paul, is donating labor from her employment agency, Staffly. 
"There are kids from fifty zip codes represented at Sts. Peter and Paul School," said Romeyn-Ovick. "We want to bring their parents back into North Beach for more than pick-up and drop-off." Many of the school's students and parents have signed up to volunteer for the Buon Natale events. 
The centerpiece events of the celebration are a tree and menorah lighting on Thursday, December 10th in Washington Square Park, at 6pm. Father John from the Shrine of St. Francis of Assisi and Rabbi Mochkin will do the honors, including a blessing of the local merchants. Artificial candles will be distributed to the crowd, which will stroll in procession from the park up Grant Avenue, ending at the shrine. 
Immediately following the event, NBN is hosting a free reception for the neighborhood at the San Francisco Italian Athletic Club. The event, which begins at 7:30pm, will feature food and drinks from local eateries, including Tony's Pizza, Pizza Pellegrini, Mama's, Café La Mediterranee, Rose Pistola, Sotto Mare, Original Joe's, Park Tavern, Sweeties, and Aqualina. Francis Ford Coppola will also furnish his wine.
The San Francisco Italian Athletic Club will host two Buon Natale events. (Photo: Holly Erickson/Hoodline)
Food fans may also want to consider attending an Italian community dinner at the SFIAAC on Wednesday, December 16th. The meal kicks off with cocktails at 6pm, followed by dinner at 7pm, and will feature live music from Peters and her band, the Retrofits. start at 6 followed by dinner at 7 PM. Tickets are $40 for adults, $10 for kids over five, and free for kids under five. You can purchase one by sending a check to NBN (PO Box 330115, SF 94133), or via PayPal to PayPal at NorthBeachNeighbors dot com.
Shoppers should check out Buon Natale's trio of First Fridays, on December 4th, 11th and 18th. Shops throughout the neighborhood will stay open late, and carolers and a strolling Santa Claus will add to the festivities. 
Original Joe's will serve food at the free tree-lighting reception. (Photo: Holly Erickson/Hoodline)
There are also a duo of scavenger hunts planned. Adults can participate in a North Beach history-themed hunt on Saturday, December 5th; it starts at Bar Nua at 4pm, and everyone who completes it will be entered into a raffle for prizes. For younger hunters, "Where's Elfie?," an elf-themed treasure hunt, will be held the next morning, starting at Goorin Bros. at 11am. Kids are encouraged to try to find elf figurines in a variety of participating shops, and along the way, they'll receive little treasures and stamps that make their parents eligible for a raffle. 
For little ones, Sunday, December 13th boasts two kid-friendly events: a kids' craft afternoon at Naivasha Gallery, with DIY wrapping paper and papier mache (12-2pm), and a Hanukkah celebration with dreidel games, treats, crafts and music in Washington Square Park (3:30-5pm). 
For a full rundown of the Buon Natale schedule, which also includes a Howl-A-Day pet event hosted by Jeffrey's Natural Pet Foods, live music, and more, check out the event's website.