Kam Chou, a native of Cambodia, first came to the Tenderloin in 1989. In the years since, he's married his wife, Amy, raised their 17-year-old son, and seen their home in the Indochinese Housing Development Corporation (IHDC) building at 340 Eddy St. transition from a bustling hub for immigrant families into a quieter residence. And it's all happened within the confines of a studio apartment, which the family also shares with Kam's mother. 

But now, the Chous are about to make a big change: they're moving. Thanks to the city's below-market-rate housing program, their new home will be the gleaming, brand-new complex at 1400 Mission St., where 167 families were given the opportunity to purchase condos this past summer.
It's a big change for Kam, who grew up the midst of compounding unrest in Cambodia during the Cambodian War and under the reign of the Khmer Rouge. Living in the Cambodian countryside until 1979, remembers what it was like to grow up in a war zone. "When I was five or six years old, I'd hear the sound of the war," he told us. 
When he and his mother were forced to flee their home and cross the border into Thailand, he remember Vietnamese soldiers telling him, "Go, this is not a good place."
"I didn't say anything, because I didn't want any more problems," he said.
Kam and his mother spent over three years in a refugee camp in Thailand before they obtained sponsorship to immigrate to San Francisco. Kam was only 16 at the time. Over the years, mother and son acclimated to a new life in Chinatown—until the 1989 earthquake aroused some concern for their personal safety.   
"We came to live in the Tenderloin because in Chinatown, the buildings were too high—I lived on the 12th floor. At first, I couldn't find a place to live, but a friend of mine was living here. He told me to come to the IHDC, and the manager at the time helped me to move in."
In 1998, Kam returned to Cambodia for a visit, where he met Amy. "I went to visit my stepparents in Cambodia, who lived a block away from Amy's house.  They told me about this very nice lady and asked if I would meet her," says Kam.
After three months of grueling paperwork, for which the couple received the support of staff at IHDC, Amy was able to join Kam in the U.S. "It was really hard, because I didn't know my ABCs," said Amy. "I didn't even know how to write."
Despite the language barrier, the Chous were able to find work: Amy is now a housekeeper at the Hotel Vitale, while Kam works at the restaurant at the San Francisco Marriott.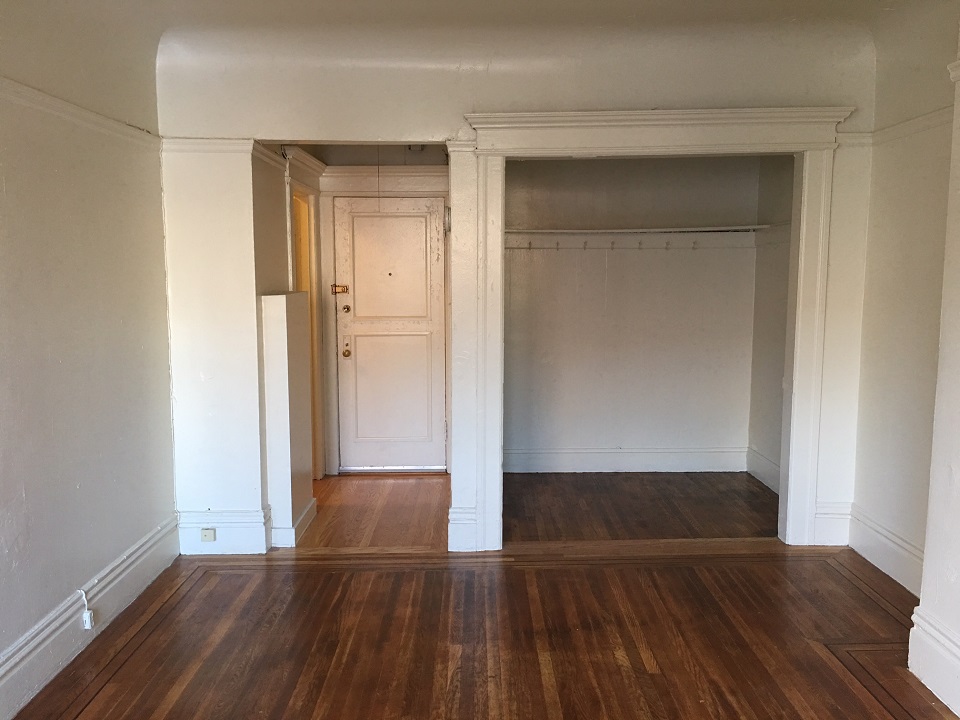 A studio apartment at 340 Eddy St.
Since 1998, the Chous and Kam's mother have lived in the studio at 340 Eddy St., along with their son, born the subsequent year. But now that he's a teenager, things have started to get a little tight. "[Our son] has to study so can go to a good college and get a good job, and not work hard like me," Amy said. "Now, he sits on the bed and does his homework, and it's hard for him."
The increasing cost of rent was also becoming a concern. "I never thought about moving, until the rent went up," said Kam.
In July, just days shy of the housing lottery for the apartments at 1400 Mission St., Kam overheard some people discussing San Francisco's below-market-rate housing program, and decided to attempt to enter the lottery.
With limited time to complete the onslaught of paperwork and attend the required finance and first-time buyer classes, the Chou's were sent to Asian, Inc. for support in the process. "On July 10th or 11th, we got our certificate, and we had to get approved by the bank and then we had to apply," Kam said. "We only had four days; it was really rushed." But despite the time constraints, the Chou's had everything in place by the deadline.  
On August 29th, the Chous had another stroke of luck: Kam arrived at the housing lottery, and saw his name on the list to purchase a three-bedroom, two-bathroom apartment at 1400 Mission through the BMR Ownership Program. (Not everyone is so fortunate: as this Examiner article explains, many lottery applicants have been waiting years for a space, with no success.) 
The couple are very aware of, and grateful for, their good fortune. "We are so happy," said Amy. "Now we are waiting, and we want to order some stuff."
They're also excited for the prospect of more space, not to mention the upgrades that come standard with their new apartment: a built-in washer and dryer, dishwasher, and on-site parking and gym facilities.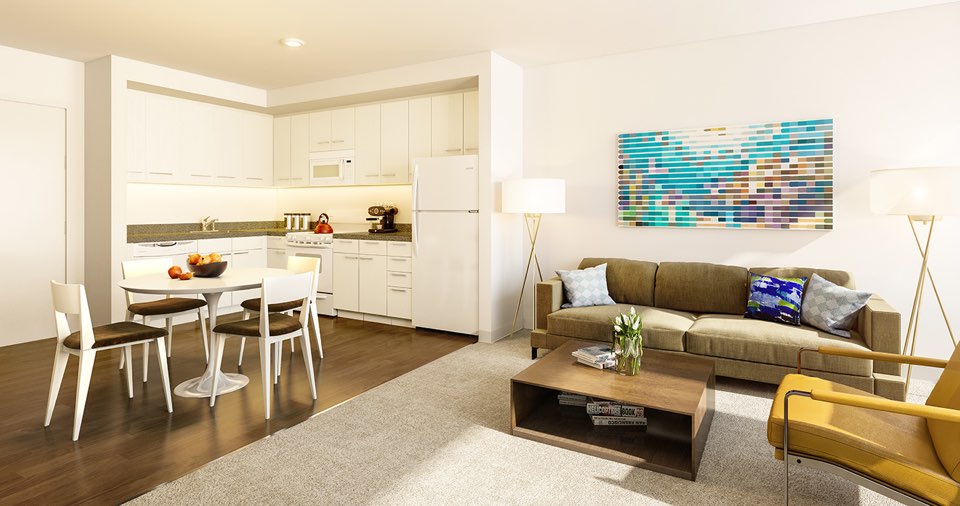 Inside a unit at 1400 Mission St. (Photo: 1400 Mission SF)
Though Kam and Amy are excited about their future, they say they'll miss living at IHDC. Kam boasts about the comfortable home the family has built, and the new amenities that have been added to his building over the last few years.
They'll also miss the neighborhood. "[The Tenderloin] is a good place; it's close to everything," said Amy. Kam agrees, noting that in the 26 years he's spent in the Tenderloin, he's never had any problems. "It's a good place.  Even at nighttime when I walk home from work, I never worry." 
The family will still have roots in the neighborhood, though, as Kam's mother will continue living at 340 Eddy, only a 15-minute walk from the family's new home. "Our son can still stay with [Kam's mother], and after work, I can still come here," Amy said.