Sunset residents who commute downtown may soon have another option for getting to work. Chariot, a 21-month-old firm with a fleet of commuter vans running around the city, is considering some new routes intended to serve the Inner and Outer Sunset.
Chariot currently operates eight routes, using a crowdsourced approach to determine where demand for new ones is highest. Several proposed routes that would serve the Greater Sunset have been voted on by potential riders, but one in particular has already garnered a great deal of support.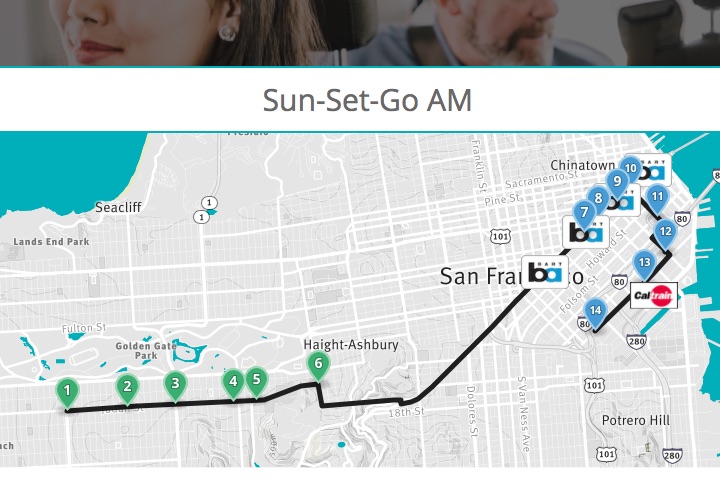 Chariot's proposed "Sun-Set-Go" route. (Image: Courtesy of Chariot)
Tentatively christened "Sun-Set-Go," the proposed crosstown route would start its morning service at Judah and Sunset Blvd., make four stops along Judah, then, after a final pickup in Cole Valley, head downtown. Starting near Civic Center BART, Sun-Set-Go would drop riders at eight stops along Market and in SoMa, ending near the Caltrain station at Fourth and King. Vans would run every 10-15 minutes during commute hours, with the route reversed in the evenings.
Chariot CEO Ali Vahabzadeh said the company has had success with a recent Outer Richmond route, and that Sun-Set-Go would be its longest route yet.
"After building momentum in 2015, we plan on adding 2-3 new routes each month in 2016," said Vahabzadeh. "We started off with one van on one fairly short route from the Marina to the Financial District, and as demand has increased, we've added more vans to that route, and more and more routes reaching farther throughout the city. We are excited about the idea of adding the Sunset to that list."
"It obviously costs more for us to bring passengers downtown from neighborhoods that are farther away," but demand from Outer Sunset residents has been strong enough to merit the possible addition, he said.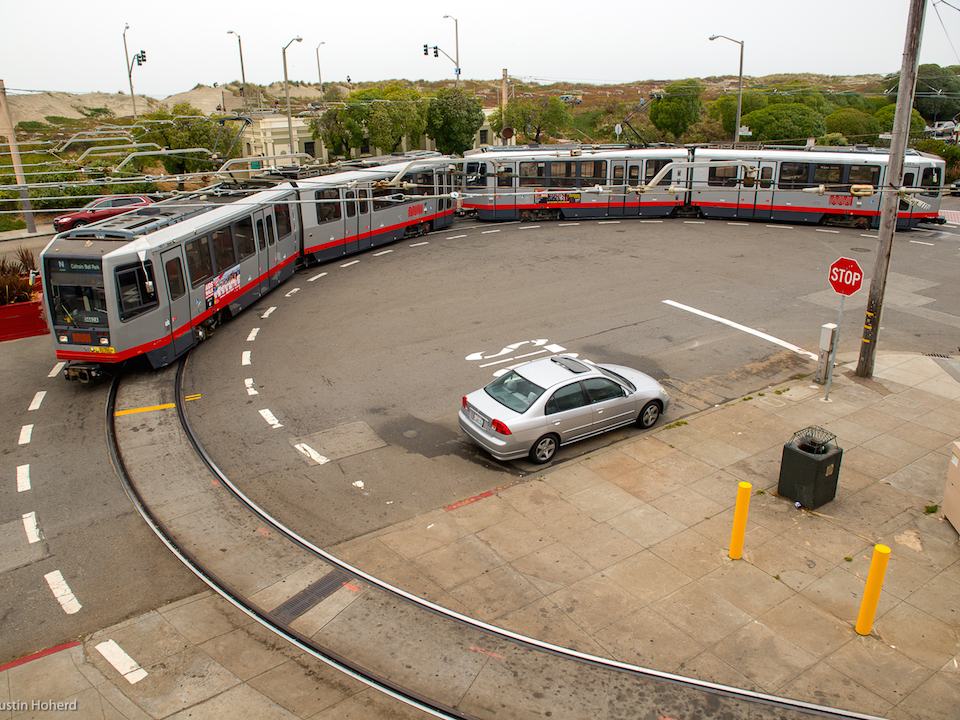 The N-Judah terminus at Judah & La Playa. (Photo: Daniel Hoherd/Flickr)
To make up for those extra costs, Chariot would charge Sun-Set-Go riders a higher rate than it does for riders who take shorter routes. Nonetheless, Vahabzadeh believes the service is still competitively priced.
"With a monthly pass, the rides will cost about $3 each, and Chariot passes are eligible for commuter benefits claims, which brings the price down even more," he said. "While it costs more per ride than Muni, it's a far more affordable alternative than other options, such as taxis and rideshare services."
Not every new Chariot route is successful. Last year, the company launched a Cole Valley route that effectively transformed into a Haight-Ashbury route a month in, after it trimmed off several stops.
To determine the new route's viability, Chariot is asking users to purchase passes or ticket bundles for rides. Once enough have been sold, service will begin within a few days. As of this week, said Vahabzadeh, the company had sold 36 of the 200 passes it needs in order to launch the route. (Buyers will not be charged if the route fails to launch.)
Chariot doesn't intend to compete directly with the N-Judah, Muni's most-traveled route. Instead, it's "a complementary service that can help with the over-capacity problems that Muni faces during peak commute times," Vahabzadeh said.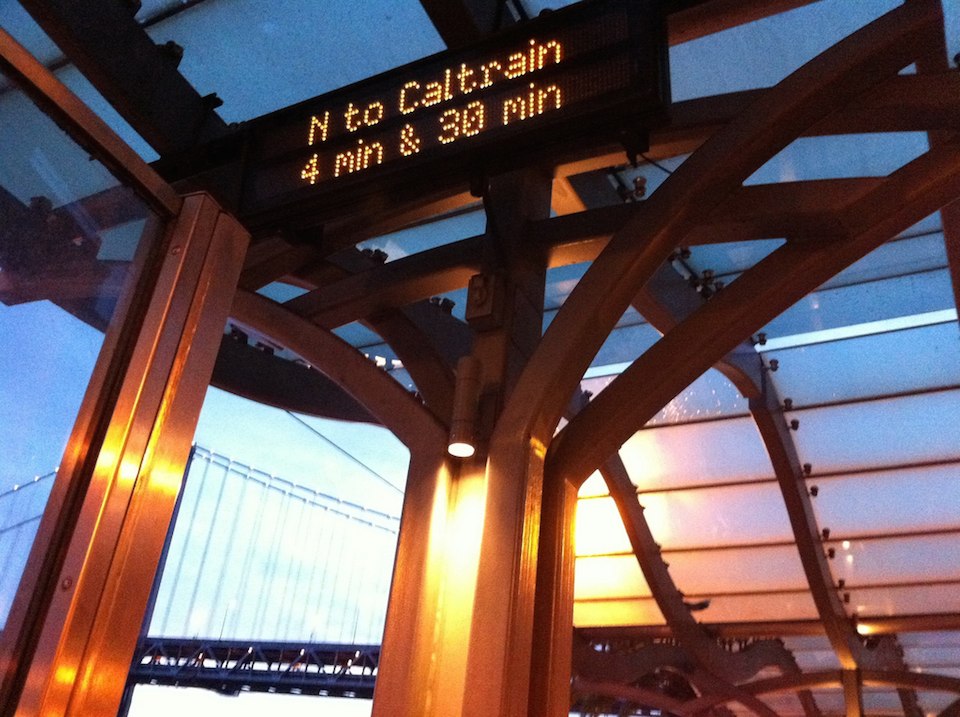 Photo: Jason Tester Guerilla Future/Flickr
On NextDoor, Sunset residents debated the merits of Chariot's expansion. One disapproved of the idea of a "two-tiered bus system in SF," while others wondered whether Chariot could really be any faster than Muni's NX Express, which takes passengers from the Outer Sunset to the Financial District with abbreviated stops.
"I took the NX downtown on Monday—it took about 28 minutes. If Chariot can't use dedicated bus lanes, how could it possibly get downtown faster than that?" asked one NextDoor user.
A Central Parkside resident was also skeptical: "If you think Chariot will cut your commute dramatically, that will only be the case if the vans have wings."
But not all riders viewed commute time as the most important factor in their daily travels. "My issues with Muni go beyond the time it takes to get downtown," wrote one Central Sunset N-Judah rider. "I've had some very unpleasant experiences that just really don't make it worth spending my monthly transportation budget on Muni."
If Chariot does launch in the Sunset, it should have one aspect that's less controversial than other corporate shuttles: where it picks up and drops off passengers. "We don't use Muni's stops," said Vahabzadeh. "We've seen how that went for other companies."