Restaurateur Pete Mrabe, founder of Don Pisto's and Chubby Noodle, has plans to open four new food establishments in the coming months, across both North Beach and the Marina.
This morning, we caught up with him and a few of his team members as they were hard at work inside Pete's, the "all-American comfort food lounge" he's opening in the former Amante space. He's hoping to debut it by the middle of next month.
But that's not all Mrabe has in store. His long-gestating Italian deli, Central Station, will open around the same time as Pete's, and two more projects are on the way. One is a tequila-bar spinoff of Don Pisto's in the Marina, and the other will be particularly notable to longtime North Beach denizens: the reopening of the former North Beach (a.k.a. French Italian) Bakery at Grant and Union, which has been home to a bakery of one kind or another for nearly a century. 
Here are more details on what Mrabe has in store for each of the four spaces.
Pete's, 570 Green St.
Chubby Noodle was a pop-up inside Amante for many years, but after opening two standalone locations at 1310 Grant Ave. and at 2205 Lombard St. in the Marina, Mrabe decided to take things in a new direction, closing Amante for a full makeover. 
The new venture (pictured above) brings Mrabe back together with executive chef Daniel Sudar and general manager Tony Hevia, with whom he worked 14 years ago at Cow Hollow's now-closed Betelnut. Sudar said he and Mrabe developed the menu around American comfort food, with dishes like wedge and Caesar salads, chicken pot pie, chili, glazed pork ribs, hot dogs, mac and cheese, beaked beans, brioche grilled cheese, a burger, a loaded baked potato and more.
Pete's will mark the first time that a Mrabe restaurant will serve dessert, and he tells us Sudar is an excellent pastry chef. Look for treats like a peanut butter cup, warm fudge brownie, cheesecake and amaretto bread pudding. Pete's will also have a full bar, overseen by mixology and spirits expert Duggan McDonnell.
Mrabe envisions Pete's as a neighborhood gathering spot for all ages, centered around drinks, food and sports. "There's no big place in North Beach for people to really watch sports and get food at the same time," he said. "I wouldn't call this a sports bar, but we have 11 TVs."
The interior, still under construction, already has a pub-like feel, with a pleasant contrast of light wood grain; rich, dark brown leather high-backed barstools; and a chocolate brown ceiling.
To start, Pete's hours will be 4:30pm–2am. A couple of weeks after opening, it will extend its hours to 10am–2am daily, adding brunch and dinner specials to the core all-day menu. If all goes smoothly, Mrabe hopes to debut Pete's on Feb. 18th.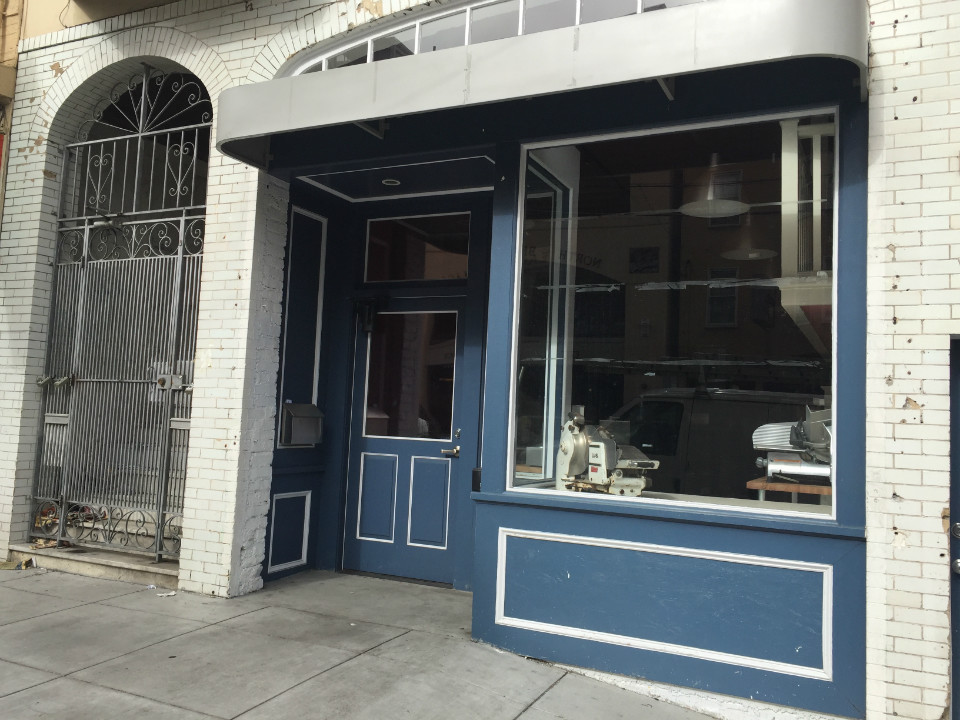 The soon-to-be Central Station Deli.
Central Station Deli, 728 Vallejo St.
This deli has been in the works since all the way back in 2012, but it's finally getting close to opening, and Mrabe said it should debut around the same time as Pete's. (Most recently, its space was used as one of Aaron Peskin's two campaign headquarters for last November's District 3 Supervisor election.)
Taking its name from SFPD Central Station, just up the block, the deli will offer both standard sandwiches and European-style plates of cold cuts. Mrabe is using Boar's Head lunch meats, along with products from Italy, Spain and even a pork store out of New Jersey.
You'll be able to get a simple turkey or pastrami sandwich with lettuce, tomato, mayo, mustard and sides like cole slaw, or an Italian assortment of prosciutto, mortadella, and hot or mild coppa, along with mozzarella, olive oil and vinegar. There's no liquor license for this location, so you'll have to take your charcuterie to go if you want a sip of vino with it. Hours will be 8am–8pm.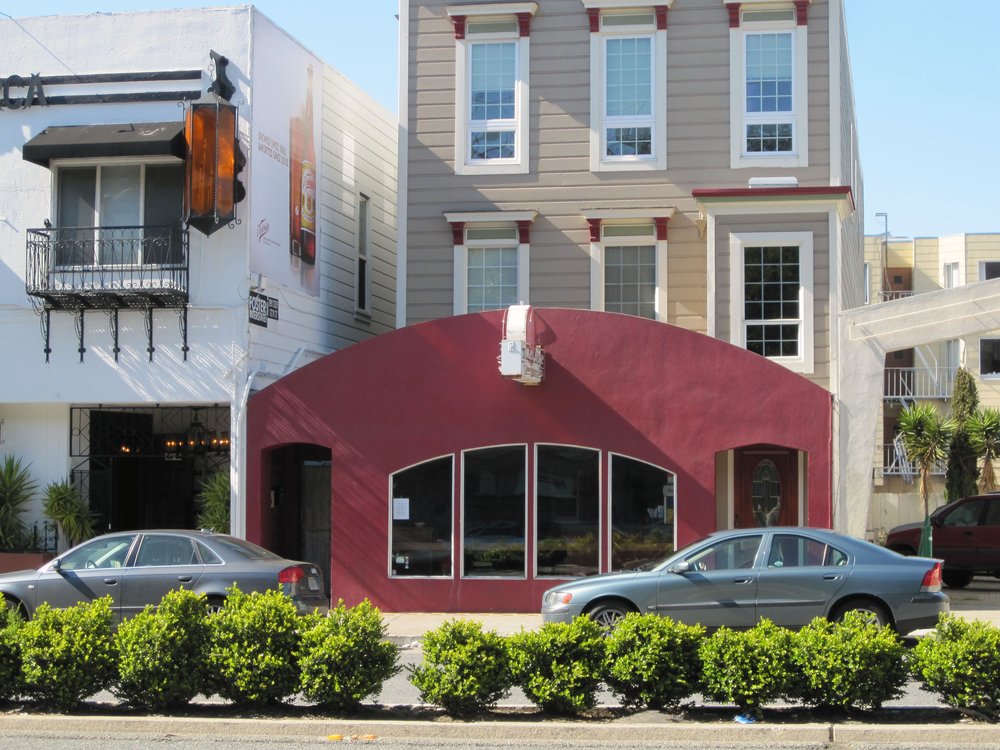 Mas Sake, soon to become Don Pisto's Tequila Bar. (Photo: Kevin Y./Yelp)
Don Pisto's Tequila Bar, 2030 Lombard St.
There are two major differences between the original Don Pisto's and this Marina spinoff, located in the former Mas Sake space. As its name implies, the new location will have a full bar with tequila aplenty (the North Beach location only has a beer and wine license), and instead of entrees, it will focus on a tapas-style menu of small plates. Mrabe hopes to open it in early spring.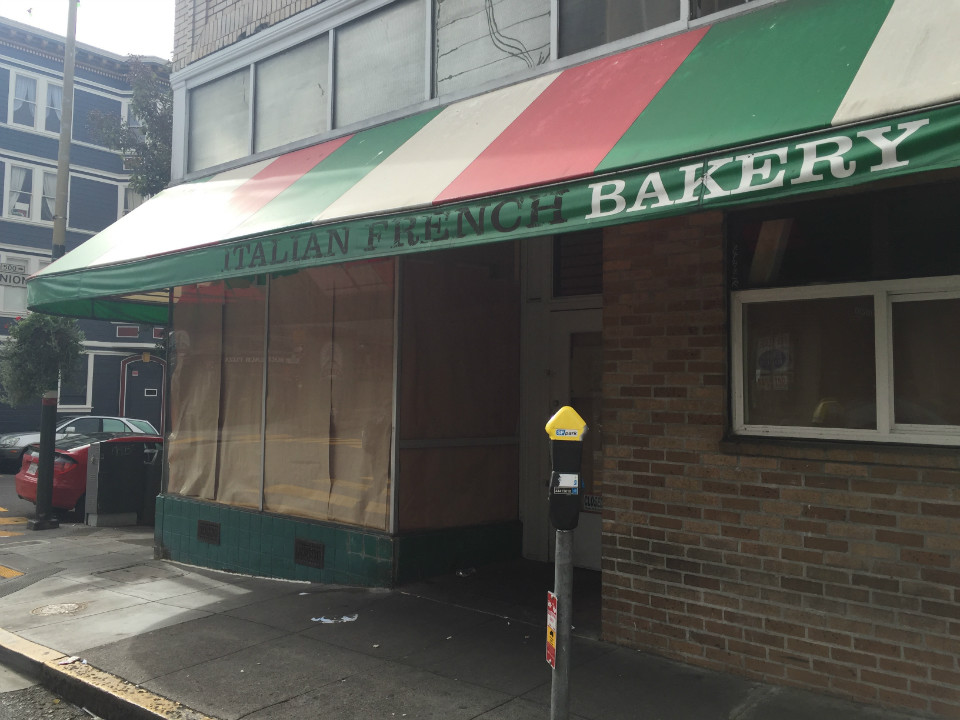 Bakery (name TBD), 1501 Grant Ave.
1501 Grant has been home to a bakery since 1917, so neighbors were concerned when rumors of a closure began to swirl last summer. (The bakery was known as the Italian French Bakery until 2010, when it was renamed as North Beach Bakery, but many in the neighborhood still call it by its former name.)
Last summer, the bakery posted signs saying it was closed for remodeling, and a manager vehemently told us the rumors of a closure were untrue. But it did indeed close, and Mrabe, whose Don Pisto's is located in the same building, has decided to step in. After remaining mum on the deal for months, he told us he's in the process of renovating it and fixing the two old ovens, and plans to keep it as a bakery. "I would never change it into something else," he told us. "The ovens are there, the infrastructure is there."
Mrabe plans to use the bakery to centralize operations for all his restaurants, which already produce their own baked goods. Cheddar biscuits, cornbread, Don Pisto's tortillas, and the brioche for the grilled cheese at Pete's will all be made on-site. "We'll start by producing for all of our locations, and then we'll offer to produce for restaurants in North Beach," he said. "I think that's as far as we're going to go."
The tiny retail storefront attached to the space will be filled with freshly baked pastries and bread to sell to the public. Mrabe says he's confident it'll open by June.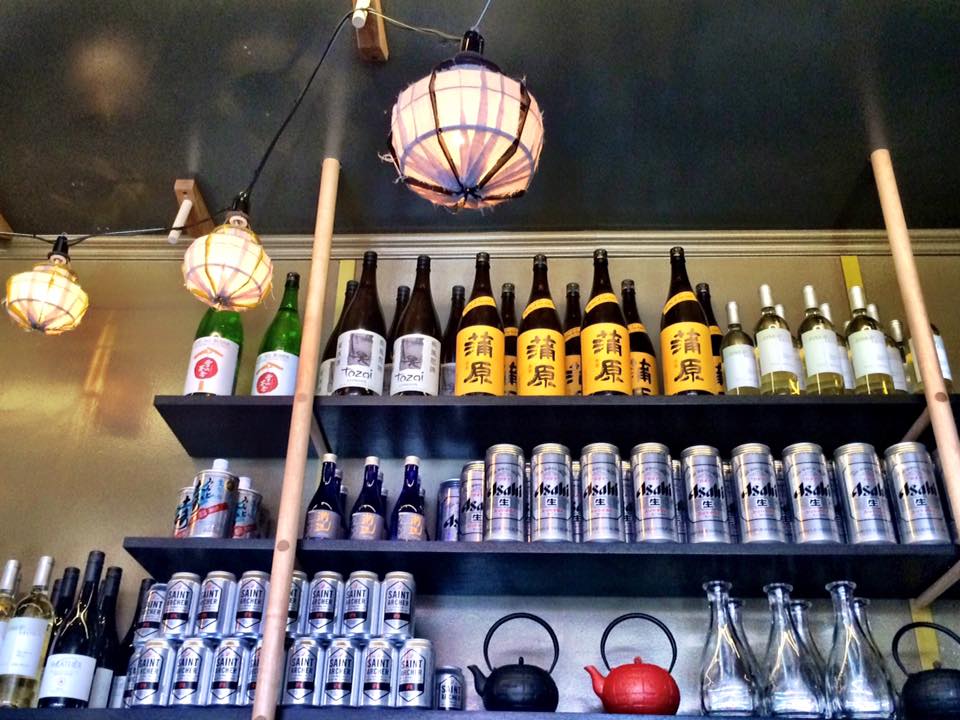 The bar at Chubby Noodle North Beach. (Photo: Chubby Noodle/Facebook)
Given his exploding empire, we were curious about Mrabe's secret to success in a neighborhood where many owners complain about the difficulty of securing locals' loyalty.
"I just didn't give up on it," he told us. "Don Pisto's was losing money for the first year-and-a-half to two years." It took Chubby Noodle a while to find its footing, too. Having started Don Pisto's at age 23, he says he grew up with the neighborhood, adapting to what it wanted along the way. 
Above all, he says, customer interaction is key. "I did spend a lot of time out walking around talking to people, bringing out my menus," he said. "I feel like if you're good to North Beach, North Beach is good to you back."