Green Chile Kitchen, the New Mexico-inspired eatery anchoring the Baker & McAllister corner, will mark its 10-year anniversary this Tuesday, January 12th, celebrating with half-off sangria and beer all day, plus ice cream deals at Chile Pies, the kitchen's standalone bakery located one block away.
But the celebrations that most excite restaurant owner Trevor Logan are the ones aimed at thanking the people who've been there since day one. "This was the little restaurant that the neighborhood built," he said. "There are so many people that came in year one who still come today. Almost every single time I come here, I see people who have been coming for 10 years."
Green Chile Kitchen is honoring these original patrons—you know who you are—with free shirts (if you haven't yet achieved old-timer status, a tee can still be yours, but you'll have to buy it). Logan also looks forward to a reunion dinner with original employees of the restaurant, some of whom have gone on to pick up farming, graphic design, or graduate school, and some of whom still work in the kitchen.  
Back in those beginning days, Logan's conception of Green Chile Kitchen was very different. "It's called Green Chile Kitchen and Market LLC," said Logan, "because originally I was really looking at it as more of a speciality food store with just some slight cooking—maybe a few stews."

Logan had always dreamed of opening a specialty food store, and when he moved to San Francisco after attending Santa Fe College, he was amazed, given the Bay Area's cornucopia of cuisines, at how difficult it was to find New Mexican food.
The original location of Green Chile Kitchen was 601 Baker St. where Chile Pies stands today. Logan had lived in the Western Addition for a decade, and one day he discovered that a retail space a block away from his home would soon be up for rent. "I had been looking all over the Bay for a space, and then I thought, 'Oh my God. Why not here? This neighborhood needs it worse than any, and it's my neighborhood. It's my own backyard.'"
At the time, the Divisadero area was not the bustling corridor of restaurants and shops that it is today. "Back then, it was Little Star and Blue Jay [now closed]. And that was really it." So Logan saw his mission as providing the community with a neighborhood hangout. 
After waiting a year-and-a-half for renovations and permitting, Green Chile Kitchen opened with shelves of salsas and other specialty food products. But Logan's dreams of a specialty food store began evolving from the start. "In the beginning, we said, 'If we're going to cook stews, then we're going to need to cook meat. Well, if there's meat, and we don't have a hood, then we need a rotisserie. So why not do rotisserie chicken? And if you have rotisserie chicken, why not burritos?'" Soon, prepared foods were the most popular items in the store, and the market disappeared. Green Chile Kitchen kept adding to the menu. "And so it just became a restaurant," explained Logan. "Within the first year."
Though the menu had expanded, all of the cooking was done in a tiny galley, even as the line for food sometimes flowed out of the door. Eventually, city officials informed the restaurant that it would need to put in a hood, and Logan knew that would mean an extensive permitting process and opposition from neighbors. Instead, when a cafe on the same block closed, the kitchen moved into the larger space at 1801 McAllister St.
The old location became Chile Pies, which saw a kitchen expansion at the end of last year. (Chile Pies' other location, on Church Street, closed in early September.) Logan said that he and Wesley Monahan, the woman behind the bakery's recipes, first decided they wanted to make ice cream at the spinoff shop. Logan laughs at this idea now: "We went to ice cream school and quickly decided, 'Nevermind. Ice cream is too hard.'"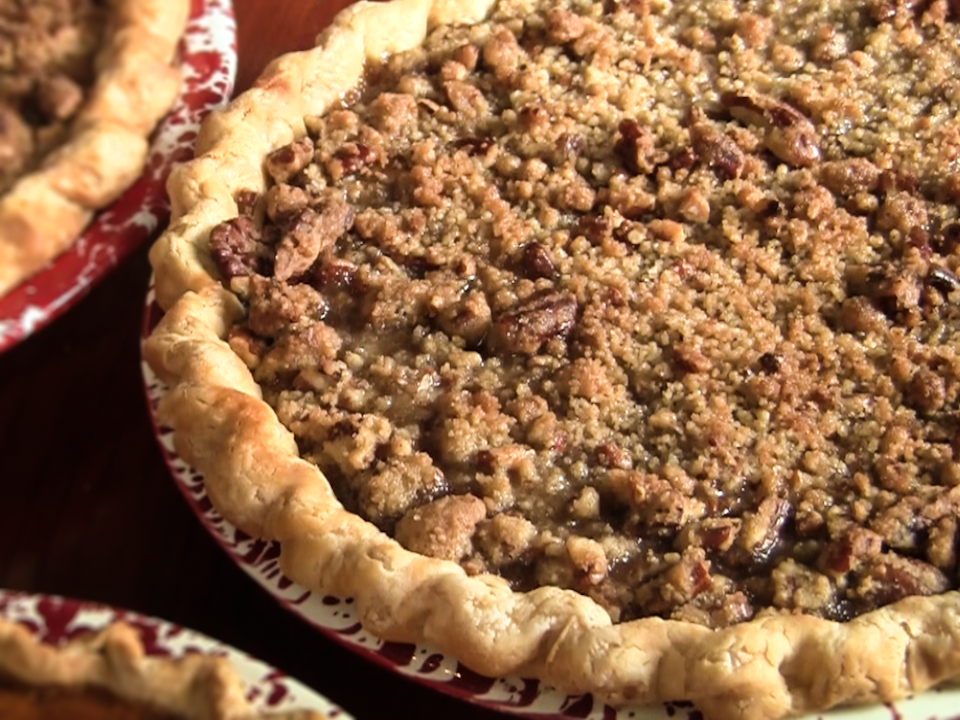 Finally, Logan found inspiration in his grandmother, an avid pie-maker, to make the bakery what it is today. As for the inspiration for their flagship pie? It literally walked in the front door.
Logan said that as they were setting the shop up, a backpacker wandered into the store, drawn by the Zia—the Pueblo symbol for the sun featured on the New Mexican flag—on the window. On his travels, he had been through Pie Town, New Mexico, and told them he enjoyed its green chile apple pie. "And then he left. He vanished. And we weren't even open yet. We were like, 'Why didn't we think of green chile?'"
Their take on the dish features a cheddar-cheese crust and smoke-roasted Hatch chiles for a pie that's both savory and sweet. If you want to try your own hand at the bakery's signature pie, head baker Scott McTassant walks you through the steps in the video below. While he wouldn't give away the top-secret ratios of the filling, he provides the steps you need to step up your apple pie game with a spicy, cheesy twist.
Looking back at the past decade, two of the biggest changes Logan has seen are in the growing market of food delivery services and in the character of the neighborhood. The restaurant has always had a healthy portion of its business to-go, but since companies like Caviar and Postmates have come on the scene, he estimates the percentage of food that is picked up to go or for delivery has gone up from roughly 25 to 40 percent of their business. He noted there are times the restaurant may not look full, but the kitchen will be hard at work filling orders.
As for the neighborhood, "The amount of talented, creative foodies that are going for their dreams seems to be exponentially increasing." He remembers meeting the owners from Nopa before their restaurant opened a year after Green Chile Kitchen. "I thought, 'Cool, they're going to make another restaurant on Divisadero.' I had no idea it was going to be this gigantic incredible game-change for the entire neighborhood. We were here at the beginning of that wave of change."
Green Chile Apple Pie
Ingredients
4-6 Granny-Smith apples
Lemon juice
Brown sugar
White sugar
Salt
Cinnamon
Nutmeg
Allspice
Cornstarch
Roasted hatch chiles
Walnut streusel
Pie shell laced with cheddar cheese
Directions
Preheat the oven to 375°F.
Peel and thinly slice your Granny Smith apples and mix them with the lemon juice.
Add the brown sugar, white sugar, salt, spices, cornstarch, and roasted hatch chiles, and mix. Allow the ingredients to sit for 10 minutes for the flavors to mix and the juices to come out.
Fill the pie shell with the mixture and pour the remaining juices over the apples.
Top the pie with walnut streusel.
Bake at 375°F for 10 minutes. Then rotate the pie, lower the temperature to 320°F, and continue baking for 30 minutes.