Got an event you want the neighborhood to know about? To be included in our next North Beach weekly roundup, please submit it at this link by Tuesday evening.
---
It's been another busy week as North Beach—and every other neighborhood—gears up for the Super Bowl 50 invasion, starting next week. But there won't be a bash in the neighborhood itself, as police staffing shortages have prevented the North Beach Business Association from hosting a Super Bowl street party Green Street between Grant and Columbus.
The Super Bowl has also brought some huge, high-rise ads on Embarcadero Center and the downtown Hilton. Community activist Jamie Whitaker has come out against the ads, which he believes are in violation of the "general advertising" portion of the city's planning code.
That likely won't stop the influx of tourists: a recent AP article carried by many regional publications singles out four local spots as good places to eat and drink while in town for the game. The featured quartet is Sotto Mare (552 Green St.), Buena Vista Cafe (2765 Hyde St.), R & G Lounge (631 Kearny St.) and the Ferry Plaza Farmer's Market.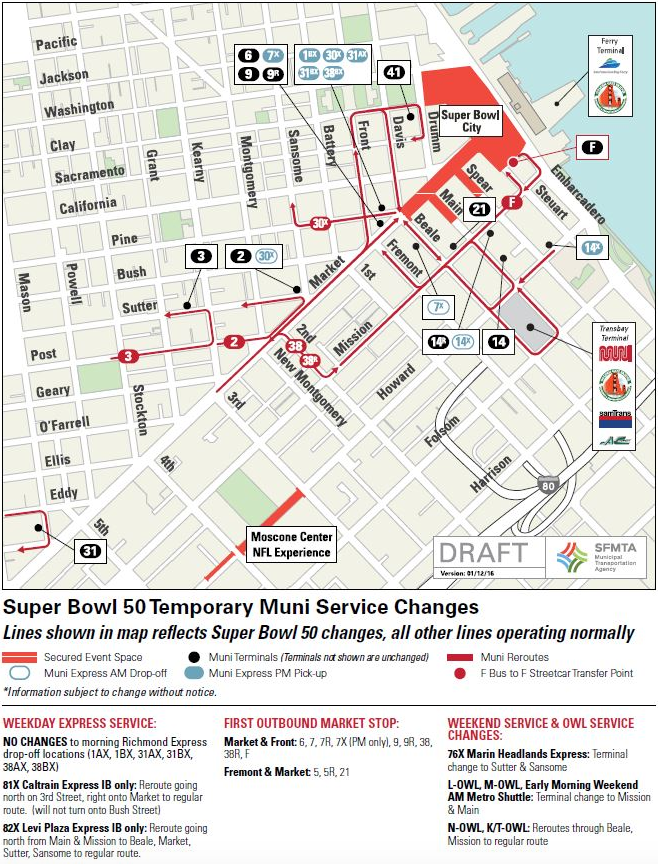 Map: SFMTA

But the biggest impact for locals will be on getting around. Be sure to familiarize yourself with the mass transit changes, so your boss won't be annoyed by your tardiness. Bikers, you're included in this headache—and with the mayor's veto of the "bike yield law," you should be careful about stopping at all stop signs, too. 
In other transit news, Rick Laubscher, the president of Market Street Railway, is hoping to change the public impression of the F-line and E-line along the Embarcadero with proposed changes like accepting cash fares and removing stops along Market to make the lines more efficient.

Once the NFL festivities are over, we'll hopefully have a better idea of when Robert Arneson's sculpture Yin Yang could return to Sue Bierman Park. The "heads" were removed in 2013 for restoration, but have yet to be reinstalled.
Last week, the Planning Department held a presentation on the Affordable Housing Bonus Program for District 3 residents. The program, which would reward developers for creating more affordable housing on eligible sites, attracted plenty of views on both sides of the issue.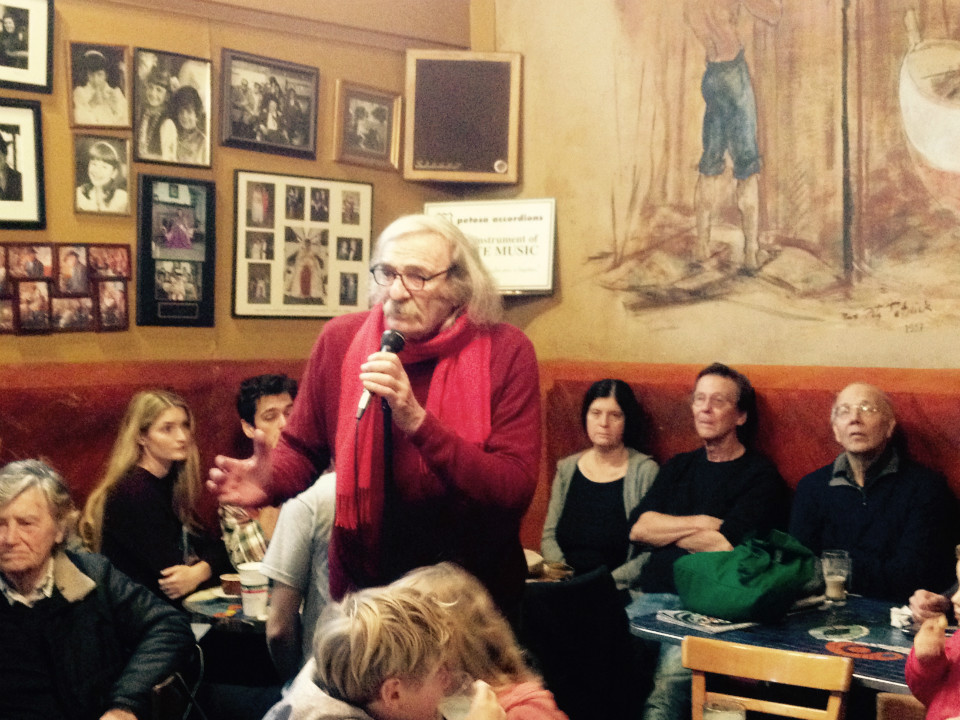 Jack Hirschman speaks at the memorial for Stu Jackson. (Photo: Nathan Falstreau/Hoodline) 
Jack Hirschman, D3 Supervisor Aaron Peskin and several other North Beach residents came together on Sunday at Caffé Trieste to celebrate the life of local artist Stuart Jackson, who died following an unprovoked attack in December. Meanwhile, 38-year-old Collin White, of San Francisco, has been arrested and charged with involuntary manslaughter, as well as other charges, in the case.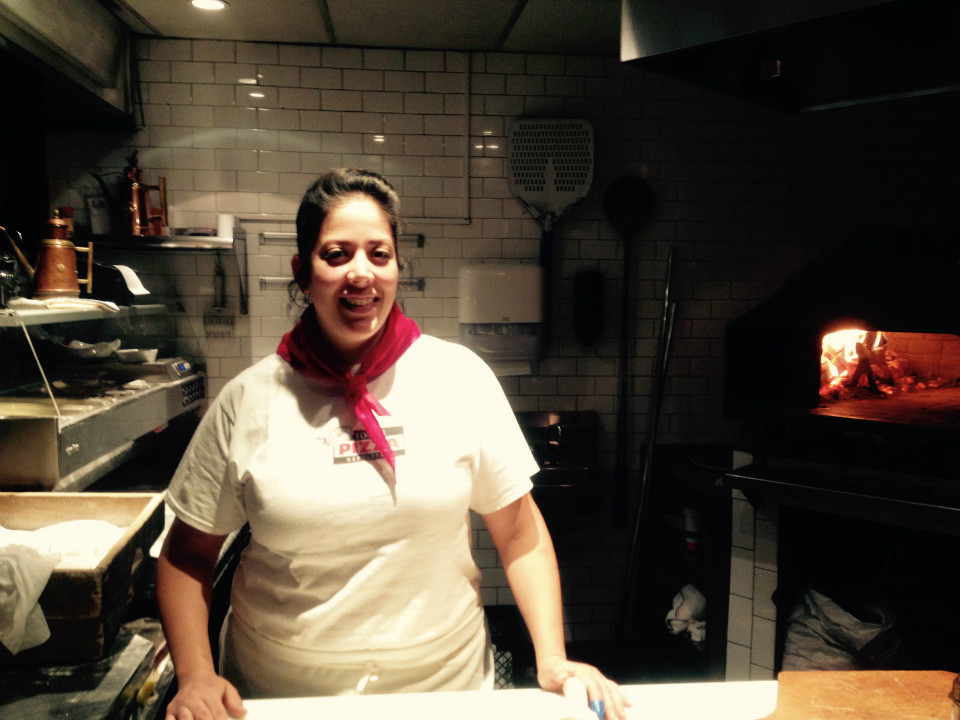 Laura Meyer. (Photo: Nathan Falstreau/Hoodline)
On the food front, we caught up with Laura Meyer, North Beach resident and head chef of Tony's Pizza Napoletana (1570 Stockton St.) She was recently named to Forbes' 30 Under 30 in the food and drink category. Meyer spoke about how she found out about the honor, and her plans for the upcoming International Pizza Expo in Las Vegas.
Proving no one likes to pay rent, Gaylord Indian Restaurant at One Embarcadero Center has closed after a legal notice was posted to its front door, explaining that the owners owe $9,503.10 in back rent for the 2,921-square-foot space.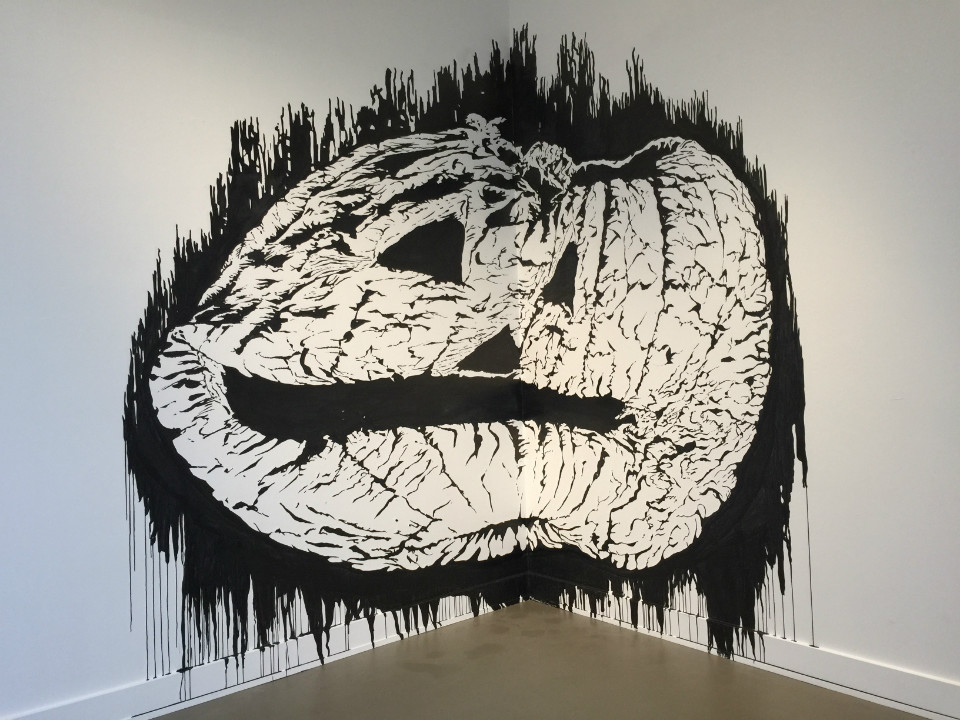 A piece by Jonathan Wallraven. (Photo: Geri Koeppel/Hoodline)

San Francisco artist Jonathan Wallraven has a new exhibit called Pop-Up: Es, cogito ergo ("you are, therefore I think") which is open for the next 10 days at the Chinese Culture Center (750 Kearny St.). The exhibit plays on traditional Chinese ink paintings that depict landscapes with tiny people, but in Wallraven's variation, the gallery viewers become those tiny figures.  
Italian newspaper L'Italo-Americano recently spoke with filmmaker and North Beach resident Dominic Angerame about his new comedy, which takes place in Caffé Trieste, and his recent presentation "A Short History of Narrative Film: The Italian Neorealism Movement," which was shown at the North Beach Library. 
On to your weekend events:
Friday, January 22nd
Saturday, January 23rd
Sunday, January 24th
Discover more upcoming San Francisco events at hoodline.com/events.