Got an event you want the neighborhood to know about? To be included in our next North Beach weekly roundup, please submit it at this link by Tuesday evening.
---
The Denver what? The Carolina who? Forget all that, let's take a look around North Beach instead.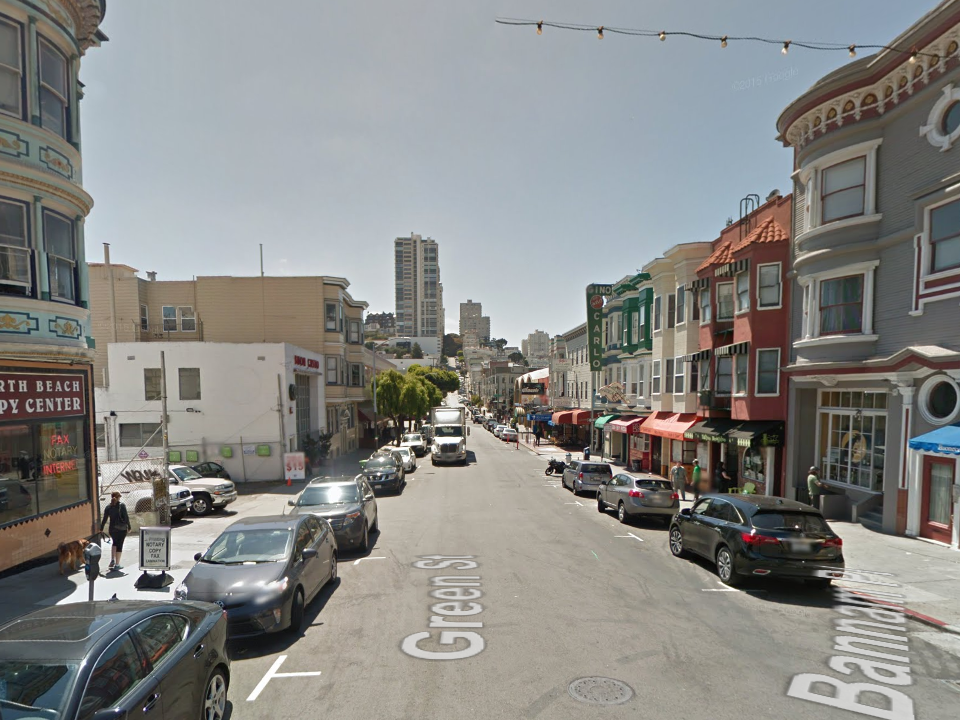 Photo: Google Street View  

There's no need to schlep down to the Ferry Building on the weekends anymore: North Beach is getting a new farmers market, beginning in May. It's to take place on Green Street between Columbus and Grant, and the organizers already have 99 vendor applications for the 50 allotted spots.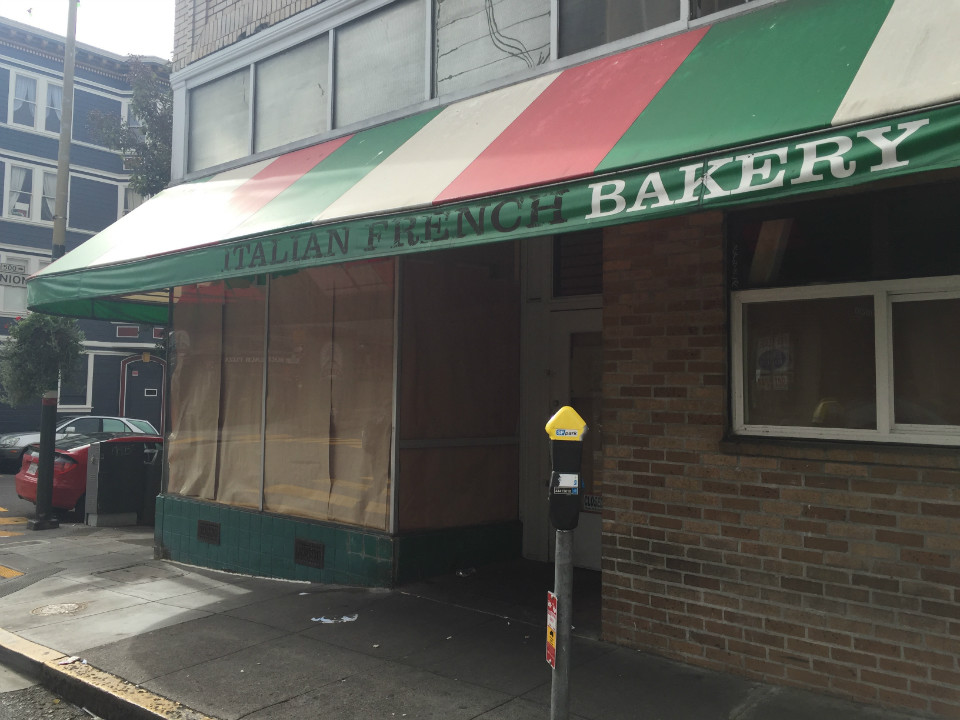 Photo: Geri Koeppel/Hoodline  

Good news for those who miss the old bakery at 1501 Grant: neighboring Don Pisto's owner Pete Mrabe has stepped in, and plans to reopen it by June. Mrabe is on a tear as of late, with the remodeled Pete's (570 Green St.) slated to open near the end of February and a new deli, Central Station, coming to 728 Vallejo St. shortly thereafter.
Move over, Muni: commuter van company Chariot is up and running, with signs popping up at Union and Powell streets earlier this week. See Chariot's drop-off and pick-up spots around the city here. 
Jackson Square lost another art gallery this week, as Lebreton Gallery closed up shop at 412 Jackson Street. The move is another in a string of gallery closures for the area; the North Point Gallery moved to Berkeley, and Sarah Stocking Antique Posters has gone online-only.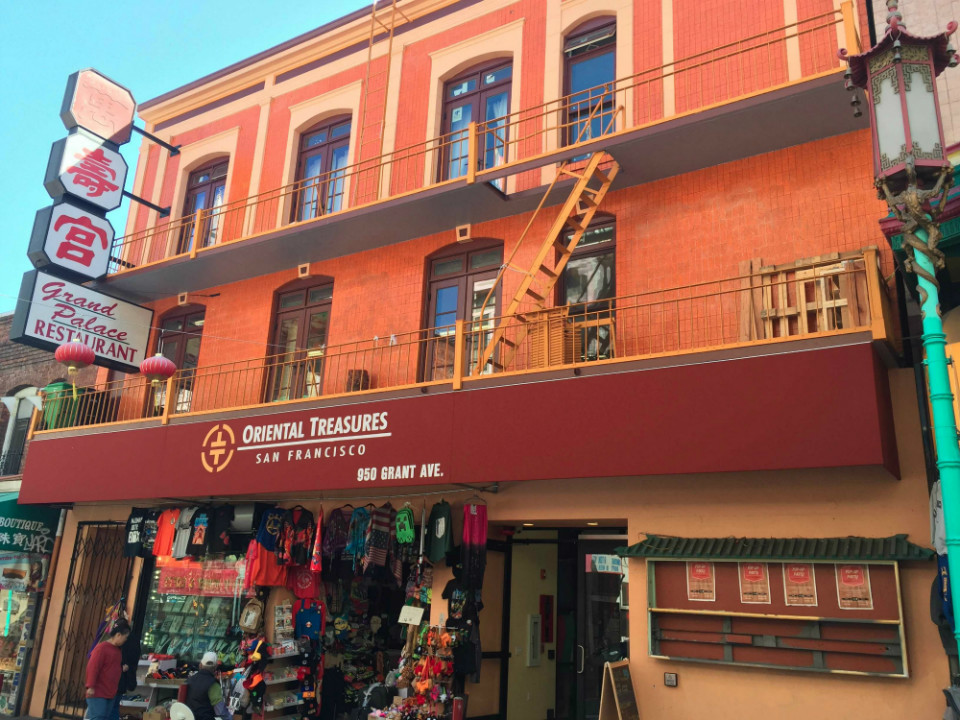 Photo: Geri Koeppel/Hoodline 
Over in Chinatown, the SF Planning Department will allow coworking space 1920C to remain in operation at 950 Grant St. as long as it comes into closer compliance with the Chinatown Area Plan, which stipulates what businesses are allowed to operate in that area. 1920C has promised to reduce the size of its coworking space, host more nonprofits, and give quarterly updates over the next year.
Chinatown was also host to last night's big swearing-in bash for Supervisor Aaron Peskin, which featured a who's who of local politicos and a surprise appearance by Rose Pak, who called via speakerphone from China.
Photo: Charles W. Cushman 

SFist dug up this interesting Charles W. Cushman photo of an elderly gentleman walking his pet raccoon around Coit Tower, circa 1952. If anyone is interested in resurrecting this trend, there's a local coyote that's easy to find. (Just kidding, please don't do that.)
North Beach lost another notable local last night, as Paul Kantner, a San Francisco native and the co-founder of rock group Jefferson Airplane, died of multiple organ failure. No funeral details have been announced for the Caffe Trieste and The Saloon regular, but we'll keep you posted.
You've probably seen those Super Bowl statues that were defaced to read "Superb Owl" and "Sup Bro." Now, the Wharf has one of its very own:
Around The Town 50 in San Francisco's Fishermans Wharf #SB50 pic.twitter.com/vww1iPLize

— Super Bowl 50 (@superbowl50) January 27, 2016
If you have nowhere to stay and a spare $43,000 burning a hole in your pocket, this guy has a home you can crash in for Super Bowl weekend.
This is the final weekend of SF Restaurant Week, so if you want to score some good food on the cheap, check out the participating North Beach locations: E'Tutto Qua (270 Columbus Ave.), L'Osteria del Forno (519 Columbus Ave.), Rose Pistola (532 Columbus Ave.), The Stinking Rose (325 Columbus Ave.) and Vicoletto (550 Green St.) Over near the Wharf, Alioto's Restaurant (8 Fisherman's Wharf), Hard Rock Cafe (Pier 39), Lou's Fish Shack (300 Jefferson St.) and Pescatore (2455 Mason St.) are participating as well. 

On to your weekend events:
Friday, January 29th




Saturday, January 30th




Sunday, January 31st
Discover more upcoming San Francisco events at hoodline.com/events.