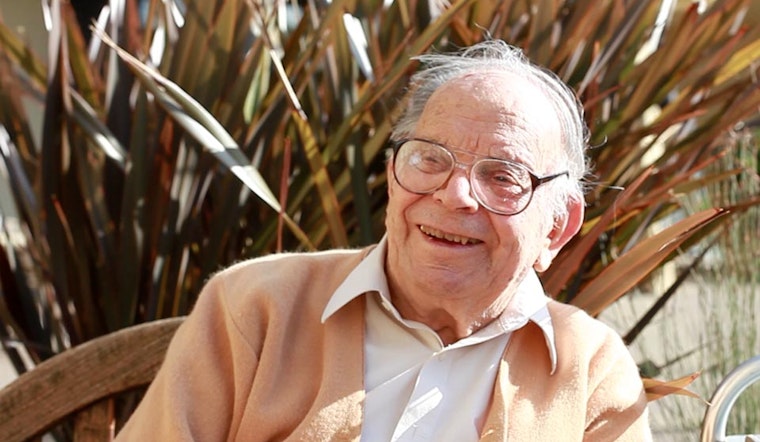 Published on January 11, 2016
Bill Del Monte, the last remaining survivor of the 1906 San Francisco earthquake, passed away today, just shy of his 110th birthday, the Associated Press reports.
We got to know Bill back in 2014, when we traveled to his home in Marin. In our interview, we met a man who remembered life before electricity, watched neighborhoods evolve and technology advance, and maintained a lively outlook through his many years on earth. Read on for an excerpt of the original interview.
---
Roughly 400,000 people were living in San Francisco on the morning of April 18, 1906, when a magnitude 7.8 earthquake shook the city. Of that population, only two survivors are known to still be alive today. Bill Del Monte is one of them.
Born in January of 1906, Bill was only three months old when the quake struck. His family lived in a house at the corner of Kearny and Broadway in North Beach, where his father Angelo was the co-owner of a restaurant called Fior D'Italia. Though it would relocate several times over the years, Fior D'Italia continues to operate in North Beach today.
According to family lore, when the earthquake struck at 5am that April morning, Bill's mother wrapped him up in a tablecloth and fled the house along with his father and four siblings. Bill was too young to remember the event, but the details have become part of his personal history.
"My dad had this place over in Elmhurst, near San Leandro. My family, we were put on one of those [buckboard] carts. And a horse dragged us down to the Ferry Building."
Fires raged on both sides of Broadway, but the family successfully reached the Ferry Building and sailed across the bay, where they took a train to Elmhurst. They stayed there for the first few years of Bill's life as the city rebuilt.
Bill's early years reflected the highs and lows of the city and the nation. He lived through both World Wars, but not as a soldier (too young to fight in the first, too old for the second). He learned to play the stock market during the roaring '20s, even becoming a millionaire at one point—only to lose it all in the crash of 1929.
"You could buy General Motors for fifty cents, and other stocks for a dollar and a half. Before then they were twenty to eighty dollars. So, you just got wiped out. I had some of those. That's why I went broke."
Bill continues playing the stock market to this day. "It's something that gets into your blood" ...
For the full interview, including more videos and further Del Monte wisdom, click here.