It's been a long time coming since it was first announced in 2013, but Bay Area Bike Share is finally expanding to the Castro, as well as many other city neighborhoods. 
Last night, the organization held the first in a series of workshops discussing where bike share stations should be placed in each neighborhood. Held at Harvey Milk Center for the Arts, the meeting focused solely on District 8, giving community members the opportunity to share their input.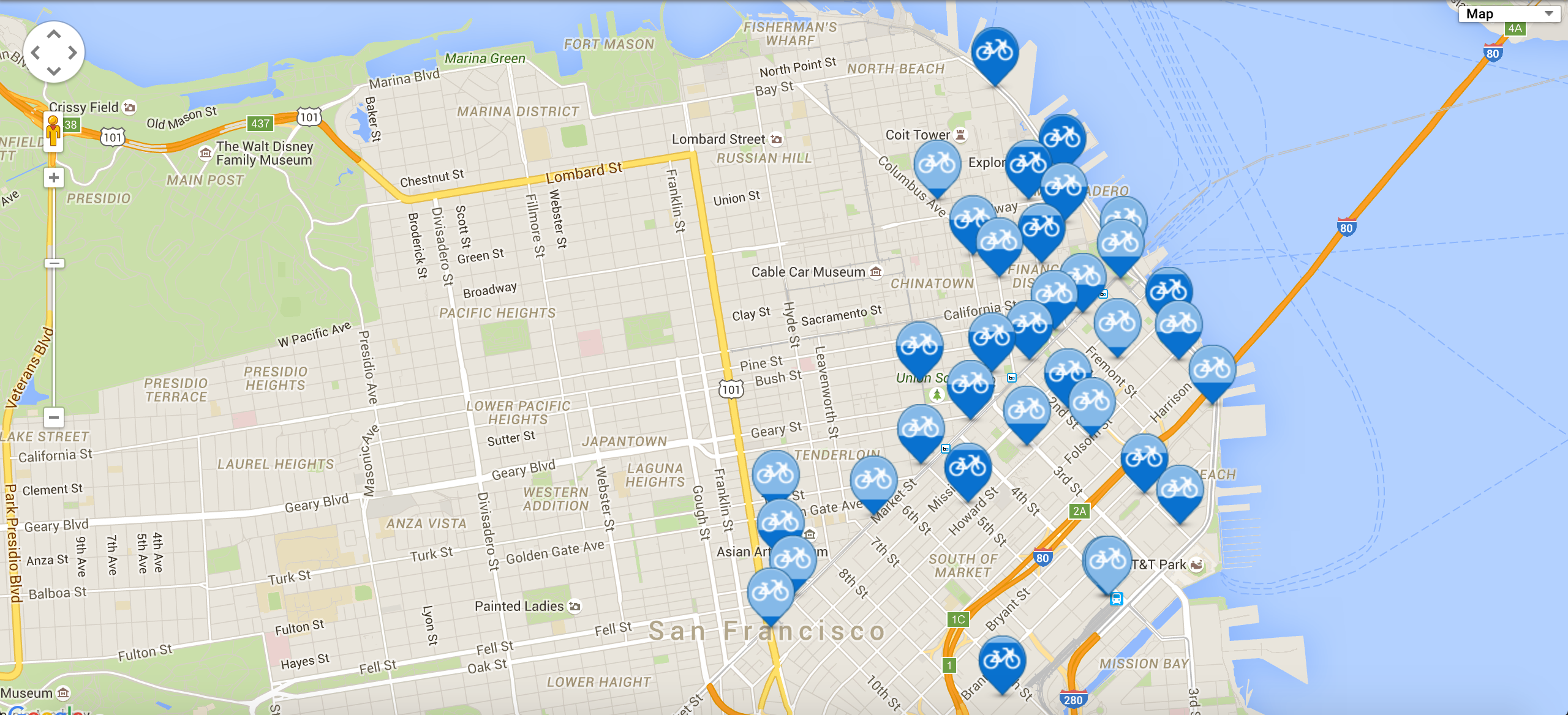 A map of all current Bay Area Bike Share stations in SF.
Bay Area Bike Share comes from parent company Motivate, which operates eight bike shares in the U.S., Canada, and Australia. They include CitiBike in New York/New Jersey, Divvy in Chicago, and Hubway in Boston.
In the Bay Area, the bike share pilot launched in 2013 after numerous delays, with 700 bikes systemwide. The vast majority were located in downtown and SoMa, with none east of Van Ness; a handful of others were centered around Caltrain stops in the South Bay. 
Regular users can purchase an annual membership ($88), while visitors can buy one for 24 hours ($9) or three days ($22). Each membership allows for an unlimited number of 30-minute rides. 
In May 2015, the Metropolitan Transportation Commission (MTC) approved the expansion of BABS to 7,000 bikes, spanning Berkeley, Emeryville, Oakland, San Francisco and San Jose. The expansion will take place over a series of four phases; District 8's bikes will be incorporated in Phase 1.
By the end of the project's expansion in 2018, San Francisco will have 4,500 bikes across the city, funded through a public-private partnership at no cost to taxpayers. Discussions with a major sponsor are underway, and an announcement is planned in the future.
DTNA's Mark Scheuer discusses proposed stations, while Castro Merchants President Daniel Bergerac speaks with a Bike Share representative. (Photo: Steven Bracco/Hoodline) 
In a similar fashion to the Curb Management Workshop back in November, workshop attendees were asked to give their feedback on the provided maps, using red and green stickers to indicate locations that would be good or bad choices. Some were concerned about stations in congested areas like Duboce and Steiner or Castro and Market, while others encouraged stations at transit hubs like Church and Market.
"Draft final station locations will be posted online after we review all the great input we're receiving through the public workshops, likely within the month," said Motivate's Paolo Cosulich-Schwartz, who previously worked for the SF Bike Coalition. All stations will also need to be vetted with local transportation agencies. 
"After that, we'll be inviting people to give us feedback on those draft final locations through an online tool. From there, we'll make any needed changes and move forward with our final station locations," said Cosulich-Schwartz. Once everything is set, the bike stations should be installed sometime this fall.
Castro/Upper Market CBD Executive Director Andrea Aiello discusses plans with a group. (Photo: Steven Bracco/Hoodline)
The stations themselves can be placed on the street or the sidewalk, with their size varying by location. A typical station has 19 bike docks, but "you can expect slightly smaller stations in residential areas, and average to slightly above-average stations on commercial corridors and at transit hubs, where demand tends to be highest," said Cosulich-Schwartz.
District 8 Supervisor Scott Wiener has served on the MTC since 2011 and was a vocal supporter of BABS, whose expansion was unanimously approved by the Board of Supervisors in December. 
"Through my work both on the Board of Supervisors and on the Metropolitan Transportation Commission, I've pushed to bring bike share to San Francisco, and to expand it throughout the city," he said in a press release. "This is great news for our city, our transit system, and our residents. A robust and sustainable bike share network will allow us to reap the benefits of bike share, including reducing traffic, improving public transit, and stimulating the local economy." 
The next Bay Area Bike Share workshop, hosted by Supervisor Jane Kim and centered on SoMa, is scheduled for January 20th at Gene Friend Rec Center (270 6th St.) from 6:30-7:30pm & 7:30-8:30pm. The next day, January 21st, Supervisor David Campos will hold the final workshop, centered on the MIssion, at Mission Neighborhood Center (362 Capp St.) from 6-7pm & 8-9pm. Can't attend the workshops? You can still suggest your favorite location for a BABS station online.