Angela Alioto has written a post on Hoodline's North Beach Facebook page accusing Supervisor Aaron Peskin of "interfering with several City departments to feed his own vindictiveness" because he asked the city to hold off on permits for the Piazza Saint Francis, the Poets Plaza.
Alioto has been working on building the Umbian-style piazza—envisioned to be lined with imported white marble and inlaid quotes from poets and thinkers—on Vallejo Street in front of the National Shrine of St. Francis of Assisi for eight years, she told us. Now it needs a final permit to move ahead for a full permanent closure of the street. But Peskin, she says, told city departments to stop working on it because there needs to be more community outreach.

"I do not believe for one second that this about outreach," Alioto said. "This is about revenge for my support of his opponent." She also told us, "It is simply not true that we haven't done outreach. For that to be the superficial reason given and believed, it's not true. You'd have to have lived under a rock to not know about this piazza."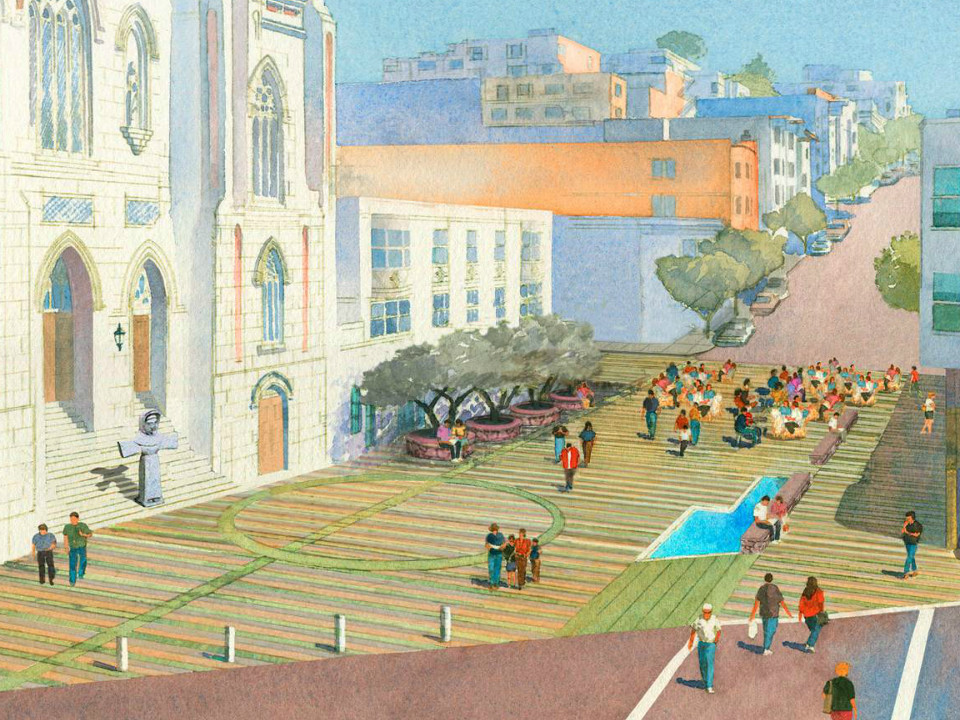 Graphic: Courtesy of Piazza St. Francis, the Poets Plaza
When we asked Peskin if this was political retribution, he told us, "Nothing could be further from the truth." He added, "This is about a project in a public space that is a space that belongs to the people of San Francisco. It doesn't belong to any one person or any one supervisor. My job is to work with the community to do the right thing ... It should be done in a way that really involves the community and where people are heard."

Peskin doesn't deny that he asked for more outreach before a permit is granted. "I think the effort to beautify the 600 block of Vallejo between Columbus and Grant would benefit from a more meaningful, inclusive community discussion," he told us. "There have been individuals who have suggested alternatives. There has been concern expressed by the adjoining property owners and businesses. This has been chugging along with very limited input from the surrounding neighbors and businesses, and I've suggested to the city that there be more extensive community discussion and that the city be open to alternatives."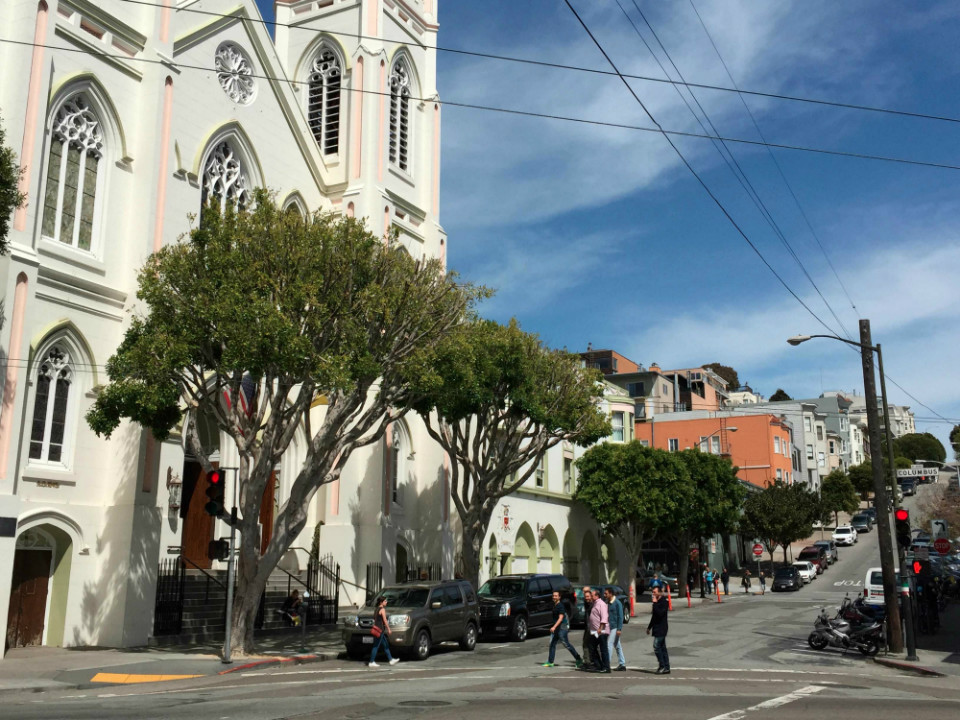 Neighbors further east on Vallejo say they're concerned about access. (Photo: Geri Koeppel/Hoodline)

Alioto said more outreach is indeed scheduled. She's speaking at the board meeting of the North Beach Neighbors at 6pm March 14th, at Pat's Cafe, 2330 Taylor St., which is open to the public. Alioto is planning to host two more meetings at 6pm March 24th and April 14th, tentatively scheduled to be held at the San Francisco Italian Athletic Club. She also said SF Public Works is having a meeting on the subject at 10am March 14th at the Betty Ong Recreation Center, but it's not on its calendar, and the department was unable to immediately confirm that by deadline. (Update: Rachel Gordon of DPW says that the meeting on the morning of March 14th will be rescheduled. "We want to hold the meeting in the evening when more people can attend, and when we can make sure there is ample public notice of the meeting," she said.)
Although Alioto said she's been doing community outreach for years, including putting up posters in dozens of storefronts throughout North Beach and meeting with community organizations, some neighbors have claimed they weren't fully aware of the scope of the project. They raised concerns in September of 2015 about a temporary street closure in advance of the full project, citing concerns about vehicle access to and from their homes, fire access and more. (Incidentally, Alioto told us today that the temporary closure was initiated by former Supervisor Julie Christensen, not her. "I didn't want to spend one minute of my time on something temporary," she said.)
Following that, the closure was put on hold, and a community meeting was scheduled for December 2nd, 2015. At that meeting, where tensions flared, a flyer showing a detailed alternative idea for the piazza was circulated that would still allow vehicle traffic to flow through.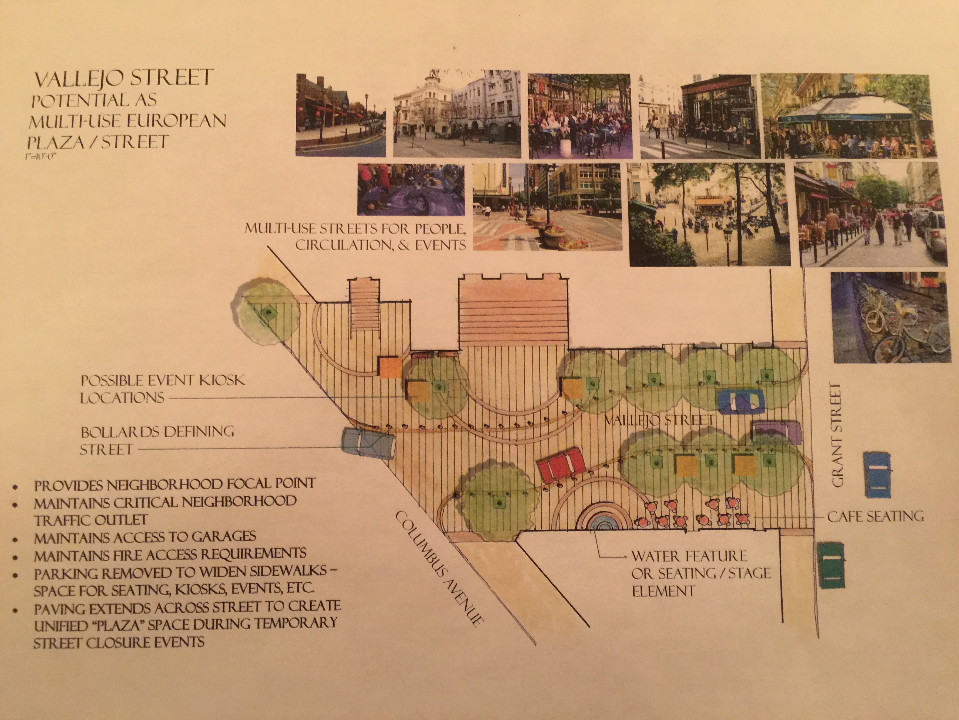 Later, the Telegraph Hill Dwellers and the North Beach Business Association rescinded their support for the project, though they're still listed on the website as supporters. The NBBA on January 6th sent a letter to Alioto that included this statement:
Last night our Board heard a presentation by Don Raichle, a North Beach resident who represents neighbors who feel the Piazza can be executed while still keeping Vallejo Street open to vehicular traffic. This request for consideration was brought to former Supervisor Julie Christensen who refused to review any ideas for alternative designs that would accommodate vehicular needs of both merchants and residents and we feel it is a reasonable request to delay approvals until all parties can be part of the review process.
Kathleen Dooley of the NBBA told us, "We had not been aware that there was, from the neighborhood, so many objections to it being permanently closed. And we had a presentation by someone who seemed like what was a very reasonable alteration to the plan that we felt needed more examination and more review by the community before making a final decision." She said politics did not play into the group's decision.
Peskin's office also sent Hoodline a letter from the Archdiocese of San Francisco Legal Office which states it neither supports nor opposes the project, but it does outline a number of concerns. Among other things, it says plans for the piazza incorporate part of the Archdiocese's property. "Not only is this private property, it is the only access to the Porziuncola Shrine from both Vallejo and Columbus. As has been all too common, this was included without our consent or even consultation. It is obviously unacceptable."
Another issue Peskin raised was whether Alioto has secured the funds to pay for the project. The project's total cost is roughly $2.4 million, and Alioto said she has funds and pledges for the initial amount. However, she said it's a "chicken and egg" situation—she needs the permit first before she can collect the pledges. Also, she added, "We are going to be fundraising for years" for an endowment for ongoing maintenance and upkeep.

We asked Alioto if she's tried to reach Peskin to discuss the piazza one-on-one. "I have tried; I have tried; I have tried," she said. Peskin, on the other hand, told us, "She has never reached out to me."