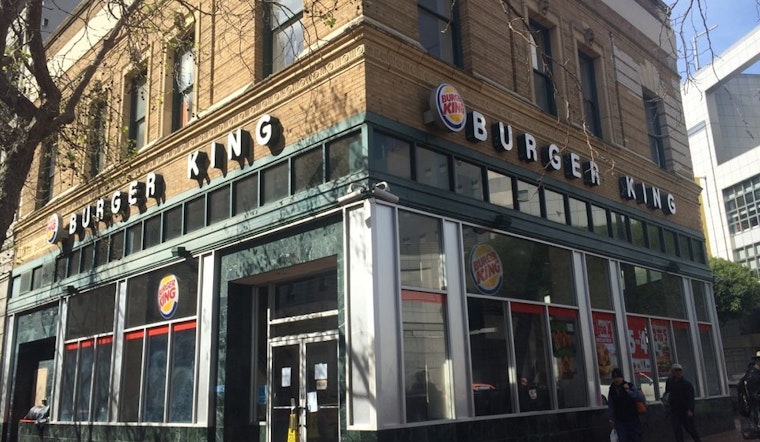 Published on February 22, 2016
The Burger King at 1200 Market St. has been closed since Friday, Feb. 19th, due to health code violations.
While a hand-written note to customers on the fast food joint's front door states that the location is closed for repairs, a separate notice posted by the Department of Public Health announces that the restaurant's permit has been revoked due to the "existence of imminent health hazard(s)."
The hazards listed on the notice are food intoxication, food infection, disease transmission, vermin infestation, "or hazardous condition that requires immediate correction or cessation of the operation."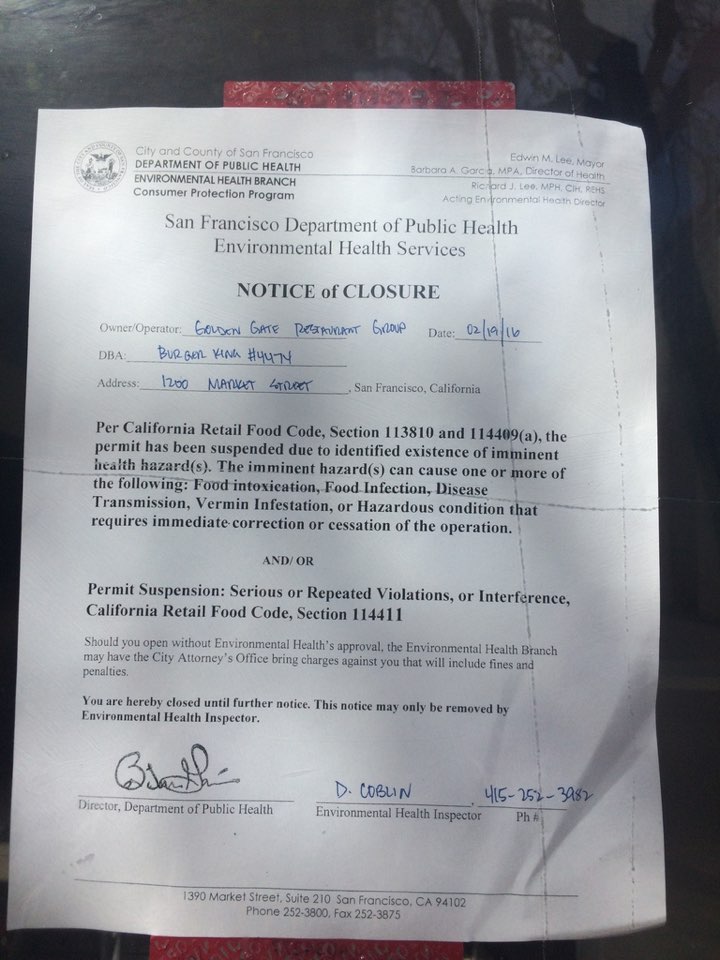 We've reached out to the health inspector on this case and a representative of this independently owned Burger King franchise to learn more about the nature of these violations and whether the permit could be reinstated, and will update this post when and if we hear back.
In the meantime, we do know that health code issues are nothing new for this location. According to the Department of Public Health's records, the Market Street Burger King does not have the "symbol of excellence" from the Department of Public Health.
Screenshot: Department of Public Health
While the San Francisco Business Times reported earlier this month that many San Francisco restaurants have not been inspected in more than a year due to understaffing, issues at this location have not been overlooked by the city. Department of Public Health records for this Burger King show that the restaurant's last health inspection occurred in August of 2015 after the department received a complaint. That visit came just two weeks after a routine unscheduled visit in which the eatery received a score of 84/100, which is categorized as "Needs Improvement."
Just a couple of weeks ago, a tourist from the Midwest offered his account of the scene at this location on Yelp. "The place was messy, the floors sticky, crack heads in the lobby and could tell by the food delivered that the quality of standards was just gone," he said. "The chicken nuggets tasted like the grease hadn't been changed out in several days, which permeated the fries, as well. The bacon cheeseburger was ok; but the communication with staff was rushed and strained."
For those looking for an alternative "Home of the Whopper," the nearest is located at 1298 Howard St., between Eight and Ninth streets.
Thank you to tipster Sergio S. for alerting us of the closure.