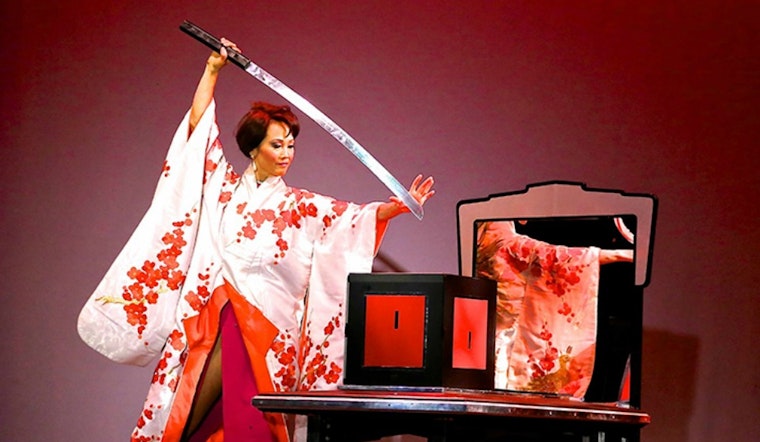 Published on February 07, 2016
"Magic is the illusion of the impossible for the sake of art," declares local magician Christian Cagigal, who, along with another prominent Bay Area magician, Jay Alexander, is the brains behind Fog City Magic Fest, San Francisco's first contemporary magic festival. 
The event offers an impressive lineup of talent, mostly locally based but nationally and in some cases internationally known. The seven shows play over the course of the coming week on the main stage at the Tenderloin's popular Exit Theatre at 156 Eddy Street.
Cagigal has been performing his repertoire of theatrically based magic shows as an artist in residence at the Exit for the past 10 years or so. Two years ago, Exit directors Christina Augello and Richard Livingston suggested he organize a festival. Now, several years later, Cagigal and Alexander have booked a group of performers that represent the crème de la crème of local magicians.
So just how many magicians are there around here? It's a question with no firm answer, explains Cagigal. The working magic community includes theatrical-style performers like Cagigal, kids' performers and corporate performers, and, beyond that, an unknown number of beginners and amateurs.
"Some people might have a day job in the tech world but in the evening are trying to create their own magic shows," he says.
"Your office mate might be a magician but hasn't told you yet. Or a 16-year-old might have a thousand times more skill with cards than a stockbroker who's been playing with cards all his life." He guesses there might be a few hundred working magicians in the Bay Area, which, he says, rates behind Las Vegas, New York, Chicago and Los Angeles in terms of national prominence.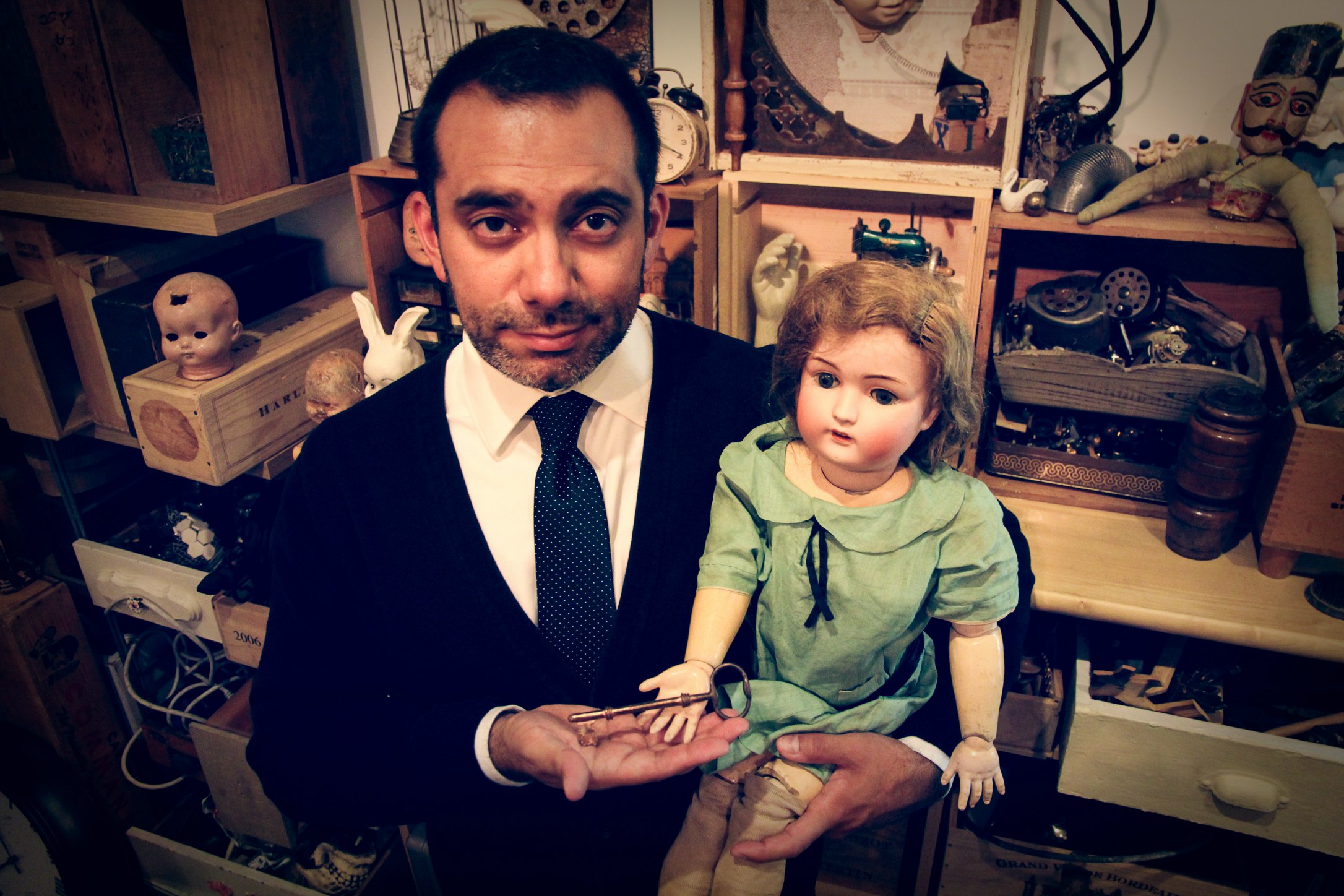 Christian Cagigal and friend. Photo by Julie Michelle Sparenberg

Here, as in other communities, magicians are increasingly opting for the theatrically-based show — such as Cagigal's own current show, "Obscura" — rather than the more traditional variety show.
In "Obscura," Cagigal interweaves elegant and mysterious little stories of his own with sleight-of-hand; you get to watch his card tricks super-close-up on an overhead videocam and you still don't know how he does it. (He's also an uncanny mind-reader.)
As local journalist Chloe Veltman wrote in "American Theatre" magazine a few years ago, "Instead of making a trick the be-all-and-end-all of a magic show, in the same way a comedian treats the punch-line of a joke, magicians [such as Cagigal] who are interested in exploring the theatrical process see their illusions as part of a larger whole . . . usually . . .embedding [them] within a strong narrative framework that often builds to a climax."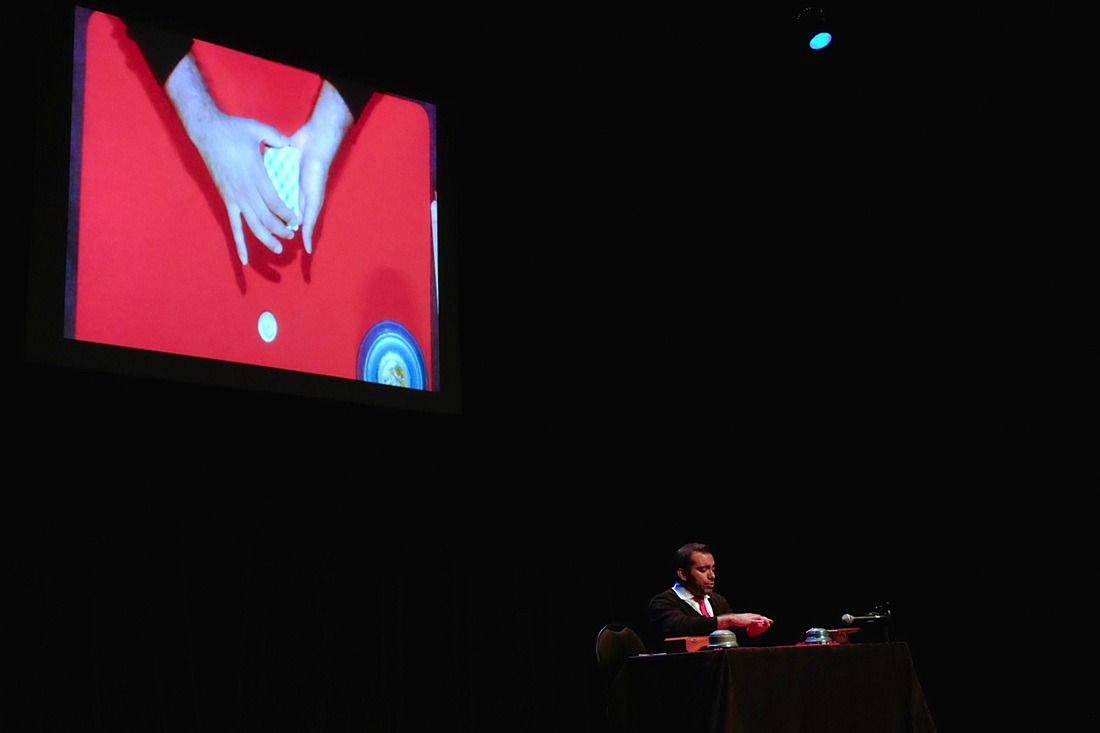 Cagigal performing a card routine on stage for Obscura. Photo via Bay Area Musicals
In this type of magic show, you'll see "the development of sustained characters; [and] the use of dramatic metaphors." That is, it's not just about blowing your mind with optical illusions; there's something bigger at stake here—and it has to do with the mystery of the human condition itself. 
Cagigal started practicing magic at age 11 — "I was the pipsqueak with glasses"—and was a devotee of Harry Anderson, Penn and Teller, early David Copperfield. "Things came out of their souls," he says.
He's a trained actor — he has a B.A. in theatre arts from San Francisco State, has performed with the San Francisco Mime Troupe — and brings those dramatic skills with him as a magician; he has a low-key performing persona and establishes a gently teasing, apparently guileless relationship with the audience. In a way, it's the opposite of acting, which, he points out, is about being open, honest and present in the moment, not hiding.
Magic, on the other hand, is "deceit for your entertainment pleasure — the illusion of honesty." The tricks are easy, he says; it's establishing the connection with the audience, and especially inviting volunteers onstage, that's the most challenging, and that leaves him most vulnerable.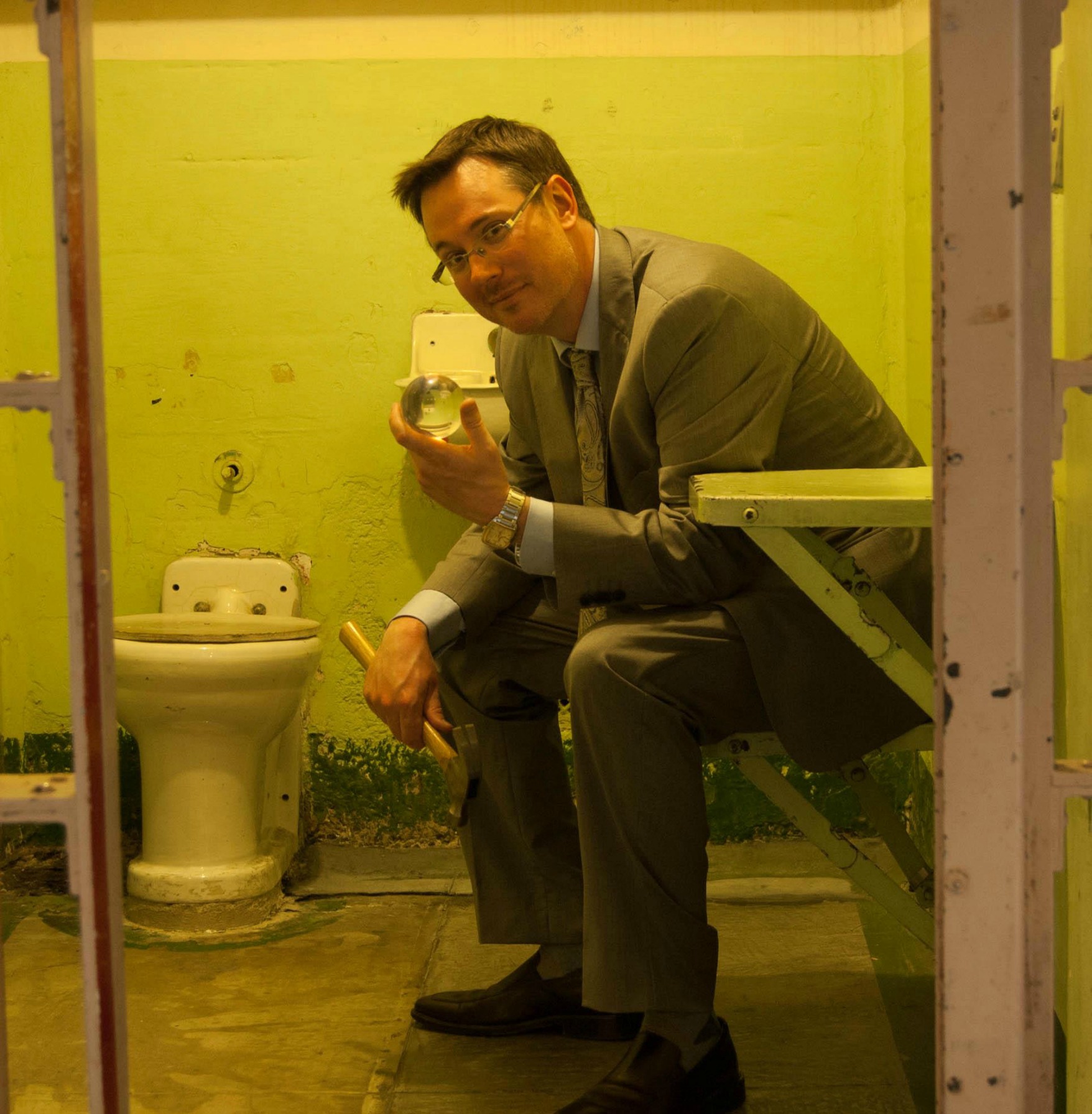 Brad Barton at work. Photo via Brad Barton, Reality Thief
"At all times I'm focusing on connecting," he explains, adding, "Some people say they don't believe in anything, and I say, 'How can you not?' I want to give people some mystique back in their lives."
For this festival, Cagigal and Alexander lead off with an opening night gala (February 10) of magicians who have performed previously at the Exit, hosted by Alexander, a Marin-based corporate entertainer who's been in the magic trade for more than a quarter century; Cagigal first met him back in the 1990s and worked as his intern. Alexander has appeared on "The Today Show," "Good Morning America" and MTV, as well as on many local morning shows.
The great grandson of vaudeville performer Gentleman Ben Darwin, he was drawn to the art form when, as a kid, he discovered a trunk of magical stuff in his grandparents' attic. (Among other claims to fame, he has been hired to entertain the Rolling Stones on tour.)
On the lineup that night is perhaps the most famous female magician working today, according to slate.com: the one-monikered San Franciscan Jade, who's Chinese-American and is internationally known — she has won awards, appeared on TV and, among other accomplishments, gave a command performance for the royal family of Monaco. She also headlines the festival's closing night on February 13. Among others on the opening night lineup are Kevin Blake, Sebastian Boswell III and Otis.
Jade concluding a routine. Photo via Magic Jade
The February 11 headliner, David Gerard, billed as a mentalist, has been appearing during the past year at nearby Pianofight; he specializes in mind-reading, works at parties, corporate events and clubs and has performed in London and at L.A.'s famed Magic Castle.
Cagigal is especially excited about hosting the February 12th SLAM! It's the "Iron Chef" idea for magicians —"The challenge is to come up with something in 10 minutes using magic and a secret ingredient," he says. It's billed, unnervingly, as "Four magicians enter . . . no one leaves!" The four: Ryan Kane, Lynx the Animator, Dante Mancini and Mike Della Penna.
Later that same night 20-year vet Brad Barton, Reality Thief, takes the stage. He promises to "predict your dreams, cause borrowed objects to levitate, conjure cherished childhood memories."
The February 13 headliner is family entertainer Brian Scott, who runs the Bay Area School of Magic and has appeared throughout the region.
Magic, of course, will be in the air even after the festival, which is planned to be annual, closes. And as of March 2, the magical Cagigal takes over the San Francisco Ghost Hunt Walking Tour, established by Jim Fassbinder 17 years ago.