Established in 1898, the UCSF Parnassus campus has always been an integral part of life in the Inner Sunset. Because it predates most of the area's development, the densely built teaching hospital, with a daytime population of 15,000 doctors, nurses, patients and students, is just part of the neighborhood.
Over the decades, UCSF scientists co-discovered embryonic stem cells and made breakthroughs in genomics, among other achievements. But that pioneering research required the sacrifice of thousands of lab animals, and from time to time, those animals escaped, much to the delight (and terror) of UCSF's neighbors. 
One integral part of the university was the George Williams Hooper Foundation, founded in 1914. Named for a lumber baron, it was the first medical research foundation that was integrated into an American university, and won a Nobel Prize for Medicine in 1934.
As "a pioneering center for research on diseases of animals transmissible to man," the Hooper Foundation did a lot of work with monkeys—and sometimes, those monkeys escaped.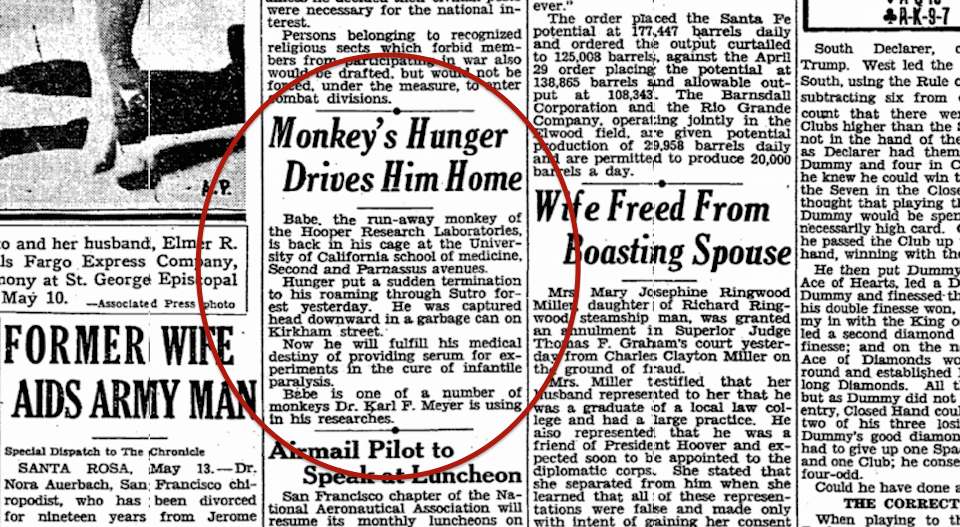 Image: Via SF Chronicle
May 13, 1929: "Monkey's Hunger Drives Him Home"
In May 1929, a research monkey named Babe was captured "head downward in a garbage can on Kirkham Street" after making his way out of a Hooper Foundation lab near Second and Parnassus.
"Now he will fulfill his medical destiny of providing serum for experiments in the cure of infantile paralysis," reported The San Francisco Chronicle. Unfortunately for both lab animals and polio sufferers, an effective polio vaccine wouldn't be developed until 1952.
March 23, 1937: Mike the Monkey
In a story headlined "Simian Holiday Ended By Three Boys," the Chronicle reported that a monkey who escaped from a Hooper lab "was found swinging by his tail from a tree in Sutro Forest" after "being A.W.O.L. for a few days."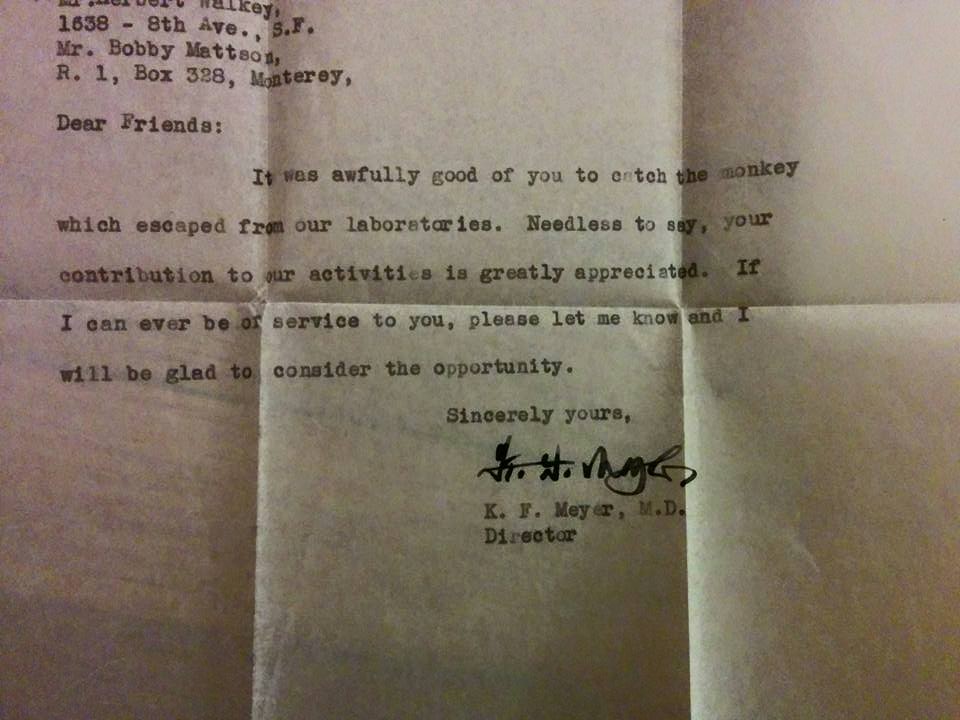 1937 letter of thanks for catching escaped monkey. (Image: via Amanda Owen-Walkup)
According to Cole Valley resident Amanda Owen-Walkup, her grandfather, Herbert Leland Walkup, was playing and foraging blackberries on Mt. Sutro when he and his friends came across the furry fugitive. "My grandpa had a special gift with animals ... he managed to lure the monkey from the tree and into his arms," she posted on Facebook.
Hooper Foundation director K.F. Meyer personally wrote the boys to express his gratitude. "It was awfully good of you to catch the monkey which escaped from our laboratories. Needless to say, your contribution to our activities is greatly appreciated. If I can ever been of service to you, please let me know and I will be glad to consider the opportunity."
November 2, 1951: The Army Of The Six Monkeys 
One very casual Friday, six rhesus monkeys from UCSF "opened a door, climbed through a window" and proceeded to amuse themselves "in the backyards and on the rooftops in Parnassus Heights," the Chronicle reported. Two officers from Park Station joined the hunt, along with lab technicians and a newspaper photographer.
One monkey was captured inside a home at 1500 Fifth Ave., but his/her compatriots eluded capture for days.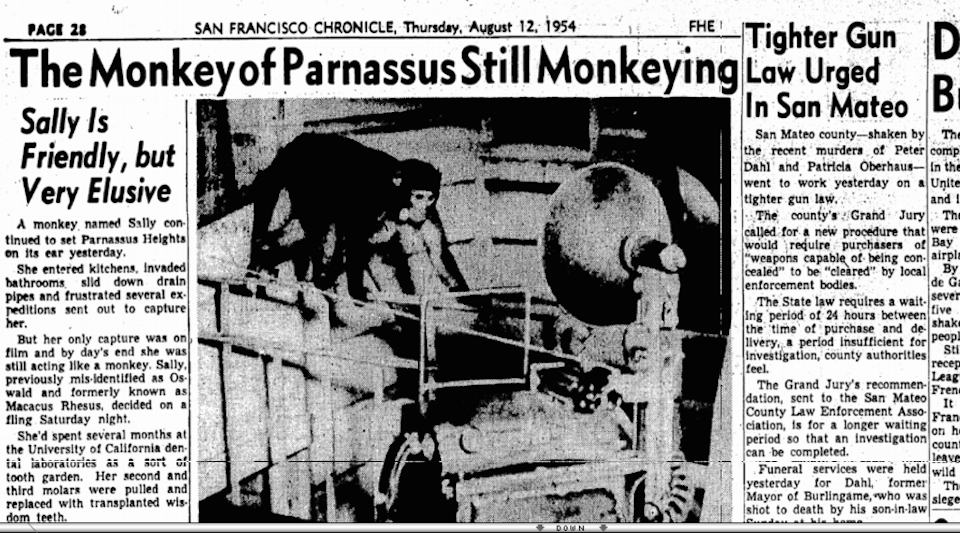 August 11, 1954: Sally On The Run
Sally, a Rhesus macaque, escaped UCSF's dental labs one summer weekend and evaded capture for several days, which made for breathless news coverage and several awkward encounters.
On the following Monday, she was spotted by two nurses in their bathtub at 310 Parnassus. Two nights later, 12-year-old Fred Robinson, Jr. of 322 Parnassus had to convince his father that he wasn't hallucinating the monkey on his bunk bed. For days, firefighters, animal control officers and police combed the neighborhood in search of Sally, "whose second and third molars were pulled and replaced with transplanted wisdom teeth," a procedure that may have inspired her bid for freedom.
Despite sightings around the Inner Sunset, Upper Haight and Kezar Stadium, Sally slipped every trap that was set for her. Finally, she was cornered by workers at the top of the 15-story Herbert C. Moffitt Hospital, then under construction. In a move that stunned onlookers, "Sally threw herself from the roof a split second before her captors closed in."
Thankfully, the fall didn't kill her. After she was rushed to the lab for observation, Sally's handlers released a statement indicating that she was resting comfortably, with some internal injuries. Given her lack of broken bones or critical injuries, doctors said it was "doubtful that the fall was as great as originally reported."
Lab Monkeys Today
Today, the George Williams Hooper Research Foundation and the Karl Friedrich Meyer Laboratories conduct research into genomics, cancer treatment, advanced bioengineering, and other fields of study. To oversee all of UCSF's research animals, the university created the Laboratory Animal Research Center (LARC), which now offers centralized administrative and veterinary services.
LARC follows guidelines established by the National Institutes of Health, Department of Agriculture and other bodies, which may explain why there hasn't been a notable escape in recent years.
However, UCSF's use of lab animals has not been uncontroversial. In 2005, UCSF paid a $90K settlement after the federal government found it had violated the Animal Welfare Act, and a 2012 Chronicle investigation found continued lapses. 
With that said, 85 percent of UCSF lab animals these days are rodents, fish, amphibians and reptiles, according to a 2011 report. As of that year, UCSF was home to only 98 primates, out of an animal population of more than 800,000.