This summer 2016, the Asian Art Museum and the San Francisco Main Library will be joined together by a new Living Innovation Zone (LIZ), known as the Art Lit LIZ. Its goal is to unify the two institutions, which are separated by a wide stretch of Fulton Street, and bring their missions outside their walls.  
As we reported back in December, the LIZ structures are designed to activate underutilized public spaces via interaction. You've likely already seen some of the early entries in the program on Market Street, like the Exploratorium-created "whispering dishes" at Yerba Buena Lane or the swinging blocks outside The Hall at 6th and Market. 
But the Art Lit LIZ has unique origins: it was created entirely by high-school students in an advanced youth architecture class at the Youth Art Exchange, an organization that provides free after-school art classes to public high school students. 
Chosen through a rigorous application process, the six students, who've all graduated from introductory architecture classes at the YAE, meet for two and a half hours, two days a week. Classes, led by architect Craig Hollow, are held in the wood shop at John O'Connell High School; for their efforts, the students can receive stipends and high school or college credit.
"[The Youth Art Exchange] is teaching kids an important skill for growing up and for going on to college," says participating student Olin Kahney. "It's a career-building activity that we are doing."
"I've learned a lot in this internship about architecture and design," agreed another student, Eddy Tang. "I've had the chance to work with actual tools and materials, and I've spoken with Craig about design, how it works and what you have to think about. Sometimes you have an idea, but you have to ensure the design is safe and that people are interested."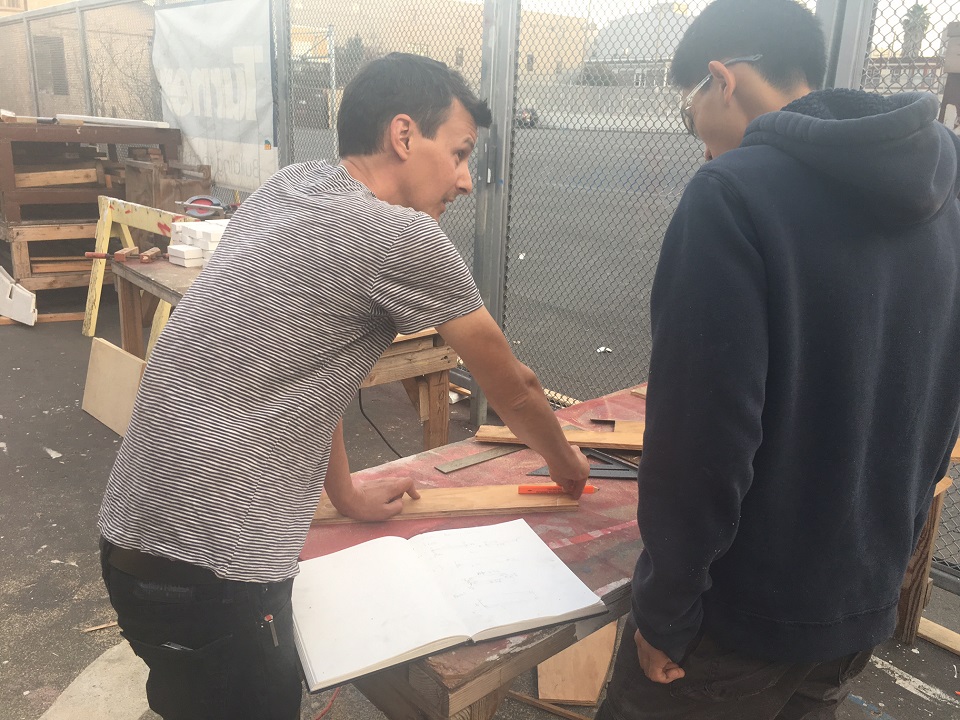 Instructor Craig Hollow gives student Eddy Tang one-on-one instruction on cutting angels for their LIZ prototype.
The current plan for the Art Lit LIZ calls for an 18-foot dragon structure, spanning three rows of trees in the area to the right of the Asian Art Museum on Fulton Street. It will have three interactive components: a gallery space, a playspace for kids, and a turf area. The gallery space will be used to showcase rotating work from a variety of cultures, in collaboration with local art organizations.

In addition to conceiving the design and moving it through the construction process, the youth are responsible for working with city departments to develop the project with "an eye towards approvability," says Hollow.
"The planners have a really good idea of what is possible to do," Hollow explains. "Through the design process, we've worked directly with SF Public Works, the Pavement to Parks program, and the Living Innovation Zone program, as well as representatives from other departments that will eventually have to sign off on our permit and permit drawings."
They've also deliberated with the Asian Art Museum and the Public Library on designs that best incorporate their missions and values, all while working around the students' schedules to ensure that as many as possible are involved. And that doesn't even include the work they put into mockups, construction, and public outreach before unveiling their prototype at the Asian Art Museum on December 8th. 
Now that the prototype is in place, students are meeting with DPW representatives, arborists from Rec & Park, and the Mayor's Office on Disability to address any accessibility and/or safety issues.
"It's been very stressful, but also very interesting [to see] how things are done in the government," says student Gwyneth Lor, who's attended all of the preliminary meetings thus far. "I expected the [representatives] to be serious, but it turns out they were very chill and very positive, and they gave lots of good feedback."
"The city has been fantastic in terms of providing great opportunities to show up at these meetings and give great feedback to the students," Hollow says. "They are very supportive and encouraging throughout the process, knowing they're learning as they go."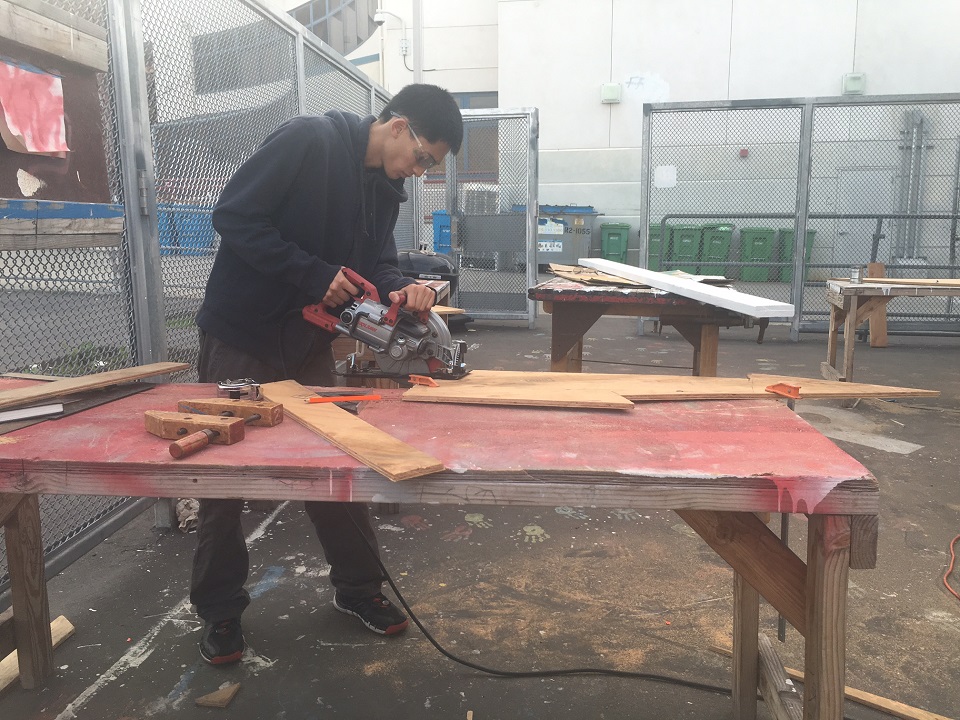 Student Eddy Tang works on the walls for the new LIZ model.
The students say their eyes were particularly opened to the need to make the LIZ accessible to those with disabilities, and to make it safe for all. "We had to think about the disabled and the blind, and that changed the design a lot," said Lor.
The original design, which incorporated a gallery space and slide, is very different from the current one. "The word slide comes with a lot of baggage. Rather than dealing with all that, we got rid of the slide and we got rid of walls," says Lin. "Now, we have more of a structure with roofs.  There is more transparency, less maintenance, fewer danger elements."
Outreach and engaging the community for input were also a new challenge for the students. "The second class we had, we had to immediately do outreach ... that was really interesting for me, because we had to go and talk to people on the street." says student Isabel Scanlon. "I had never done outreach before, and it was interesting to be thrown in that environment and immediately have to be really outgoing and want to ask people questions."
In general, says Lin, "we learned not to be too overly precious about what we make, and to be open to doing things quickly."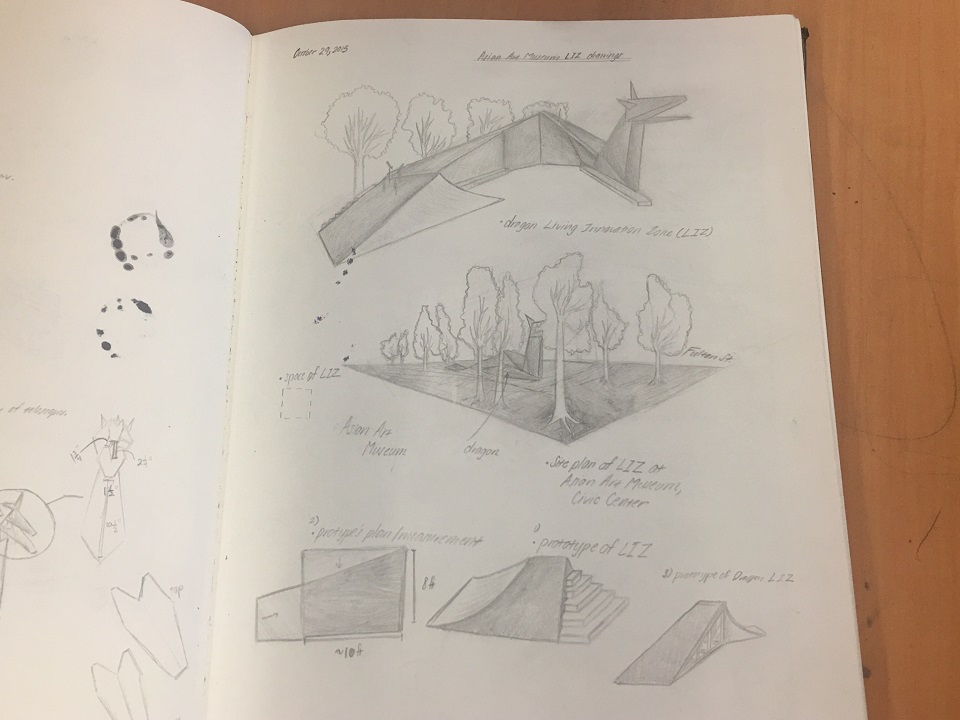 LIZ drawing, October 2015.
At the moment, the LIZ is in the late conceptual design stage, but it still has the potential for dramatic design changes anticipated as the deadline draws near.
"At the end of the day, it has all been conceptually approved, and we have also shown we have reached out to the community and gotten a broad range of community support and buy-in for the project," says Hollow. "Then, our drawings can be approved by essentially all of those same people who have already had a chance to weigh in and comment on the project. It will take a few months for us to actually work through the permit process."  
If all goes as planned, the students will submit the permit application for the LIZ to the Arts Commission in late March, gaining approval sometime in June. The actual construction of the LIZ is tentatively set to commence June 27th, with youth from the Youth Art Exchange's summer internship program joining forces with professional builders.
"The LIZ is designed so people will interact with each other more," Tang says. "We want to put something there that will grab your attention, or get you to relax or interact with other people."