As the sun sets and the golden hour begins to fade, artwork begins to line the bench outside Nabila's Market. The paintings vary from week to week and even year to year; the person behind them, not so much. John is a Hayes Valley staple, known by plenty of local shop owners and residents. 
If you've walked the streets of Hayes Valley, particularly between Laguna and Octavia, you've probably seen John. He wouldn't let us photograph him (or use his last name), but he usually wears a denim shirt that's covered in paint and patches, as if his clothing is part of his artwork. When he's not with a paintbrush, he walks in and out of the stores along Hayes, a place that's more his home than anyone else's. "He's one of a kind, that guy," said Lee, a worker at Nabila's.
Talking to John isn't particularly easy, but after spending a little time with him, he'll begin to tell you tidbits about his life. Originally from Michigan, he once used to live in Walnut Creek. "Mostly, it was to escape," he explained as to why he left.
His experience of living in Walnut Creek is shown in one piece of art he says is akin to "secondhand Mark Rothko." He wasn't trying to cover Rothko's style, but merely emulate it, after trying to paint his former window in Walnut Creek.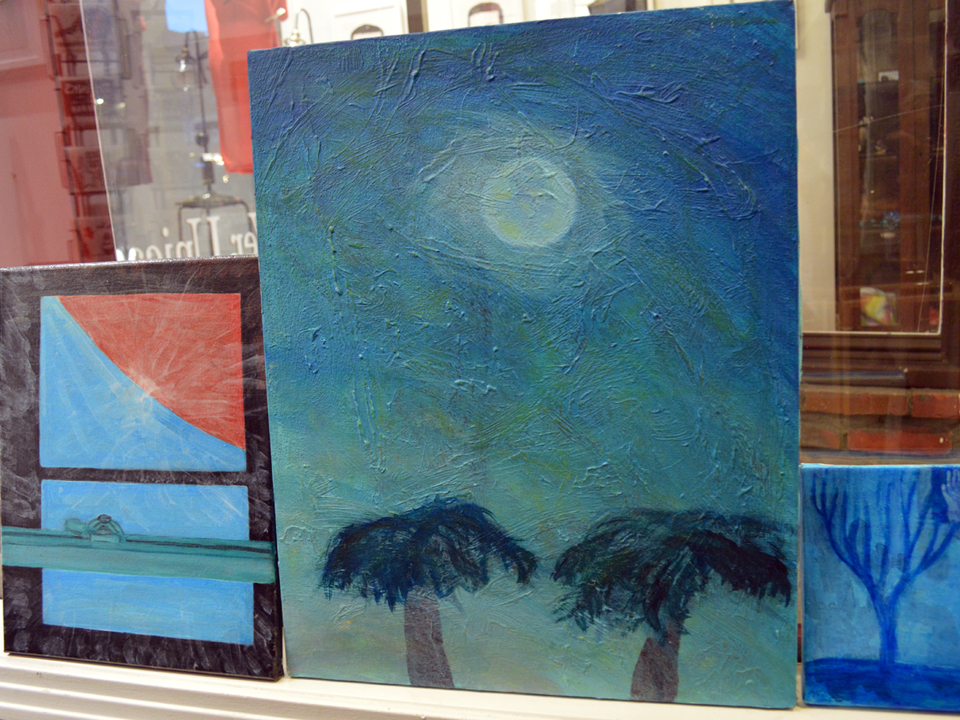 John's art extends past the canvas — and once took him to Ocean Beach. "One of the most important pieces of art I did was not a good thing for the beach," he said. The piece? He piled sand at one end of the beach for about a year and half. "Part of [doing] it was [to] measure competence," he said. "Why does anyone do anything? I piled sand just because I could."
As people continuously say hello to John and remark on how many pieces of his artwork they own, he mentions his current state of mind. "Because of my situation, it can lead to paranoid rants," he said.
But that doesn't seem to bother too many people. 
"He's respectful, in that if he recognizes there are clients in the store, he will walk out," said Kathryn Solis, manager of Hayes Street furniture store Propeller. Propeller actually lets John keep his paints and bedding in the outside section of the store, making sure to open and close it so he can access his items. "We want to continue to support him," she said, adding that she herself owns 10 pieces of his artwork. "I admire him; he's always working."
Across the street, Cindy Spade, owner of Ver Unica, also speaks highly of John. "He's a good person," she said. "He's very smart and very funny." On occasion, he'll borrow Spade's sewing kit and will add on a new patch to his shirt — a key part of his aesthetic. As with Propeller, Ver Unica keeps a toothbrush and toothpaste in the back room for him.
As a warm February night winds down, John burns out a cigarette on his index finger. "I'd like to get 10 acres of farmland in Ventura," he says. "The reason is you can actually be successful and make a profit." But for now, you can find John walking around in Hayes Valley in his paint-covered pants and his patchwork shirt.