Changes are afoot at Jackalope, the neighborhood bar at the corner of Polk and Post known for quirky attractions like the upstairs game room, where patrons can win a free libation in a game of Duck Hunt or Plinko. What those changes will look like, however, is still somewhat vague.
The bar's owner, Cory Hunt, is staying tightlipped about what's in store for the popular watering hole, but he has confirmed that he is pursuing a potential expansion into the space next door.
Jackalope, which opened in November 2014 at 1092 Post St., now has a notice in the window indicating that it's submitted an application to transfer its current liquor license to another location. Some regulars may be concerned that the bar may be shutting down or moving out of the neighborhood, but Hunt tells us there's no need to worry. 
"We're not moving locations (which I understand might be a bit confusing because of the sign)," he said via email. "The notice is regarding the potential expansion (dependent on a variety of factors) of our premises into the space next door."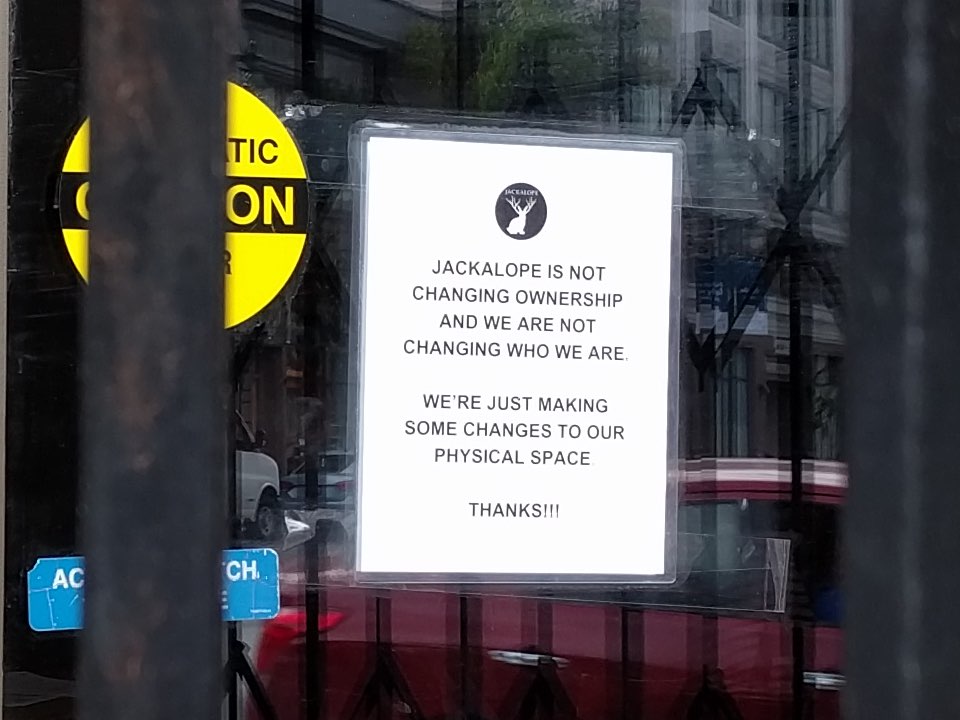 To address concerns, he's posted a sign on the door: "Jackalope is not changing ownership and we are not changing who we are. We're just making some changes to our physical space. Thanks!!!"
While Hunt has not confirmed the space into which he's hoping to expand, a Polk Street neighbor told us that they heard that neighboring Polk Street Check Cashing (1104 Polk St.) is at the end of its lease, and will not be seeking a renewal. Given that there are no storefronts adjacent to Jackalope on Post Street, it seems likely that will be the spot. We attempted to contact them for comment, but were unable to reach a representative by press time.