Jose LaCrosby, a renowned hairstylist and Western Addition resident, passed away on January 29th at the age of 89, according to his neighbor, Jay Majitov.
LaCrosby, who got his start in the 1950s, overcame stereotypes against black male stylists to do the hair of many of the biggest stars of the era, including James Brown, Nina Simone, and Little Richard. He was famous for his work with color and weaves, which regularly appeared in the pages of Ebony and Coiffure magazines.
An Army veteran who served in the Korean War (and received a medal from the Korean consulate just last month), LaCrosby had a long history in the Western Addition. Before redevelopment, when the neighborhood was known as "the Harlem of the West," he used to own a Victorian in the Fillmore. In an era when segregation denied black traveling performers the right to stay in many local hotels, he was known for hosting many artists who came through town.
In his later years, LaCrosby moved to the Midtown Park Apartments, where he resided for over two decades. He is survived by a son and daughter.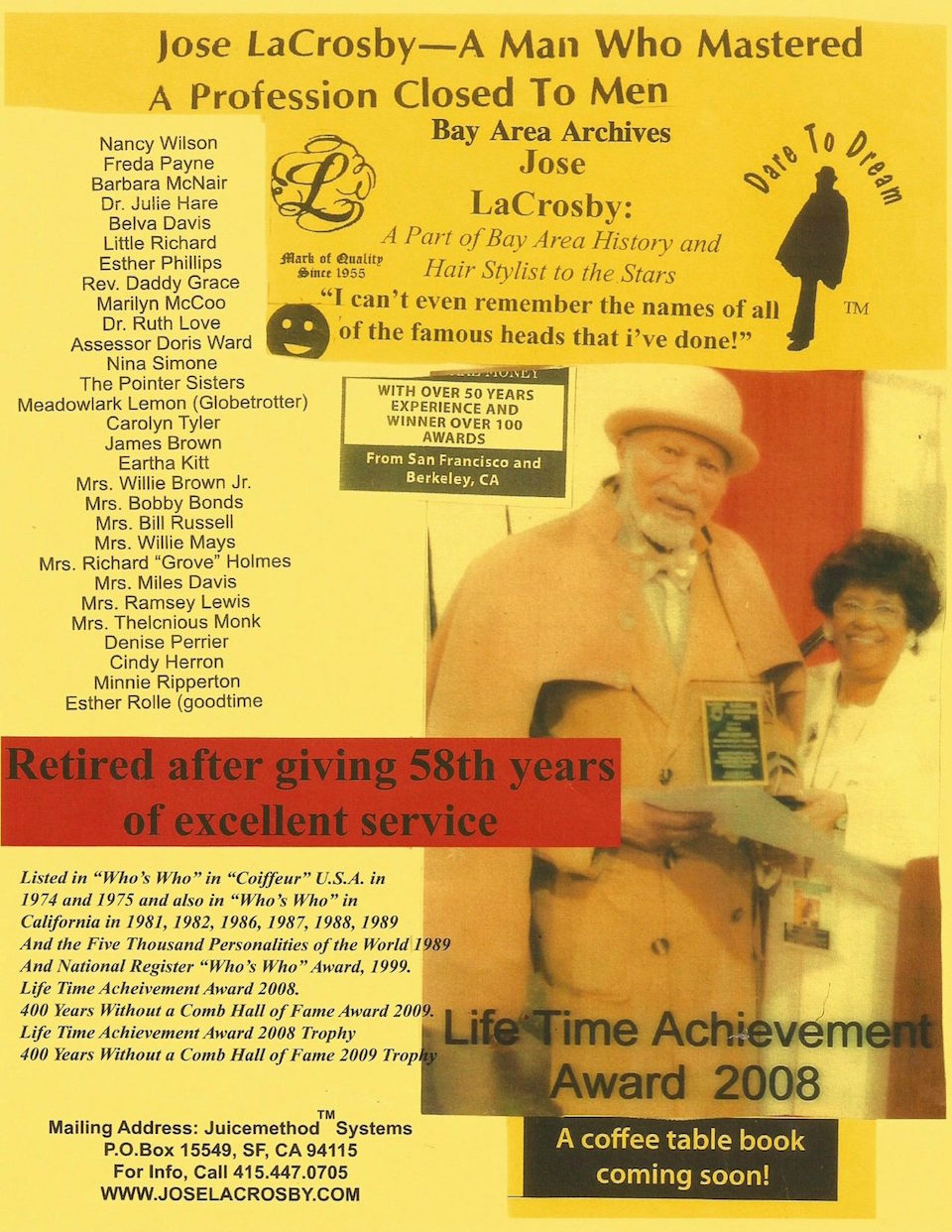 A list of a few of LaCrosby's famous clients, from the Bay Area Archives.
LaCrosby was known for cutting a stylish figure. He preferred to wear a matching suit and cape (which he owned in numerous colors), and was never seen without his trademark derby. "He set his own pace there in fashion," said Pat Smith, one of his neighbors. "For years he dressed like that, looking like Sherlock Holmes. He definitely had a flair."
With his stylist's knack for making conversation, he became a community mainstay. "I never saw him pass a neighbor and not speak," Smith said, citing his prodigious recall for facts and relationships.
In all, LaCrosby spent 58 years in the hair industry, and was known for exclaiming, "I can't even remember the names of all the famous heads that I've done!"

Before he retired, LaCrosby had five beauty salons spread across San Francisco and the East Bay, all of which have since closed. (One of them, located directly across the street from his home at Midtown Park Apartments, was demolished as part of urban renewal.) 
This Wednesday, residents of the Midtown Park Apartments will be holding a memorial protest in LaCrosby's honor. Though he died at the VA Hospital, several neighbors say he was vocal about wanting to die in his home in Midtown Park. However, the stairs to his apartment posed an issue, because the complex does not have elevators.
Residents, including Majitov, allege that Mercy Housing, which runs the Midtown Park Apartments, would not let LaCrosby switch to a ground-floor apartment unless he started paying market-rate rents. The alleged lack of accommodation for the elderly resident has further stirred tenants, who have already been protesting their treatment by the city and Mercy Housing.

Majitov also told us that a memorial service for LaCrosby will be held on March 6th at Third Baptist Church.