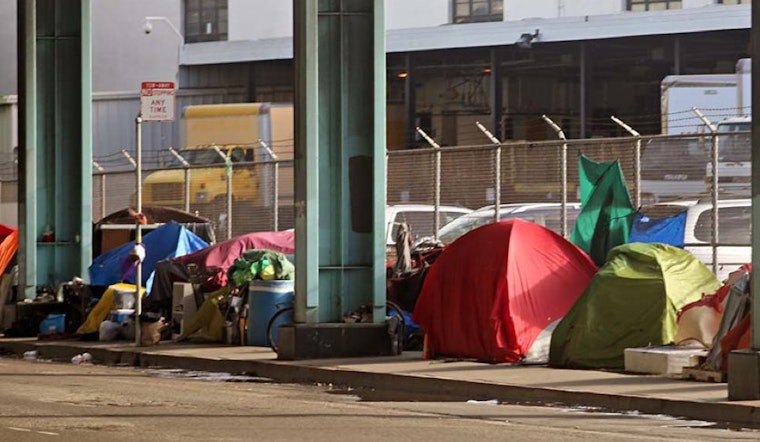 Published on February 24, 2016
News broke yesterday afternoon that campers along Division — as well as 16th and Market and 18th and Sanchez — must relocate in the next 72 hours or face the possibility of being forcibly removed.
Throughout the day, photos and videos of Public Works cleaning crews and CHP and SFPD officers on Division Street circulated on social media, along with concerns that homeless residents' personal belongings were being trashed and that campers were told to move,but given no details on alternative locations.
To learn more about where the city expects Division Street's homeless to go by Friday's deadline, we reached out to Sam Dodge, executive director of the Mayor's Office of Housing Opportunity, Partnerships & Engagement (HOPE).

Dodge says the city's Homeless Outreach Team has been working over the past two weeks to persuade people living on Division to move into the new shelter at Pier 80. Convincing people to move willingly is a process, he said, but they are making headway as word about this alternative has spread. Since Monday night, they've invited in nearly 100 people from Division Street.
A report earlier this month stated that plumbing for toilets and showers wasn't finished when the first few homeless residents visited, but Dodge says that's no longer a problem. "We've had showers and flush toilets since day two at Pier 80; those have been working just fine."
Services offered onsite are also increasing. The Examiner reported last week that the Tenderloin's Glide Memorial Church is now serving three meals a day at the shelter, the Society of St. Vincent de Paul donated a flat-screen television and Rec and Parks has provided basketball hoops. There is plenty of room to add even more services, Dodge said, but in the meantime residents are given Muni tokens to cover the cost of travel to and from the services they need elsewhere.
While Dodge didn't say whether the city expects this new shelter, with its 150-person maximum, is expected to accommodate all of the individuals bring forced to leave Division this week, he did say that the shelter has been full every night. "If there's ever any difference between our capacity and what we're able to bring in from street outreach, we've been offering them short-term stays, for those seeking shelter, at our drop-in center at Fifth and Bryant." But they are confident that they can house a little more than 150 people at Pier 80 without violating shelter regulations, he added.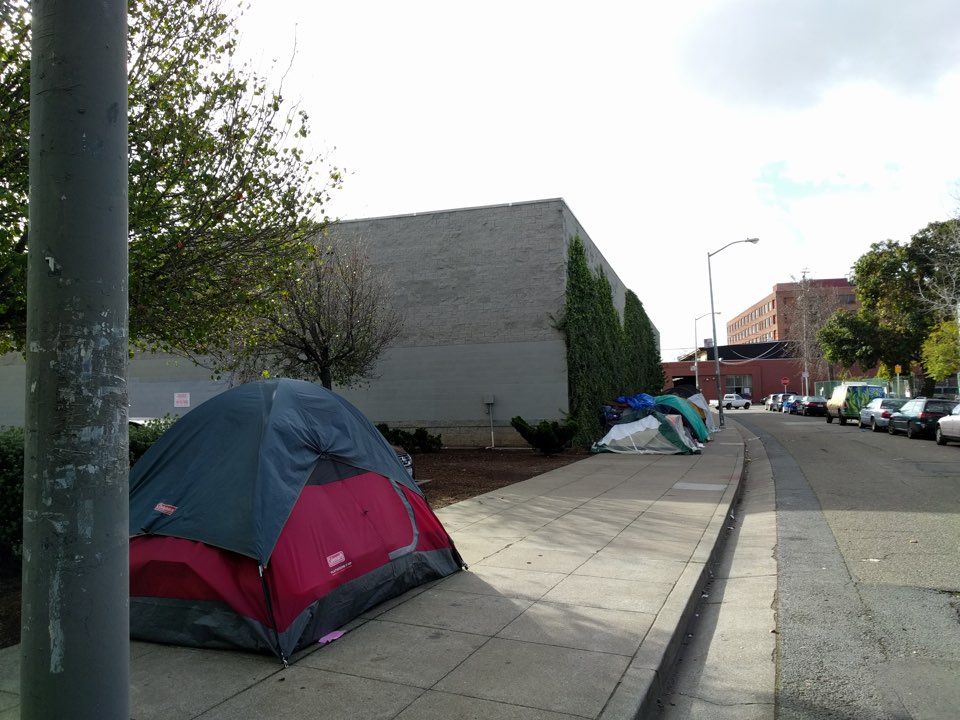 Tents lining Trainor Street, just off Division. (Photo: Brittany Hopkins/Hoodline)
Amy Farah Weiss, a former mayoral candidate, doesn't believe the city has alternatives for all of the individuals being uprooted from the streets this week. "Ed Lee knows that Pier 80, the Navigation Shelter, and other shelters have now maxed out capacity. We have no idea where he currently wants people to go if he pushes them from sleeping in one area," she said. "According to the Department of Justice, Ed Lee is violating the 8th amendment by criminalizing sleep, an essential human function, without providing a viable alternative. If hundreds of people must leave Division Street and SoMa, where are they allowed to sleep?" 
This winter, Weiss and the St. Francis Homelessness Challenge have been working with homeless residents, homeless advocates and city officials to bring supportive services to people living on Division Street. But ultimately, they too don't want to see homeless residents living on the streets in squalid conditions, and are investigating the possibility of turning underutilized public property into city-sanctioned camps. These camps, or "St. Francis Villages," would provide the homeless with space to camp as well as essential services, including the ability to sleep in a monitored location, 24/7 access to restrooms, and transitional services, Weiss says.
The idea of providing monitored and serviced campgrounds for the homeless is nothing new, Weiss says. The Right To Dream Too nonprofit offers a refuge for unhoused residents in Portland; the city of Eugene, Ore. offers rest-stops for homeless individuals and couples to sleep safely at night; and Seattle opened its first sanctioned homeless camps last fall.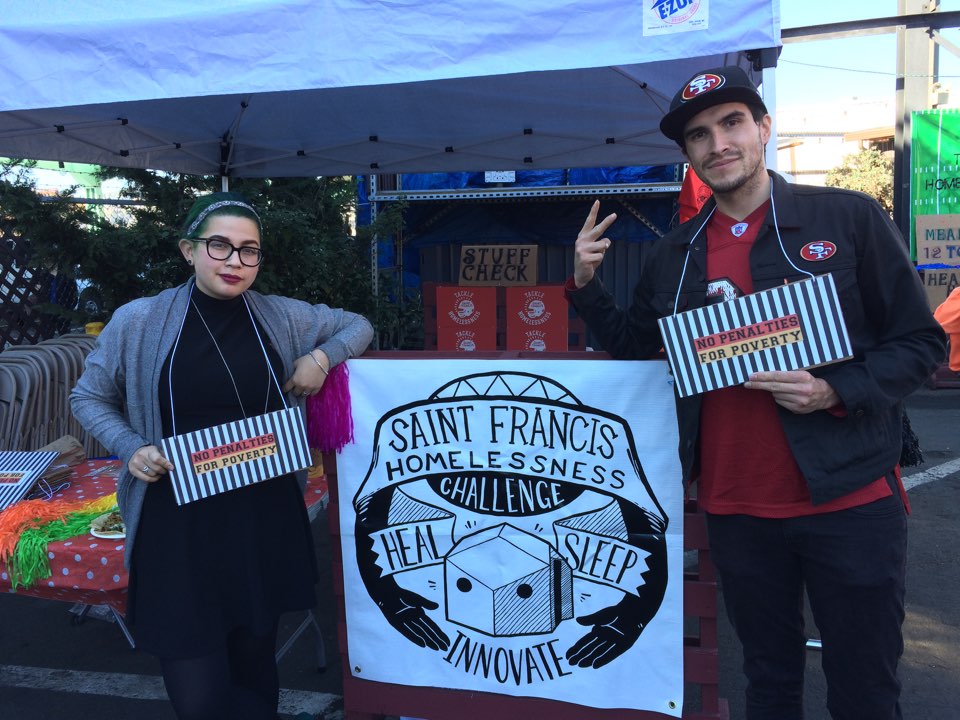 Volunteers at the Super Bowl viewing party for homeless neighbors hosted by SoMa StrEat Food Park on 11th Street and the St. Francis Homelessness Challenge. (Photo: St. Francis Homelessness Challenge)
Weiss and her partners in the St. Francis Homelessness Challenge have identified Cesar Chavez below the 101 overpass — where roughly 50 to 100 homeless residents are camping — as a potential first site for a city-sanctioned camp and are meeting with District 9 Supervisor David Campos about the possibility this Friday.
However, that land is owned by Caltrans and under the jurisdiction of the California Highway Patrol, which has been directed to "crack down" on camping on state lands, Weiss said. At this point, it's unclear whether a collaboration to use those lands will be feasible.
In the meantime, Pier 80 is a start, Weiss said, although she has heard from homeless residents that the barbed-wire fence surrounding the lot and many of the guards on staff make it feel prison-like. Given the current state of crisis and the fact that Pier 80 has a sprawling parking lot on site, she believes the city should open up the grounds for legal camping. Another underutilized location they have their eyes on for a potential St. Francis Village is beneath 101 where Ninth Street, Division and San Bruno meet.
As for what concerned neighbors can do now to support homeless neighbors and the pursuit of viable solutions, Weiss says there are plenty of options. First, she encourages people to take their survey to challenge their preconceived notions about homelessness, learn about opportunities to get involved and/or donate to the program.
She also wants to see community members attend the public hearing at 10am tomorrow with the Board of Supervisors' Government Audit and Oversight Committee at City Hall, room 250. Representatives from the Department of Public Health, which oversees the Homeless Outreach Team, Human Services Agency, HOPE and the city's new department overseeing homeless services will provide updates on their current initiatives addressing homelessness citywide. (We'll also provide a recap of that meeting, so stay tuned.)
Finally, Weiss encourages housed residents to go down to Division Street on Friday, when the 72-hour period is set to expire, to simply show support for their homeless neighbors and be eyes on the street — assuming there will be friction between any tent-dwellers remaining and city officials sent to remove them.