This article, written by Mark Hedin, was originally published in Central City Extra's March 2016 issue (pdf). You can find the newspaper distributed around area cafes, nonprofits, City Hall offices, SROs and other residences–and in the periodicals section on the fifth floor of the Main Library.

In the gentrifying Tenderloin, the party's over for tens of thousands of Vietnamese Americans. For the first time in at least 25 years, there was no Tet Festival, the Vietnamese community's Lunar New Year celebration.
"Tet is a very big celebration," said Judy Young, Vietnamese Youth Development Center executive director. "Families come out, children come out." The festival would feature "food, flowers, entertainment and a fashion show showcasing the beauty and clothing of Vietnamese culture." After Little Saigon became a destination, the annual party would extend along a T-shaped constellation of closed-off Tenderloin streets: Larkin between Eddy and O'Farrell and O'Farrell from Hyde to Polk.
But the organizer of the Tet Festival over the past several years, the Vietnamese Community Center, shut down a few months ago, and was unable to follow through on its grant from the city to help fund this year's event. Grants for the Arts had approved $15,920, up from $14,210 in 2015. The grant reimburses expenses, so with no festival, the city money wasn't lost.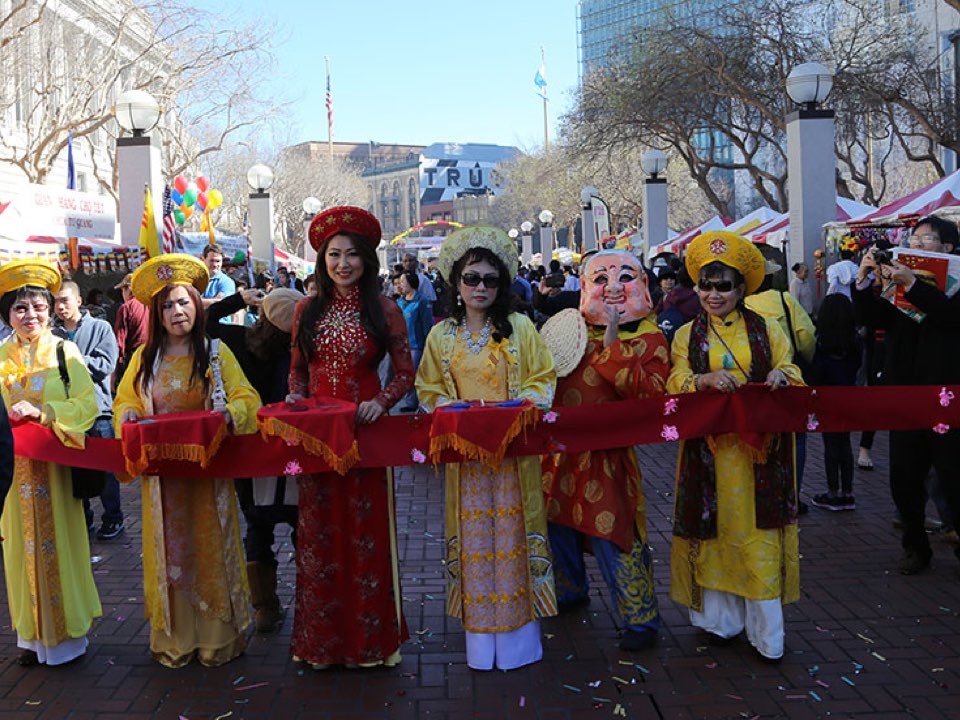 "This year is the first year that Little Saigon is not having the festival. It's not right, it's not good," Young said. "It's important that we continue to voice our need. We're really losing slowly the culture. It's bigger than just the closure, our folks just can't afford to be here anymore. It's been going on for a long time, but it's becoming more pronounced."
"Not enough people, not enough finance, not a lot of support, booth sponsors …" Tony Nguyen, manager of community development at Southeast Asian Community Center, told The Extra.
When Tuong Vi of the Vietnamese Elderly Mutual Assistance Association learned there would be no Tet Festival, she was "really sad. I did not know until last month," she told The Extra.
The association, with two paid staff, helps 135 disabled and low-income seniors each year, she said. For "at least 10 years" it has had a booth at the Tet Festival to highlight its presence in the neighborhood. "Usually, I can ask them for the booth," Vi said. But this year, they said, "Oh, no, we won't have it. No money."
"We still see the TL as a center of the Vietnamese community, whether that community is there or not," said Sonny Le, census expert, media consultant and San Francisco State extension instructor. "I know for a fact that people will come back to the TL to celebrate. I feel saddened."
Philip Nguyen, executive director of the Southeast Asian Community Center, told The Extra the festival's cancellation was "a big loss to the community. We need this festival," he said. "We should have something to showcase the community, especially Little Saigon. Every time we have the festival there's a big promotion to support and attract businesses."
Losing the festival this year, in the wake of the demise of the Vietnamese Community Center, which Nguyen said had organized the festival since 1996, was a surprise. "We didn't know about it," he said. "Otherwise we would work together, to see how we can help support them. But that's in the past already."
The Tenderloin was the beating heart of the Vietnamese refugee newcomers in the '70s and '80s, their first stop out of the old country into the new, a starring role the neighborhood no longer enjoys.
Le said that a couple of years ago, 4,000 to 5,000 Vietnamese Americans were living in the Tenderloin. The 2010 census counted 12,800 citywide, about 10 percent the size of San Jose's Vietnamese community. Le remembers organizing the neighborhood's first Tet Festivals in the early '90s, when they offered free telephone lines for refugees to make calls to family and friends in Vietnam.
Over the years, festival guests included Leland Yee — from his time on the Board of Supervisors through his stint as state senator — and mayors Willie Brown, Art Agnos, Frank Jordan and Gavin Newsom. There was "deep access to the political machine," Le said.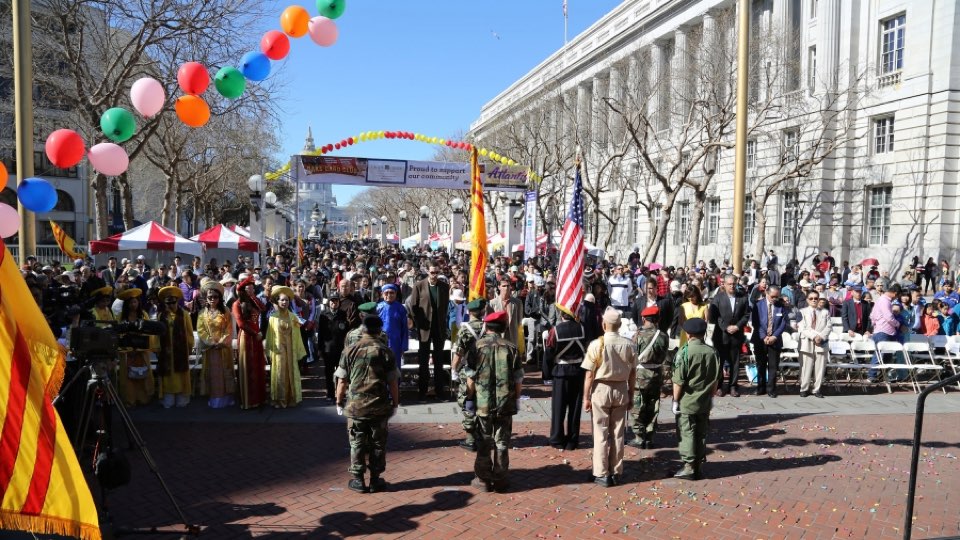 In lieu of the festival this year, VYDC and Vietnamese Family Services hosted a modest celebration on Feb. 20th from noon to 3pm at 201 Turk St. that was open to the community. There, Young presented Garden Grove Mayor Bao Nguyen as the festivities began. "I'm here to inspire you to rise up and fight for justice," he said. "And it's worth fighting for. Our parents and grandparents risked so much for us to be here. We're the survivors."
Tet is celebrated differently in San Jose, where it's held at the county fairgrounds and organizers charge $10 admission, said Danny Nguyen, brother of Margaret Nguyen of Vietnamese Family Services. He arrived in the United States 37 years ago, at 14. There's also a free festival in San Jose's Vietnamtown, he said.
"I'm sad a little bit," he said at the Turk Street party. "I think they should have the festival, new year, for the children. We miss it. Somebody should organize it, for the children."

Mac-Quoc-Cot, speaking through an interpreter, said, "We celebrate here to make sure the kids don't forget, know which day is the New Year."
"Tet is for the kids to learn about their traditions," said Linh, another celebrant. "Without this, they will forget their culture."
"It's really about remembering the past, paying homage and bringing in prosperity and luck in the new year," Young said. "The festival is meant to highlight the values and culture of the community, a way to create visibility and embrace the community, making sure we're honoring and respecting elders, those who came before us."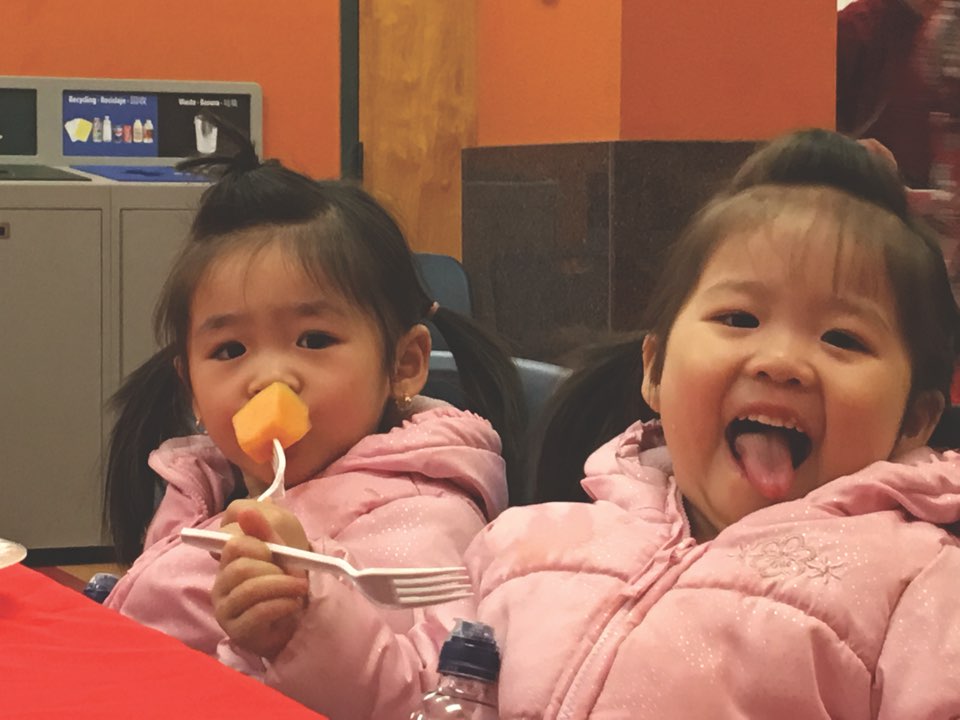 Two young girls enjoying snacks at the Turk Street party. (Photo: Central City Extra)
When the speeches on Turk Street had finished, partygoers lined up for food. Twins Kayle and Kayla, both dressed in pink, worked their way through slices of melon and plates of rice with chicken, seafood or pork. But the gathering really rocked when the games of chance came out.
Seniors and teens, with strips of raffle-type tickets in hand, crowded around two tables: One featured a game called Bai Cao, played with a deck of cards, the other, Bau Cua, a dice game. When it was time to go, Margaret Nguyen had her work cut out for her breaking things up.