The Mission's Dog Eared Books has announced that it will be opening a second location in the Castro, at 489 Castro St. The announcement comes just days after fellow independent bookstore Books Inc. announced that it has lost its lease in the Castro, and will close its 2275 Market St. location in June. 
489 Castro has a long literary history: prior to most recent tenant Citizen Clothing, another bookstore—LGBT-centric A Different Light—operated at the address from 1979 1985 1986 to 2011.
"The Castro is one of the few neighborhoods in America you can honestly call both trend-setting and uniquely historical. As such it deserves not just a good book shop, but a great book shop," said Dog Eared Books' Kate Rosenberger in a Facebook post. "We plan to work very hard to see the Castro gets what it deserves."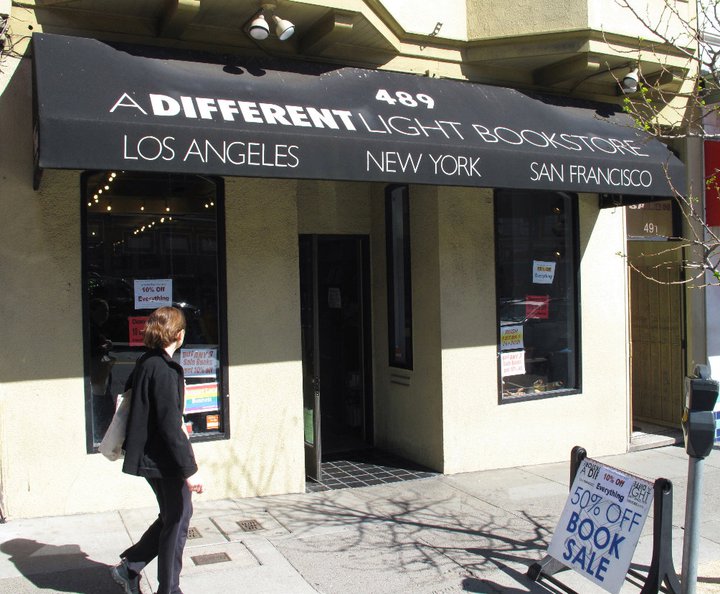 489 Castro when it was A Different Light, in 2011. (Photo: Gerard Koskovich/Facebook)
Dog Eared Books, which has been in business since 1992, offers a mix of new, used, and discount books. Despite the advent of online shopping and e-books, the bookstore says its brand of traditional brick-and-mortar style bookselling has managed to thrive at 20th and Valencia, and that it's looking forward to filling the void created by the "sad closure" of Books Inc. 
Dog Eared Books intends to stock a wide selection of locally-based writers and LGBTQIA-centric titles, along with classics, best sellers, and off-beat books. You can also expect to see "a full calendar of readings, book groups, release parties, and other literary events."
According to the Facebook post, the new Dog Eared location will debut on June 20th with a gala opening event. 
We've reached out to the store for more info on what to expect, so stay tuned for updates. 

Update, 11:20am: We caught up with Dog Eared Books owner, Kate Rosenberger, to ask her about the new 489 Castro St. location.
According to Rosenberger, the bookstore had been looking at spaces in the Castro for months with Blatteis Realty Co. "We got a great lease with neighborhood minded landlords," said Rosenberger. "The landlord cares. They want a bookstore there. It just couldn't be more perfect."
For Rosenberger, the Castro was the obvious neighborhood to open a second store.
"We love the Castro. We're hoping to provide something for people to do besides eating and drinking and smoking ... which are all great things," said Rosenberger.
Dog Eared Books is realistic about its Valencia location, and Rosenberger admitted that opening a Castro location is a bit of a preemptive move.
"We see what's happening to other tenants as their leases come up," said Rosenberger. "With this corner location, we're doomed. We took a 50 percent increase three years ago. We're at market rate for the rest of the city."
If you are interested in working at Dog Eared Books' Castro location, you can contact the bookstore at
[email protected]