There was no SFPD Central Station newsletter published this week, so let's get right to the crime recaps from the SFPD (and one incident we came across while walking the beat).
Police still seeking van in hit-and-run on Broadway & Powell
A fatal hit-and-run happened at Broadway and Powell Street on the Chinatown/North Beach border at 5:50am March 11th, when a white panel van with no back windows struck Sun Choi (Philip) Law, 63. The vehicle was traveling southbound on Powell and turned onto westbound Broadway, striking Law in the crosswalk. It then drove away westbound on Broadway toward Mason. SFPD is seeking the public's help in locating the van. Law's daughter has set up a Gofundme campaign to pay for her father's memorial service.
Four muggers with knife make off with cell phone
Four men mugged a 31-year-old man at 9:40pm March 11th at Stockton Street and Pacific Avenue in Chinatown. They surrounded him, and one suspect put a hard object to his back while a second suspect brandished a knife and a third demanded his phone. The four suspects fled westbound with the phone; the victim was not injured.
Man waiting for bus is beaten, cell phone is stolen
A man, 47, was beaten and his cell phone taken at 11:53pm March 13th at Van Ness Avenue and North Point Street on the border of Fisherman's Wharf and the Marina. The victim was waiting for the bus when he felt something contact the back of his head (possibly a fist). He collapsed to the ground, and two men punched him multiple times while he was on the ground. His cell phone fell out of his pocket, and the suspects picked it up and got into a black and silver four-door sedan and fled southbound on Van Ness. The victim suffered non-life-threatening injuries including a cut to his back and abrasions on his face.
Yet another man injured in cell phone robbery
It was a bad week for men with cell phones. Sometime between 12:30am and 1:30am on March 15th, a man, 47, was smoking a cigarette outside of his hotel on New Montgomery Street near Market Street in the FiDi when he was shoved to the sidewalk from behind, causing him to hit his head and black out briefly. He realized later his phone had been stolen, but he wasn't able to get a look at the suspect, who fled in an unknown direction. The man declined medical transport.
Street performer fights back against tip thief
A man, 57, who is a street performer, tried to stop a woman who was stealing his tips from a jar on the sidewalk on Pier 43 at Fisherman's Wharf at 5:30pm March 16th. She responded by hitting him with a skateboard multiple times. The man retaliated by pulling a pipe off of his drum set and hitting her in self-defense. The woman was taken to the hospital in non-life-threatening condition with a gash on her forehead.
Cyclist carrying Munchery takes a spill

Just before 5pm March 17th, we were walking near Kearny and Bush streets in the FiDi when we saw police and emergency responders arrive, and a man was taken into an ambulance with a cut on his forehead. Witness Mark Papedis told us that a Muni bus heading north on Kearny was blocking the crosswalk due to heavy traffic. The cyclist—who had been carrying a Munchery backpack—was trying to get around the bus and apparently didn't see a pedestrian in the crosswalk, and his handlebars clipped the man, he said.
The cyclist fell off of his bike and hit his head. The pedestrian, who declined to be interviewed, wasn't injured. An SFPD officer on the scene told us the cyclist was going to be OK, too.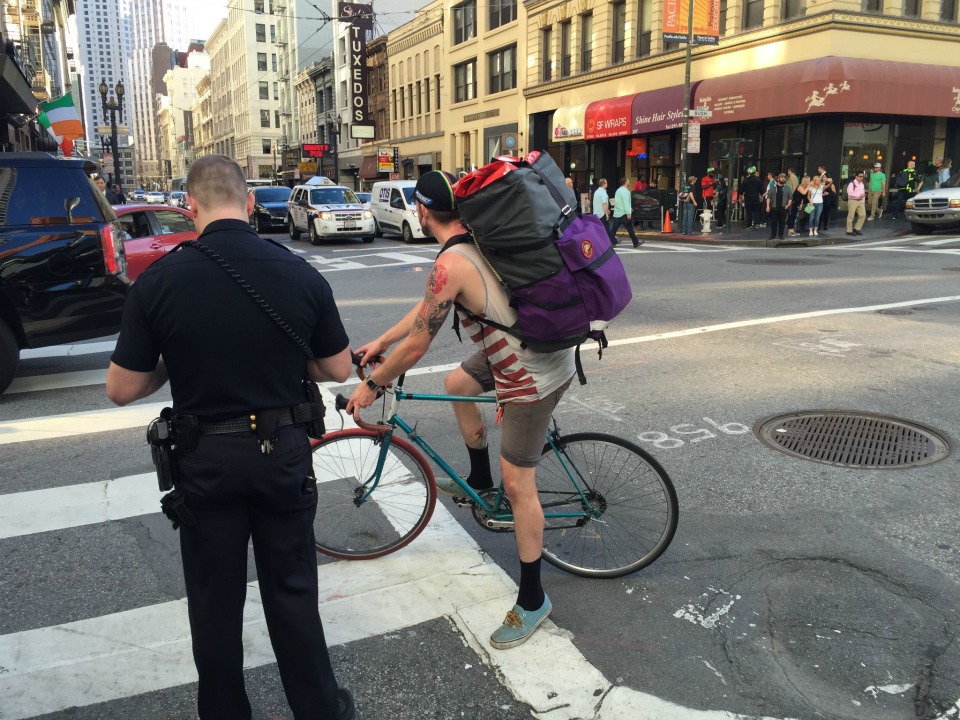 An officer and cyclist who was not involved in the collision at Kearny and Bush.
Group fight leads to stabbing on St. Patrick's Day
At 10:53pm March 17th on the 200 block of Battery Street in the FiDi, a group fight ensued and a man, 28, was stabbed. He was taken to the hospital with non-life-threatening injuries and an investigation is pending. That's all the information that was released.