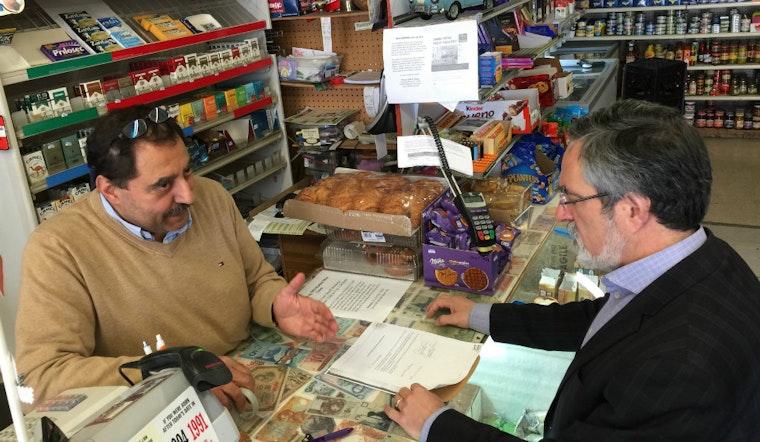 Published on March 02, 2016
The cozy corner store Fog Hill Market at Kearny and Green streets, a favorite among many on Telegraph Hill, warned customers it could close at the end of the month due to a rent hike. But on Wednesday morning, Supervisor Aaron Peskin had a conversation with the owners' representative and told us he is "cautiously optimistic something can work out."
Fog Hill Market, which Chedyak opened two decades ago, is seen by some as a cornerstone of the community. "He is truly the heart and the hub of that part of North Beach," said Alan Cooper, who lives above the market. He said Chedyak accepts packages for people, carries groceries up to elderly neighbors, allows people to run monthly tabs and even celebrates birthdays for people in the neighborhood. "It would be a shame to see him go," he added.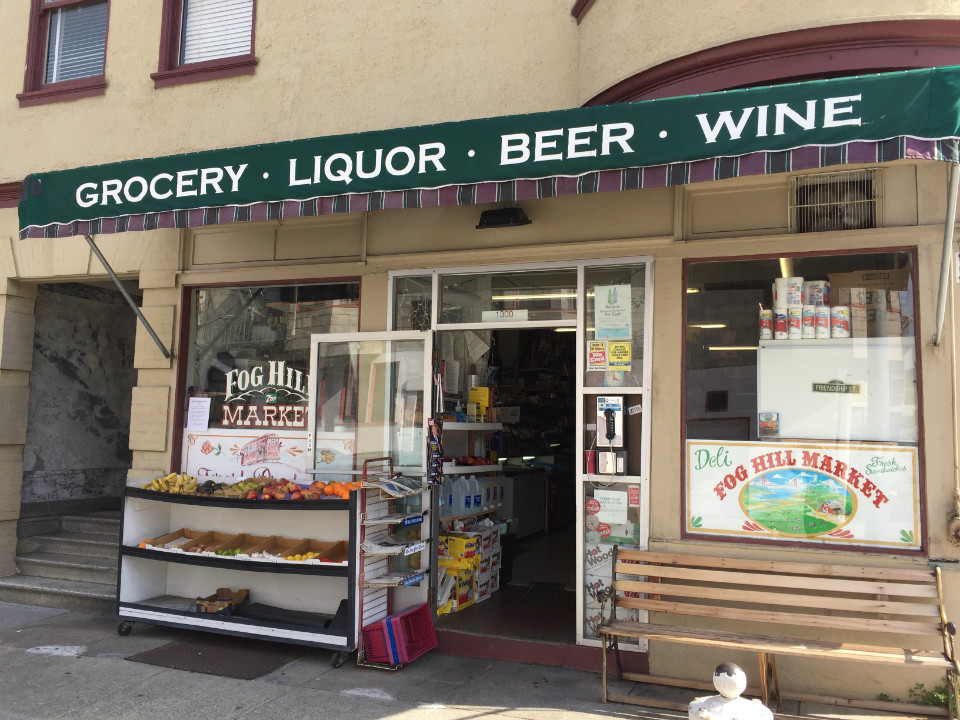 It began when the market's owner, Hanna Chedyak, got a letter from the building's owners stating his rent was going to increase from $3,600 a month to $5,000 a month starting April 1st. He suspects they're raising the rent to try to get a higher price, because the building is for sale. It's listed on Coldwell Banker and Green Banker for $2.199 million. 

Chedyak said as a small business owner with rising expenses and increased competition from major retailers, he can't absorb the increase. He posted flyers in and around the store asking for people to contact the North Beach Business Association and Peskin.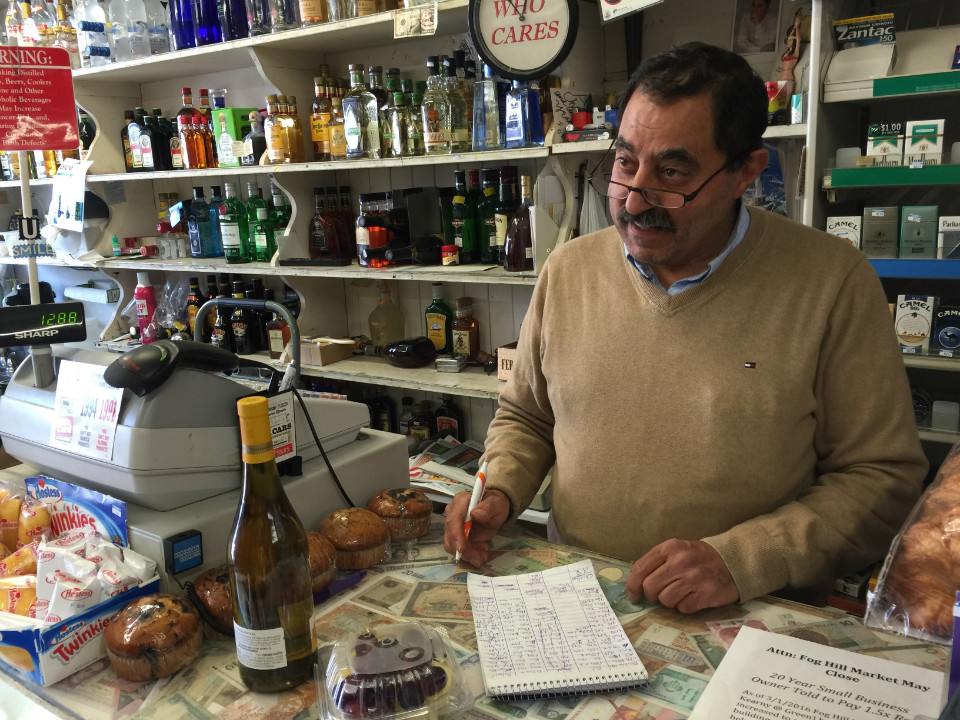 While we were at the market today, Peskin stopped in to talk to Chedyak. He told us he might be able to nominate the market as a "legacy business," which voters approved in November 2015. If it's designated, the property owners would give a lease extension to Chedyak on "commercially reasonable terms" in exchange for a significant property tax reduction. Though the law states a business has to have operated for at least 30 years, Peskin said there are provisions for younger businesses with extraordinary circumstances. 
Chedyak said he offered to buy the building, but his offer wasn't accepted. Peskin and another local realtor who lives in the neighborhood both said the price is above market value. Given the amount of rent the tenants currently pay, even with an increase for the market, the amount doesn't make financial sense. And, Peskin noted, "As an economic and real estate matter, emptying this storefront is not going to help them, because they'll show less of a revenue stream."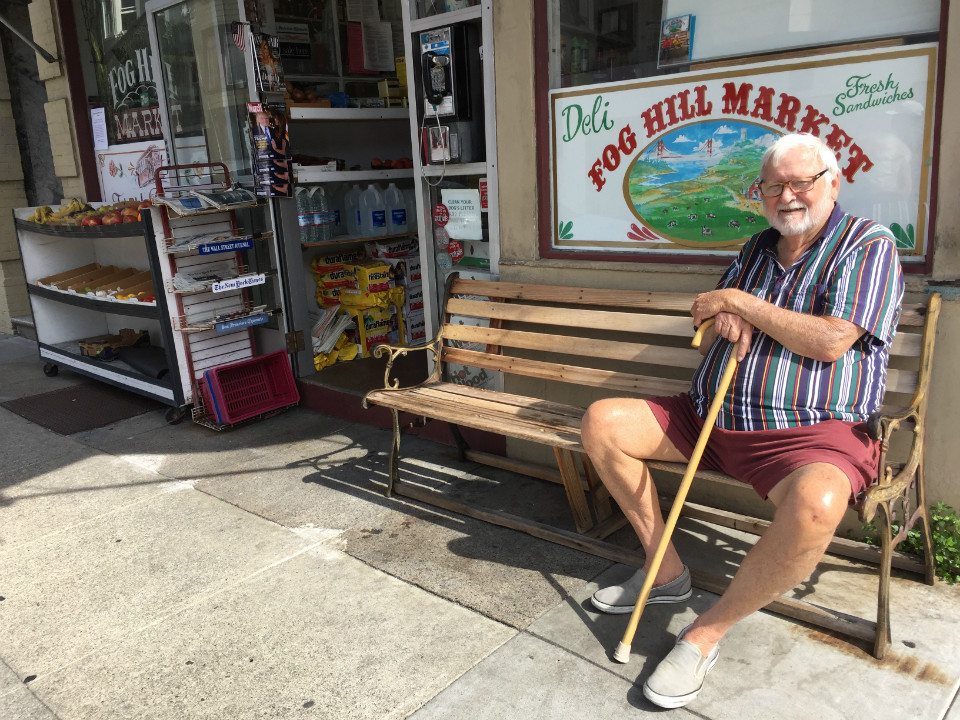 George LaBar, a regular at Fog Hill Market.
If the market goes, the neighborhood will lose more than a place to buy beer and cigarettes. It's hangout for many regulars who stop by just to check in, Chedyak said, or to sit on the bench outside and talk. Also, "He has things you don't think he'd have," said customer David Pepe. From cupcake sprinkles to ping-pong balls, Pepe has found anything he needs there, he said. And if he doesn't, he'll get it in the next day. The store is known for having a wide variety of staples: fresh produce, dairy, canned goods, whole coffee beans, hygiene items, freshly made sandwiches and deli items, to name a few. And many neighbors are thankful they don't have to head down the hill to pick something up.
We left messages for the building owner's representative to ask if they might entertain a purchase offer from Chedyak, but didn't hear back by deadline. We'll continue to follow the story and report on what might be next for the shop.