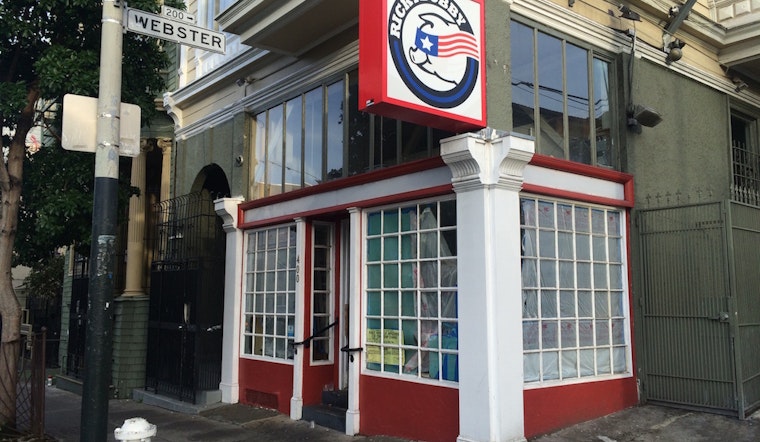 Published on March 14, 2016
A fast casual eatery is coming to 400 Haight St. next month, courtesy of a chef who should be familiar to Lower Haight readers.
The Lodge On Haight, a.k.a. The Lodge, will take over the corner space at Haight and Webster previously occupied by Rickybobby, which closed at the end of January. It's a project from Matt Nudelman, formerly the chef at Greenburger's (which called 518 Haight St. home from March 2011 to May 2014), and co-owner Tim Felkner of Vigilante Hospitality.
The Lodge will "combine healthy and comfort food classics made from local, organic ingredients in a quick service environment," according to Felkner and Nudelman. They describe the vibe as unpretentious, with an "urban 'lodge-y' feel" (think lots of wood, recycled elements, and local art), and a menu that aims to please everyone from vegans to carnivores.
Some dishes in the works include:
New Mexican-style green chile & turkey stew
Matt's famous Buffalo mac 'n' cheese (a staple from the Greenburger's menu)
"The Burger" with house-cured true Canadian bacon
Vegan sloppy joe
Curry-braised bone-in lamb shank
They've also applied for a license to sell beer and wine, so look for those options to hit the menu in the months ahead.
Nudelman tells us he and Felkner looked "everywhere" for a site for their restaurant, including the East Bay. But their preference was always to find a location in the Lower Haight.
"For me, personally, being near or back in the Lower Haight was definitely important," Nudelman told us. "Tim agreed that it would just be awesome and we just got super lucky when 400 Haight became available."
Under Felkner's guidance, and with the help of his friend Sven, a woodworker, the team has been transforming the space for the past few weeks. Sven's additions include walls and benches made out of reclaimed redwood, and a custom-built ordering counter.
"We also found the original floor of the space hidden underneath two different floors that had been put on top of it," Nudelman says. "So Sven worked his magic and brought it back to life for us ... It's been so much fun walking into the space everyday and seeing Tim's vision come to life."
Hours are still being worked out, but The Lodge will likely be open seven nights a week for dinner, and on Sundays for brunch. Nudelman says lunch service is definitely in the works too—"just figuring out exactly when."
Hiring is underway for all positions—if you're interested in applying, you can email [email protected] — and the buildout of the space is expected to take at least a couple more weeks. If all goes well, look for the Lodge to open in early April.