When Erin Pick, owner of Pick School of Ballroom Dancing, begins describing her passion for her craft, it's easy to tell she means what she says by the rush of warmth that infuses her tone. It's also immediately obvious that for her, dance is inextricably intertwined with another of her life's great loves—her mother and the school's founder, famed competitive ballroom dancer Rhona Pick.
"It was all her, honestly," says Erin. "She taught me a lot, and also, I used to watch her perform all the time. She was great. Growing up watching that level of dance is part of the reason I wasn't interested in doing it for a long time, because it was such a high standard to achieve. But I worked very hard and have taken thousands of lessons. She pushed it, and I'm so glad she did."
Pick School of Ballroom Dance was established in 1961, at the corner of 18th Avenue & Geary in the Richmond. Rhona opened the school with her then-dance partner Roy Hinton. In a time when ballroom dance studios were few and far between in San Francisco, Rhona and Roy taught full-to-bursting classes for competitive couples of all ages, and also held group classes for students at a variety of skill levels, ranging from beginner to advanced.
Rhona Pick and friends at a ballroom competition. (Photo: Courtesy of Erin Pick)

Erin grew up spending time in the studio, learning the ins and outs of both ballroom and Latin dance from her mother and the other instructors at the school.
"I competed as a child in ballroom dancing," she said. "I did my first medal test when I was eight, and my mom pushed me in all the other forms of dance, too—including Hawaiian, tap, ballet—so I would be a well-rounded dancer, which I really appreciate."
After taking a hiatus from dancing in college and into her early twenties, Erin resumed dancing competitively, and earned her teaching credentials. The school moved from the Richmond to the Sunset, and though Roy retired in 1980, Rhona kept teaching until 2007, when she passed the reins to Erin. 
"I really started from scratch," said Erin. "I didn't teach a lot of group classes when my mom was running the school, because I had two young children, and I didn't want to be gone in the evening. But once they became older, I could do group classes. Now, we have group and private classes Monday through Friday, and then we have only private lessons on the weekends. I really wanted to work with children individually, too."

These days, the Pick School has more of a social atmosphere than it did in the past, according to Erin. Part of that is the camaraderie that Erin has managed to foster over the years. "We welcome all ages and all levels, so if someone comes into a beginning class and they are having trouble, the other students that have been in the studio for a while immediately pitch in and try and help them," she says. "Then they feel comfortable."
Several of the school's students are currently working to compete in various ballroom contests. Erin also puts on occasional studio parties which students can train towards, if they're interested in showcasing their skills.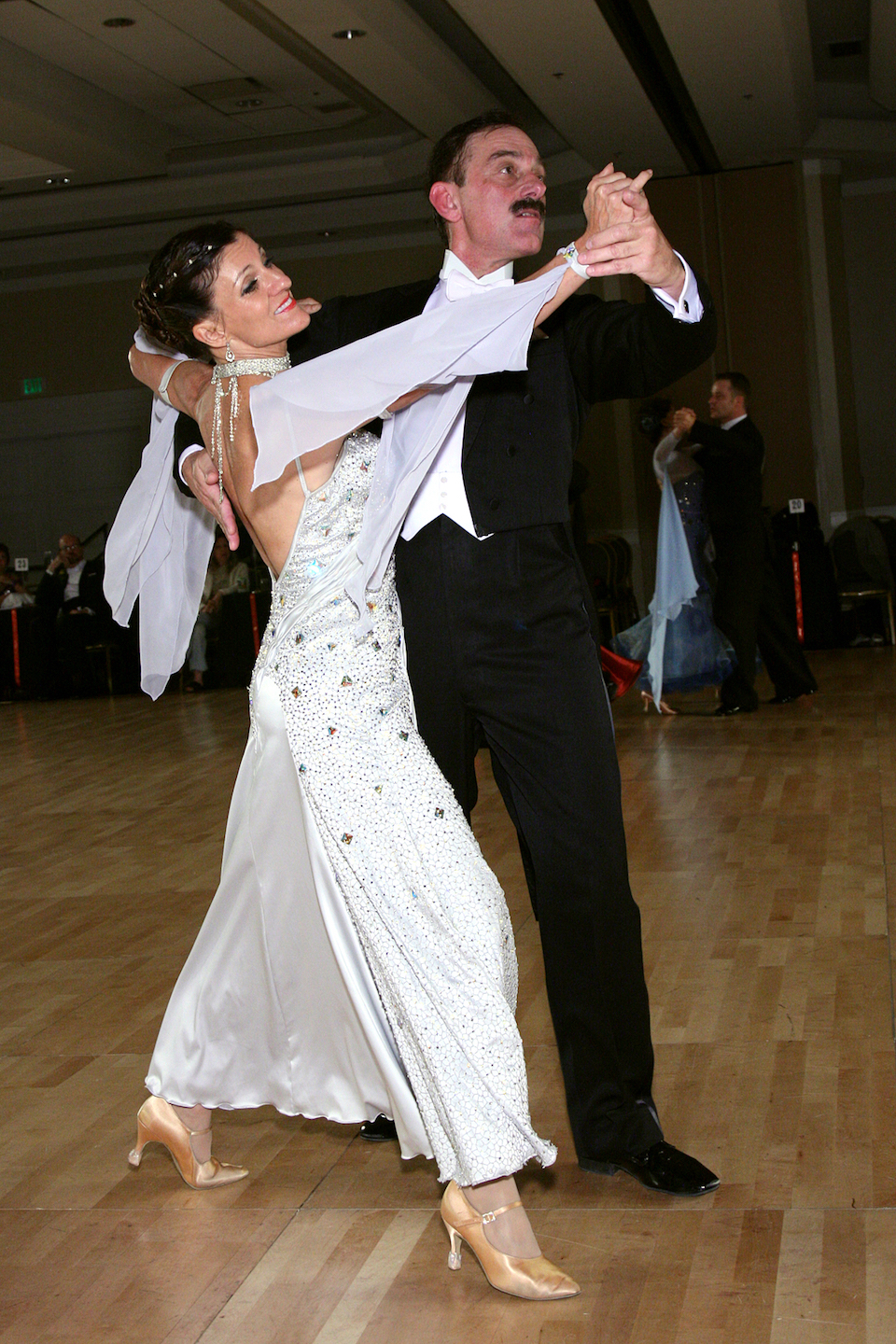 Erin Pick and a dance partner during competition. (Photo: Park West Photography)
For Erin, seeing her students learn and grow is a big part of the experience, regardless of whether they go onto compete. "I try and encourage people to have a goal. Even the beginner dancers can perform, if they want," Erin said. "It's a nice community. I have a small to medium base of students that are regulars, and they tell friends about us, which is great."
That community extends to the other instructors who teach at the school as well. "I have a good group of people in the studio that I really trust, and that really give it their all when they're teaching,"says Erin. "They really do."
"I can have a bad day and be down about something, go to the studio, see all the people come in, and see how much joy is in their eyes when they are dancing," she continues. "Watching new people dance, it's a good feeling. It's definitely a great job."
Pick School of Ballroom Dancing is located at 1532 Taraval St. and offers classes in many styles of dance, including salsa, swing, Argentine, tango, foxtrot, waltz and q1uickstep. Pricing and class schedules can be found on its website.