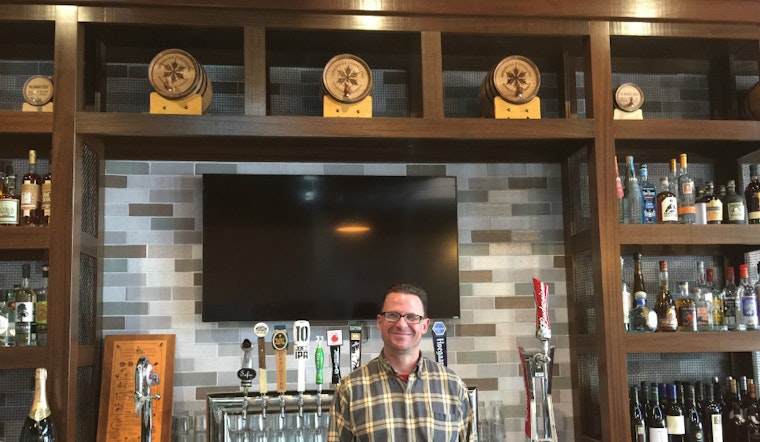 Published on March 25, 2016
The long-awaited Barbary Coast, a gastropub in the former Bocce Cafe at 478 Green St., will officially open its doors on April 8th. But since we last checked in with the project, a new team has taken charge.
We previously reported that the owner of Grant & Green, Jonathan Tourzan, and its general managers, Trevor Amador and Zak Kennedy, would be partners in the venture. Not so, we found out. Tourzan still owns the restaurant, but he's hired industry veteran Tommy Cummings as the general manager.
"The first management team didn't work out, for whatever reasons," he told us, declining to elaborate. We asked if Amador and Kennedy were still managing Grant & Green, and he replied, "I don't believe so."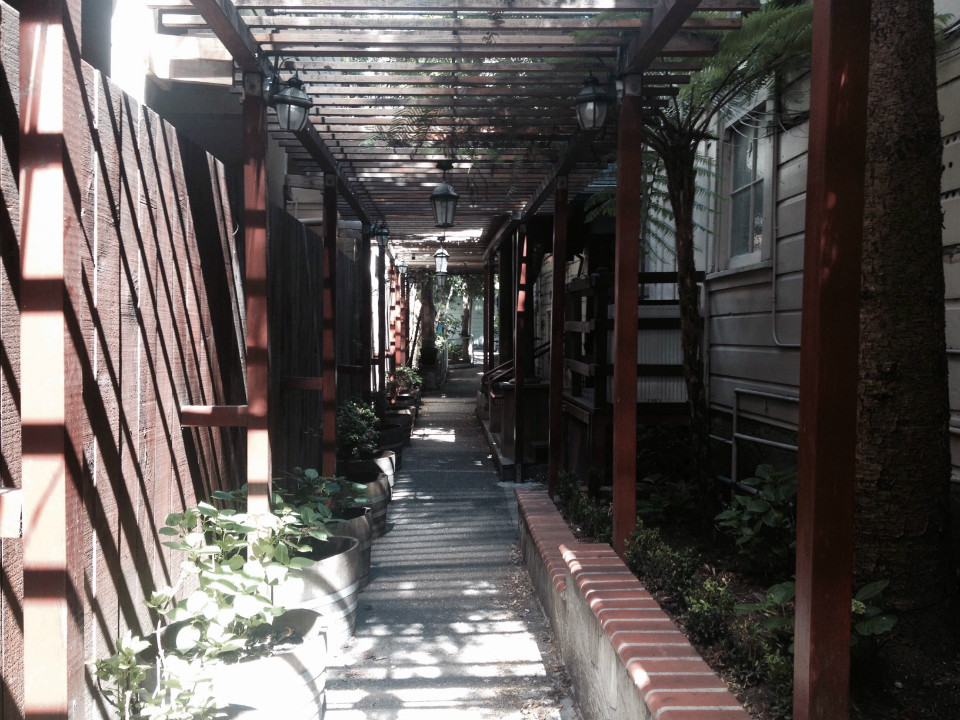 The alleyway entrance to the new Barbary Coast. (Photo: Nathan Falstreau/Hoodline)
The Ambiance: Southern Hospitality; West Coast Sophistication
Barbary Coast's concept remains the same: though the name pays homage to the area's bawdy past, you shouldn't worry about getting shanghaied here. Instead, it aims to be a neighborhood-friendly spot with a varied menu at a range of price points.
"We want a place that's welcoming, that's friendly," Cummings said. "We want to be part of the neighborhood, not apart from the neighborhood. We want to be seen as a good neighbor. If people want to come in and get pizza and a beer for $20, we'll offer that. If people want to come in and get a three-course meal and really go for it with cocktails and wine, we'll do that too. We don't want to be stuffy; we don't want to be pretentious."
The room is still wide open as always, but the ceiling beams have been opened up for an airier feel. A brand-new, shiny nickel bar with a back wall of individually laid bricks has been added to the left side, facing the nearly wall-height windows that open to the patio, but the terra cotta floor tiles remain. 
The space will seat 102 inside—22 at the bar and 80 in the dining area—and 28 on the patio, which still boasts its old fig trees. A private dining room on the other side of the patio will hold about 30, but it's not ready yet, and will arrive after the restaurant.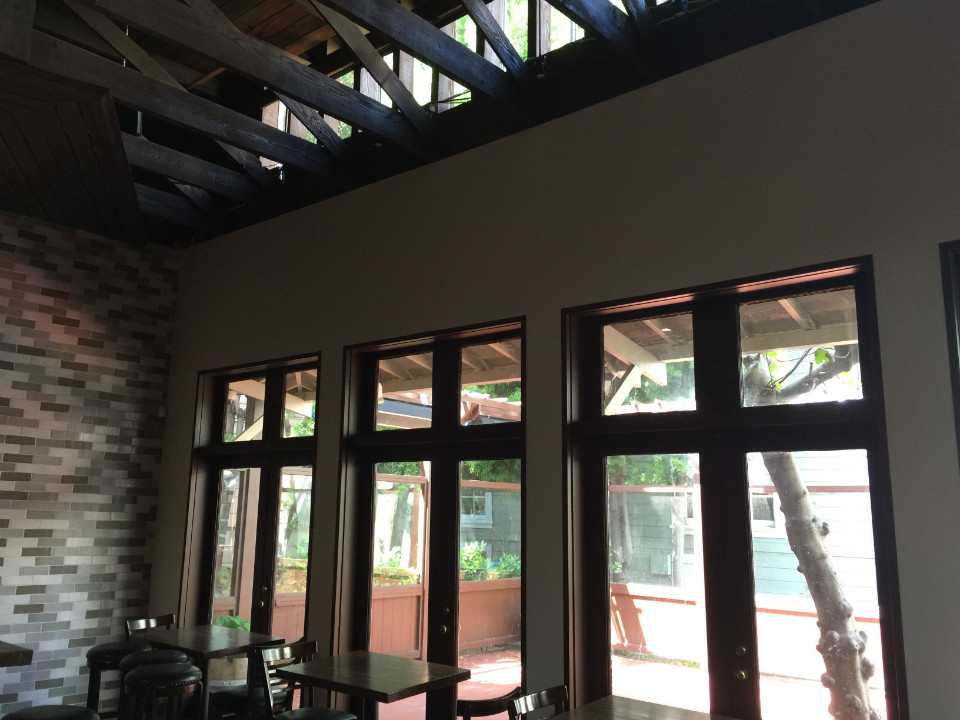 The interior has an open feel. (Photo: Geri Koeppel/Hoodline)
Cummings, who's originally from North Carolina, reiterated that service will be a big factor, as he aims to blend Southern hospitality with West Coast sophistication and North Beach history. "I was raised to treat people as guests in my home," he said. "Every time I'm at work, every person who walks through that door is a guest in my home." Cummings has a long resume of restaurant managerial experience in the Bay Area, including Pícan and Lungomare in Oakland, Incanto in Noe Valley and Rose Pistola in North Beach.
Long-timers in the area might recall not only the Bocce Cafe, but also some earlier incarnations of the address, which is San Francisco Landmark 127. It used to house the Old Spaghetti Factory (and was formerly also an actual pasta factory, until 1955), which was a hangout for the Beats. (More on its history is online on Noehill in San Francisco.) 
In honor of the space's past, the new Barbary Coast—flagrantly and delightfully conflating the decades—will host poetry readings, probably monthly. Live music is not in the cards, due to the proximity of residential neighbors—the patio must be shut down by 10pm nightly.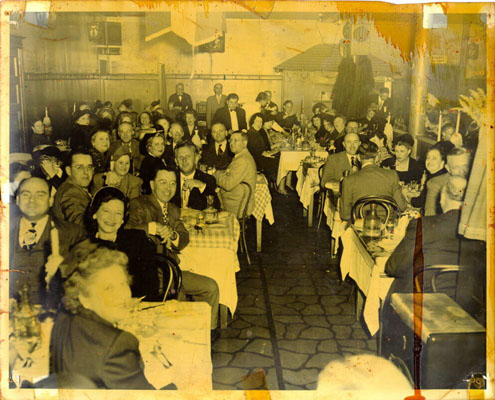 Interior of the Old Spaghetti Factory, undated. (Photo: SF Public Library Archives)
Food & Drink: Passionate About Sustainable Sourcing

The menu is already online, though prices are still being worked out as chef James Liles costs out the food expenses. It includes brunch Friday through Sunday—that's right, a Friday brunch—and dinner Wednesday through Monday (closed Tuesdays). There are no plans for lunch right now, though if demand calls for it, they'll rethink that, Cummings told us.
Brunch dishes include poached prawns, an "egg hopper" with an edible crepe-style bowl, Moroccan baked eggs, a hot chicken biscuit, horchata French toast and a chocolate orange soufflé. At dinner, look for various oysters (including baked), a burger with or without foie gras, several styles of wings, salads, pizzas, banh mi, friend chicken sandwich, hangar steak with fries, and cornmeal-battered fish.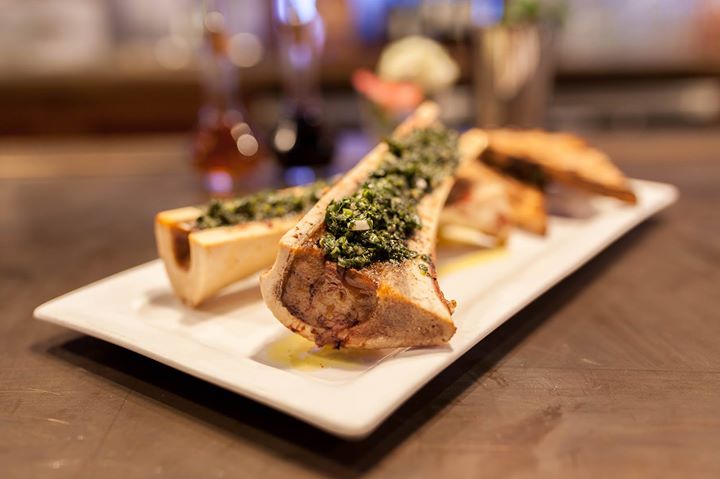 Baked bone marrow. (Photo: The Barbary Coast/Facebook)
Liles, whose most recent gig was as a corporate chef for the Oakland Raiders, is from Louisiana and brings a Southern sensibility (including an affinity for working with all types of seafood), but with heightened skills from his days working in hotels and restaurants in Atlanta. He's passionate about sourcing: "We go the extra mile to fact check all of our suppliers and get into the nitty gritty of it and make sure all of our products are sustainable," he told us. He's also growing herbs and edible flowers outside.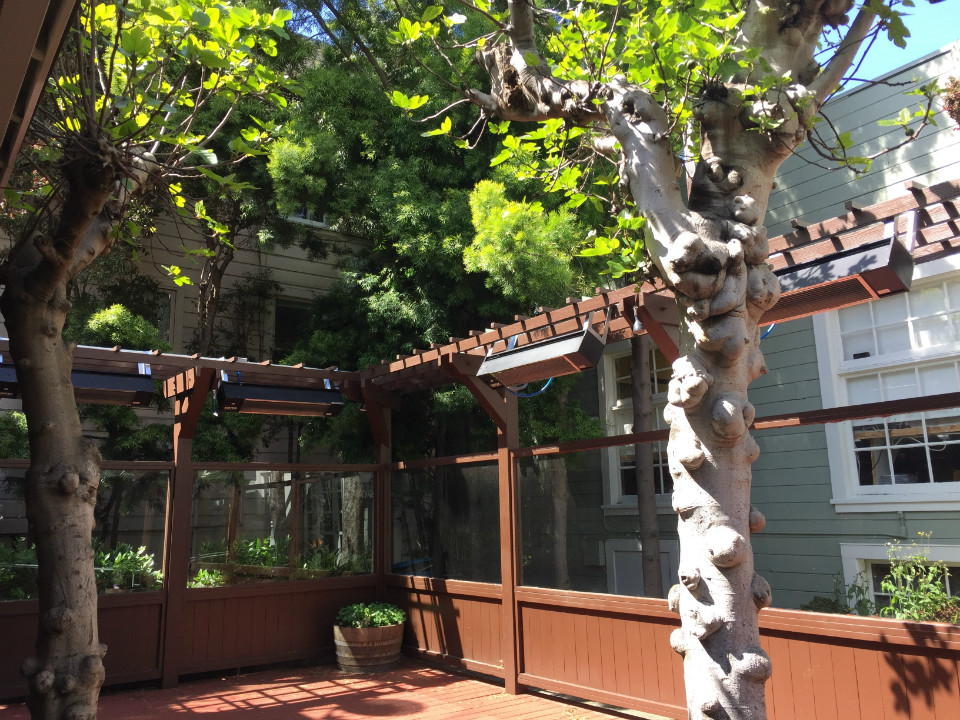 The patio, with fig trees. (Photo: Geri Koeppel/Hoodline)
Barrel-aged, classic and craft cocktails are going to be a big component at the Barbary Coast, with names that nod to the place's literary past, like the Kerouac, the Ginsberg and the Dorothy Parker. The wine and beer list is beefy, too. It features 14 beers from around the United States and other countries on tap, seven bottled beers (one non-alcoholic) and 15 domestic and international wines by the glass.

The Final Touches, Hours and Specials
Cummings started on February 16th, and told us "it's been a whirlwind" of getting the place in shape for the opening. His abbreviated to-do list includes ordering patio chairs, mounting mirrors in the bathrooms and hallway, hanging artwork by local Jeremy Fish (who also designed the restaurant's snazzy logo), installing more lights, and getting the espresso machine hooked up. "There's so many things that need attention," he said.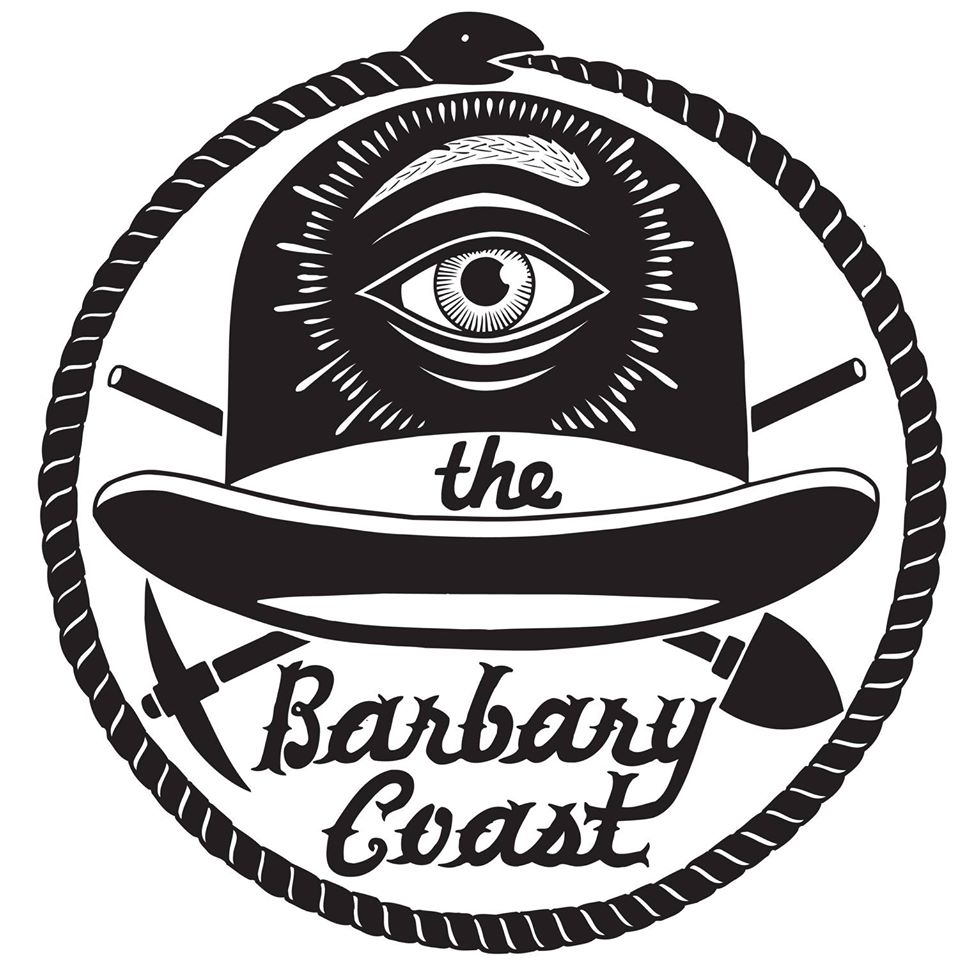 Logo by Jeremy Fish. (From The Barbary Coast/Facebook)
However, he's excited to be back in the neighborhood. "There's a vibe in San Francisco that you just can't get anywhere else,"he said, "and then North Beach is its own community. I'm looking forward to reestablishing some relationships I had in the past from working at Rose Pistola."
Cummings also said he's interested in supporting fellow North Beach businesses. He'll be serving Caffe Roma coffee, and is looking for other local purveyors. He even had a photo framed at Schein & Schein, just around the corner on Grant. "If we can keep money in North Beach and use purveyors we can walk to, I would much rather do that than have it shipped," he told us.
Brunch will be served from 10am–2:30pm Friday–Sunday; dinner hours will be 5–10pm Sunday, Monday, Wednesday and Thursday and 5–11pm Friday–Saturday. Happy hour from 5-7pm will feature discount drinks ($5 select wines, $4–5 select beers and $6 cocktails) and a top-secret dish they'll reveal upon opening. Monday is "industry night," when workers in the bar and restaurant industry can take 20 percent off of their bill.