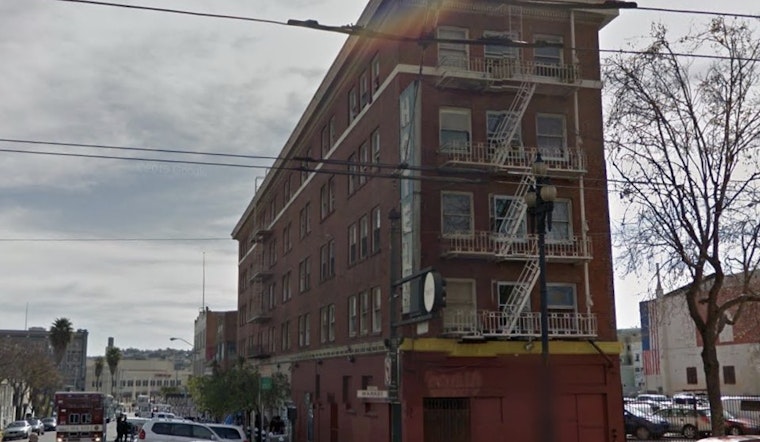 Published on March 23, 2016
Today, Mayor Ed Lee plans to announce the location of the city's second Navigation Center: Civic Center Hotel at Market and 12th streets, as the Chronicle reports this morning.
Managed by the Tenderloin-based nonprofit Community Housing Partnership, the Navigation Center will offer housing to 93 homeless residents over the next three years, beginning this June.
The existing single-room occupancy hotel, which has been plagued by crime and dilapidated infrastructure for years, is currently being run by CHP as Strada Investment Group works on development plans for the site—which feature a six-building residential complex with 477 market-rate apartments and 110 apartments for formerly homeless residents.
Just like the first Navigation Center at 15th and Mission, the shelter will bring entire encampments and their belongings indoors, with services onsite to help them transition to permanent affordable housing. To address where residents will go next, Mayor Lee is also expected to announce that 200 additional permanent supportive housing units have been secured in nearby SROs.
When asked her opinion on the location, District 6 Supervisor Jane Kim told the Chron that she was in support but believed meetings with the surrounding community were necessary. "Just as we wouldn't locate a Navigation Center in Pacific Heights without public input, we shouldn't put a center in District 6 without that same opportunity," she said.

District 9 Supervisor David Campos—who's spearheading legislation to enact a state of emergency on homelessness and mandate the creation of six new Navigation Centers this year alone—also questioned the lack of community engagement ahead of this announcement.
Although pressure to find solutions to the city's homelessness problem is mounting from the public and Board of Supervisors, the Mayor's Office is struggling to secure locations for additional Navigation Centers. However, the Chron hints that a third Navigation Center may open in the Dogpatch before the end of the year.