We're finally seeing some movement on the project to erect a six-story mixed-use building at 2201 Market St., the current home of Catarra Real Estate.
We first reported on proposed changes at the southwest corner of Market and Sanchez back in 2014. Since then, some specifics of the plan have changed, but the general idea for the lot remains the same.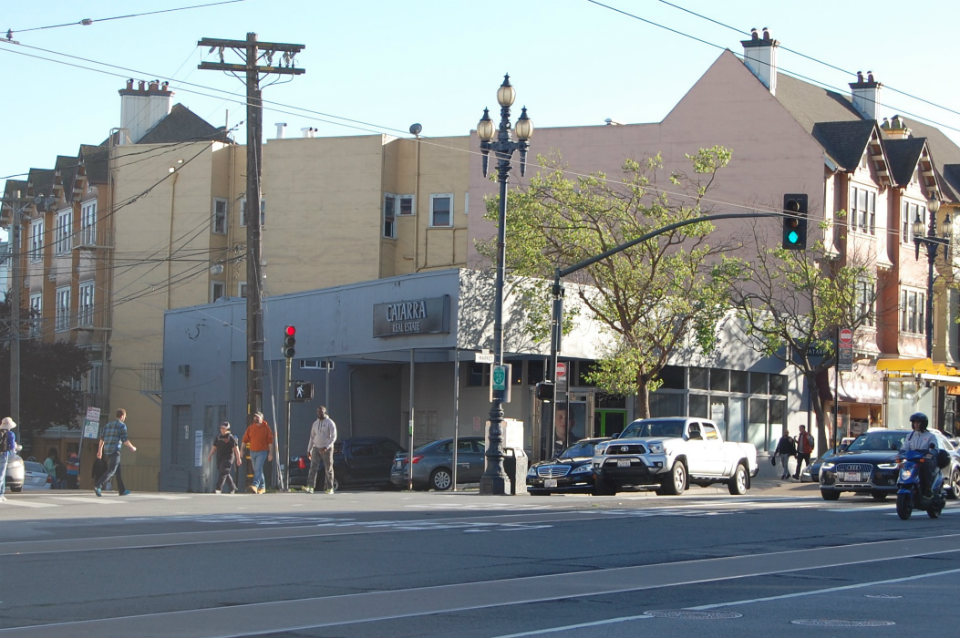 Photo: Julia Quinlan/Hoodline
The proposed building design, by Edmonds and Lee Architects, Inc., is similar in style to other new buildings in the area. It will have 14 residential units (up from the original plan for 9), spanning 8 one-bedrooms and 6 two-bedrooms, with 2 units designated as "affordable."
The units range in size from 797 to 1,153 square feet, and there will be 3,200 square feet of ground-floor commercial space. The project includes a below-ground parking lot with five parking spaces and a carlift.
The developers, Polaris Group, do not yet have building permits approved, but a public hearing scheduled for Mar. 23rd will address two issues. As designed, the building would extend beyond the property line, necessitating a variance, and would take up the entire lot, requiring an exemption from current rear yard requirements.
If these variances are approved, the proposal will move forward in the permitting process. Residents within 150 feet of the property will receive a 30-day notice, and during that period, can voice their concerns or comments to the Planning Department.
2201 Market St. has seen some controversy in recent years. Back in 2012, a Starbucks was proposed for the site, then home to The Industrialists furniture store. But opposition from local residents and merchants led to that proposal's rejection by the Planning Commission the following year.
As for the current project, you can view additional renderings and detailed descriptions of the building plans here. We'll keep an eye on its progress in the weeks ahead.