The Yard at Mission Rock, a recycled shipping container village just south of AT&T Park and run by the San Francisco Giants organization, has been on hiatus since February 15th for some changes. We caught up with the coordinator, Laura Nichol, to find out what's in store and when it'll reopen.
She told us to expect a grand reopening from 12:30–8:30pm March 25th, with food and drink specials, music, games and a raffle with prizes. It'll also reveal a host of updates. First, don't worry, beer fans: The Anchor Brewing beer garden will be back and even better. "We are building a much more aesthetically pleasing and welcoming fence for the beer garden area," Nichol said. It'll continue to offer $4 pints on Mondays, trivia twice a month on Tuesdays and "Firkin Fridays," where they tap a new and sometimes experimental beer.
You'll still be able to buy barbecue to pair with that pale ale or porter, but The Whole Beast has moseyed along. Instead, The Yard is welcoming a new purveyor, Belcampo Meat Co. "They're an organic farm-to-table style restaurant," Nichol told us. "They raise all of their own meat sustainable and use organic ingredients."
The food trucks in the front courtyard are being replaced by Crêperie Saint-Germain. It'll sell salads, sandwiches, crêpes, panini, fresh juices and beer and wine.
"We really selected that vendor to cater to our nearby employees from nearby businesses who like to come over here for lunch," Nichol said, adding that rich food truck fare is not something most people want to munch on more than maybe once a week. A seating area will be added, along with a bigger food trailer with an awning so people can sit in the shade.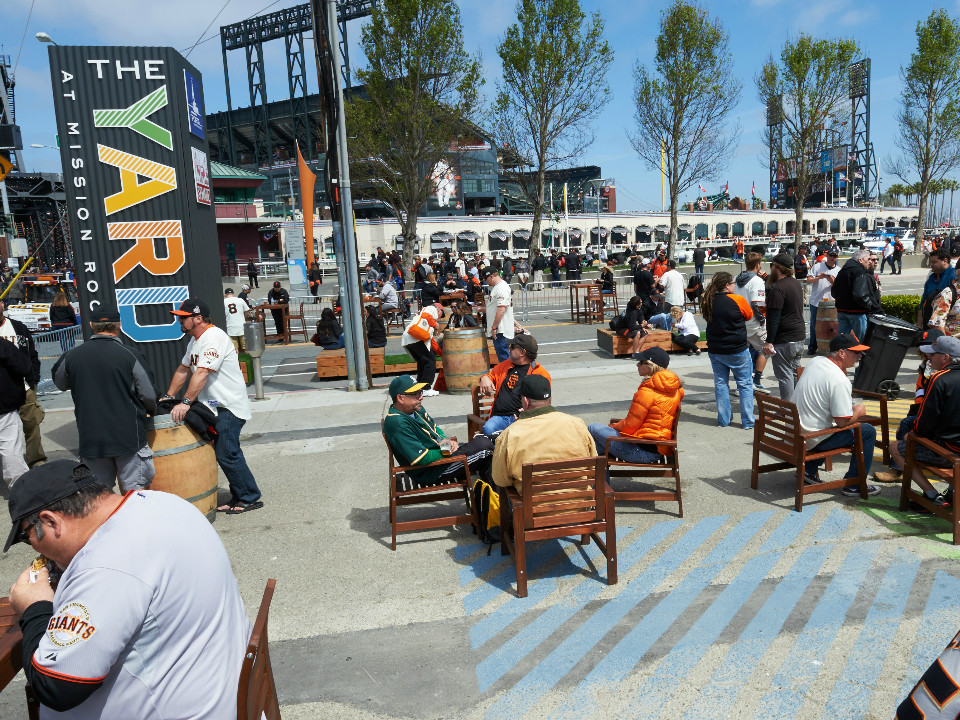 The Yard's earlier incarnation.
To work off the calories, a new soccer field is being built just east of the restrooms, and Street Soccer USA Park will host adult and youth leagues as well as open play, mostly in the evening hours. 
What about the retailers? North Face is no longer there, and Nichol said they're working with other vendors right now, but it was too early to give us details because no contracts have been signed yet. She did say that as always, "we are definitely expecting all of our vendors to operate weekly events." They're also exploring the possibility of hosting a weekly farmers market (last fall saw monthly pop-up markets from September through December), but they have to determine how to do that when day games on the weekends might conflict. 
Another activity in the works is more movie nights. Nichol said after a day game on a Saturday last baseball season, they put a 20-by-40-foot inflatable movie screen on Terry A. Francois Boulevard, which is closed on game days, and showed Jaws. "We had about 600 neighbors come out for that," she said. "Because it was so successful, we decided to turn it into a series this year." They plan to have four screenings from spring to fall.
First opened in March of 2015, The Yard has become a gathering place not only for Giants fans before and after games, but for SoMa, South Beach and Mission Bay neighbors and those working in the area. Hours should be similar to last year, Nichol said, opening daily at 11am and running until late in the evening, but specifics haven't been settled yet.
And even though voters approved a large mixed-use development on the site at the polls last November, The Yard should remain for a while. "We don't foresee them breaking ground near or on this site until 2018," she said, and even then, they might keep it open and move it around as needed. "It really is a community asset, so we want to keep that asset here, even when construction is happening on Mission Rock."