Fisherman's Wharf's 3 Potato 4 (2800 Leavenworth St.) has been serving healthy snacks for over three years, and owner Guenevere Blanchard now has big plans to expand. This year, she'll open two new 3 Potato 4 locations in the Bay Area: One in a western neighborhood of the city, coming this fall (she declined to spill the beans on exactly where just yet), and another in Palo Alto in August. Eventually, Blanchard hopes to open 50 locations on the West Coast over the next five years.
3 Potato 4, open 11am-7pm daily, serves a simple menu of baked potato fries, including russet potato wedges, sweet potatoes, rosemary red potatoes, and a new crinkle fry that's currently being tested. They're accompanied by a rotating selection of housemade dipping sauces, from a repertoire of about 50.
The menu is particularly accommodating to vegans and vegetarians: all the potatoes are vegan, and the sauces are "99 percent vegan," Blanchard said. (Two of the exceptions: honey mustard and pesto, which are vegetarian but not vegan.) Vegan soups and vegan breakfast sandwiches are also on the menu.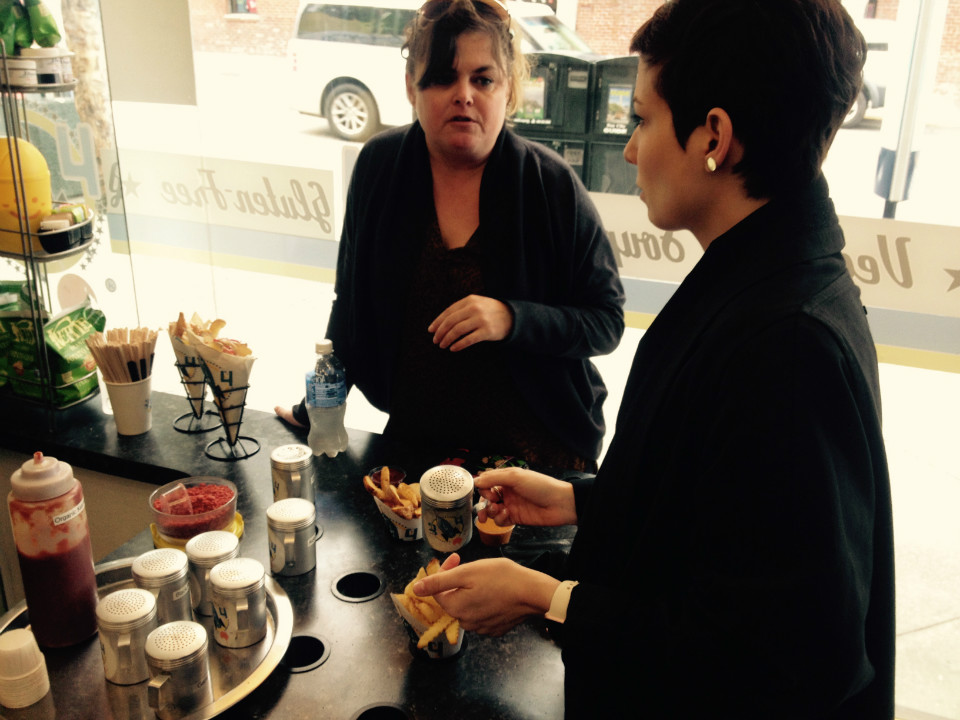 Abby Wilcox and Maru Carrion sample potatoes and sauces.
Maru Carrion, a regular customer, told us she loves French fries, but doesn't always partake. "These potatoes are a healthier option," she said. Her friend Abby Wilcox added, "The sauces are amazing." 
As for why she chose to serve mainly vegan fare, Blanchard said, "I wanted to serve food that everyone could enjoy regardless of their dietary needs. Everything is organic, gluten-free, and non-GMO."
The Potato Business
Blanchard hadn't always envisioned opening up a shop that sold primarily potatoes. Before she got into the restaurant business, she owned a string of alternative and wellness medicine facilities throughout the country, focused on healthy living and nutrition. Through that business, she learned many of her clients' ailments were directly related to the foods they ate. After seeing how food choices could affect her own health, she decided to adopt a vegan diet.
Wanting a change of pace, Blanchard eventually decided to sell her wellness business to a larger company. She contemplated an early retirement, but soon after the sale, one of her close friends, who had been recently laid off as a late-career graphic designer, needed a job.
Blanchard decided to help. Using the money from the recent sale, she moved to the small town of Salem, Mass., purchasing a Ben and Jerry's franchise. She hired her friend to manage the store.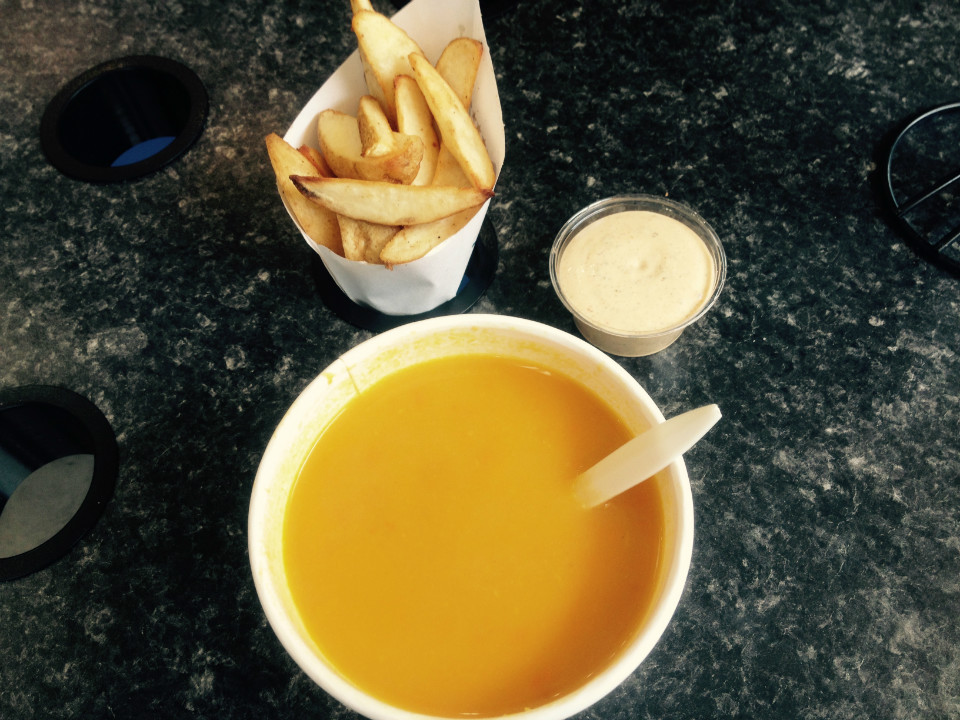 Carrot and ginger soup with potato wedges and jalapeño ranch dip.
But business was slow at the ice cream shop. Trying to think of ways to improve sales, Blanchard decided to offer baked French fries with several different dipping sauces that she created in-house, even though it wasn't technically allowed in the terms of her franchise contract.
The fries proved to be a hit, and the shop actually sold more potatoes than ice cream in that first month they were offered. Blanchard eventually nixed the ice cream and decided to go into the potato business full-time instead.
Vegan Food For a Varied Clientele
Blanchard wanted to create a restaurant that served gluten-free, vegan and non-GMO food, so she decided to move to San Francisco, where "the vegan movement is strong," she said.
She is also concerned about the environment, and her restaurant produces almost no trash whatsoever. All food containers are compostable, including the dipping sauce containers, which look like plastic, but are made out of plant-based materials. Less than one percent of her food goes to waste, she told us, compared to most restaurants, where up to 10 percent goes in the trash. 
Her clientele is mixed, with Big Bus tours stopping in front of her store every 30 minutes or so, bringing people from all around the world through her door. But she said she gets many local regulars who are vegans.
"Some vegans come to us and have such a hard time choosing which items to order, since they are normally used to only having a few options on the menu at other restaurants," she said. But Blanchard also said that she doesn't advertise the restaurant as vegan, because she wants everyone to feel welcome.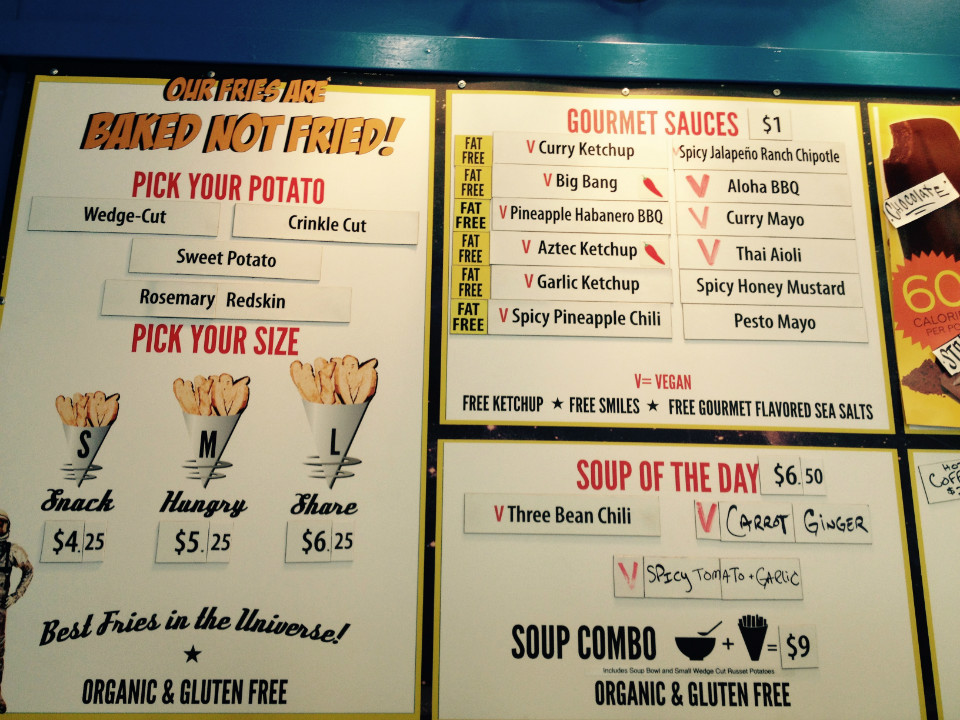 Visitors can sample any of the sauces or soups before ordering, much like Blanchard's previous ice cream shop. When customers who aren't normally accustomed to exclusively plant-based foods are impressed with the flavors, she reveals what they'e eating is vegan. "It's no longer an issue once they taste how good it is," she said. 
The Future of 3 Potato 4
Previously, 3 Potato 4 had a franchise at 1051 Market St. in Mid-Market, as well as a location in New Orleans, but both stores have since closed. (The former shop is now The Flying Falafel.)
Around 60 people are interested in opening a franchise, Blanchard said, but she's secured investment funds to open other stores without the need for franchisees at this time. That'll allow her to better control the product each restaurant sells, she told us.
To reach her goal of opening 50 new stores on the West Coast in the next five years, Blanchard is setting her sights on new locations in Southern California, where she plans to have district managers help oversee the restaurants. After the new stores are open, she told us she might consider franchisee applications again.