Back in August, we reported that SFMTA would begin replacing the Castro Muni station escalators last October, in a project that would last roughly four and a half months. In that story, a SFMTA spokesperson told us that visually, the escalators would look the same as the old ones.
However, today we learned that the escalators will have a noticeable new feature: rainbow lighting effects. That's right: newly bedazzled escalators are on the way, to complement our neighborhood's many rainbow flags and crosswalks.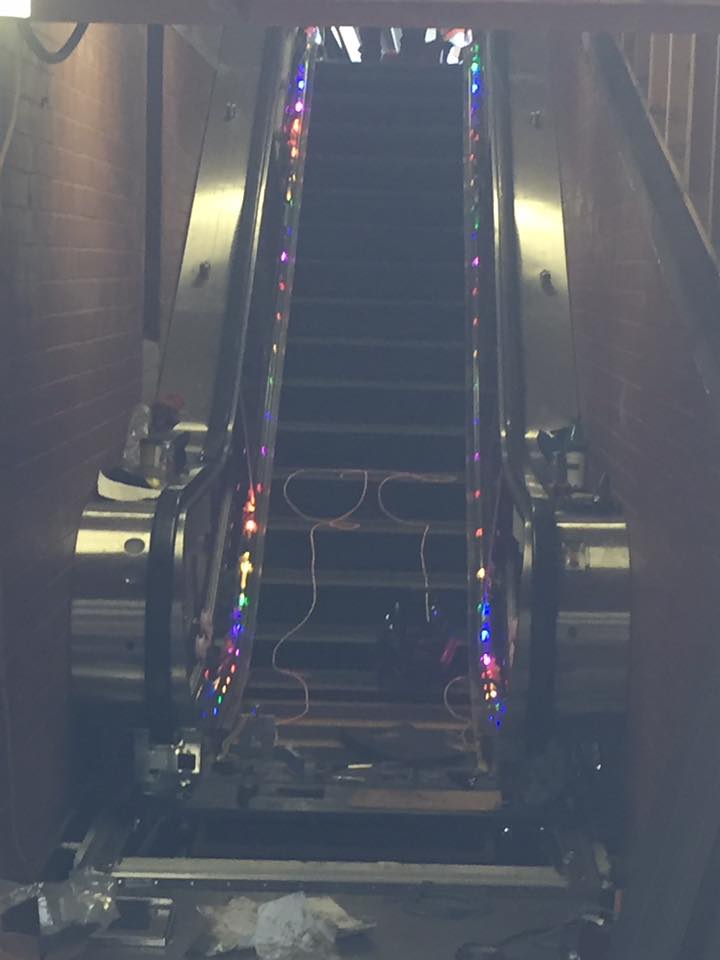 Photo: Hayden Welda/Facebook
The Castro Station escalators date back to 1972 and, prior to current upgrades, had been plagued with frequent breakdowns. As we reported last February, bids for the second phase of the larger SF Municipal Railway's Escalator Rehabilitation and Upgrade Project came in at nearly twice the originally projected engineering cost, pushing back the project's completion to the end of 2018. The second phase of the project includes the four escalators at Castro Street Station.
Just what prompted the rainbow lighting? We've reached out to SFMTA for a comment, and will keep you updated as we learn more. In the meantime, what do you think of the upcoming addition to the neighborhood?
Update: SFMTA spokesman Paul Rose has this to say about the new lighting:
"We anticipate turning on the lights in early May. Muni has the honor of running through nearly every San Francisco neighborhood and Castro station is part of the fabric of that community. Whenever we get a chance to play a part in showcasing and honoring San Francisco, its communities and its people, we do what we can."