Rap music is ubiquitous nowadays. Turn on any given urban, pop ad even rock radio stations you'll hear poetic flows over intricate beats.  A hip-hop verse adds instant cool to anything and it's used to sell cars add " flava" to pop songs and give street credit to a film score. The genre's stars have their biopics and are being inducted into the rock roll hall fame. 
But there was a time, when rap music wasn't so readily available and in fact throughout most of 1980s, mainstream radio refused to play it.
Public Enemy  at KPOO 
Back then to listen to the latest cuts, you would either go to a club or listen to independent radio. The Fillmore's KPOO was an early adopter, launching an all-rap show in 1979. By the mid-80s with the help of young DJ named Marcus Clemmons, KPOO became the center of hip-hop in the Bay Area and beyond.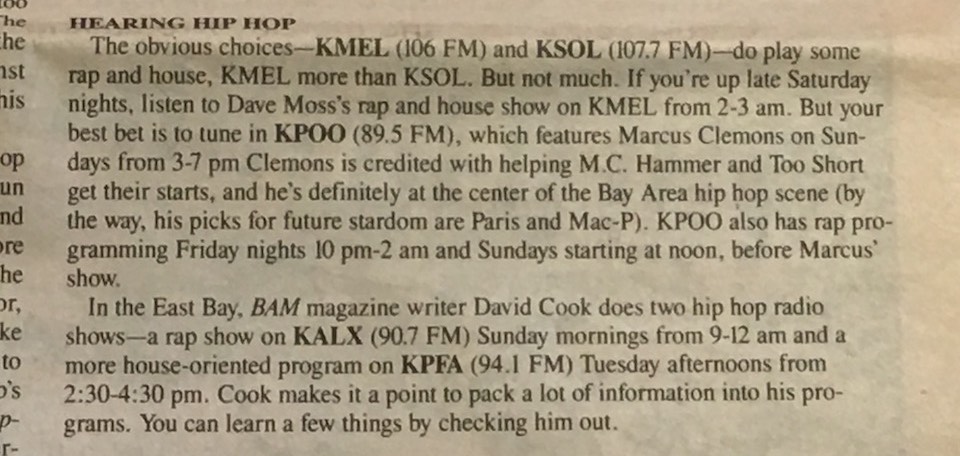 Marcus, who was active from the early 80s into early 90s, created a bridge between the time that rap was considered an underground fad to its modern place in the world. In his time he not only put the Bay Area on the map nationally as a destination for early stars on tour, but was also instrumental in the jump-starting the local scene.

The Big Break

Born in Oakland the youngest of nine children, Marcus got into music early. By the time he got high school when he would fall in love with rap, listening to tracks like "The Breaks" by 
Kurtis Blow 
and DJs like 
Afrika Baambaata
.
Early on, as a teenager in 1983, he thought he'd be rapper. Marcus and Oakland's favorite son Too $hort even formed a group. Marcus says only they lasted about a couple weeks though as Too $hort's provocative lyrics and his more demure style weren't a good fit.
Eazy-E and Marcus Clemmons 
Undeterred he tried other routes — like sending a demo tape to KPOO. But that wouldn't be how he would get on the radio.
His big break would come a few months later in '83, during a communications class at Laney College. KPOO DJ, Lebaron "Lord" King noticed the young man's deep voice with a smooth delivery and asked if he was interested in being on the radio.
He thought he had made it big, cruising the hills of Fillmore with Lebaron on his way to a new job. Marcus says of his start,  "I was just happy... I was driving a Porsche, working in radio."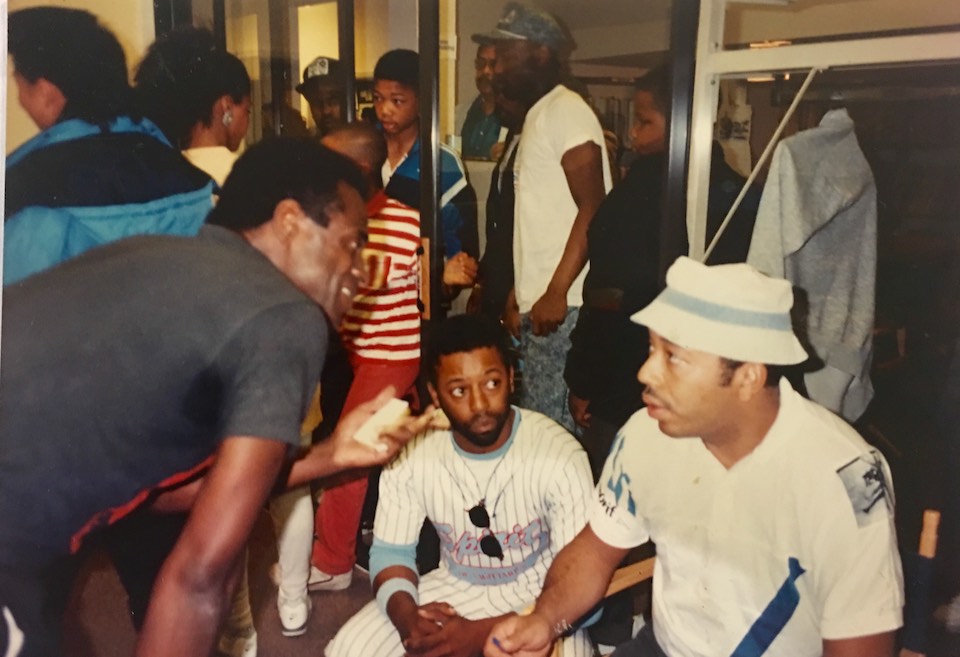 Radio manager Joe Rudolph ( in black) talking with Russell Simmons at KPOO
But Lebaron did more than give him a job. He took him under his wing and within weeks Marcus inherited the Sunday afternoon rap show.
Marcus embodied the new hip-hop generation and took the show to new level. A teenager like much of his audience, he was easily relatable and had his finger on the pulse of the culture.  
He already had contacts in the music industry and the young disc jockey started inviting rappers to come on his show.
He says "I was communicating with Russell Simmons like almost everyday."  
Run and DMC from Run DMC at KPOO
Nowadays DJs have little power over the selection of songs but back then they were all-powerful gatekeepers and could make or break a career.  In a burgeoning genre where artists were fighting for precious airtime, KPOO became a destination for popular acts and upcoming artists. Old school legends like Run DMC, Public Enemy, Eric B and Rakim all paid their respects to the small community station.

His relationships with rappers extended beyond the studio.  Marcus actively promoted their gigs as well. 
Marcus with Flava Flav and Chuck D from Public Enemy at KPOO
He recalls a time when KRS-One Red Alert, and Stetsasonic came to the city. They were going to the infamous P-House (Palladium) when he was arrested for a warrant on an unpaid traffic ticket. KRS-One and Red Alert waited for him at the jailhouse all night and bailed him out around 6 in the morning.    

The Local Scene
KPOO and Marcus were also indispensable to the nascent local hip-hop scene.   Too $hort, MC Hammer, E-40 all got their starts on KPOO.  Of Hammer Marcus says: "He created a whole image". He always surrounded himself with a bunch of people, and people were intrigued, he made you ask who he was.On E-40: "he was at the station religiously" but wasn't quite ready for primetime at first. He brought test copies hot off presses to the station to play. 
Marcus didn't warm to the rapper's distinctive flow at first, but his appreciation for E-40 has grown over the years and today it goes far beyond hip-hop.
He is most effusive however about his one-time partner in rhyme Too $hort: "I would have done anything make sure he was successful" and says he's very proud of Too $hort's achievements and longevity.
Marcus and Too $hort on a hip-hop panel
By 1990 there was a shift in the culture and mainstream media could no longer ignore the rap phenomenon. "Yo! MTV Raps" aired in 1988 and "Rap City" on BET in '89. Locally radio stations caught on too. KSOL started doing the 9pm beat — allowing for one hour of rap.  Marcus says he left KPOO around that time to manage artists. He worked with San Francisco native
 Paris
 and pre-Thug Life Tupac in the '90s.
Marcus and rapper Paris (in white)
Eventually Marcus drifted away from hip-hop.  He was getting older and he says, "He felt it was just someone else's time". Marcus continued to work in radio on adult contemporary stations. He's recently relocated to Washington D.C. where he's real estate broker. But he hasn't ruled out a return to radio.
When asked about his legacy, he's typically humble, saying that he's "just one chapter in a book of many".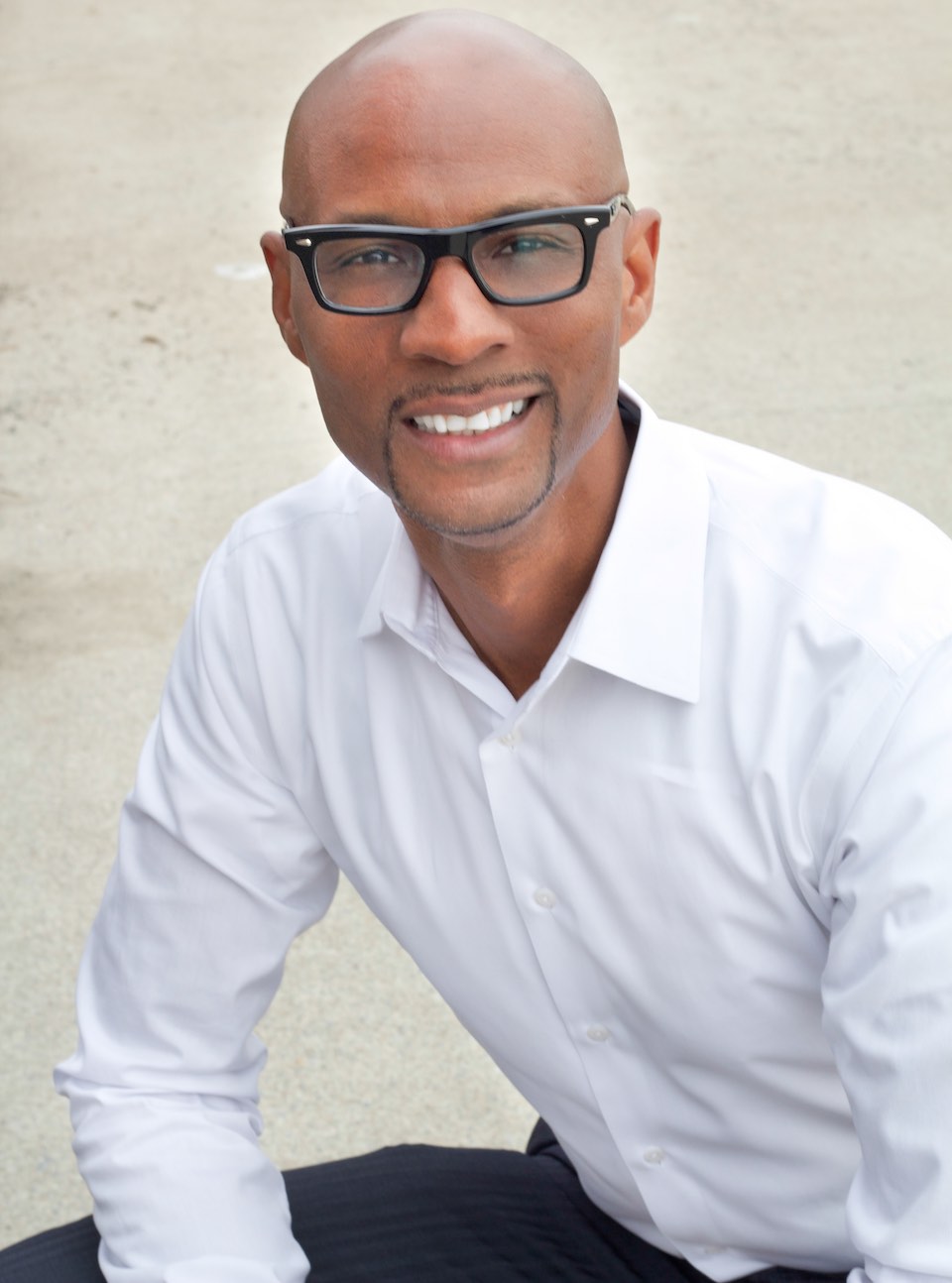 Marcus Clemmons today
But it was a very important chapter. It was a time when hip-hop world came to Fillmore, and the Bay Area was a mandatory stop for artists. It paved the way for the next generation of radio DJs and hip hop enthusiasts. Hip hop journalist Davey D cites Marcus Clemmons in a 1999 article tracing back the early years, "Respect Those Who Came Before Us".
And arguably the most successful radio DJs to come out of the Bay, Sway counts Marcus as one of his influences. For the Bay Area's hip hop generation he provided the soundtrack for our youth,  when nobody else did.