Published on April 24, 2016
Since 1973, a lone, 977-foot tall, three-pronged sentry has stood watch over San Francisco: Sutro Tower.
The tower sends signals to 11 television, and four radio, stations throughout the Bay Area, as well as to cable and satellite providers.
Like most things in San Francisco, the telecommunications tower, the angular superstructure that solved the city's longstanding television reception woes, is steeped in history, controversy, and wonder.
Herb Caen, the Chronicle's celebrated columnist, was quoted as saying that the tower resembled a "giant erector set that was stalking to march down and eat the Golden Gate Bridge."
We decided that in the spirit of this "giant erector set," dare we say Karl the Fog's fork-like nemesis, we would take a dive into the origin story of this metallic superhero and to consider what San Francisco might look like sans Sutro Tower.
The Problem of Peaks and Valleys
Back in the 1930s, a man by the name of Adolph G. Sutro — grandson of famous Gold Rush engineer, real estate investor, and former mayor Adolph Sutro – built a mansion on Mount Sutro. At the time, the hill had already been named after his family.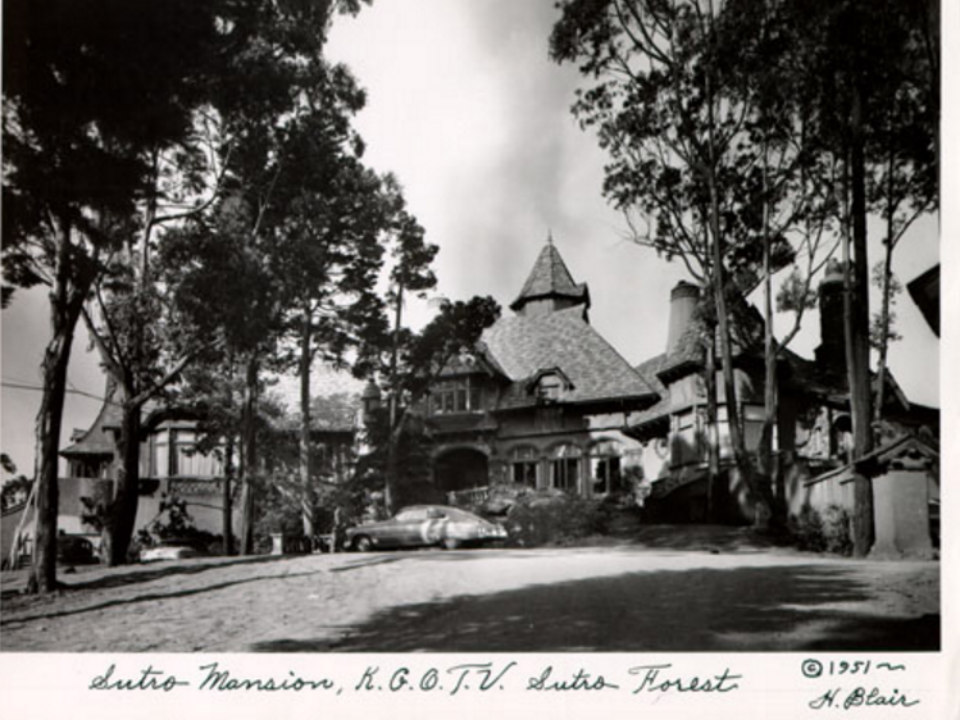 Sutro Mansion, K. G. O. T. V. Sutro Forest [ca. 1951]. Photo courtesy of the San Francisco Public Library.
In 1948, Sutro sold the mansion and surrounding estate to American Broadcasting Company, parent company of station KGO, to use as its transmitter site for its newest television station, KGO-TV. Beginning on May 5, 1949, shows were transmitted via a 580-foot tall broadcast tower. Additional television stations would soon join KGO-TV, and although the different stations would eventually relocate to their own studios, they continued to transmit their signals from the tower on Mount Sutro.
With all of the technology that is associated with the city today, it is difficult to imagine that in the mid-1960s, San Franciscans, with their rabbit-ear antennae sets, struggled to get decent television reception in their homes.
"If you were in a valley or had a hill between you, you didn't get good reception," said Dave Hyams, Sutro Tower's spokesman.
This frustrated TV viewers, who received more static and interference than they did Andy Griffith and Ed Sullivan. Something needed to happen.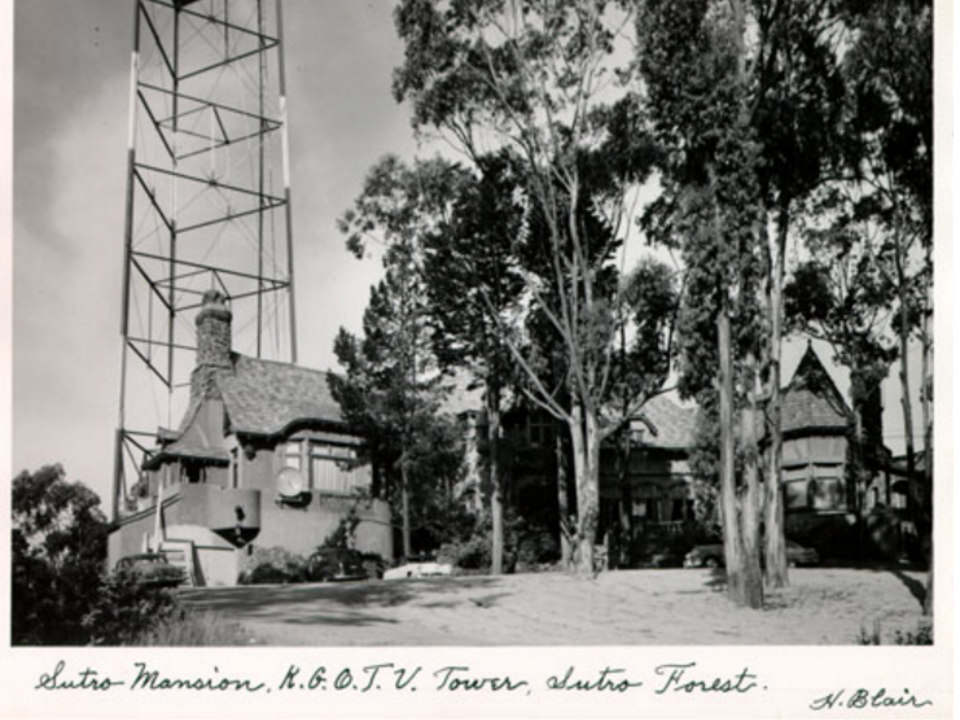 Sutro Mansion, K. G. O. T. V. Sutro Forest [ca. 1951]. Photo courtesy of the San Francisco Public Library
Complaints poured in of poor reception, motivating Bay Area television stations to conceive a project to build a taller transmission tower to accommodate most of the region's stations.  
In 1966, local broadcasters pushed the city to expand the conditional use permit that had been granted for the Mount Sutro tower in 1948. The expansion called for the demolition of the mansion and for the construction of a new, taller broadcast tower.
One early design rendering of the tower resembled a golden Seattle-esque Space Needle; another sketch included a tower-top restaurant. Gold would never have worked, as aviation regulations required towers like Sutro to be painted with alternating stripes of red and white. As for the restaurant, it simply wasn't meant to be.
Two sites were ultimately considered for the new tower: Mount Sutro and Mount San Bruno. What could have turned into an extensive legal dispute with the Chronicle company, who owned land and a broadcast site on San Bruno Mountain and wanted the tower to be placed there, was resolved by the Federal Aviation Authority. Because Mount San Bruno was too close to the airport and a tall tower would have obstructed flights paths, the location was ruled out. Mount Sutro would be getting a new, big tower.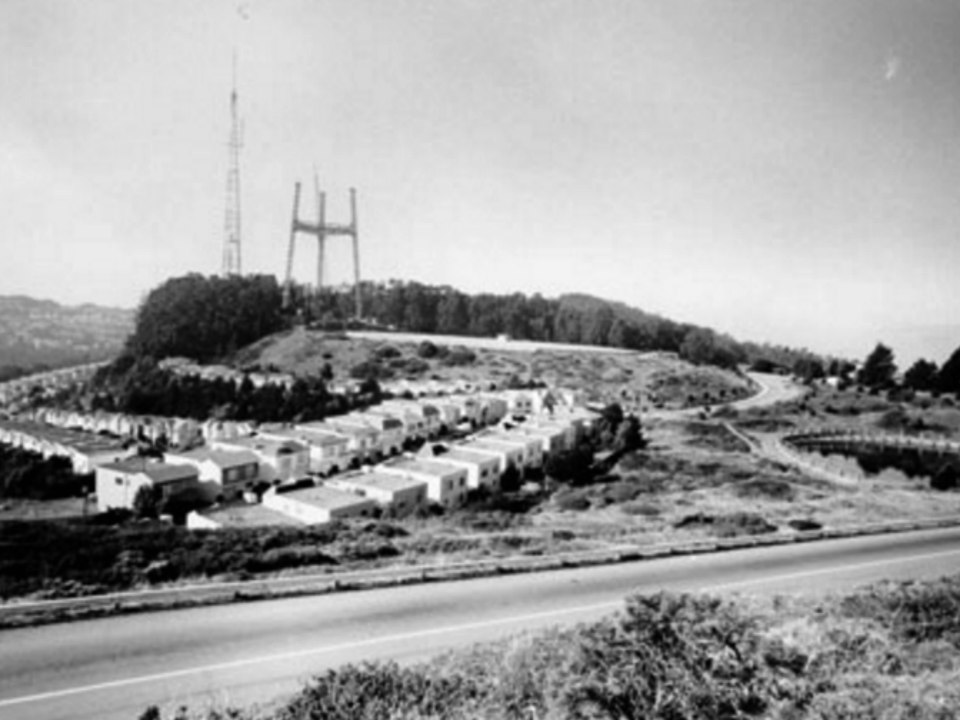 Sutro Forest TV Tower when it was one third complete [ca. 1972]. Photo courtesy of the San Francisco Public Library.
Regarding the tower, neighbors around Mount Sutro were concerned about many things: safety, radio waves, property values, seismic soundness, and the city skyline.
"At first, people were worried," said Hyams. "[They] didn't really know how emissions worked and didn't know what this big thing sending out radio waves [was]."
In 1966, the Planning Commission approved the Mount Sutro site, passing along the decision to the Board of Supervisors. The supervisors voted against constructing the tower (6 to 4), but failed to get the two additional votes necessary to overturn the Commission's approval. The tower's impending construction was final, but progress on the 5.6-acre site was slowed down in the early '70s by the Planning Commission and by the Board of Examiners. Work on the tower eventually began in 1971.
By today's standards, the tower was modestly priced; construction cost four million dollars. Sutro Tower, at 977-feet high (68% higher than the original broadcast tower), was designed by Los Angeles-based Albert C. Martin & Associates and was fabricated and erected by Kline Towers.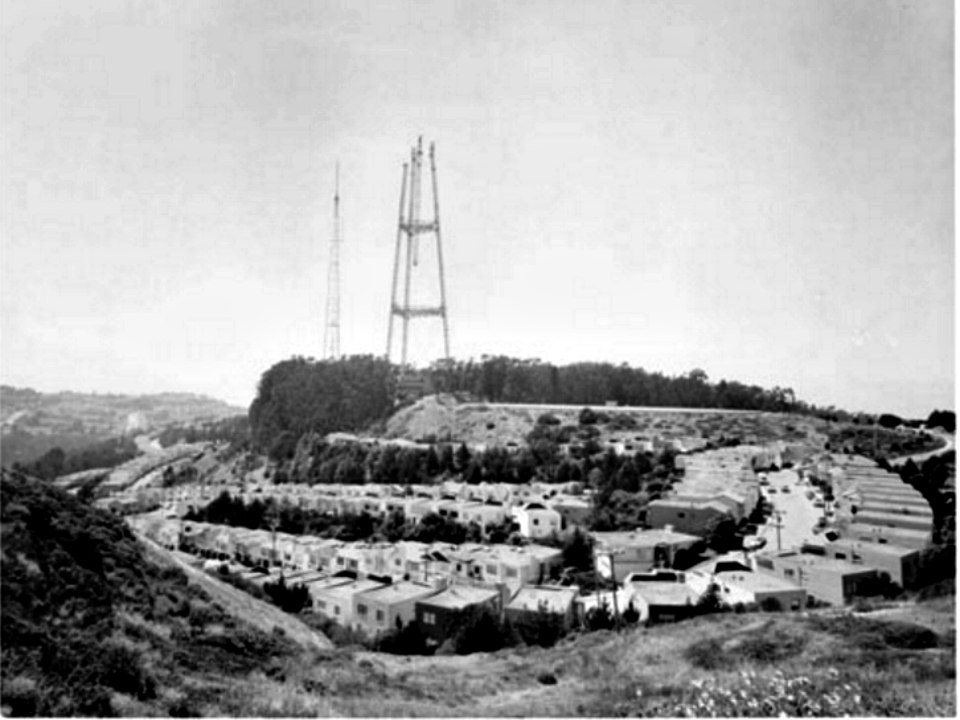 Sutro Forest TV Tower when it was one third complete [ca. 1972]. Photo courtesy of the San Francisco Public Library.
In his novel, Our Lady of Darkness, Fritz Leiber describes "San Francisco's Eiffel" as being "broad-shouldered, slender-waisted, and long legged like a beautiful and stylish woman – or demigoddess."
"That shape is not based on anything except aesthetics," laughed Hyams.
Sutro Tower is one hefty "demigoddess," weighing in at 3.5 million pounds.
"One of the reasons [the tower] did so well in the [1989] earthquake," said Hyams "is the structural science of it is. It cement base and anchor is so heavy compared to its frame that the center of gravity is actually underground." The tower is embedded in 15 million pounds of cement.
Workers completed construction of Sutro Tower in 1973, and on July 4, 1973, the first stations went on-air. Finally, San Franciscans and Bay Area residents could get decent reception to watch their favorite television stations.
Imagining A Sutro-less Skyline
Close your eyes and picture what San Francisco would look like without Sutro Tower.
Yes, the Bay Area would be without reliable television. But, what if the structure had been placed elsewhere, somewhere besides the San Bruno Mountain location. Why don't other cities have Sutro Towers?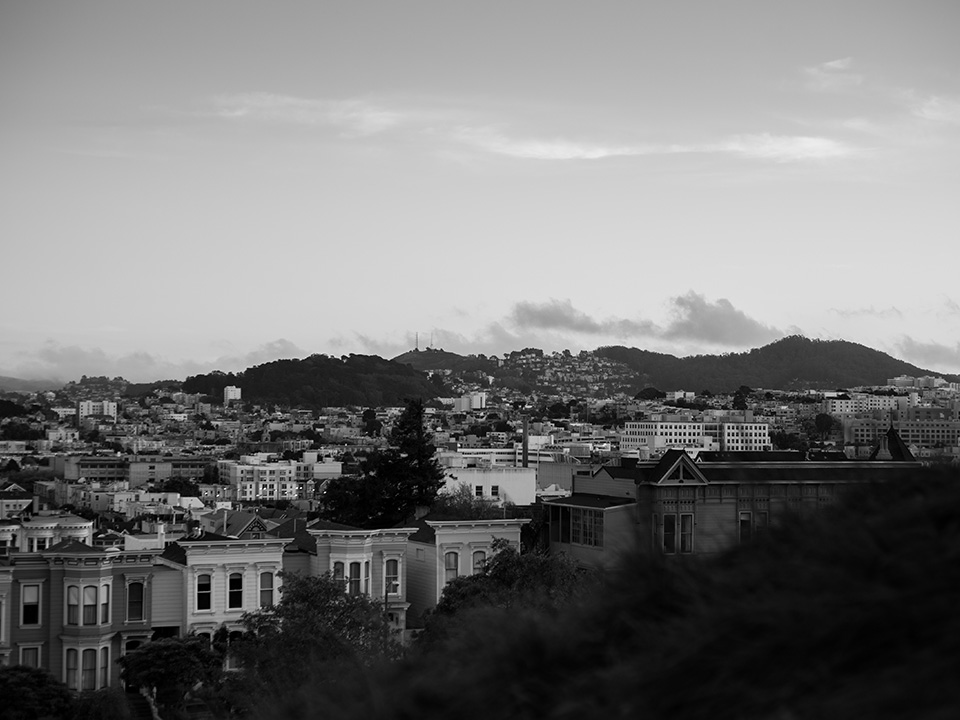 Twin Peaks Without Sutro Tower (Photo: Sutro Tower, Benedicto de Jesus/Flickr, edited by Shannon McLean)
It turns out that they do, they just stick them on top of their tallest skyscrapers.
"If you go to other cities," explained Hyams, "there aren't hills. In New York, the antenna is on the Empire State Building; in Chicago, the antenna is on top of the Sears Tower; Boston [has] Hancock Building. But basically, those cities are flat"
San Francisco's nooks and crannies are what make the city beautiful.
"That's what makes it so special; it's a city of hills," said Hyams. "That's why [we] needed a high tower to get down into the valleys behind the hills."
If you include the elevation of Mount Sutro, the very top of Sutro Tower is nearly 1,900-feet tall. San Francisco's tallest building, the Transamerica Pyramid, is 853-feet tall. That means that to have the same reach as Sutro Tower, the city would need to place a steel tower approximately 1,000-feet tall on top of the pyramid, which in and of itself would be an incredible feat of engineering.
In 2017, the new Salesforce Tower is expected to be completed and will have a roof height of 970 feet; yet, relocating our city's television broadcasting tower from Mount Sutro to the top of the Salesforce Tower doesn't seem very feasible either.
"We're right in the middle of neighborhoods, which is an odd thing," said Hyams, "because tall buildings of cities, they're downtown. [Other cities' towers] are in commercial and business centers, but our [tower] is right by houses. We're a part of the neighborhood, and we're proud of that."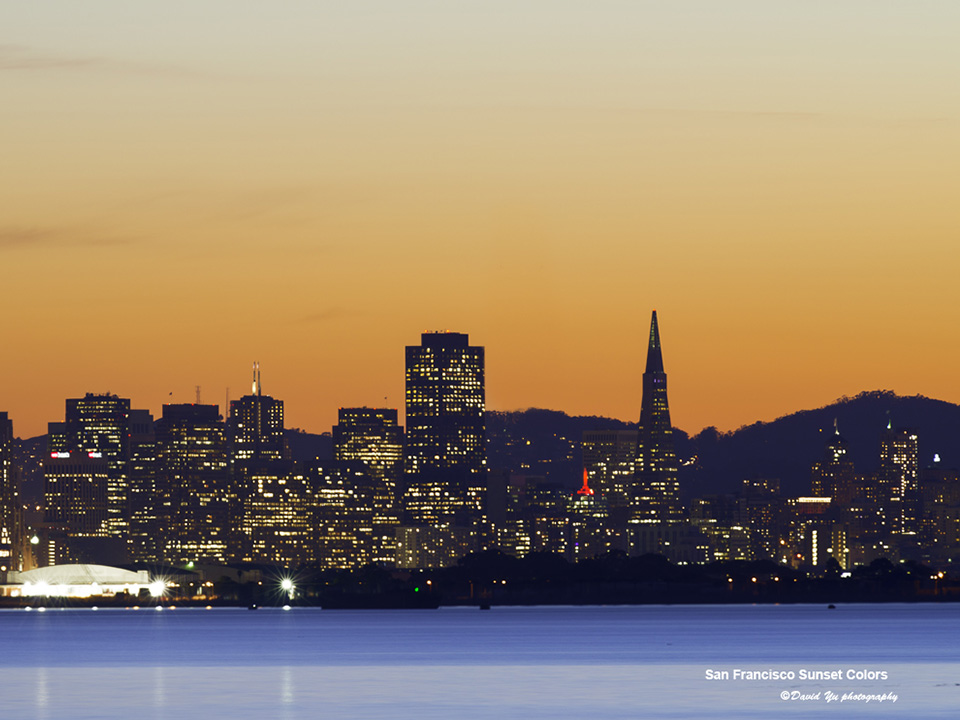 San Francisco Skyline Sans Sutro Tower (Photo: San Francisco Sunset Colors, David Yu/Flickr, edited by Shannon McLean)
If it weren't for the airport, San Bruno Mountain, at 1,319 feet, truly may have been the best alternative to Mount Sutro; but imagining San Francisco without its international airport would be a whole separate thought piece all together.
It's clear: we need Sutro Tower exactly where it is located today, nestled amidst the greenery and residents of Mount Sutro; however, will technology ever nullify our need for such a colossal tower?
"Not really," said Hyams. "Most people get their TV through cable now, and when you cord cut, you're still switching to dish or some form of transmitted signal. Even when you get it online, it still has to be transmitted somehow."
Photo: Shane Downing/Hoodline
"The way the tower works, it has the TV channel antennas at the top. There's also a dish on the ground-level next to the tower that catches signals from satellites," Hyams explained. "Whatever way you're going to get your entertainment content, it has to come from somewhere, it's got to get to the city somehow, and then be distributed somehow."
According to Hyams, "Sutro Tower is the place where all the signals come in and Comcast bundles [them]. It's a place where the dish gets its signals from the local channels. There's still about ten, maybe twelve percent, of people who just get it over the air. Whether it's on their mobile or TV, it all comes from Sutro."
"No matter how technology changes, you still need a signal. It's down to the very basics of communications, you gotta have a signal. You gotta be able to catch it to get it," said Hyams.

Whether labeled an eyesore or an icon, Sutro Tower is as much a part of San Francisco as the Golden Gate Bridge, the Bay Bridge, and Coit Tower, and even though the giant tower may be a nagging thorn in Karl the Fog's side, it will forever be a welcome constant in the city's skyline.