If you're excited about the fact that Craftsman and Wolves is opening up in the Bayview, you might be surprised to learn that they've already been in business in the neighborhood for four years. The upscale patisserie has two high-profile cafes on Valencia Street and in Russian Hill, but their pastries actually come from a 24-hour commercial kitchen on Keith Street.  
Craftsman and Wolves is the product of nationally renowned pastry chef William Werner. Originally from New Orleans, he's worked in the Bay Area for 10 years, honing his skills at the Ritz-Carlton at Half Moon Bay, Bacchus Management Group, and Quince before launching Craftsman and Wolves. With a plan to mass-produce pastries, Werner initially searched for a commercial kitchen in the Dogpatch, but ultimately found his home in Bayview. 

"I saw the industrial impact of the Bayview, along with residential, which I thought was cool," he told us. "I like that aspect, because it didn't just seem like we were in some wasteland with factories and production centers. There's an actual neighborhood here. It's flat, sunny and convenient for us to do deliveries, or to go up Third Street to the farmers market."
Now, Bayview residents will be able to eat the pastries Werner makes here. This week, he's softly launched a small cafe at the corner of Keith and Yosemite, which he's dubbed The Den. "This model is based off what I've seen in France, where you have a big production facility and then a storefront," he explained.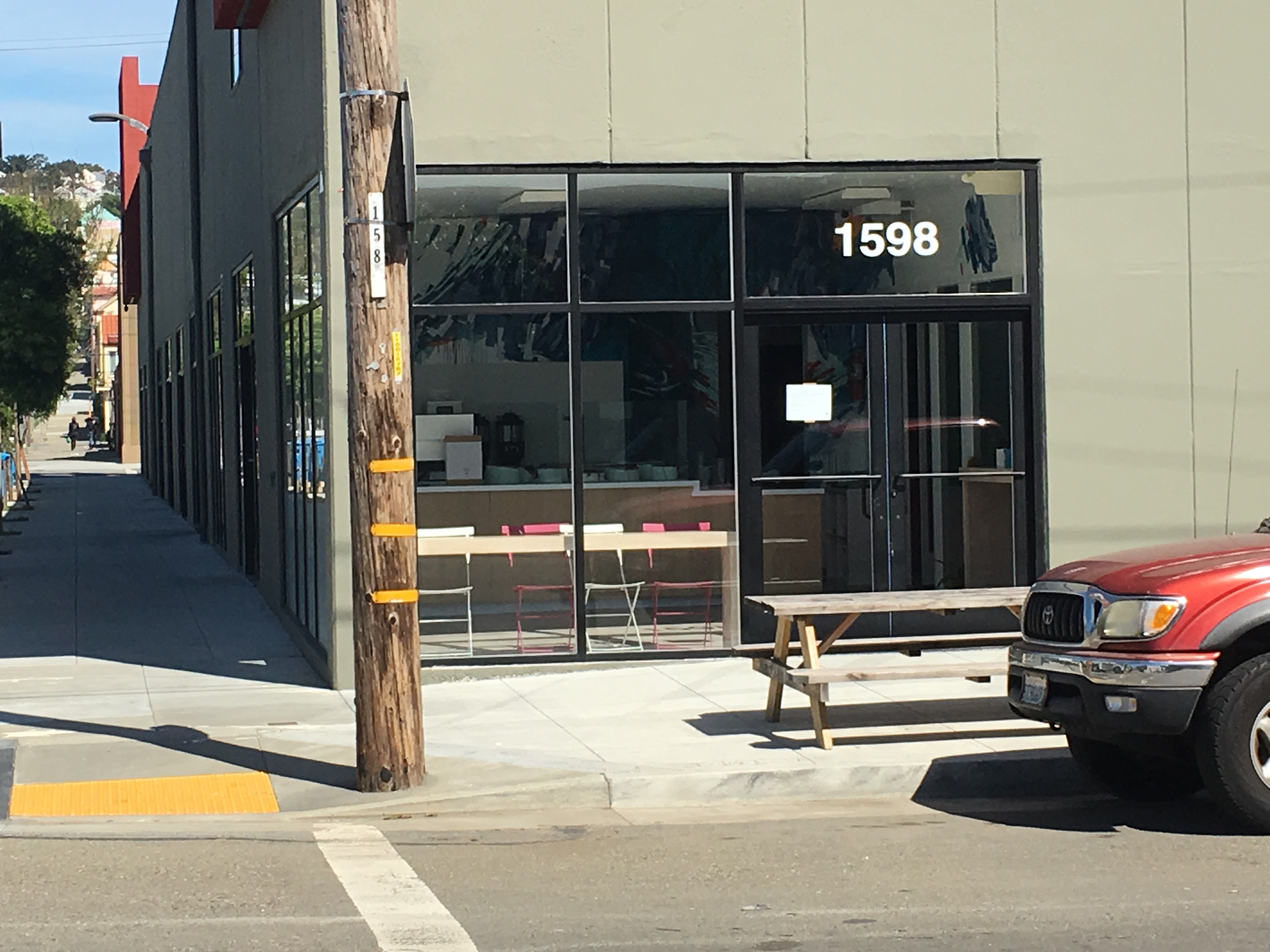 "We have been here for so long, and some of the people in the neighborhood have no idea what me make or what the other shops are like," Werner said. "This is finally the opportunity for us to showcase to the neighborhood what we do, and they can actually and come in and witness our creative process."
It's also a plus for the kitchen staff, who rarely get to see customers eating the beautiful pastries they make. "We have two shops, but the kitchen staff never really gets to have the experience of a customer walking in and purchasing a croissant and smiling," Werner said. "I think they'll appreciate the opportunity to see how great of a job they do."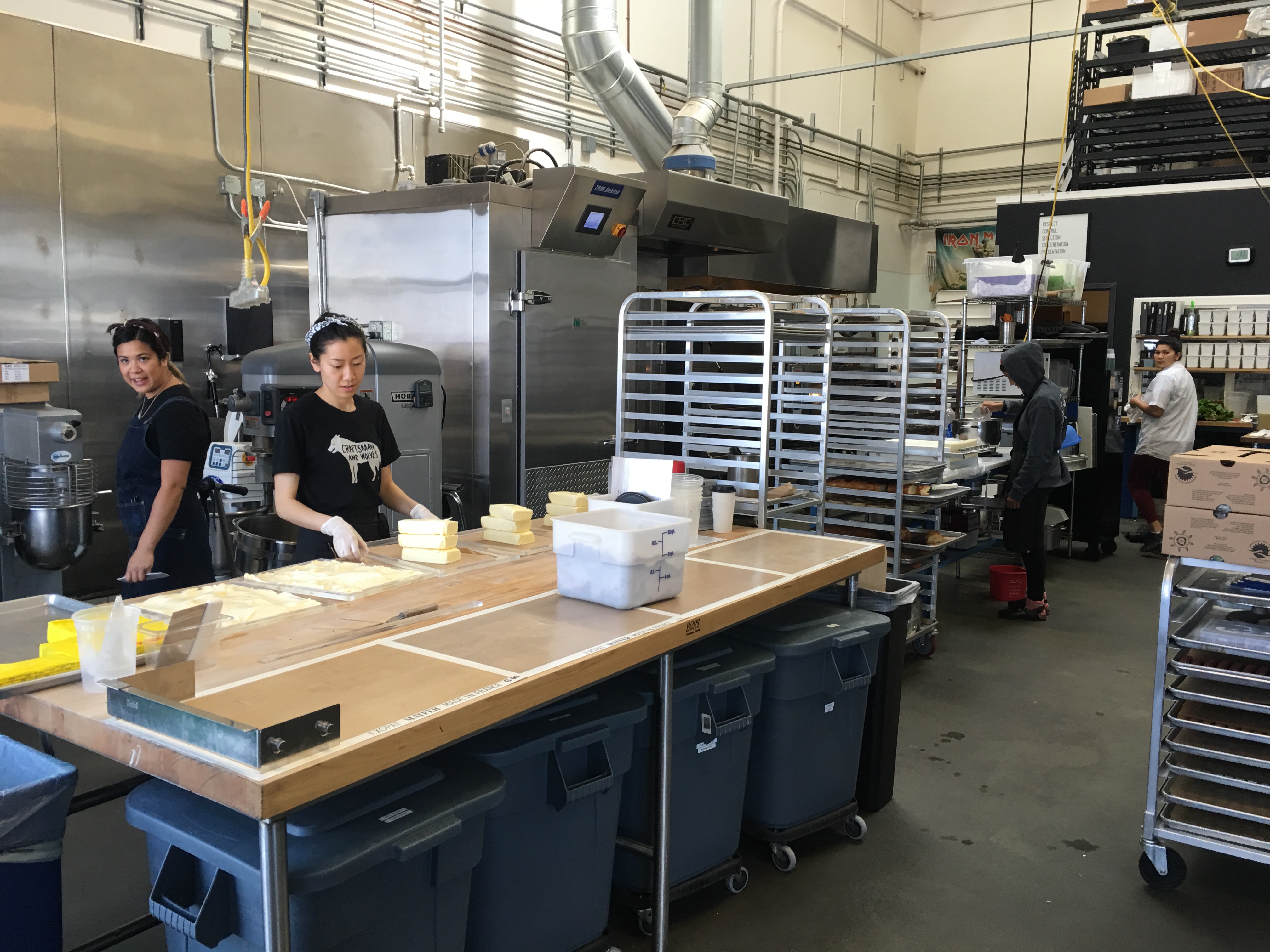 The Workshop.
Craftsman & Wolves' space is actually divided into three parts. The first, "The Workshop," churns out the bakery's bread, muffins, cakes, cookies, and croissants, among other items. The second, "The Lab," handles jams, caramels, candies, brittles and other retail goods, which Werner sells online and at the Ferry Building Farmers Market in addition to his stores. He's also hoping to offer some cooking classes there in the future.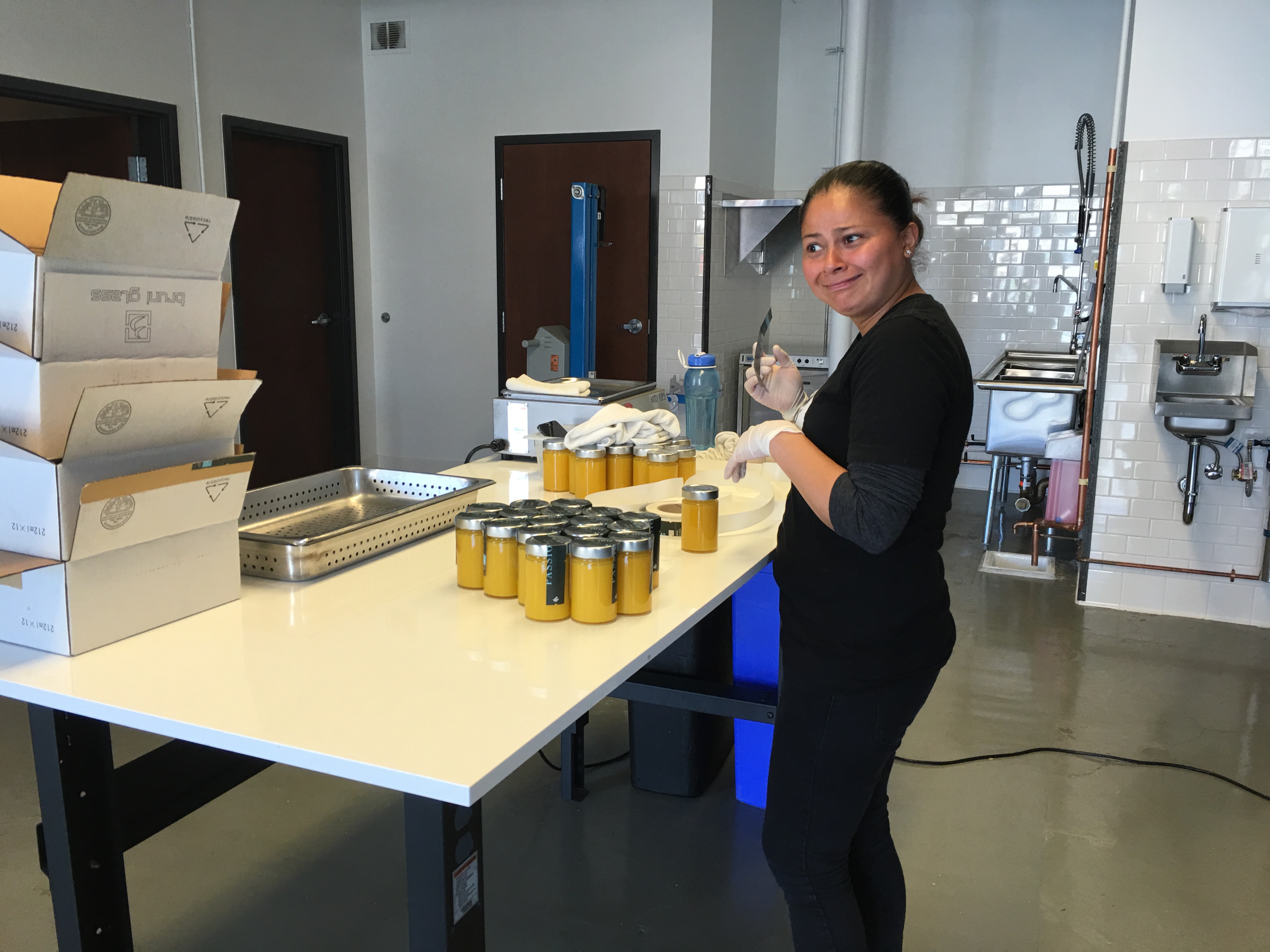 The Lab.
Finally, there's The Den. It'll offer a number of the pastries for which Werner has become famous, including The Rebel Within, a sausage, green onion, and Asiago cheese muffin that contains an entire soft-cooked egg, and the Thai scone, with green curry, coconut, and candied ginger. There are also some more traditional sweets, like a chocolate-chip cookie and a caramel-almond brownie, and a full menu of coffee, espresso drinks, and hot chocolate (with homemade marshmallows).
For those who'd rather not eat pastries, there's yogurt with "damn fine" granola for breakfast, and sandwiches, salads, and vegetarian pizza by the slice (with rotating daily toppings) for lunch. You can check out the complete menu here.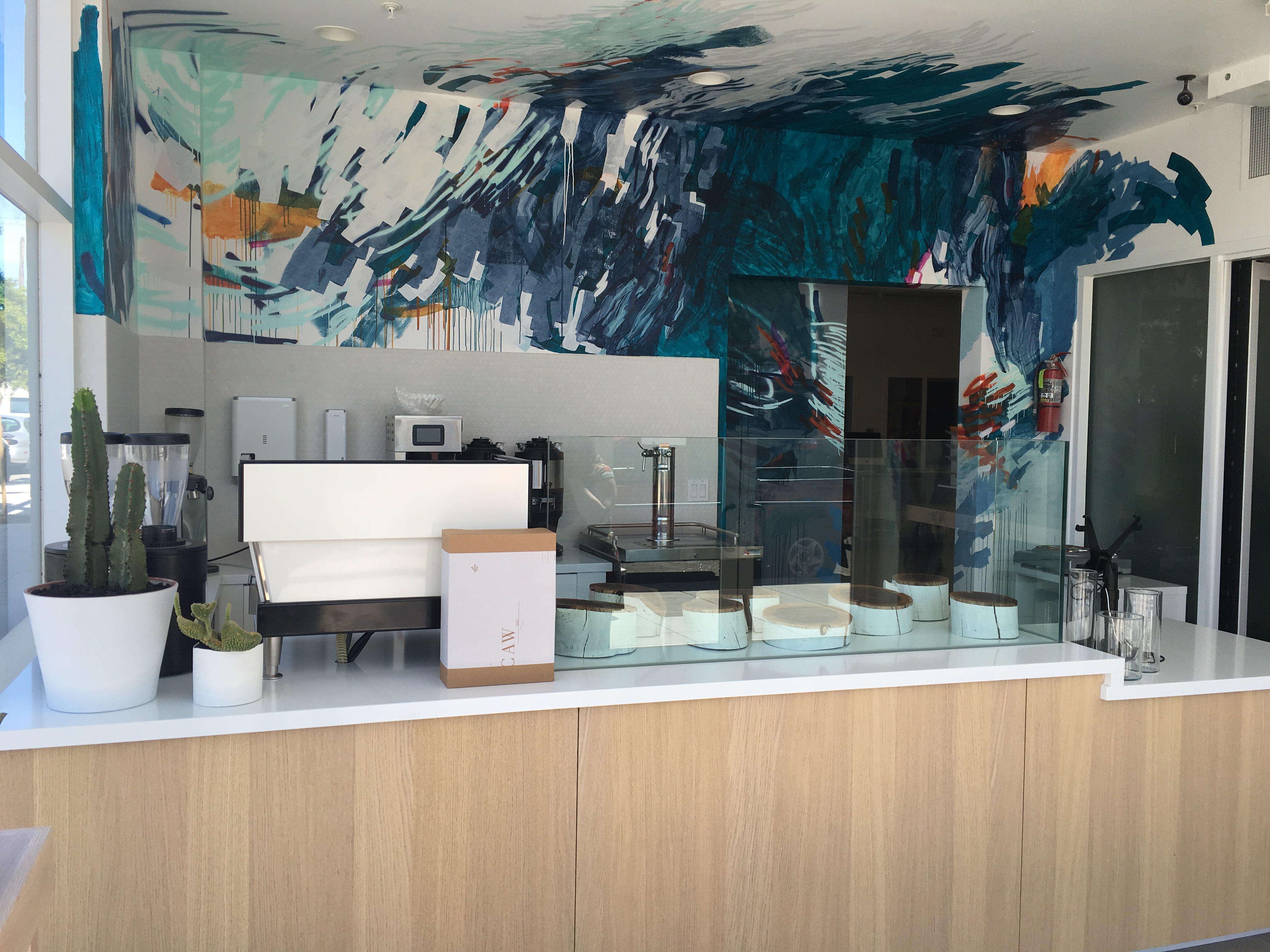 The Den.
The Den, which features a mural from artist Heather Day, will also provide Werner and his staff with a quieter space to train new baristas and servers, before they start work in the Mission or Russian Hill. "We want to do that in a more controlled environment, so that they can see how we produce, talk to the chefs and have more one-on-one time with the management," he explained. 
The Den has also adopted a "good neighbor" policy, inspired by Rosa's, a pizza joint in Philadelphia. When customers buy a slice of pizza, they can "pay it forward" by buying another slice for a homeless person for an extra $3. Customers who participate will receive a sticky note that they can stick on the window, and anyone in need can stop in and use one of the notes to buy a slice.
"There's a men's shelter out here, and a big community of people who are in need. I feel like I've gotten to know them. I want to help," said Werner. "I didn't want to create this shop and feel alienated, and I also don't want to alienate people in the community."
"Pizza is the perfect food. It's warm, not pricey, and you can add so much to it. So we are going to put that program to use in the community, so that if someone comes by they can participate—and it just takes out the awkwardness."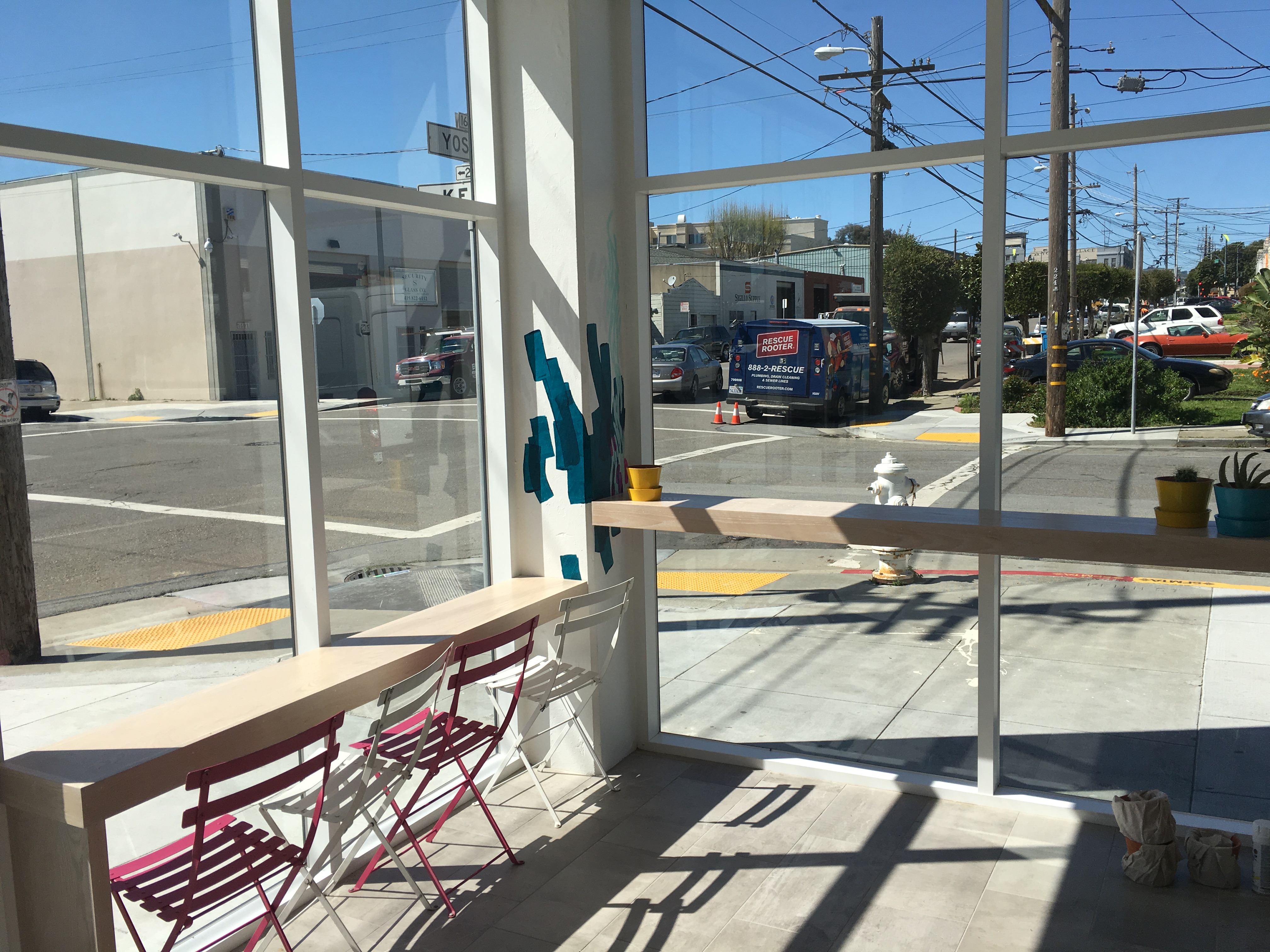 Inside The Den.
If you've searched online for the space (or seen its trucks coming and going), you may have noticed that it's labeled as Outfit Generic. That's the name of the umbrella company that owns Craftsman and Wolves, Werner explained. "When I started the company with my partners Anne Lee and Lawrence Lai, we just used it as an office name. We weren't sure what to call our brick-and-mortars, until we realized, essentially, that we are craftsmen."
They want to remain craftsmen, too. "I think we are trying to think like a big company, but keep it grassroots and fun and energetic," Werner said. "I want people to be excited to work here, and I want that community."
The Den is located at Keith and Yosemite streets, and is open Monday-Friday from 6am-2pm. To learn more about cooking classes and other programs, visit their website.