The Love Project is a unique hole-in-the-wall thrift store residing at 509 Leavenworth in the heart of the Tenderloin. Hundreds, maybe even thousands, of items are crammed into a small hallway.
Clothes, DVDs, books, glasses and jewelry pour out onto the sidewalk. People walking by have no other option but to look and admire the signage and decorations begging for their attention.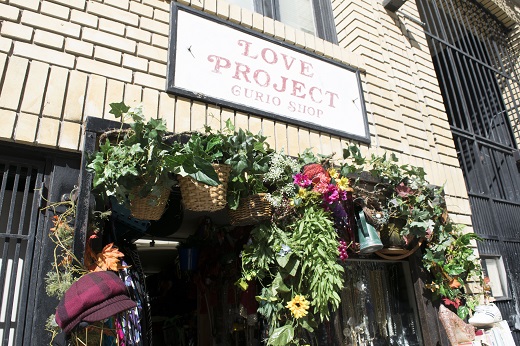 Owner Don Chunn humorously said his tiny nonprofit shop resulted from 10 years of hoarding.
"A lot of people are intimidated and won't come in," he said. "On the flip side, there are people who love it. Some people like the coziness of the store."
Don Chunn, working the front desk at the Love Project.
Chunn moved to San Francisco in the '80s and studied psychology at San Francisco State University. After, he worked in the finance department at the San Francisco Chronicle. As time passed, Chunn always thought about opening a small shop to donate funds to various organizations working with AIDS victims and research, he said.
One day he noticed a "For Rent" sign hanging on the Leavenworth building. He immediately called and soon set up shop.
Chunn's inventory comes from a collection of donations, purchases at garage sales and valuable things people left outside their homes.

"Some of it I even find on the sidewalk," he said. "In some of the more expensive neighborhoods, people throw away expensive stuff."
Loot on display outside the shop.
On a sunny Saturday afternoon, people from the neighborhood walk by waving to Chunn. Customer Craig Bell, 55, moved to the Tenderloin two years ago and regularly visits the Love Project to buy hats. He stopped by to check out the new inventory.
"All the hats I got are from him," he said. He paused and then corrected himself. "Well, one is from Target. Someone bought that for me."
Bell, standing below a slew of hats to choose from.
Bell said it would be disheartening if Chunn ever does leave. It's a hard thought for him to think of with all the changes happening in the Tenderloin and the city as a whole.
"[The Love Project] reminds me of old shops that use to be all over the place," he said.
Chunn said there are regulars in the neighborhood, like Bell, and they all have their niche item. Often, tourist visiting San Francisco stop by once and return again frequently during their trips.
Throughout the shop's years, he's donated to AIDS foundations. Some regulars with AIDS are offered discounts or given items for free. "I'm always enthused to see they're getting better," he said.

The wide collection of people he meets is a big incentive to continue the work, he added.
"It's a lot of work spent on for hours," he said about opening up the store each day. "It's very unique what I'm selling here and I hope people get it."
The Love Project doesn't have set hours, so it an be hard to catch Chunn setting up shop. It's typically open around 10am on weekends and sometimes on weekdays.