You might have heard this week about Revolutionize Haight, the big new idea for a different kind of Haight Street—one that's largely closed to private vehicles. 
Created by Upper Haight resident Reed Martin, Revolutionize Haight aims to blow the doors off existing plans for improving the Upper Haight corridor (namely, the currently bogged-down Public Realm Plan) and provide a bottom-up, neighborhood-based alternative to revamping Haight Street.
Most controversially, it envisions closing the street to most private vehicles—but providing a net parking space gain elsewhere, via the creation of perpendicular parking on all side streets within a block of Haight. Three designated Muni stops at Stanyan, Belvedere, and Masonic would allow buses to continue to run, and designated loading and unloading areas and bus-only lanes could be used for commercial vehicles during specified times. 
The tradeoff, Martin argues, is better outdoor space for pedestrians, and a healthier, more organic transit corridor that better serves neighbors. Eventually, he says, F-Market trains could even split at Van Ness, running up Haight Street all the way to Golden Gate Park. 
Martin's proposal has already been making the rounds on Reddit and Nextdoor, where it's generated quite a bit of controversy. So we sat down with him to learn about the genesis of Revolutionize Haight—and potential next steps for making his vision a reality.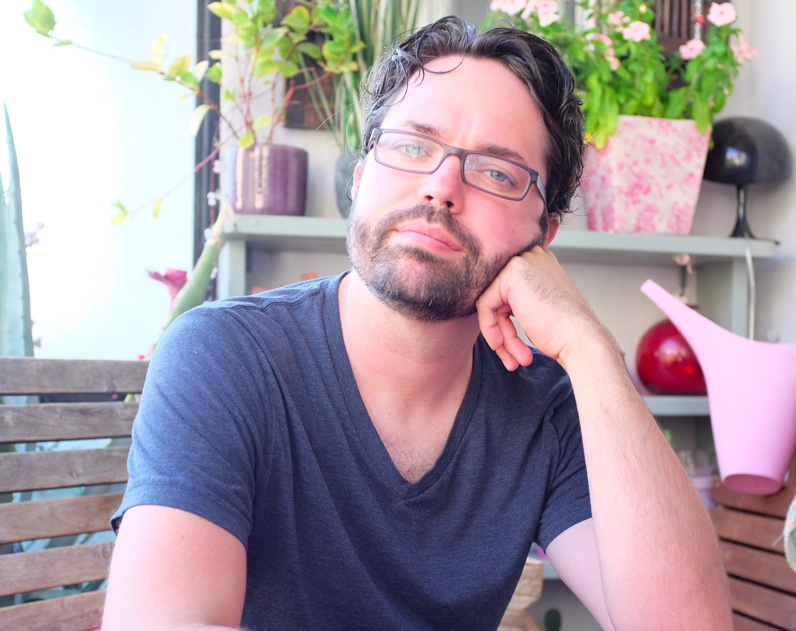 Reed Martin. (Photo: Reed For Mayor)
You might remember Martin, a San Francisco Transit Riders board member, for his run last year as a mayoral candidate. While he didn't expect to win, he said, he was interested in learning about city government from the inside out, to understand its "stagnation."
"It's been a fun ride," he said.
Martin, who grew up in Paris, is an artist and designer, but has no technical training in urban design. He holds a graduate degree from MIT's Media Lab, which, he said, is about the intersection of technology, art, and liberal arts, using technical solutions "to actually make people's lives better," he said.
The idea for Revolutionize Haight—specifically, to turn the Haight into a pedestrian corridor that emphasizes people, human interaction, and the Haight's native idiosyncrasies—actually stemmed from Martin's experiences in Paris, both as a child and a few years ago, when he lived there for the summer.
"I was really surprised" there, he said. "There was this growing movement of people that wanted more street space for people."
The city started closing what were effectively highways that had been built along the Seine. These spaces became "a canvas for people to make it what they wanted it to be," Martin said.
"The coolest part of [Haight] Street is the stuff that happens there," Martin notes. Yet all the neighbors he's spoken to about the project routinely avoid walking down Haight, choosing adjacent, parallel corridors because the sidewalks are too crowded and difficult to navigate.
Martin argues that Haight is currently more oriented towards vehicles than pedestrians. "That's not a good thing," he said. "You want this to be a community space. San Francisco is so community-oriented, but there's so little community space."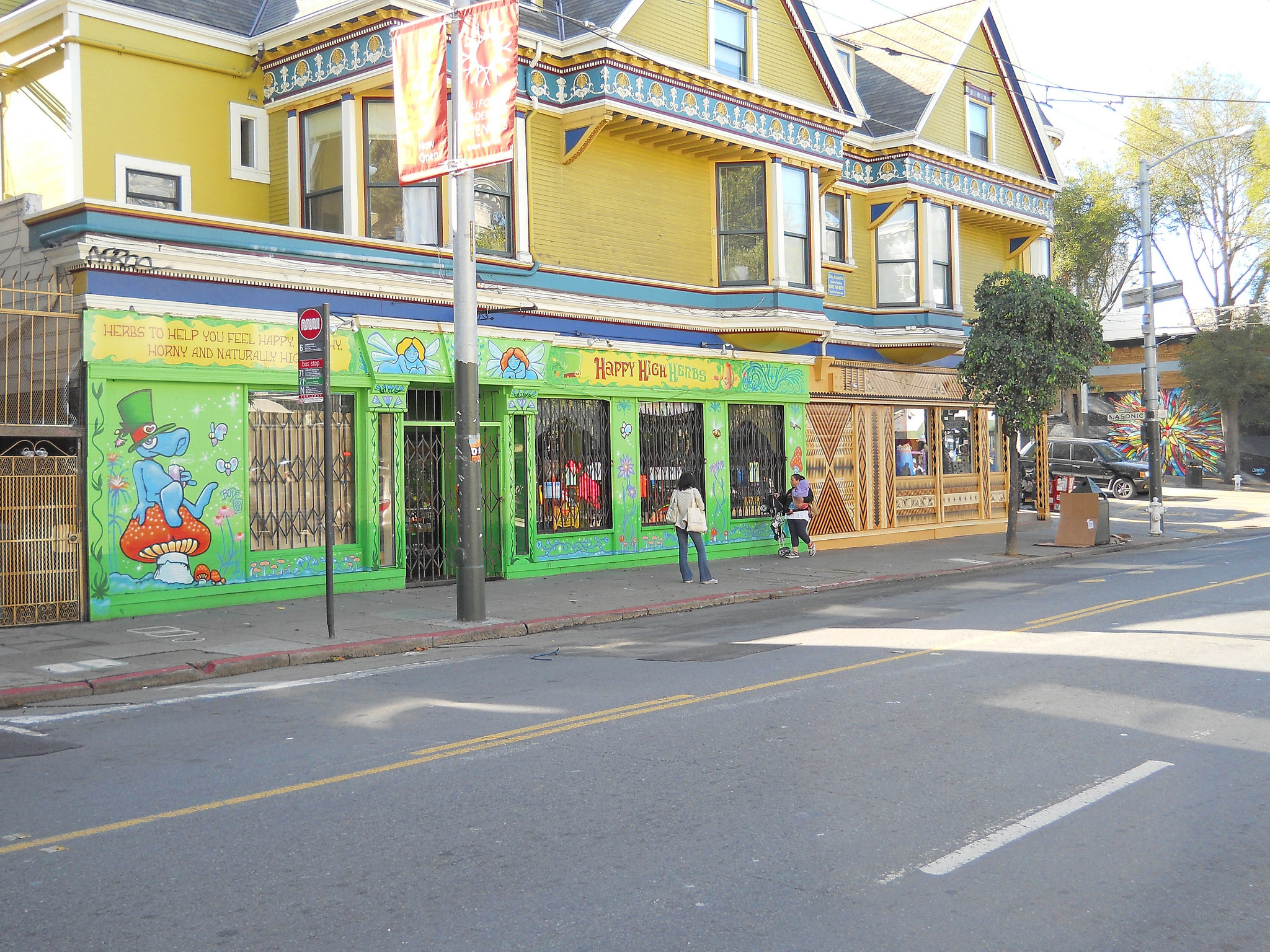 Martin argues Haight Street is currently more oriented towards vehicles than pedestrians. (Photo: Mike Carrick/Flickr)
The impulse to create Revolutionize Haight was also born out of the currently bogged-down Haight Ashbury Public Realm Plan, Martin said. He said he was involved with that project during its early stages, and had high hopes for it, but "it eventually lost everything it had going for it"—including what people asked for in the first place.
Part of that was because of the variety of invested community members, he said, and part was because change was being forced down by various city departments, all of them at odds with each other. "I think you get bogged down in that process," he said, and end up focusing on inconsequential details: whether sidewalks should be six feet wider or eight feet wider, for example.
Despite all of that, Martin said, "people are really not that far from agreeing with each other. I'm looking for a thing that people can rally behind. It felt like the ultimate opportunity wasn't in exact measurements and details, but that the street was sort of a canvas for people ... It's always been a street that's about people."
His goal with Revolutionize Haight, he said, is to back the process away from city bureaucracy, to "get out of the way" and let it grow organically, based on the community's needs.
"Our opportunity is so ridiculously great in this city," he said. "The coolest part ... is that everybody has an opinion. I love that."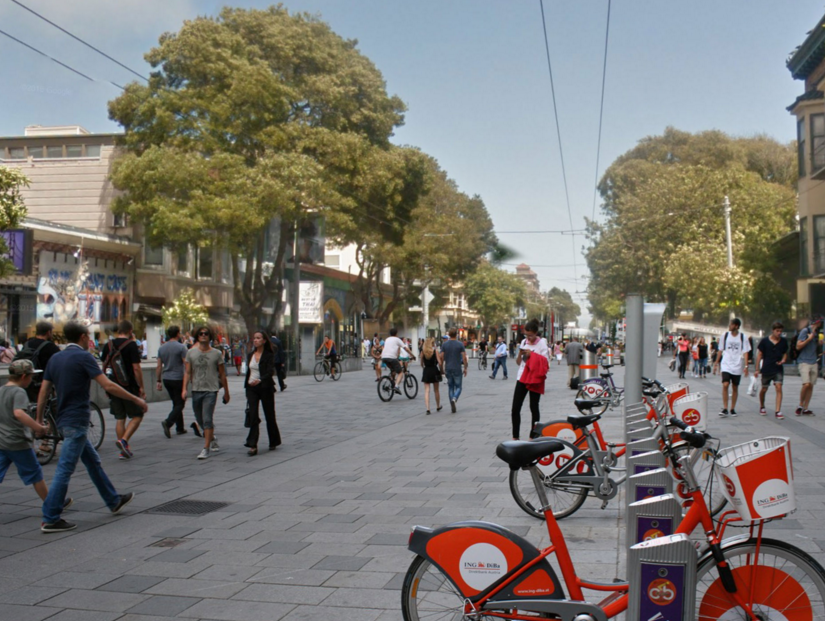 A rendering of a potential future look for Haight. (Image: Revolutionize Haight)
Martin said the next goal is for Revolutionize Haight to continue to grow the number of people involved—neighbors, residents, business owners, historians, maybe some architects—and to find common ground between them. He's currently working on community outreach, fostering cooperation among different organizations, connecting various stakeholders, and attempting to gain some consensus on what would make the street great.
While Revolutionize Haight was initially a long-term vision, Martin said, it's looking increasingly like a shorter horizon for some real change to happen. "It feels like there might be more opportunity here than I thought," he said.
If it goes well, "I really would love for this to be a model for how we do things in the city," he said. "Let the community be more involved with high-level planning. Let the city offer their expertise, and then we can hold them more accountable through the process."