Federal Street may seem like just another sleepy alley in Rincon Hill, but up above the quiet brick-paved street is a condo buzzing with activity. 
Since the fall of 2014, husband and wife team Santiago Prieto and Alexis Monson have been developing a new sort of offline-online greeting card.
Almost every surface in their one-bedroom doubles as workspace for their budding startup, Punkpost.
First, the app lets you order a custom card featuring quality artwork, then the small team will print it out on the letterpress in their home office, hand-write your message, and mail it to the address of your choice. 
It all started early last year, when Prieto—a designer at IDEO for the past eight years—was traveling constantly for work. One day, while Prieto was in Boston for an important business meeting, Monson sent a hand-written greeting card to his hotel, wishing him luck.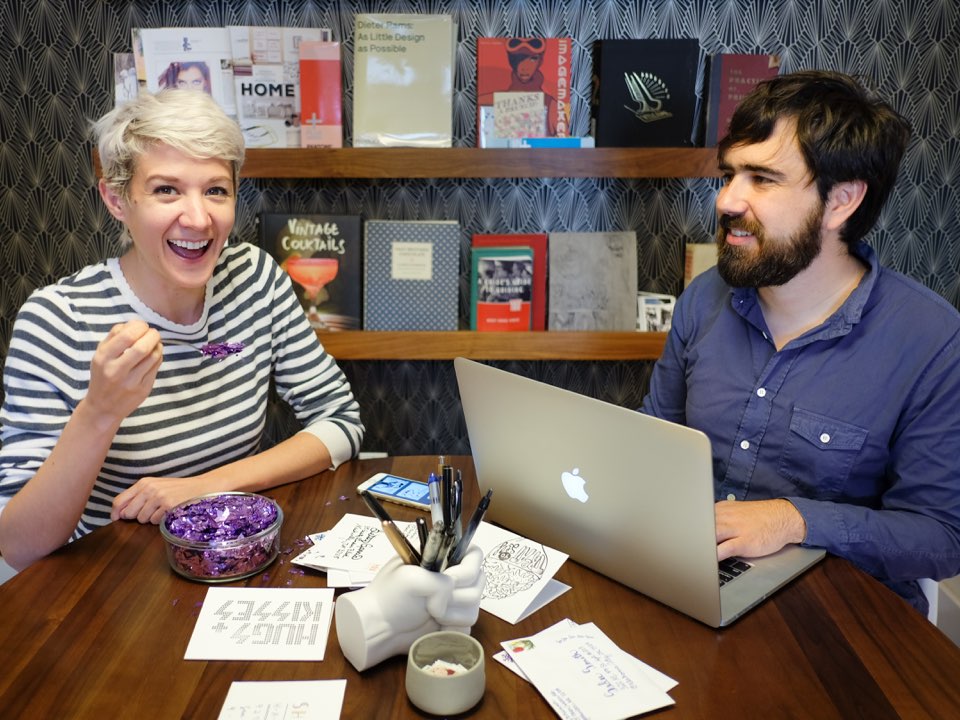 Monson and Prieto, working at their kitchen table.
"I'm from Mexico, and in Mexico, the mailing system is really terrible," Prieto said. "So basically, this was my first interaction, first experience with getting a nice greeting card from someone you care about... and I was like blown away. I was like, 'What is this thing? This crazy magic?'"
And with just one piece of handwritten mail, a new obsession was born.
Valentine's Day was just around the corner, so the pair dove in and hacked together their own letterpress with "$100 in weird pieces," Prieto said. 
"It was like plastic. We were really ashamed," said Monson.
Despite their "embarrassing" hardware, it worked, and their first batch of handmade cards sold.
But simply selling greeting cards online didn't make the process of sending handwritten greetings any easier for people, Prieto said. "It was still kind of a pain in the ass to send the cards. You know, you get the card and then you're like oh, 'I need the address, I need postage stamps, I need to actually find a pen.' Some people don't even have pens...."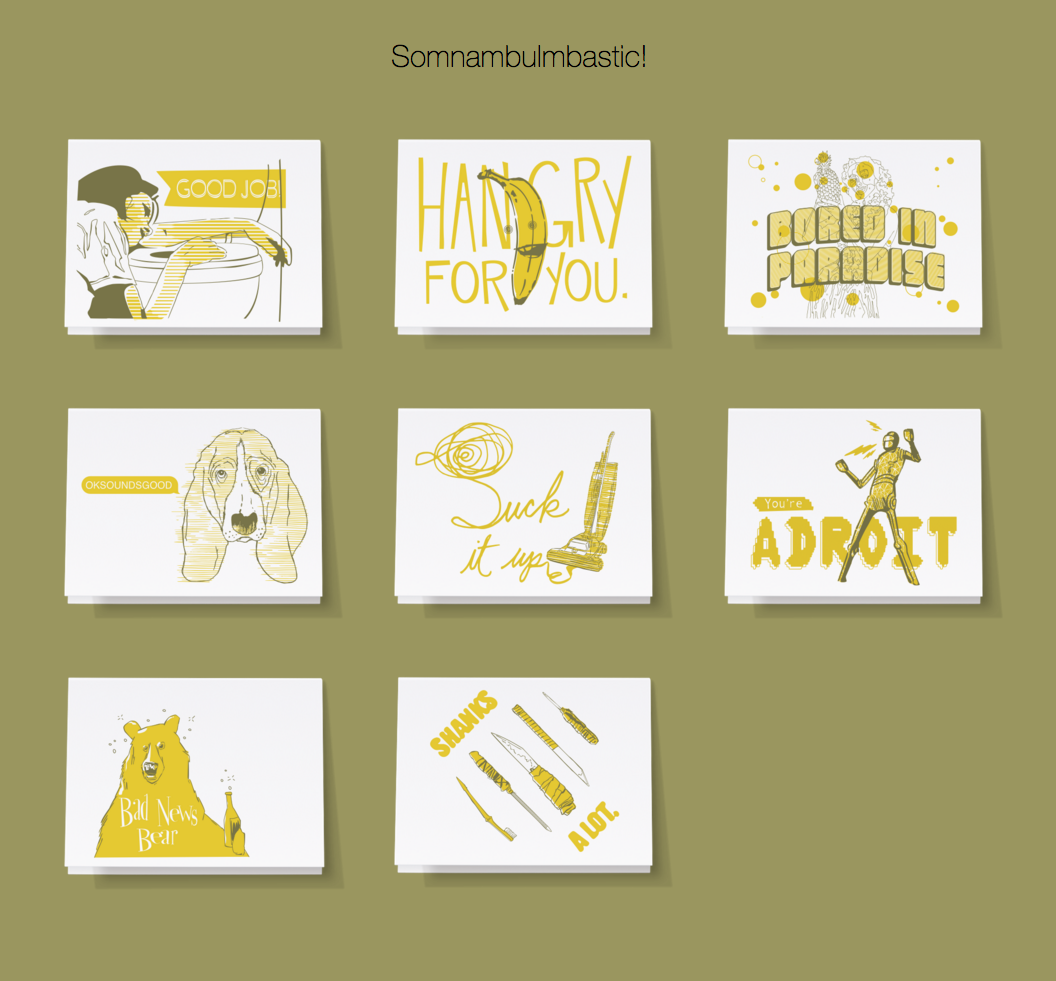 One of the 12 card sets available on Punkpost
"But people still do want to connect in this real, tangible way," he said. "So for us to make it easy, we thought, 'Why don't we make an app?'" 

Their first experiment was all the convincing Prieto needed to quit his job, learn to program and build a virtual boutique greeting card shop.
Prieto and Monson said they settled on two priorities. One, their cards had to  be high-quality, featuring "amazing artwork." And secondly, the sender's greetings had to be handwritten. 
"If it's tangible and it's real, it really has to be handwritten," Prieto said.
"And not like font that looks like handwriting," Monson said. "Not like robots printed it, but like real people making the connection for you."
By last June, the first Punkpost app, developed by Prieto, launched on iTunes. And Monson quit her job to focus on their startup as well.
"It was great, but it was my programming so it broke a lot," Prieto said of the initial product. "But luckily there were people that were interested and people that were sending cards, even though it wasn't fully, perfectly functioning. So that kept us going, and we made it better and better."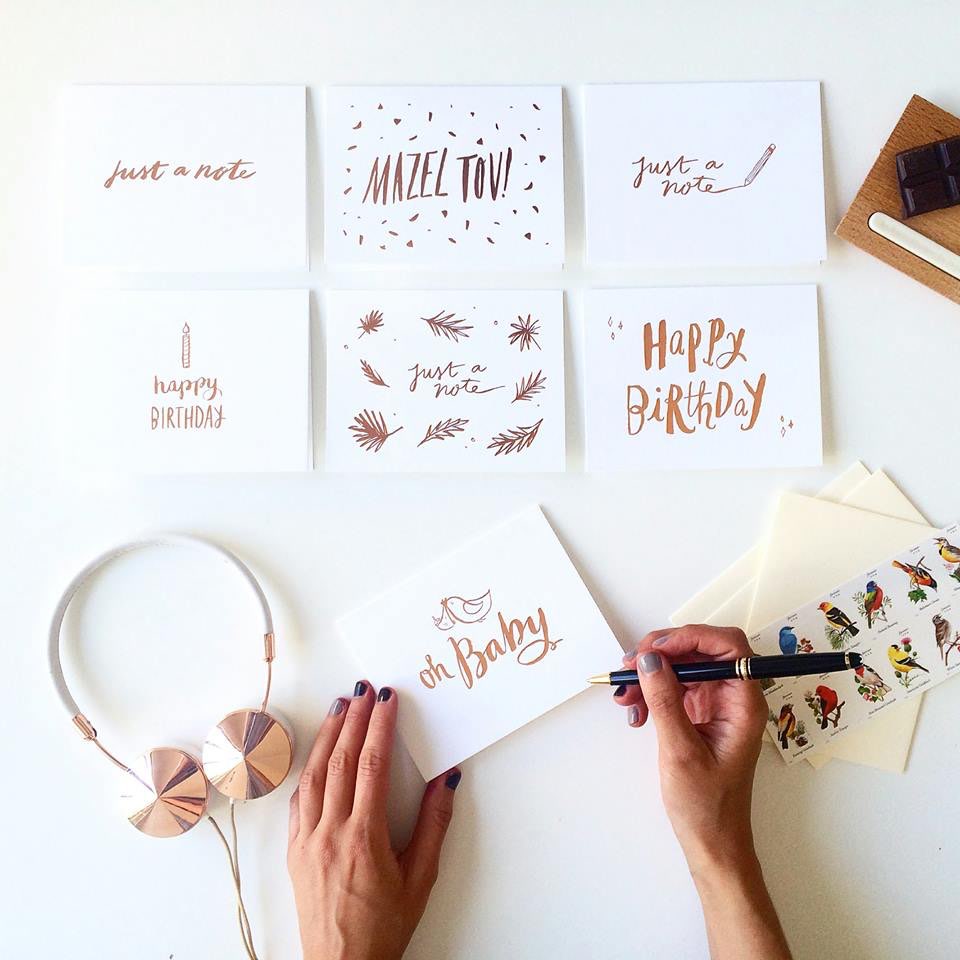 The June Letters Studio collection by San Francisco designer and lifestyle blogger Jess Levitz. (Photo: Punkpost/Facebook)
After choosing a card, the sender types their message and uploads a recipient from their address book.
A basic card, including the handwritten greeting and domestic shipping, is $6. For an extra $1.50, Punkpost will print and enclose a photo. Confetti bombing the recipient is another $1.50. With all the works, including international shipping, one card can cost up to $10. Just before the holidays, they also launched the option to send up to 100 cards at once. 

Almost one year after the app first went live, Prieto and Monson say they've sent "thousands and thousands" of cards around the world. And they're still pressing the design on each one by hand using the 1920s letterpress in their living room.
But they do have some help—15 people, mostly local—who write each individual message. "They're people who love handwriting," Monson explained. "They were kind of doing it as a hobby, and then they found out about Punkpost and they reached out to us."
During the order process, senders can select the style of writing they'd like in their card and on the envelope. When the writer finishes the card, they snap photos and upload them to the app for the sender's approval. Senders can also rate the quality of each card.
"We love it; it's super meditative," Prieto said of writing sender's messages. "We try to give it to the writers as much as possible, but sometimes were like, 'No, we want this one.'"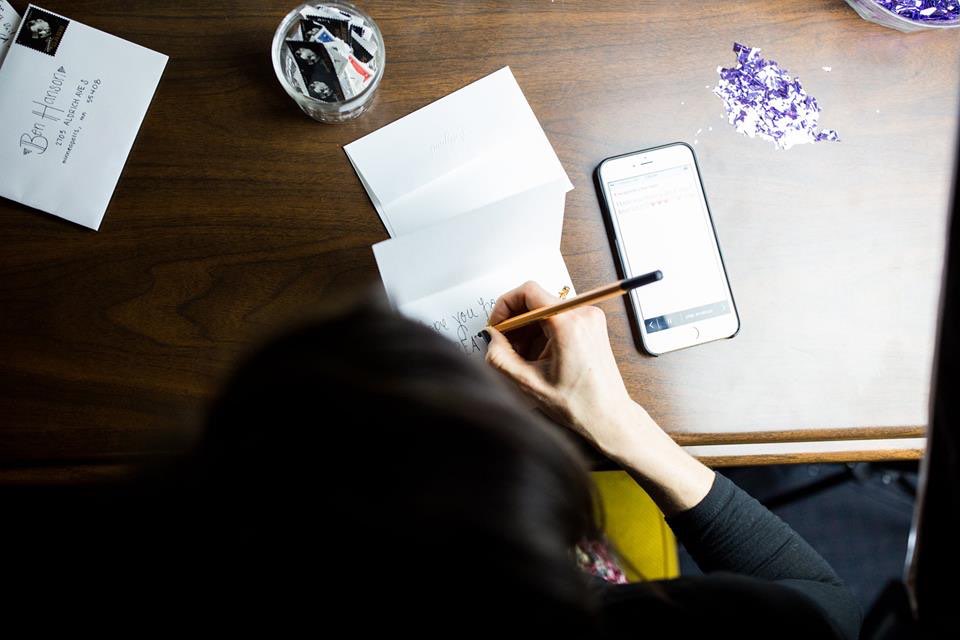 A Punkpost handwriter. (Photo: Stofferahn/Punkpost)
Currently Punkpost's hand writers receive $1.20 per card, a rate they hope to raise, Monson said. Coming from Brit + Co, where she grew the freelance writer network from 10 people to more than 50, she said she'd also like to build an incentive system for rewarding writer milestones.

Building a startup in a one-bedroom condo as a married couple may sound like quite the challenge, and Prieto and Monson said there are ups and downs but it's been great, generally. "If you're gonna go on this crazy weird adventure [with someone], who better than your partner?" Prieto said.
At the beginning, Monson said they did talk about getting a separate work space so they could disconnect from business at home. "But when you're starting a business, you never really do disconnect anyways," she said. 
Plus, they'd rather put their money toward building a better service, added Prieto, who's wish list includes another letterpress and a company-branded postal truck.
Looking toward the rest of 2016, the couple said they're focused on launching an update to their iPhone app this spring. They're also hoping to launch Android and web apps, while continuing to release fresh card collections every few months.