Neighbors in North Beach adamantly opposed to the closure of the 600 block of Vallejo Street to traffic in order to build Piazza Saint Francis, the Poets Plaza, are getting organized. A group called SOS Vallejo has launched a website and started an online petition to present to the city urging an alternative that would create open space yet allow vehicles on that stretch.
They also created a Facebook event asking people to attend tonight's San Francisco Democratic County Central Committee (DCCC) meeting, where a resolution has been introduced to urge the city to support and move ahead with the piazza. (The resolution is posted in its entirety on the Facebook event page.) The page reads in part, "We feel ignored, patronized, and frustrated that the wishes of those who live and work there are being overshadowed by the designs of people who do not." 
If you're new to this issue, we've been reporting on the controversy surrounding the project since last September, when some neighbors say they were blindsided by a request for a temporary closure for that block. Since then, a vocal contingent has arisen, with dozens speaking out at community meetings in December and March to raise concerns about it.
Opponents don't want to see the street closed permanently because, they say, it will snarl traffic, impede emergency vehicles, eliminate some parking and have a negative effect on small businesses in the area. Also, they argue that having a pedestrian-only piazza might encourage loitering and bad behavior, particularly at night after the bars close. In addition, they say their concerns aren't being heard, there's been no public process for the project, and there's been a lack of community input.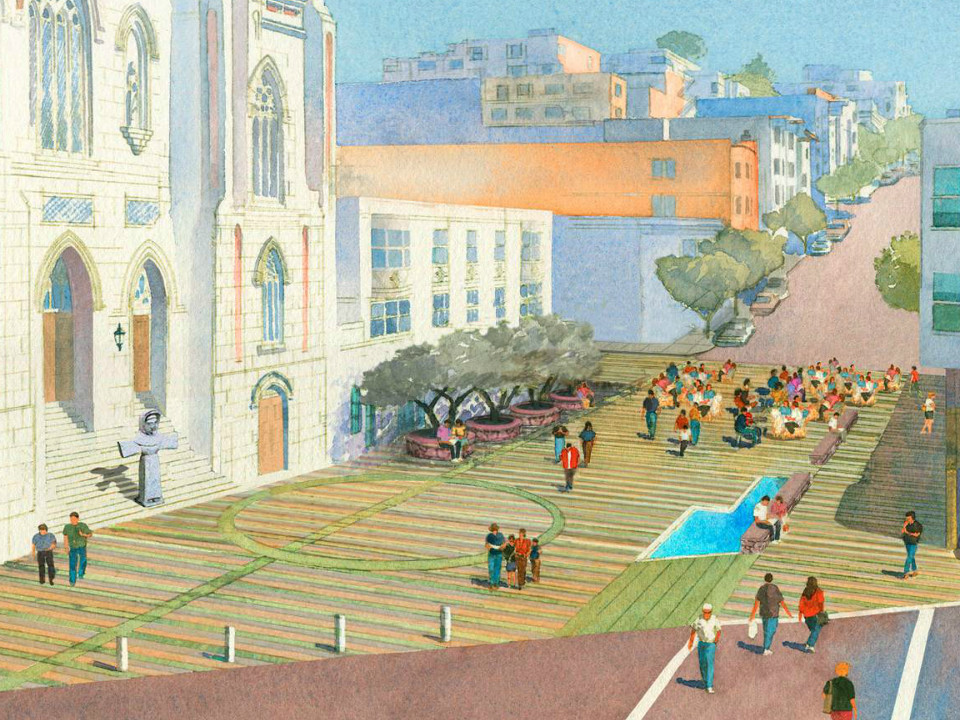 Rendering: PiazzaSF.org

Cynthia Birmingham is one of the organizers of SOS Vallejo and, like many in the group, is a longtime resident of the neighborhood. She said it "blows her mind" that a categorical exemption was issued for a project of this magnitude, which eliminated the public process. "I really think by issuing a categorical exemption that the city is leaving itself wide open for a lawsuit," she said.
Birmingham plans to attend tonight and present her concerns to the DCCC. "I believe in the Democratic party," she told us. "But I am devastated that the DCCC is considering a motion on an item that is a local land use issue. It's a public street, and we're talking about a private development on a public street."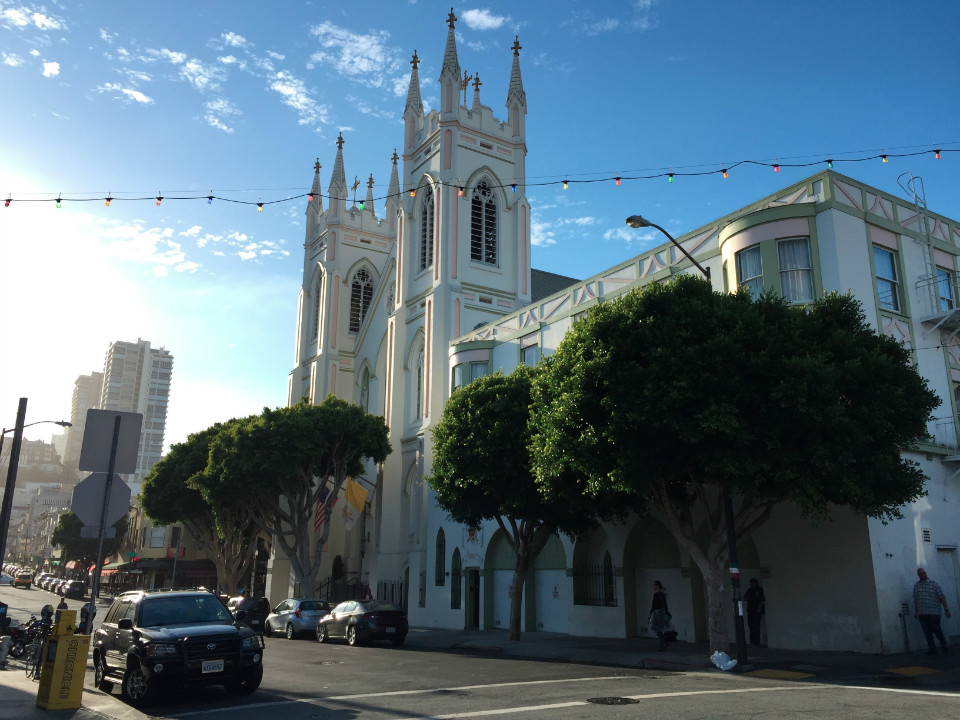 The location of the proposed Poets Plaza. (Photo: Geri Koeppel/Hoodline)
She continued, "The idea that the Democratic County Central Committee would consider a motion like this and nine of them would sponsor it, and it's written to stop community involvement? That's not the Democratic Party I know. It makes me embarrassed to be a Democrat in San Francisco." (The DCCC is an advisory body and its resolutions are non-binding.)
Birmingham took offense that the DCCC's resolution asks the city to "stop needless obstructionism" of the piazza. "That block of Vallejo is crucial to the circulation plan and the safety of our neighborhood," she said, adding it will be "devastating" to nearby businesses because it will take away parking (five spaces and several motorcycle spaces) and be a hardship for deliveries. A debate has arisen on whether the piazza would hamper the route of emergency vehicles.
Neighbors also have asked for more traffic data on the closure. "What I'd like to see are real traffic studies that look not just to that corner but to Stockton and Union, Columbus and Union and Green and Battery," Birmingham said, explaining that a closure on Vallejo could have impacts throughout the area.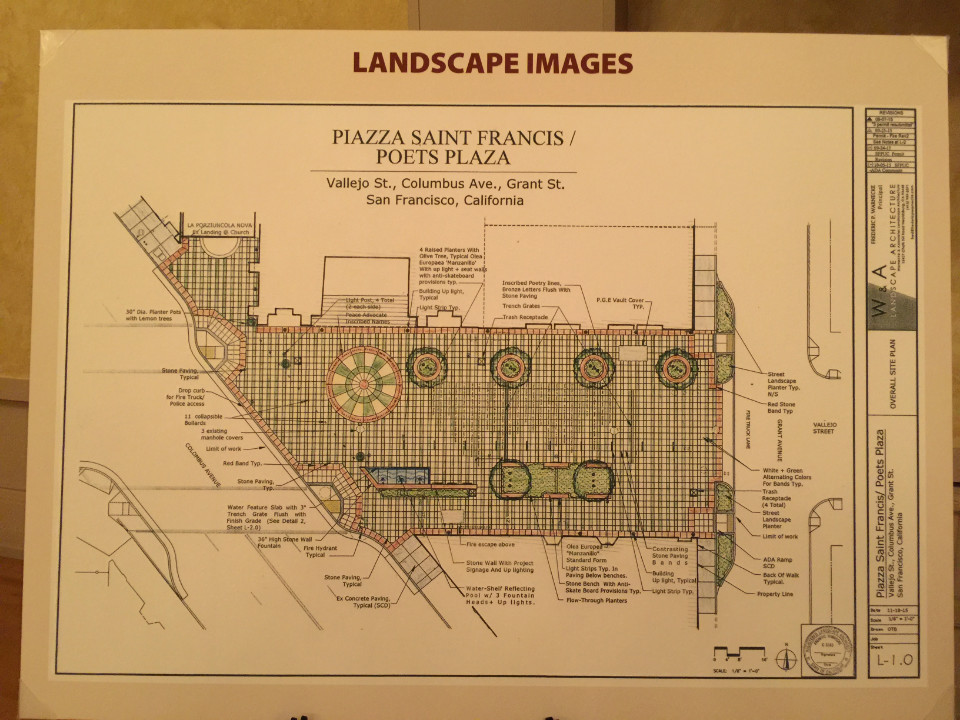 A slide from the December meeting showing the layout of the piazza. (Photo: Geri Koeppel/Hoodline)
Tom A. Hsieh, one of the resolution's sponsors, told us the committee welcomes dialogue about the piazza. "This is one of those types of projects that's very large in its vision," he said. "It's going to take time. People have questions and it's totally appropriate for them to have these questions. We welcome them to speak on behalf of, or against, this project." 
Hsieh also told us, "What's there not to like about the Poets Plaza? It's going to create what is basically a very small access street and turn it into a cultural space" with ties to literary and historic themes of North Beach. He added, "Everybody thinks this is a great addition to North Beach and specifically to San Francisco. It has the feeling of what it must have been like when Coit Tower was built. I'm sure that was controversial, too."
The initial idea for the Poets Plaza was put forth by Lawrence Ferlinghetti, founder of City Lights Books and an iconic figure in the Beat poetry movement. Attorney Angela Alioto has been the major force in seeing through its development, including spearheading the fundraising.
Alioto emailed us to say "at every meeting it is the same 10 people" who oppose the piazza. "How about the 125 people there that were there to support it?" she noted. She further wrote that many national figures support the piazza, and that no neighborhood people opposed it until Aaron Peskin won the District 3 supervisorial race.
Alioto, who supported Julie Christensen in the D3 race in November of 2015, earlier accused Peskin of vindictiveness in asking city departments to put the project on hold until further outreach is done. She also started an online petition for supporters; to date, more than 1,000 have signed.
But Birmingham says many of those who signed the petition don't live, work, drive and walk in the neighborhood daily, like the residents do. She also said the neighbors' concerns have nothing to do with the supervisor's race and instead address valid neighborhood concerns. "This is a crucial block to our safety, both pedestrian and emergency access," she said. "I just don't know why you would block an area like that for a vanity project."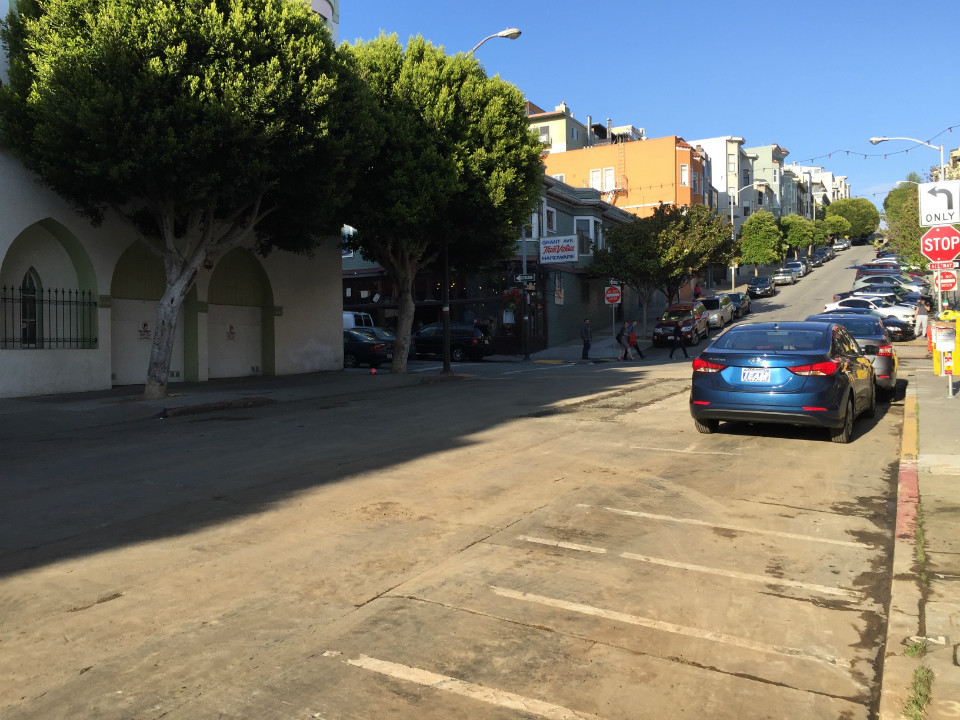 A piazza would eliminate parking on the 600 block of Vallejo. (Photo: Geri Koeppel/Hoodline)
Another question on neighbors' minds is the ongoing maintenance of the piazza. At the December March meeting, attendees were told that the project co-sponsors—the Knights of Saint Francis sponsor, the Piazza Saint Francis nonprofit—must secure a bond based on the cost to build the piazza, and have a maintenance agreement so the city and county is not responsible for the costs. If the sponsors dissolve or no longer maintain the street, then the bond would be used to revert Vallejo to its original state. Birmingham was skeptical that the city would tear out the piazza once it's in place, and is concerned city funds eventually will be used for upkeep.
Many people at the two prior meetings have asked for an alternative to closing the street permanently. Don Raichle, a landscape architect who lives in the neighborhood, created mock-ups for a potential compromise. And Birmingham's husband Rob, a developer, also asked to meet with Alioto to discuss alternatives. "We're not trying to say nothing can be done," Birmingham said. "We're not saying we're not willing to work something out." The SOS Vallejo site puts forth five different proposed designs and welcomes others' ideas.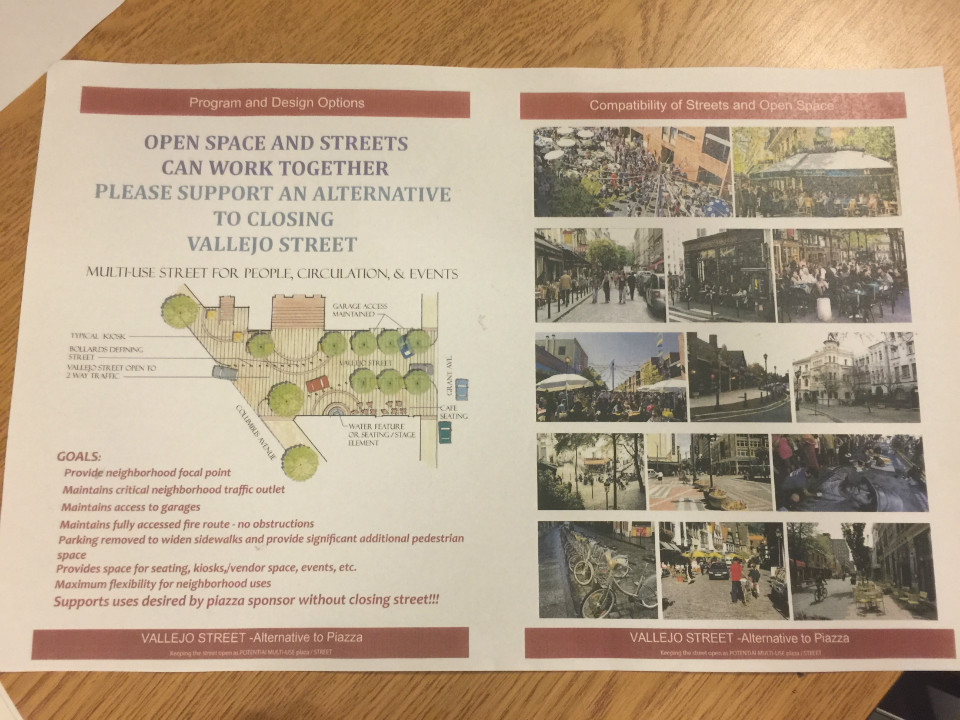 An alternative presented by Don Raichle at the March meeting. (Photo: Geri Koeppel/Hoodline)
A public process is supposed to kick in this summer, with an SFMTA board hearing on the permit to build the piazza. If approved, another hearing would be slated for Public Works in the fall, and then the project would go to the Board of Supervisors for a vote late this year. If the piazza gets the OK from those bodies, a permit would be issued in early 2017. This is according to a slide presented at the March meeting; we contacted SFMTA, Public Works and Planning for confirmation of the timeline, but did not hear back by deadline.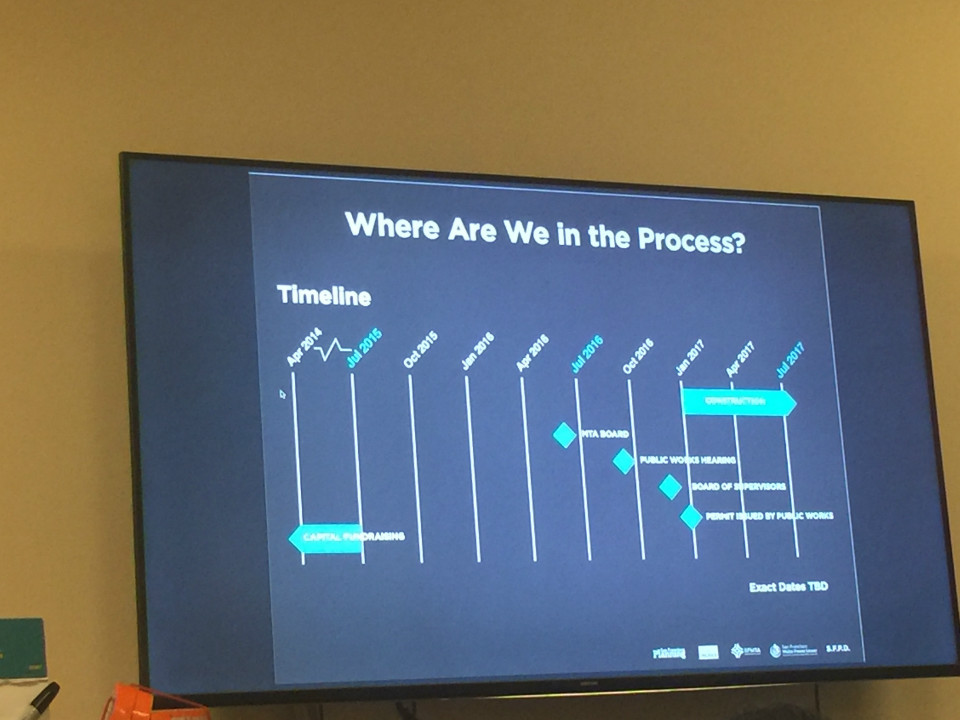 A slide presented at the March meeting showed the timeline for the piazza. (Photo: Geri Koeppel/Hoodline)
A discussion on the North Beach News Facebook page refers to the recent closure of the street during daytime hours for sewer construction, and asks readers to weigh in on this: "So Vallejo Street was closed this week in a kind of unofficial test of the disruption we could expect from Poet's Plaza. How was it for you?" Reaction has been mixed, with some saying it was inconvenient and hurt businesses, but many were in favor of the piazza.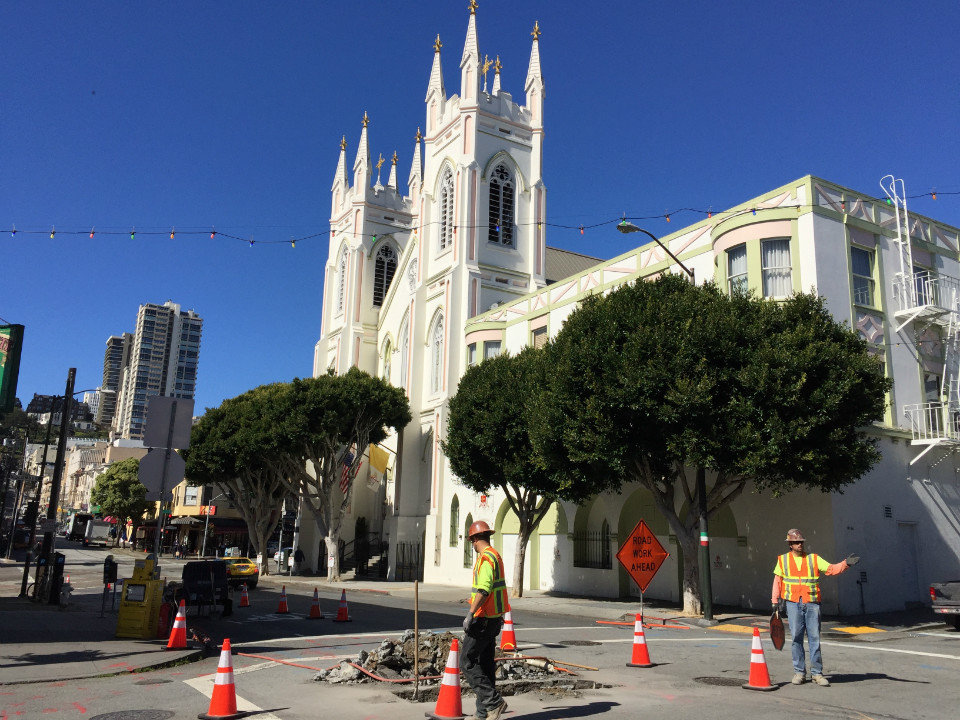 Recent construction on Vallejo. (Photo: Geri Koeppel/Hoodline)
Birmingham and others, including Raichle, have said many European piazzas allow cars. However, Alioto has said publicly that the space cannot be a true piazza and allow vehicles. At the meeting in December, she displayed samples of Carrara marble she hopes will be installed in lieu of pavement, and in the past told us the names of prominent poets and peacemakers will be inlaid in bronze in a circle right in front of the church. "Martin Luther King, the Dalai Lama, Mother Teresa, Nelson Mandela, Mahatma Ghandi," Alioto said. "People who are famous in the world for bringing peace."